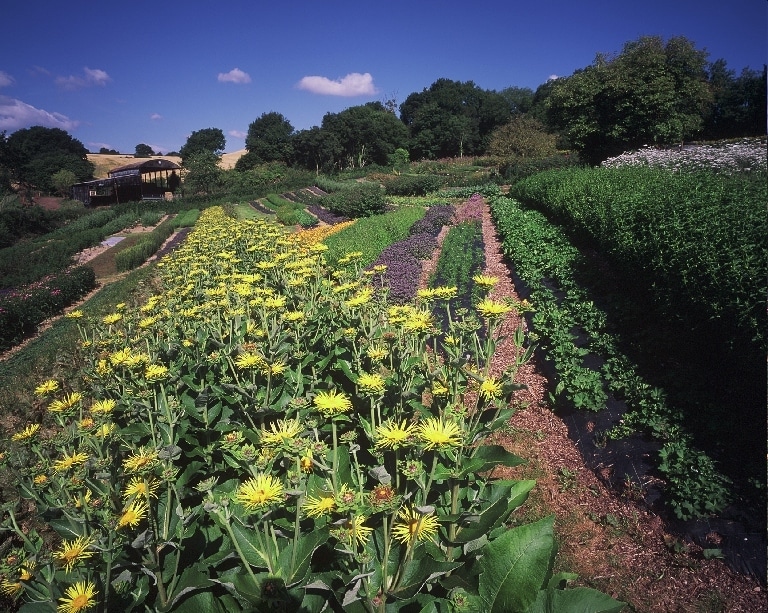 The Organic Herb Trading Company has been at the cutting-edge of the organic herbal ingredients sector for three decades. Here, Natural Products talks with Jim Twine, newly appointed as managing director at OHTC, about his plans to move this "hidden gem" of the organic industry to the next level
Natural Products: You had a high profile role at the Soil Association, the lead organization for the UK organic movement – something you've been deeply involved in yourself. What attracted you about the role at the Organic Herb Trading Company?
Jim Twine: On one level my motivation to join the Organic Herb Trading Company was really simple. It's a great company, it's got some fantastic products. It works with some really exciting customers – from individual herbalists and healthcare specialists all the way up to businesses like Neal's Yard and Pukka. And it's just got amazing potential. I also saw a great opportunity, with my background in organic and business development, to pull together my own interests and experience into a company that is really well placed to grow.
But there's something else that made the move feel right on a personal level. One of the things I've become more interested in as I've got older is the impact that business can make as a force for good.  Often there's an assumption that charity equals good, social enterprise is good – but any form of business is, at best, neutral. And I strongly disagree with that – based on the experience I had working at the Soil Association.
"Often there's an assumption that charity equals good, social enterprise is good – but any form of business is, at best, neutral. And I strongly disagree with that"
One of the things that's great about businesses is that they can make decisions really, really quickly and put them into practice so they have a real and profound impact. That was an element that really attracted me to the OHTC.
NP: Where do those impacts make the biggest difference?
JT: They're at their strongest when you're talking about subsistence farmers in the developing world for whom it's not an exaggeration to talk about their basic human rights being met. And if you are doing trade ethically and you're using and supporting organic methods, then I think you can have an absolutely massive impact on people's lives.
NP: Can you tell us a little bit about the history of the OHTC – and, in a nutshell, what the business does?
JT: Mike Brook started the business in 1982. He was steeped in organic and had a special interest in herbs. It was that interest in herbs, particularly the medicinal properties of herbs, that prompted him to set up Hambleden Herbs – mainly out of a frustration at the lack of organic herbs and spices available to herbalists at the time. The OHTC was originally the wholesale sister company of Hambleden Herbs. Mike eventually sold on Hambleden Herbs to be able to concentrate on the current business.
In essence, the business is about sourcing both existing as well as new herbal ingredients – and blending ingredients to customers' particular requirements, whether that's a herbal tea or a curry power.
Mike has a great track record searching out unusual herbs and botanicals. He's been ahead of the curve on sourcing popular superfoods – seaweed products and baobab as a couple of examples – and getting them through novel foods
I see OHTC as being a bit of a hidden gem – despite being around for three decades! A lot of people really don't know the full range of products – 700 in all, herbs, spices, oils, all organically certified, lots of them Fairtrade, and a cutting-edge support for and engagement with the FairWild initiative.
NP: So, what are you plans for the business? And what were the first things you did when you arrived?
JT: Probably the most important thing I've done since arriving is to talk for an hour or so to every member of staff here. Doing that made me aware of just how much knowledge, talent and passion there is here, right across the business.
In terms of plans, it's early days, of course – I'm still familiarizing myself with the business and I think it's natural to expect a period of consolidation. But we're ambitious about where we can take the company, and I can see three or four areas where growth can come from.
OHTC is a real specialist in the sector. It's got several genuine worldwide experts. So, opportunity No 1 – spread the word about that, articulate the offer more clearly. And, generally, put a solid base into the business. The second big opportunity is with international business. OHTC is increasingly working with international partners and I think there's a great opportunity here. Developing the international side of things also builds businesses resilience – it's great to see the UK organic market taking off again, but it stalled for a few years.
I think there's also more work we can be doing with food manufacturers. Currently we work with lots of customers who are individual herbalists, artisan producers, or tea specialists. Food manufacturers make up quite a small part of the customer base. There's a hell of a lot of food products that use herbal ingredients, so I think we should be marketing OHTC's services to the food sector more.
And the other big area of potential growth is increasingly being seen as a supply chain service provider.
NP: How has OHTC been affected by the restrictive herbal regime we are all learning to live with – and what's you own take on this?
JT: We had to close down on-site tincture manufacture as a direct result of the legislation, so OHTC has been directly impacted by it. I can really understand the frustration that herbal brands are feeling right now.
I don't need to tell Natural Products' readers about how punitive some of this legislation is, and the way it works in favour of large scale agri-businesses at the expense of a holistic approach to health and lifestyle. There are important turning points in food, farming and agriculture, and when people look back it will be in disbelief that something like this was considered a good idea. It seems unimaginable now that DDT was sprayed down main streets in America in the 1960s and 1970s. I think we'll look back in a very similar way to some of the really punitive legislation that's been brought in on natural health approaches that acts directly opposite to the public interest.
"I don't need to tell Natural Products' readers about how punitive some of this legislation is, and the way it works in favour of large scale agri-businesses at the expense of a holistic approach to health and lifestyle"
NP: So do you see OHTC as being part of that  holistic world view?
JT: I think it's directly rooted into it. Organic is in the company's DNA. We have an organic farm here and it's incredibly important for us to have that connection with organic production. It might only be responsible for growing a relatively small proportion of the herbs we sell, but it means we practice what we preach and we keep our feet on the ground.
That holistic engagement strengthens the relationships we have with suppliers and customers. We've just carried out a survey of our customers and as well as telling us some very practical things about the  business – about what we do well, and what we could be doing more of, or better – you get the strong sense that our customers are really behind us.
And that's a characteristic of our industry – and it's really fascinating. There's a camaraderie between people in the movement that is really striking. When you first become an organic farmer and you go to your first organic meetings – I remember this with my dad – you're so pleased to find people who share the same philosophies. I think it makes you very sharing in terms of the information and knowledge you build up. It's that spirit of collaboration that encourages this sense of wanting everyone to be successful. The sense of family and respect afforded to others that is so much a part of OHTC's culture is part of that wider fraternity.
NP: You're just a couple of months into the job but it sounds as if you're really enjoying the new challenge 
JT: It's a lot of hard work, but it's incredibly rewarding. One of the things the survey told us was that 98% of OHTC's customers would recommend us – that's exceptional. They also told us where they'd like us to do more – for example, offering more technical advice on the functionality of the different products they're buying from us.
We know we need to make the business more visible – and we've recruited some really good marketing and PR people to help us with that. We're also completely overhauling the website. We've also invested in new blending and cutting equipment which means we won't be held back by capacity issues.
The business has the ability to be really scalable, and once we've built on the solid foundations already in place, we'll be ready to take it to the next level – but, crucially, without diluting any of the core principles that are so cherished here. And it's a great time to be doing that with the organic sector finally waking from its five year slumber!
And, yes, I'm really enjoying being a part of OHTC – that organic and ethical commitment, our customers and the size and responsiveness of the business. It's great to be able to sit down with Mike in the morning, come to a decision on something, and be onto it in the afternoon. But it does meanyou are very accountable for your actions. In a business employing 30 people and turning over £3 million, I'm acutely aware that every decision matters.