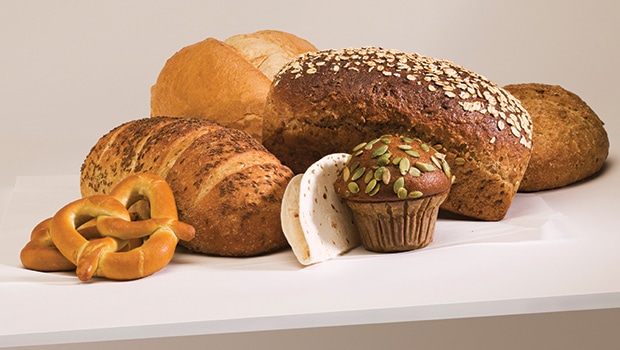 It's the home baking 'season', so now's time to create a stir and encourage your customers to bake up a storm
Although research from Mintel revealed the number of Brits baking at home fell from 85% in 2013 to 77% in 2014, the Bake Off effect seems far from over, with this year's final garnering a record 14 million viewers.
Joi Allen says home baking supplies are still in demand at Amaranth in Bramhall. "It's a mixture of TV and magazines – home baking is being publicized more, as are all the different products like flaxseeds and superfoods, which a lot of people are incorporating into their bakes. All the recipe books coming out obviously help too."
Unsurprisingly the Internet is also a major influencer in this sector, with baking bloggers gathering huge followings – think Izy Hossack (the 'next Nigella') and Edd Kimber (The Boy Who Bakes).
So the media are doing their bit, now it's up to retailers to inspire and enthuse their customers. Alan Martin from Food for Thought (Kingston and Guildford) believes instore promotion is key and takes every opportunity to drive sales. "The Bake Off is really important for us and we get heavily involved – we always do stuff around the final, and it's been phenomenal. Of course it is right at the peak time when people are buying stuff for their Christmas puddings and cakes. It's a growing sector if you get behind it."
Seasonal demand
Hannah Marriage, company director at Marriage's – which produces 18 flours, including seven organic varieties – believes there's a definite seasonal demand. "The Great British Bake Off has made baking cool, given a buzz around it. We see the time around Bake Off as a seasonal peak for us, then there's Christmas, Pancake Day and Easter. There's lots of promotional activity at those times of year so people are more conscious of baking."
"Our view is that people will keep baking from scratch because of their desire to know what goes into their food and its provenance," adds Marriage. "Knowing exactly what's going into it – because you've measured it out, you've put it in – that's quite powerful. And when you bake at home you can adapt – people are incorporating more fruit and veg into their bakes, and tweaking, using half wholemeal flour or spelt – making it different. Taste is really important too – people like the taste of things that are homemade."
Baking from scratch offers consumers the opportunity to tailor bakes to specific dietary requirements as well as making them healthier, and this is where health stores offer a number of options as a matter of course.
"People are definitely aware of sugar content and are turning to alternatives," says Martin. "Low GI has always been important. Xylitol is still big and coconut palm sugar is huge. The other one I often recommend is coconut nectar syrup, which works well with raw-based foods."
Nikki Silver from Oliver's Wholefoods in Kew, says: "We do sell traditional cane sugars, but they are organic – and biodynamic in some cases. We also have rapadura cane sugar, which is less processed and has a richer colour and taste. But also coconut blossom sugar and nectar sell well; agave is still very popular, and maple sugar is selling more."
Martin sees coconut as a continuing trend throughout the baking sector: "Coconut flour, sugar, oil and butter are all very popular, and we sell a lot of Tiana and Coconut Merchant in this area."
Flour power
"A lot of our alternative flour sells well, so coconut flour, gluten-free, spelt and buckwheat, and polenta too," says Silver. "The majority of our flours are Doves Farm for the gluten-free versions of more normal flours and most of the alternative flours are from Infinity Foods."
"Coconut flour is huge," says Martin. "Teff and gram flour are also big because they're quite easy to work with. We've just got a new gluten-free range from the Incredible Bakery Company, which is selling really well. It uses buckwheat flour, quinoa flour, gluten-free oat flour – there is a real interest and people are starting to want to make stuff like this at home."
"We've seen a lot more interest in things like spelt," says Marriage. "It has a nice taste, is versatile and some people find it easier to digest. People also like the flavour of rye and we are selling quite a lot of our Malted Seeded Bread Flour. People are looking for greater variety and they want to experiment."
Hodmedod's launched a range of British grown and milled gluten-free flours earlier this year, including Quinoa, Green Pea, and Fava Bean Flour. "Soya bean, gram, quinoa and lentil flours are becoming increasingly popular," says co-founder, Josiah Meldrum. "They're a great way to add protein, fibre and essential nutrients to baking, and brilliant if you're trying to avoid gluten."
And The Free From Fairy recently introduced its multi-purpose wholegrain, gluten- and rice-free flour, positioned as a healthy alternative to gluten-free white flour, and incorporating teff, sorghum and buckwheat flours.
There is an increasing number of healthier, often free-from, baking mixes on the market, which offer would-be bakers a no-fuss way of creating in the kitchen and enable them to effortlessly add their own twist.
Martin says: "Delicious Alchemy has just introduced a gluten-free Christmas Cake Mix and we've already sold a lot of those. That kind of thing is on the up – they are fool-proof. There are some really good ready mixes to which you can add something of your own. "
In this area, Allen says the organic superfood mixes from Creative Nature sell well, as does the Ugg Food range.
Hot Stocks
Go gluten-free
Provena has extended its gluten-free baking line with Wholegrain Oat Flour for making sweet or savoury doughs and pancakes; an Oat Bread Mix; and a Chocolate Chip Muffin Mix – for muffins in minutes.
Divine darkness
The recently launched Divine Chocolate 70% Dark Chocolate For Baking and Divine 38% Milk Chocolate For Baking are made from Fairtrade cocoa beans and contain high levels of cocoa butter for easy melting.
Sweet thing
SugaVida, the UK's exclusive supplier of organic Palmyra Jaggery, has relaunched with a fresh new look as part of plans to bring the product mainstream. Palmyra Jaggery is a versatile plant-based substitute for sugar with a low GI and can be used in baking and cooking.
Coconut flour power
The Coconut Company's Organic Coconut Flour is unrefined and made from 100% GM-free raw coconut meat. This versatile gluten- and wheat-free coconut
flour contains 22g of protein per 100g.
Home baking products
Nutiva Coconut Manna
Kinetic Natural Products Distributor
Tel: 08450 725825
E-mail: [email protected]
www.kinetic4health.co.uk
Nutiva Coconut Manna is delicious puréed coconut butter, so called because if ever there was a food from heaven, this is it. An ideal "everything" spread that can replace cream, cream cheese and butter in baking, use 1:1 in replacement. An incredibly tasty, whole superfood made of pure, dried coconut flesh; that brings a naturally sweet coconut-ty flavour to baked goods, and a deliciously buttery texture to cookies and biscuits. Coconut contains lauric acid, a medium-chain fatty acid also found in human breast milk. Nutiva coconut products come from Southeast Asia, where the coconut oil is processed immediately upon harvesting. The creamy, white meat of the coconut is scooped out of the shell by hand. What you get is simply the creamy, fresh flavour of pure coconut.
Marriage's home baking flours
W & H Marriage & Sons Ltd
Tel: 01245 354455
E-mail:  [email protected]
www.flour.co.uk
Family run flour millers in Essex since 1824, Marriage's produce 18 premium quality flours for making bread, cake, pastry and pizza.
Marriage's home baking range has won 40 Great Taste Awards, and includes organic, traditional stoneground and speciality varieties, such as Spelt, Rye and seeded flours. Our flour is produced using a combination of traditional techniques we have trusted for generations and the best modern milling technology. We source top quality wheat, much from farmers within 30 miles of Chelmer Mills, including our own arable farms. All of our strong flours are suitable for bread machines and hand baking.
Steenbergs Home Baking Range
Steenbergs
Tel: 01765 640088
E-mail:  [email protected]
www.steenbergs.co.uk
Here at Steenbergs we pride ourselves on creating natural, organic products, sourced from small independent producers around the world and hand-blended in our eco-factory in North Yorkshire. Our popular home baking range boasts an array of natural baking extracts, including the UK's 1st organic Fairtrade Vanilla Extract and our best-selling organic Rose Water, as well as organic Fairtrade flavoured sugars, aromatic spice blends, gluten free baking powder and edible cake decorations.  Products are available to order via our website www.steenbergs.co.uk or through one of our distributors (Suma, Tree of Life, Queenswood, CLF, Green City, Essential or Hider).
Biona Organic Salted Caramel Bliss
Biona
Tel: 0208 5472775
E-mail: [email protected]
www.biona.co.uk
New Biona Organic Salted Caramel Coconut Bliss is made from high quality coconut flesh blended with coconut blossom nectar and pink Himalayan salt. This moreish spread is free from refined sugar and suitable for vegans. Perfect on bread, stirred into smoothies and shakes, used in baking or enjoyed straight from the spoon.