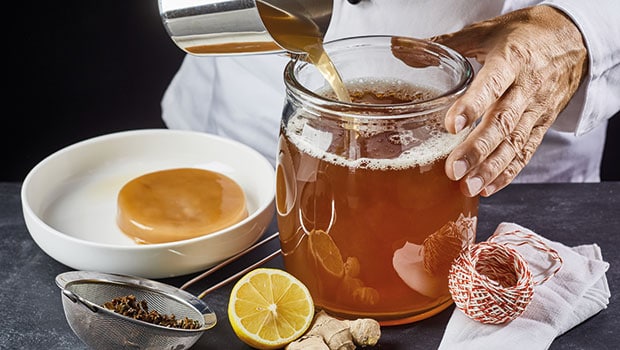 From kombucha to kraut, and kimchi to kefir, the fermented market is alive and kicking. Rosie Greenaway discovers the ancient art of fermenting and learns how to brew her own 'booch'
Cast your mind back ten years and you're unlikely to have heard the term lacto-fermentation dropped casually into chit chat; now, as the new decade wakes up, yawns and stretches its limbs, it's becoming more common to ask a friend about their weekend plans and be met with the answer: "I'm spending Saturday fermenting cabbages."
So popular has fermentation become that workshops are cropping up left, right and centre for consumers who want to make their own pickled snacks (turmeric torshi, anyone?) and fermented beverages. 
A broad spectrum of consumers are lapping up the chance to experiment with tastes and textures through the art of fermentation. And for those whose interest doesn't quite extend to playing around with the symbiotic culture of bacteria and yeast (aka scoby) at the weekend, there's an abundance of ready-to-consume ferments flooding the market. 
Scoby-do
Anyone taking part in Equinox Organic Kombucha's fermentation workshop will find themselves getting up close and personal with the creepy-looking object known as a scoby. There's nothing to be feared; this gruesome looking little guy is the key to your kombucha's success, and as brand founder Daniel Spayne will tell you, beginning with a wholesome scoby is a golden rule of brewing 'booch'.
"Make sure that you have a healthy scoby and ideally some healthy starter – when you buy the scoby that generally comes with it. That will really set up the kombucha brew to be successful, no matter what quantities of tea or sugar, or what type of tea you have. If you start with that, then I think that's the key foundation." 
In short, the process goes like this. You'll need quality ingredients; spring water for the best results, organic green or black tea and organic sugar. Once your tea is steeped, in goes the sugar (the culture feeds on it, largely devouring it in the process). Next, the concoction is transferred into a glass jar. The scoby goes in before a square of cheesecloth covers the top, secured with string.  
Once the brewing has begun, where you store the jar is key, says Spayne. "Somewhere that can stay consistently warm and there's not too much temperature fluctuation. Somewhere that isn't going to be subject to other smells or oils in the air that could bring in other factors to the fermentation process, and particularly taste." 
Patience and pairings 
Brewing kombucha is a fine art that requires patience. "I think that's why people do it," says Spayne. "Keep looking at it," he advises. "Taste the brew as you go; understand what's happening with the process, the yeasts and the bacteria. Don't be afraid of disturbing the scoby. It does grow a layer on the top, it's quite thick and sturdy. You need to be tasting the kombucha beneath it … every few days to see where things are and where it is relative
to your taste." 
Over time the flavour will change, Spayne explains. The more discerning your palette becomes, the longer you might want to let your 'juice' mature: "The longer you brew the kombucha, the more sour and less sugary it becomes." 
The brand has experimented extensively to refine its core range. "In terms of flavours and ingredients that we want to work with, we cast the net quite wide. We want things that pair well with the underlying acidity of the kombucha – that's why ginger is always such a popular flavour because the tasting notes pair well. It gives the sweetness, but it still has the sharpness of the kombucha as well." 
The range consists of several botanical flavours – Pink Grapefruit & Guava, Raspberry & Elderflower, Wild Berry, and the earthier Ginger and Peach & Turmeric (released last summer alongside Espresso Coffee). Spiced Gingerbread followed at Christmas as a seasonal special. These combinations lend themselves well to food pairings – something the brand has forayed into to 'show the versatility of the product'. 
"We're trying to get into people's minds that it's a drink for many occasions. A lot of people write to us and say: 'I used to have wine with dinner but now I have kombucha'. We're just trying to … make some suggestions so people can start thinking of it if they want to avoid alcohol; then they can pair it in the way they would a wine. Different flavours go better with different experiences. My friend did a dinner party and paired rum and Spiced Gingerbread [kombucha] with bread and butter pudding – it went very well! The rum made it darker and a bit more earthy, then you had all those festive spices going with the bread and butter pudding, which was very nice." 
While kombucha is fast becoming a popular addition to cocktails, it's also assisting those abstaining from alcohol. Janey Lee Grace, founder of The Sober Club – a membership club advocating sobriety – comments: "Fermented tea has become super popular with people choosing to be sober, because it's a great alternative to a glass of wine with a slight fizz. The process does produce a tiny amount of alcohol, but this is negligible, and it's rich in probiotics and provides antioxidants."
Lee Grace explains that although 'the most effective kefir doesn't always taste great in truth', the natural flavour of this nutrient-dense ferment can be easily 'disguised' by adding it to a blueberry smoothie. "Kefir is brilliant as a morning health 'insurance' in a glass," she advocates, adding that one of its winning attributes is the fact that those with lactose intolerances can often still tolerate goat's milk kefir 'as the fermentation process can remove the lactose from the milk'.  
Fermented and fast-selling
With retailers such as Bristol's Better Food promoting kombucha to help people 'trade the tipple' during Dry January, it's clear that fermented drinks are continuing to deliver. 
At Glastonbury's Earthfare, fermented products of all types are in high demand, according to Kelly Tofts, merchandising manager, who – with her finger on the pulse of fermented launches – recently added Brod Kvas to the store's product offer.
Based on rye bread, Bros Kvas is a drink with 'no forced carbonation' but a good amount of natural fizz. "Because of the flavour of the bread, it does have almost a beer-like taste. It's similar to kombucha; it's got lots of gut-friendly bacteria. It's caffeine-free, vegan, there's no lactose … it's low in sugar, with no sweeteners and it's raw and unpasteurized," says Tofts. 
The brand describes kvas as 'a very old drink with over 5,000 years of history', originating from Russia. Tofts says as far as possible the brand uses 'organic and wild-harvested ingredients … made locally in Somerset', and is the only brewery of its kind in the UK.
"It is going to prove to be really popular," predicts Tofts. "We sell a lot of fermented food. I'm hoping this one will be just as popular as everything else we've got. There's a local brand called Bath Culture House [which] makes kombucha, sauerkraut, fermented nut cheeses. We honestly can't get enough of those. They are really popular for us; I think the fact they're made locally really helps."
Brod Kvas is available in five flavours. "There's Original Rye; Green, flavoured with hemp leaf and manuka leaf – that one's nice; Rosé, flavoured with rose and cardamom; Violet, which is lavender; and … Ruby, which is beetroot and turmeric. I'm really hoping they'll do well because of the flavours. Rose-flavoured things tend to sell quite well, and anything with hemp in it just flies off the shelves."
Biotiful Kefir, Kefir Protein and Biotiful Kids
Biotiful Dairy
Tel:  0203 761 9765
E-mail:  [email protected]
www.biotifuldairy.com
At Biotiful Dairy, we make cultured dairy drinks and snacks using the ancient method of fermentation. By fermenting British milk with authentic live kefir grains, we create kefir drinks and snacks with billions of gut-friendly cultures, high protein and naturally lower in lactose.  Kefir is packed with billions of gut-friendly bacteria, is naturally high in protein and calcium and a source of vitamin B12 that contributes to the normal function of the immune system and the reduction of tiredness. It's also a source of vitamin B2 that contributes to optimal metabolism. What's more, there's absolutely no sugar added.
Strath
World foods brand management ltd
Tel: 01782 366 080
E-mail:  [email protected]
www.wfbm.co.uk
Strath is produced over a two month period by feeding 'friendly' yeast cells with a mixture of herbs. More than 400 different yeast types are thought to exist on earth, 100 of which are pathogenic and 300 of which are good. Strath is made from Saccharomyces Cerevisiae MEYEN, a 'good' yeast harvested from fresh fruit. After absorbing all these herbs, the yeast is fermented by removing the oxygen in order for osmosis to take place. This means that the yeast cell membrane breaks open and nutrients are released. This process is of vital importance for the body's ability to absorb the yeast as it cannot digest the cell membrane.
Suma Organic Apple Cider Vinegar
Suma Wholefoods
Tel: 01422 313840
E-mail:  [email protected]
www.suma.coop
Our apple cider vinegar is made in Italy from the juice of organic apples. It's raw, unpasteurised, unfiltered, and with the 'mother' – a natural sediment which contains beneficial bacteria, trace material, pectin and enzymes. These can contribute to healthy flora in the human gut, and aid digestion. A long fermentation process makes our vinegar rich in antimicrobial anti-oxidants, with anti-inflammatory properties.
It can be taken neat (1 or 2 tablespoons a day), or mixed with water and a sweetener such as agave syrup. It also pairs well with our concentrated apple juice and can be used in salad dressings.
RAW Organic Fresh Kraut
RAW Vibrant Living
Tel: 0208 547 2775
E-mail:  [email protected]
www.rawvibrantliving.co.uk
Raw Vibrant Living Fresh Kraut is a raw, unpasteurised sauerkraut made with white cabbage and sea salt. This naturally fermented product is refreshing with a crisp, crunchy texture perfect for adding variety to salads, or for topping on vegetarian hot dogs and burgers. Also in the range are 3 exciting flavours; In The Pink, a crisp kraut with vibrant citrus and ginger; Golden Glow, a bold and flavourful curry flavoured kraut with zingy ginger and Feel The Teat, a spicy combination of jalapeno and chilli. All made with raw ingredients which have not been heated above 42c, therefore retaining all of their gut friendly bacteria and enzymes.
Ruby Red Sauerkraut
The Cultured Food Company
Tel: +353 28 224 24
E-mail:  [email protected]
The Cultured Food Company are reviving the ancient tradition of hand crafted live fermented foods. They produce a range of artisan, raw and organic fermented vegetable condiments. These include five unique flavours of sauerkraut, kimchi and two beetroot products, one being Beet Kvass. Each product is hand made in small batches in West Cork, Ireland, and fermented for several months. Naturally rich in cultures their products are alive and kicking! Add a tablespoon of their Ruby Red Sauerkraut to any meat, fish or veggie dish to excite your taste buds. Available from your local health food shop or delicatessen.