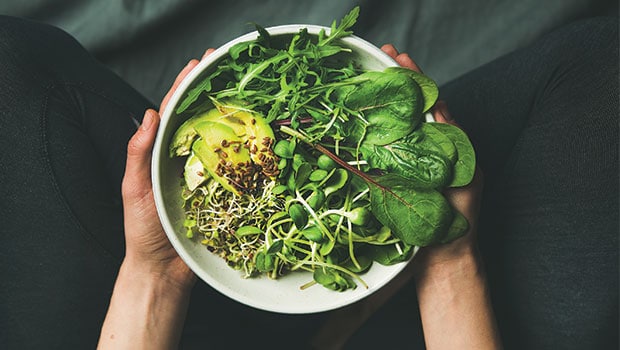 Plates of lifeless veg and soggy 'fishless fingers' are a thing of the past. Rosie Greenaway orders the vegan catch of the day, explores today's sophisticated veggie market, and discovers just how much the nation's love of animal products is costing the planet 
With vegan innovations hitting news desks every day, it feels like the sector is getting more column inches than ever. In recent months there have been launches of organic sunflower mince from Sunflower Family; vegan marshmallows from Mallow Puffs; and vegan shoes with sugarcane soles from Seven Feet Apart. Even the notoriously meat-centric Subway now offers a vegan patty – wise tactics, considering Moving Mountains is hot on Subway's heels with its own 'foot-long' plant-based hot dog. 
Perhaps the most attention-grabbing launch was the controversial Hybrid Burger from craft beer company BrewDog, comprised of 50% Beyond Meat and 50% sustainably reared beef sandwiched between matcha buns – a combination which has angered some in the vegan community. 
While 'entirely dairy-free and surrounded by 100% vegan ingredients', the patties do of course contain meat. They are positioned by the brand as a 'best-of-both-worlds' take on flexitarianism; a 'stepping stone to a better place'. But to some, the fusion is baffling and the sentiment is lost, with many consumers scratching their heads on social media and criticizing the beer brand for creating a burger which vegans can't eat – and which most meat eaters wouldn't want to. 
With 86% of plant-based meals being consumed by non-vegans [Kantar], it's easy to see where BrewDog's commercial train of thought was heading. "We wanted to do something for flexitarians – people looking to cut down but not totally stop eating meat," said a BrewDog spokesperson responding to the backlash. While such efforts to reduce public meat consumption may be valiant (or, in one cynical Twitter user's view, simply a good 'marketing ploy'), animal rights group Viva! argues it's the vegan way or the highway if we're to halt the climate crisis. 
If the world went vegan … 
At a Viva! panel discussion entitled Vegan Now: The Race Against Time for our Planet – held during September's Labour Party Conference – Joseph Poore, environmental researcher at the University of Oxford, shared the results of a large 2018 study he co-authored, and made the case for venturing into veganism. 
Poore told delegates he found one particular result 'staggering': that meat and dairy are 'some of the most environmentally damaging foods by quite a large margin'. "Animal products use 80% of the world's farmland and create 60% of food's different emissions, despite providing just 30% of our protein and about 20% of our calories," he said, highlighting 'a huge imbalance'. 
Just 100g of protein from beef, he advised, uses '2,000% more land and creates 3,500% more emissions than the same amount of protein from beans, peas, nuts and tofu'. These facts led Poore to examine what would happen if the UK went vegan. "Land use would fall by 70%, or 26 million hectares – an area around the size of the UK itself. Imagine the nature that could be restored if we didn't eat meat and dairy. An alternative use of this land could be to make the UK more self-sufficient in food." 
The UK's greenhouse gas emissions would 'fall by a quarter' too, and such a significant reduction would be accompanied by an improvement in water quality. "This is a serious benefit because today many of the UK's rivers and seas suffer from nutrient pollution, which increases microbial activity, which uses up oxygen and suffocates complex life, like fish."
Going vegan, Poore explained, opens up an opportunity for policy to 'eliminate dangerous synthetic pesticide use without compromising food supply'. 
"Put simply," he concluded, "vegan diets free up land, creating opportunities for re-wilding, food self-sufficiency and less pesticide-intensive farming. Vegan diets drastically cut greenhouse gas emissions. Going vegan is probably the single biggest way to reduce your environmental impact, not just from greenhouse gas emissions but probably almost every other important environmental issue."
Catch of the day
For those who can't quite pry themselves away from the occasional culinary flirtation with meat and dairy, flexitarianism is the answer, according to Mike Easterbrook, European representative for LomaLinda. "Most people are flexitarian without even knowing. LomaLinda products are perfect for that – you can put them in a salad, a sandwich, a pasta bake."
Founded by Doug Hines, LomaLinda this year brought to market Tuno, positioned as an ambient vegan alternative to canned tuna. "Doug and myself are both seasoned canned fish industry people and we could see that the supply was going to run short and we were overfishing. We had to find alternatives," Easterbrook explains. 
"We're flexitarians. And that's my message: people need to adjust their protein wheel. I've been in the fish industry for years; I'm not going to start criticizing fish or meat in terms of its protein use. I'm not saying be a vegan overnight. What I will say is people need to alter their diet. Reduce your animal and fish proteins. Since I've started, my protein wheel has changed quite dramatically. I'm having vegan and vegetarian food two to three times a week. It's healthier, more environmentally and sustainably responsible. If everyone were to do the same we would all have a dramatic impact on the carbon footprint." 
Housed in cans and pouches, Tuno is made from a 'texturized vegetable protein', with the soya originating from Canada and the US. Attracting plenty of media coverage, Tuno is stocked in 300 Morrisons and 200 Holland & Barrett stores. 
It hasn't yet reached the shelves of Apothecary 27, but owner Joe Jackson says he's open to the idea and there's always space on his shelves for plant-based innovation. 
Jackson doesn't position his store as a plant-based pantry by any means – in fact, in the past he has offered nutrient-dense animal products like bone broth – but his stock does naturally tend to be 99% vegan. 
As both a retailer and nutritional therapist, Jackson believes in a balanced approach to protein; where soya is concerned, it's a case of 'anything in moderation'.
"I don't think we should be eating meat every day, just as I don't think it's necessary to eat soya every day. It's a great source of protein. It's just when vegetarians and vegans overdo the soya … it can become problematic. A lot of people are scared of it – you hear all these things about people having too much soya and it affecting their oestrogen levels, but I do think that this is when you take it to the extreme."
Plenty of fish (in the sea)
So what does the world need now? According to Jessica Chan, founder of vegan sushi brand ima, it's better options for vegans. While the soya bean solves many meat-free dilemmas, there's another ingredient making waves on the faux fish market: the konjac. This Asian plant's uses extend far beyond the exfoliating sponges which have become a bathroom staple; in the case of ima's vegan sushi, it's mimicking salmon – and rather convincingly too. 
The brand says this is the first plant-based, sustainable answer to salmon sushi, presented in plastic-free packaging. The brand itself was born in 2017 as a food stall, with the sushi roll joining its product line-up in 2018. Chan explains how it all began: "Ima means 'now' [in Japanese]. The reasoning behind the name is that when sushi was first created, nobody was speaking about sustainability issues. But now it's so important. So essentially, what we're saying is our sushi is suitable for our present climate. Now is the time to fight against these issues and be part of the change to create a better world.
"[We] want to show people that vegan sushi is not just boring cucumber rolls. Our range includes Vegan Salmon, Tuna, Crab and Duck. I'd also describe it as truly ocean-friendly and sustainable. There's no fish whatsoever in our whole range, meaning there really is plenty of fish in the sea – no overfishing."
Chan, who went vegan two years ago, says ima became the solution to her own 'personal dilemma' of 'staying vegan' but missing the taste and texture of salmon. As a sushi lover, she felt confident she could create better recipes than the standard carrot and avocado rolls she was faced with.
Konjac, she explains, became the magic ingredient after her father discovered the root vegetable on a trip to Hong Kong. "Our process is actually a secret family recipe, but we add in a few other magic ingredients to make the texture and look of the salmon identical." 
The konjac nigiri and maki rolls are certainly worthy of all the Instagram buzz; visually, it's difficult to tell them apart from conventional sashimi. And here is how ima has perhaps conjured up a recipe for success, by turning the heads of the social media generation – the future change-makers, the protesters and conscious consumers who are driving the Veganuary campaign's figures through the roof each year.
Free From Fellows Wine Gums
Bravura Foods
Tel: 0203 086 8676
E-mail:  [email protected]
www.freefromfellows.com 
Free From Fellows have extended their already popular range, now with all new Wine Gums! The Sugar Free, Vegan confectionery brand Free From Fellows have extended their line up of the nation's favourite sweets. Wine Gums join the line-up of the award winning selection of gummies and hard boiled sweets. These brand new Wine Gums are sugar free, gelatine free, gluten free and are also free from dairy, egg, soy, palm oil and nuts. As with the rest of the range they don't contain any artificial flavours or colours and are certified by both the vegan and vegetarian societies. 
Clearspring Organic Instant Noodle Broth – Tsuyu
Clearspring
Tel: 0208 749 1781
E-mail:  [email protected]
www.clearspring.co.uk
Clearspring can bring your vegan meals to life with this Organic Instant Noodle Broth, also known as Tsuyu. It's 100% plant-based and works perfectly as a stock to create flavour-filled soups and stews. It's as delicious as it is versatile and can be used as a dip for noodles and tempura or to add natural Umami flavour to a variety of savoury dishes. It brings together the unique taste of shiitake mushrooms, with moreish soya sauce and is finished with a hint of sweetness from organic mirin. The UK, and possibly the World's only Organic Tsuyu! 
Essential Trading Organic Oils
Essential Trading Co-operative
Tel: 0117 958 3550
E-mail:  [email protected]
www.essential-trading.coop
It is impressive to see a growing number of organic and vegan products making their way to the mainstream market. New businesses emerge every day, fad products proliferate, whilst marketing firms create false trends. Not us. At Essential, we love bringing simple, healthy, high-quality, and affordable food to your table. Our oils are a good example of this. Essential Trading Organic Extra Virgin Olive Oil, Sunflower Oil and Sesame Oil are extracted using a cold-pressing method, so they retain their complex delicacy. No additives, GMO-free, just liquid gold available in your local independent store.
Over 1000 Vegan products!
Raw Living Ltd
Tel: 01803 658989
E-mail:  [email protected]
www.RawLiving.eu
Raw Living is a vegan company who have been in business for 17 years. While the rapid rise of interest in veganism is undoubtedly a positive thing, veganism still often centres around junk food alternatives, and vegans are just as much at risk of being unhealthy as omnivores. Raw Living can offer the dietary solutions that vegans need, in the form of essential supplements, superfoods for nutrient density, and healthy snacks. If you would like to set up a dedicated "Vegan Nutrition" area in your store, contact us, we have the knowledge and expertise to make it easy. 
Fine de Champagne Chocolate Truffles
Booja-Booja
Tel: 01508 558 888
Booja-Booja Fine de Champagne Chocolate Truffles are a modern classic. In their stylish black and gold box they're the ultimate little luxury and make any occasion special. Handmade in Norfolk, like all Booja-Booja truffles, they are silky smooth and oozing with organic, premium fine de Champagne. Vegan, dairy free, gluten free and organic, these sublime delights have won numerous awards; most recently a superb two stars at the prestigious Great Taste Awards 2019. The perfect gift or a luscious treat, they're loved by vegans, free-from consumers and fine foodies alike and are a must-have for gifting all year round. 
Ginger People – Arjuna Bites
World Foods Brand Management
Tel: 01782 366080
The first organic candy of its kind: Bite-sized treats made with fresh, stoneground Javanese ginger and coconut sugar, creating a slightly toasted, smoky flavour and unique texture. Also available with a good hit of Organic Turmeric and grown by a small cooperative of farmers on Mount Arjuna, East Java This Organic, better-for-you treat is energy-lifting, strong satiating effect. • Low Glycemic Index (GI). Sweetened with coconut sugar • Gluten free, vegan and made with 22% fresh ginger • Individually wrapped • Arjuna Share: Revenue-contribution program to help build a sustainable     farming community
Koko Original Milk
First Grade International
Tel: 01564 731980
E-mail:  [email protected]
www.kokodairyfree.com
Our Koko Original Milk has a fresh, colourful and vibrant new look. The new brand design will roll out across the Koko product range over the next few months. It is designed to catch the eye and showcase our great tasting products along with our expertise in coconut.  Koko is a family owned company and we have our own plantations where we meticulously care for our coconuts.  We then take the lovely coconut goodness and turn it into delicious dairy alternatives that taste surprisingly like their dairy equivalents, are free from all major allergens and suitable for vegans.
Natural Traditions Roasted Baru Seeds
Kinetic Natural Products Distributor
Tel: 08450 725 825
E-mail:  [email protected]
www.kinetic4health.co.uk
Introducing baru seeds, a nutrient-dense legume indigenously grown in the Cerrado, the tropical Savanna of Brazil. Wild-crafted and hand-picked, these seeds have more digestible protein compared to almonds and walnuts and are a source of fibre, iron and vitamin E. Natural Traditions Baru Seeds are gently roasted to improve digestibility and offer the same nutty satisfaction as peanuts. Baru seeds, despite being called baru nuts or baru almonds are actually seeds originating from a primitive legume and are completely unrelated to almonds or tree nuts. These seeds are 100% peanut free and yet taste just like peanuts!
Nutiva Organic MCT Powder – NuMCT™
Kinetic Natural Products Distributor
Tel: 08450 725 825
E-mail:  [email protected]
www.kinetic4health.co.uk
The world's first organic MCT Powder –  NuMCT™ – made from Nutiva Organic MCT Oil from 100% organic virgin coconut oil. With added prebiotic acacia fibre (3g per serving) and a small amount of tapioca maltodextrin to ensure that the quality fats blend into any beverage.Delivers digestible fatty acids that quickly convert to ketones, giving the brain, muscles and other tissues fast and sustained energy. NuMCT™ is a creamy alternative to Nutiva Organic MCT Oil, and is more gentle on the digestive system. Keto- and paleo- friendly. 
Organic Food Bar Active Greens Chocolate Covered
Kinetic Natural Products Distributor
Tel: 08450 725 825
E-mail:  [email protected]
www.kinetic4health.co.uk
The world's best-selling organic Active Greens bar, covered in a thick coating of organic non-dairy Belgium chocolate. Includes: 4000mg of an exclusive green superfood alkaline-forming blend with spirulina, wheat and barley grass, and blueberry and raspberry; 10g of fibre per bar, which is 33% of the recommended daily intake for adults; and 16g of organic protein from pea and pumpkin. 80% raw, and always made with no GMOs, trans fats, preservatives or additives. Available +Protein (15g per bar) and +Probiotics (Bacillus coagulans), both vegan and gluten free.
LAZY VEGAN
LAZY VEGAN
Kuiperbergweg 44 – 1101AG Amsterdam
Tel: 0031 652 600 241
E-mail:  [email protected]
www.lazyvegan.com
Do you want to be a Lazy Vegan? It's our mission to make it as easy, tasty and fun as possible for everyone to eat vegan. On a lazy Friday or any other day of the week. Our frozen ready meals are full of fresh vegetables and our pea protein 'chicken style' pieces. Stir fry from frozen, ready in 8 minutes. We have 3 delicious recipes: Mexican, Provençale and our new Tikka Masala. So give yourself, and the planet, a break! You'll find us in the frozen section at Sainsbury's and at several independent retailers. For more inspiration, follow us on Instagram @lazyveganfriday.
The range of premium vitamins, minerals and herbs form the Natural Health Practice have all been formulated in association with Dr Marilyn Glenville PHD, the UK's leading nutritionist specialising in female health.
With the emphasis always being on the use of quality, clean and natural ingredients, the NHP range is respected for its formulation values and is totally free from gluten, yeast and dairy products. NHP is thought to be the only supplement brand in the UK that is registered with the Vegetarian* and Vegan* Society, Kosher certified and Halal approved (* Excluding Omega 3 Support) Talk to the team today to find out about our latest promotions.