Despite a predicted decline in birthrate, Kate Miller highlights the reasons why it's always a good time to stock natural parenting and baby products
Discussions around the long-term impact of COVID-19 often revolve around the effect on the economy or changes to work and shopping habits. But it's a well documented phenomenon that natural disasters tend to precede a 'baby bust' – a sharp decline in birthrate in the following nine months. A recent report by Pricewaterhouse-Coopers predicts as much, with a record decline in the number of births this year as couples put baby plans on hold until the economic fallout of the pandemic becomes clear.
What effect this might have on the pregnancy and baby market is yet to be seen, but birthrates were already in decline prior to this period. However, the pre-pandemic desire for products which have trusted credentials is unlikely to be dimmed by a large-scale pandemic. Even in the sepia-tinted good times world of 2019, the natural and organic pregnancy and baby products market was giving the big brands a run for their money.
According to Mintel's Babies' and Children's Personal Care Products, Nappies and Wipes report, 64% of parents of 0 to 4s who buy babies' and children's personal care items look for products which use few ingredients, with 42% prioritizing how 'healthy' the formula is (eg chemical-free). 
As well as the nature of ingredients, when it comes to their children's health parents are looking at the impact of products on the environment, with 29% examining how environmentally friendly a product is. It comes as little surprise then that NPD featuring sustainability claims grew by 20% in the babies' and children's nappies sector in 2019, and NPD featuring environmentally friendly product claims grew by 20% in the babies' and children's wipes sector.
According to the report, because natural and organic claims indicate safety, parents want more of these products, so there's space for growth.
Call the midwife
"Parents are also looking for reassurance from healthcare experts," says Helen Yeardsley, Weleda UK head of brand and communications, explaining why the company worked with over 400 midwives in 2020 to award its Calendula Baby range a 'Recommended by Midwives' accreditation. "Proof of skin tolerance even for newborn babies is also vital, hence our 'From the very beginning…' messaging."
The range is currently the subject of Weleda's first ever TV ad campaign, launched to celebrate its centenary year, airing across the ITV Meridian and Southern regions as well as running nationwide on digital platforms and social media. As one of the company's most popular and best-established ranges, Yeardsley says it provides a gateway to the brand for many people who are brought to it when switching to natural and organic products for the first time as parents. 
The advert is likely to take the range to millions of potential users, building market share among mums and dads looking for gentler alternatives. "Loyalty amongst Weleda users is high, so we're confident that our awareness campaign will build long-term fans of our brand," says Yeardsley. 
The taste test 
A completely new launch comes from BetterYou in the form of four family-focused nutritional oral sprays in collaboration with Madeleine Shaw. Jen Julian, marketing director, says the sprays took a while to develop to the standard they wanted. "Our NPD process has been greatly improved over the past few years and we have really honed our skills and experience in oral spray formulations. We knew we wanted to develop highly targeted multinutritional products, with scientific data to support the substantiation of nutrient dosage levels; however, this can sometimes be challenging, working with our unique delivery mechanism, as the blend of nutrients can affect the taste profile of the product." 
Julian says taste is incredibly important in this type of product, so the brand spent months perfecting the flavours with Shaw. Prior to launch BetterYou surveyed over 300 mums and mums-to-be through the 'Mumsnet-rated' programme. Participants used the supplement best suited to their lifestyle for three weeks and rated its performance. Each product received the required 80% to be named a Mumsnet-rated product.
But if birthrates are falling is all this activity for nought? The good news is, if the post-COVID world follows the pattern of previous natural disasters, birthrates will begin to recover after the initial nine months, leading to a steady increase and possible baby boom. So it might be worth stocking more products in this category rather than less.
Bump and biome
Pregnancy can bring with it new stresses and some uncomfortable – not to mention socially embarrassing – side effects. A new product from Optibac seeks to address this by targeting the gut health of the mother, reducing side effects of pregnancy like constipation, gas and bloating, while supporting the immunity of both mother and child. 
For Pregnancy contains strains of bacteria which are supported by documented research: Lactobacillus rhamnosus HN001 is shown to support mothers at risk of gestational diabetes during pregnancy, as well as demonstrating improved postnatal depression and anxiety scores; Bifidobacterium lactis HN019 supports gut health and has been shown in clinical trials to improve constipation and gas; and Lactobacillus acidophilus La-14 supports intimate health and can reduce the recurrence rates and symptoms of bacterial vaginosis.
The formula is suitable from conception, through to birth and for six months post-birth in both breastfeeding and formula-feeding mothers, and can be taken alongside folic acid and vitamin D.
HayMax™ Organic Allergen Barrier Balms
HayMax™ Ltd
Tel: 01525 406600
E-mail:  [email protected]
www.haymax.biz
HayFever? Dust or Pet Allergies? HayMax™ organic drug-free allergen barrier balms trap pollen before it gets in the body. Non-drowsy and suitable for children, pregnant and breast-feeding women, drivers and machine operators.  HayMax Kids variety available, designed for children to use. Proven in 2 university studies and 2 further independent studies. Winner of over 50 awards including LUXlife Parent & Baby Award, and used by celebs and athletes. Frankincense is exclusive to Independents and 3 for 2 lets you undercut the multiples. Marketing in all main channels throughout the season. Available in wholesalers.  Free POS and more available from haymax.biz/trade-information.
Calendula Baby Care range
Weleda UK LTD,
Tel: 0115 944 8200
E-mail:  [email protected]
www.weleda.co.uk
Weleda, now celebrating its 100th year, has been making organic baby care for over 60 years. Our Calendula Baby Care range is 100% certified natural and harnesses the healing power of hand-picked organic calendula to soothe and protect baby's delicate skin. Developed with the support of experienced midwives and pharmacists, the range is formulated with nourishing organic plant oils and without mineral oils, GMO ingredients, artificial preservatives or synthetic fragrances of any kind. Recommended by midwives and dermatologically tested, Weleda's Calendula baby care range is suitable even for the most sensitive baby skin and provides natural protection, right from the very start. 
Vitamin E Lotion With Calendula
FSC
Tel:  0800 083 0356
E-mail: [email protected]
www.fscsupplements.com
A fragrance-free light moisturiser for use all over the body. With natural Vitamin E and Calendula which is valued for its soothing, antiseptic qualities.
It is suitable for all skin types, (scars, dry skin, moisturising) and protects against the harmful effects of exposure to sun, wind and environmental pollution. Vitamin E is readily absorbed and helps keep the skin healthy and moisturised.
Suitable for vegetarians and vegans. No animal ingredients. No lanolin. No added perfume or colour. Not tested on animals. Paraben free.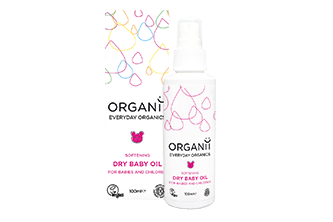 ORGANii Dry Baby Oil
Pravera Ltd
Tel: 01557 870 203
E-mail:  [email protected]
www.organii.uk
The newest addition to ORGANii's popular Parent & Child range, the softening Dry Baby Oil is specially formulated for babies and children to moisturise and nourish skin and is also excellent for baby massage. Certified natural, vegan and cruelty free, it contains organic Sweet Almond Oil, organic Sunflower Seed Oil and organic Calendula extract making it ideal for sensitive skin. The unique dry-oil formulation is fast drying, leaving skin softened but not greasy. 100ml. RRP £9.95 / €10.95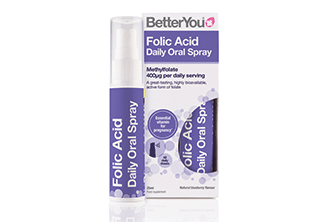 BetterYou Folic Acid Oral Spray 
BetterYou Ltd
Tel: 01226 814 030
E-mail: [email protected]
www.betteryou.com 
Utilising a vegan-friendly, biologically active form of folate (known as 5-methyltetrahydrofolate, or 5-MTHF), BetterYou's Folic Acid Oral Spray is a pill-free supplement which allows 5-MTHF to be immediately bioavailable for its biological action without being metabolised in the body. Essential for during pregnancy, folic acid works alongside vitamins B12 and C to help the body break down, use and create new proteins as well as help tissue growth, support red blood cell formation and assist in DNA production.  The great-tasting, natural blueberry flavoured spray, which delivers folate directly to the bloodstream via the inner cheek, is housed in ocean waste plastic which is 100% recyclable.