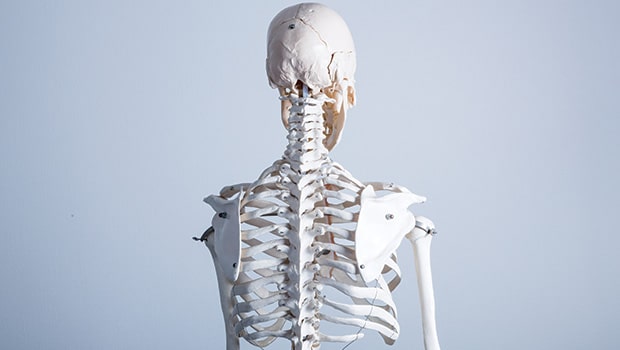 Are you aware of joint health trends? Are you creating relevant news hooks and effectively link-selling? Esther Mills-Roberts looks at global data, then brings it right back in store
If there was ever a time for retailers to be pushing joint health solutions, it's now. Data from Research and Markets' Bone and Joint Health Supplements Markets, 2016-2024 – Global Strategic Business Report 2017 states that the main drivers for increased sales include an ageing population, the obesity epidemic and increasing disposable incomes – and as life expectancies continue to rise, so too do cases of bone and joint problems.
Grant Thornton's Consumer Market Summary of the Five Emerging Trends in VMS (Feb 2017) highlights how joint health supplementation should both encourage fitness in younger people and tackle sickness in older people. It also states that there is 'huge growth potential' for sports performance-linked supplements for joints.
Delivery with a difference
In addition, a 2017 Research and Markets' strategic business report predicts that the joint health market will continue to expand with the introduction of novel supplementary forms, such as glucosamine sulphate in vegetarian form, and interest not only in traditional capsules, tablets and liquid formulations, but also food-based forms. Grant Thornton's data backs this up, citing that the future of VMS joint formulas is innovative delivery methods: sprays, powders and food formats.
Richard Anderton, product manager, The Health Store, outlines the formulations which are currently trending: "Oral sprays are more popular than tablets or capsules, with sublingual delivery systems being highly popular." And what about the mainstays of any joint supplement section? "Fish oils, rather than just cod liver oil, are selling well – so oils from wild Alaskan fish such as those used in Wiley's Finest sell well, as does the Eskimo 3 range, Higher Nature and Seven Seas, which is still a favourite," says Anderton. And with anti-inflammatory spices such as turmeric gaining popularity, when paired with combination mineral supplements link sales are easily made.
So, which bone and joint trends can be captured right now as the focus for promotional activity to create a big sales push? Something edgy and newsworthy, to enliven and inspire staff and customers alike.
Dosing up on D
When the Scientific Advisory Committee on Nutrition reviewed its guidelines on vitamin D in 2016, the message was clear: sunlight hours plus dietary sources don't meet the vitamin D requirements of most people in the UK. And the big symptom of low vitamin D levels? Joint pain.
Andrew Thomas, founder and managing director of BetterYou, says with a modern Western diet, 'you simply can't eat your way out of a vitamin D deficiency'. But if consumers are to make up for the shortfall with supplements, which levels should they aim for? Julie Lamble, nutritionist at Lifeplan Products, gives useful guidance:
"We recommend that to safeguard against nutritional deficiencies 400iu is used; for mild deficiency 1000iu is taken; and for clinical deficiencies 4,000iu is used daily. Optimal levels are different within ethnic groups, so it's best that your customers speak with their doctors before using high-strength vitamin D supplements."
But intake is only one factor; form is another. Lorna Driver-Davies, clinical and education manager at Wild Nutrition, advocates for biologically active vitamin D. "Wild Nutrition's Food-Grown Vitamin D provides a highly absorbable, biologically 'active' form of vitamin D3 termed as 'calcitriol'. Most vitamin D3 products on the market contain the stored form of vitamin D3 (25 hydroxycalciferol) but if using a naturally produced food form of active D3, such as Wild Nutrition's, you can achieve desired levels, in lower amounts, using a capsule."
Referencing the popularity of sublinguals flagged up by Anderton, Thomas says the option of by-passing the need for processing in the gut, and cutting straight to absorption directly into the bloodstream is 'not only attractive but common-sense'. In fact, with vitamin D this might be particularly pertinent in older generations, for whom digestive efficiency is reduced and higher levels of deficiency can exist. As Thomas points out, 'pill fatigue is a real and growing phenomenon', particularly for seniors on a plethora of medication, for joint health and other concerns.
Collagen innovation
From the early days of bone broths, through to gelatine supplements, and today's hydrolysed peptides, people have been using amino acids for cartilage regeneration, whether knowingly or not, for centuries. Now, science is lifting the lid on exactly how hydrolysed collagen peptides not only support general joint structure, but regenerate articular cartilage. And the market is ready for it, much in the same way as glucosamine came in and took the industry by storm.
"At NeoCell we suggest using the correct type of collagen for the benefit someone desires. Ligaments, tendons and bones found in joints are made of types 1 & 3 collagen – the same type found in Super Collagen Powder," explains Egzona Makolli, technical and commercial nutritionist at Kinetic, which distributes NeoCell in the UK. "Cartilage is composed of type 2 collagen, which can be found in Collagen2 Joint Complex."
Powdered collagen drinks are especially popular, being convenient and easy to use. For Diane Scott, founder of Healtharena, formulating a collagen product with 'the right flavour' was a long process. "We took a long time in formulating our collagen product … customer feedback shows us that it's widely accepted as a pleasant-tasting, highly bioavailable form, providing bioactive hydrolysed Gelita Fortigel collagen peptides that have a specific, targeted action on the joints."
"People are increasingly looking at turmeric for relief from inflammation and there has been an increase in demand for collagen products"
Collagen as an answer to aching bones and joints is an approach being emb-raced at retail level, with more consumers now requesting it. And, if Research and
Market's Global forecasts are correct, collagen is going to be pivotal for joint health for years to come.
Retail strategies
Kate Segal, owner of Inside Out Health in Reigate, says her strategy for bone and joint sales centres around providing supplements 'at higher therapeutic levels than other retail outlets'.
"We feel comfortable giving appropriate advice, and look to get feedback," she says. "We also offer tailored dietary programmes. We are now finding that people are increasingly looking at turmeric for relief from inflammation and that there has been an increase in demand for collagen products."
In the capital, Applejacks manager Robert Stevenson agrees: "People are really going for herbs and spices such as turmeric and curcumin." But he adds that his store's focus is not on supplements. "Our policy is to sell solutions not products. We recommend an alkaline diet, drinking water and eating green vegetables."
Plant based = great bones!
Research from Welch et al (2012) on female twins from the UK Twins registry looked at whether a plant-based diet, rich isoflavones, anthocyanins, flavon-3-ols, polymers, flavonols and flavones, had any impact on bone density. The research concluded that total flavonoid intake was positively associated with bone mineral density, with effects observed for anthocyanins and flavones at both the hip and spine, supporting a role for flavonoids present in plant‐based foods for bone health.
Adding to the basket
Here, registered nutritional therapist Joanna Kovacs gives hints on link-sales with foods, so retailers can upsell at the tills:
• Aim for variety and include as many fresh fruits and vegetables as possible
• Eat foods rich in healthy omega-3s
• Increase daily fibre
• Add herbs and spices to food
• Minimize consumption of processed foods, refined sugars and fast food
• Identify trigger foods such as gluten and/or dairy
Epsom Bath Salt Blends
Absolute Aromas
Tel: 01420 540 400
E-mail:  [email protected]
www.absolute-aromas.com
Absolute Aromas have launched an all new range of 100% natural Epsom Salts infused with pure Essential Oil blends, each with specific therapeutic properties! Epsom Salts are well known for their health boosting properties, they contain Magnesium Sulphate which helps with relaxing the nervous system, soothing skin, calming back pain and aching limbs, easing muscle strain, and helping to draw toxins from the body. The new range features Absolute Aromas popular aromatherapy blends, De-Stress, Detox, Relaxation, Mobility, Lavender, and Unscented. Simply pour into a warm bath to benefit from the prized properties of Epsom Salts, and the therapeutic benefits of these aromatherapy blends.
AQUA Carpatica Natural Sparkling Mineral Water
Fresh Organic Products
E-mail:  [email protected]
www.aquacarpatica.co.uk
Sparkling mineral water has higher content of mineral salts than the still water and it is ideal for reaching the body electrolytic balance. Naturally sparkling mineral water is beneficial for the body, unlike the artificially carbonated water that increases the acidity and the blood pressure. Naturally sparkling mineral water or water charged with carbon dioxide taken at source is not acid, but is decomposed in base molecules, reducing acidity.  AQUA Carpatica is a naturally sparkling mineral water is perfectly pure, having 0mg/l nitrates and  Provides nearly 39% of the adult daily requirement for Calcium and 26% of the Magnesium requirement (per litre)
Life Flo Pure Magnesium Oil
Au Naturel
Tel: 0800 0851 697
E-mail: [email protected]
Pure magnesium oil is a highly concentrated spray scientifically proven to naturally repair and relax your muscles and joints. Easily tolerated, convenient and non-greasy. For muscle cramps, treating pain and migraines in case of stress. Magnesium has anti-inflammatory and anti-arthritic properties. Magnesium can help mitigate pain and protect bone health. Simply spray on your body and massage well into skin. Ideal after showering. Available from independent health and beauty stores.
FSC Glucosamine & Chondroitin
FSC
Tel: 0800 083 0356
E-mail:  [email protected]
www.fscsupplements.com
Glucosamine Sulphate is a compound that occurs naturally in the body. It is a key building block of cartilage tissue found in joints. Chondroitin Sulphate is similar in structure, and is a major constituent of cartilage. It provides structure, holds water and nutrients, and acts as a transport medium, allowing other molecules to move through cartilage. FSC Glucosamine & Chondroitin contains the preferred form of Glucosamine Sulphate – one stabilised with Potassium Chloride (Glucosamine Sulphate KCI). Some are stabilised with Sodium Chloride (NaCI), which is table salt. As with all FSC supplements, FSC Glucosamine & Chondroitin is made in the UK with the finest ingredients and based on widely recognised scientific evidence of their health qualities.
Helios Injury
Helios Homeopathy
Tel: 01892 537 254
E-mail:  [email protected]
www.helios.co.uk
Most of us are familiar with the use of homeopathic Arnica for minor injuries and bruises but Helios Injury goes that extra mile. Arnica, Rhus tox and Ruta grav are combined to relieve pain and minor trauma associated with injuries, including joint problems, bruises, strains and sprains. Winner of Best Sports Category, Helios Injury forms part of an award winning range of combination remedies covering childhood teething, fevers and earache; Hay Fever; Sleep and Stress. All remedies come in sucrose pill form in our easy to use single dose dispenser.
Bio-Curcumin with BCM-95
Coyne Healthcare UK
Tel: 020 7921 0021
Bio-Curcumin from Coyne Healthcare UK exclusively uses BCM-95, the world's best-selling and leading bioavailable curcumin extract. BCM-95 delivers 700% more bioactive curcumin than any other Turmeric ingredient, which is the 'Free' form that provides the actual benefits to the body into the blood stream. 33 human clinical studies support BCM-95, validating its unique health benefits and superiority.  Exclusively using curcumin + turmerone oil in its patented formula, Bio-curcumin is 100% natural and contains no unnecessary additives or synthetics such as polysorbate 80 or piperine. In addition, solar energy is used exclusively in the production process in an eco-friendly facility.
Flexicoll™ and Flexicoll Platinum™ – Joint Care
Healtharena
Tel: 01670 511066
E-mail:  [email protected]
www.healtharenaproducts.com 
Healtharena's Flexicoll™ range includes Hydrolysed Fortigel® collagen peptide formulation with joint-supporting nutrients. Available in two strengths, 5000mg (Flexicoll™) and 6000mg (Flexicoll™Platinum), these formulations are especially useful for those in older age, carrying extra weight, sporty or physically active at work.  Formulations are enhanced with the addition of Vitamin C and hyaluronic acid for support of collagen formulation and muscle function. Flexicoll™Platinum also includes Native Chicory Inulin for the support of digestive health. The addition of bromelain and serrapeptase add an anti-inflammatory element whilst hyaluronic acid is involved with joint lubrication, which is especially important with wear and tear through age or physical activity.
Osteo Intensive
BioCare Ltd
Tel: 0121 433 372
E-mail:  [email protected]
www.biocare.co.uk
NEW – Osteo Intensive from BioCare is a high potency, synergistic nutrient and plant extract formula designed to support bone health. It combines magnesium and calcium in their bioavailable forms with boron, and vitamin D and K2. Magnesium, calcium, manganese, vitamin D and K and boron all contribute to the maintenance of normal bones and teeth. Osteo Intensive provides vitamin D3 derived from the unique source lichen, which makes it suitable for those following vegan and vegetarian diets. Magnesium and calcium are provided as the best absorbed citrate forms alongside vitamin K2 as MK7, for maximum effectiveness, and proper utilisation of calcium. Available in a 28 day supply, each individual sachet presents an easy to take, great-tasting powder which provides you with a high dose of nutrients and allows for flexible dosing.  Each daily intake of one 5.5g sachet provides 500mg calcium, 250mg magnesium, 1000iu of vegan vitamin D3, and 45mg vitamin K2. It is naturally sweetened using xylitol and freeze-dried wild berries. It is free from unnecessary ingredients and allergens. Available to order now RRP£29.95 Trade £16.72
Nature's Answer Liquid Glucosamine
Kinetic Natural Products Distributor
Tel: 08450 725 825
E-mail:  [email protected]
www.kinetic4health.co.uk
Nature's Answer glucosamine is a unique liquid formula which combines glucosamine, one of the most popular joint and health support nutrients which can help support resiliency and the maintenance of healthy cartilage. This unique product contains chondroitin, MSM and other joint-friendly ingredients in a smooth liquid nutrition formula. Just one tablespoon of Nature's Answer liquid Glucosamine and Chondroitin provides 1000mg Glucosamine, 750mg of MSM, along with Chondroitin, Cherry Fruit, Evening Primrose Oil, Trace Minerals, Rosemary Extract ; with Quik-Sorb® (ginger rhizome, amla fruit, capsicum fruit).
Lamberts® Glucosamine Complete Glucosamine with Chondroitin, MSM & Quercetin plus Ginger & Rose Hip Extract
Lamberts Healthcare Ltd
Tel: : 01892 554313
E-mail:  [email protected]
www.lambertshealthcare.co.uk
A high strength glucosamine and chondroitin formula that also provides potent levels of other nutrients. Each ingredient has been selected based on their different, but complimentary, functions and are presented at levels that are nutritionally relevant.  Three tablets provide the full 1500mg of glucosamine sulphate, the level used in many studies, as well as 300mg of chondroitin and 150mg of MSM per daily dose. The bioflavonoid quercetin is included at 50mg, plus 1200mg of ginger (as a concentrated extract), as well as 400mg of rose hip. Few, if any, joint formulas provide these potencies in a single formula.
Garden of Life: Organic Plant Calcium
Kinetic Natural Products Distributor
Tel: 08450 725 825
E-mail:  [email protected]
www.kinetic4health.co.uk
Organic Plant Calcium is a unique bone supporting formula made from USDA and EU certified organic plants, including 20 powdered fruits and vegetables. Discover the synergistic combination of key ingredients clinically shown to support bone health with 80mcg (107% RI) of vitamin K2 MK-7 in its most bioavailable form obtained from fermented organic and non-GMO project verified natto beans; the active form of vegan Vitamin D3 (1000 IU) and minerals obtained from organic plant algae, such as calcium, magnesium, strontium and vanadium. Made with the Clean Tablet Technology- the 1st ever 100% Real Food Approach to tablet making! For more information or to order visit
kinetic4health.co.uk email [email protected] or call 08450725825.
Glucosamine Support
HOLFORDirect
Tel: : 0370 3341575
E-mail:  [email protected]
www.holfordirect.com 
Patrick Holford Glucosamine Support combines Glucosamine, Methylsulphonylmethane (MSM), Hops, Curcumin and Quercetin to help maintain healthy joints.  Curcumin is particularly important and helps to reduce inflammation by inhibiting cyclooxygenase-2 (COX-2), prostaglandins (PGE2) and leukotrienes in many cell types.   Curcumin also helps to reduce sore damaged joints.  MSM is rich in organic sulphur, an important 'building block' for healthy bones and joints.  Glucosamine contributes to cartilage formation and joint lubrication.  Quercetin and Hops both have anti-inflammatory qualities that can help eliminate pain. [email protected]  www.holfordirect.com
K-Pearls
Pharma Nord (UK) Ltd
Tel: 01670 534900
E-mail:  [email protected]
www.pharmanord.co.uk
Vitamin K2 is vital for bone health, helping to ensure calcium is implemented into bones, rather than blood vessels and other tissues (which is known as calcification and is associated with various health issues).  Bio-Vitamin K2 contains 75mcg of vitamin K2 MK-7 per capsule, 100% of which is the biologically active 'trans' form.  Bio-Vitamin K2 is manufactured to pharmaceutical standards, a guarantee of product quality, safety and efficacy.  Bio-Vitamin K2 also comes in small oil capsules which are easy to swallow, and allow the fat soluble vitamin to easily absorb from the digestive tract.
Glucosamine Sulphate
Vega Vitamins
Tel: 01639 825107
E-mail:  [email protected]
www.vegavitamins.co.uk
Bones, muscles and joints, along with cartilage, ligaments and tendons, form the basis of the musculoskeletal system. Joints are the location at which two or more bones make contact, they make the skeleton more flexible, allow movement and provide mechanical support. Glucosamine is a naturally occurring amino-sugar, which forms part of the structure of connective tissue, including cartilage, ligaments and tendons. Cartilage is important for supple joints and undergoes a constant process of breakdown and renewal. Vega Vitamins' Glucosamine Sulphate is gluten and dairy free and contains 1500mg of glucosamine sulphate along with vitamin C, which supports normal collagen formation.
Pukka Organic Turmeric Active Herbal Supplement
Pukka Herbs
Tel: 0117 964 0944
E-mail:  [email protected]
www.pukkaherbs.com
Pukka's Turmeric Active Herbal Supplement brings relief for acute and chronic joint and muscle inflammation and pain.  This unique blend of 100% organic active botanicals provides long-term protection and strength to the cartilage, muscles and bones, without the sometimes damaging effects of NSAIDs.  Formulated with ginger and boswellia, Turmeric Active encourages the healthy flow of blood to the joints, ensuring active nutrients easily reach the intended destination for pain relief.
High Potency Calcium & Vitamin D3
Viridian Nutrition
Tel: 01327  878050
E-mail:  [email protected]
www.viridian-nutrition.com
NEW ADDITION: a combination of calcium and vitamin D3 in a unique capsule format. One capsule provides 400mg of calcium in three active forms; as calcium hydroxide from Lithothamnion sp, as calcium citrate and as calcium ascorbate alongside 200ug vegan vitamin D3 from lichen. Calcium and Vitamin D are needed for the maintenance of normal teeth and bones. Calcium also contributes to normal neurotransmission and muscle function. Part of the 200+ range from the ethical vitamin company, Viridian Nutrition, founded on the principles of Purity, the Environment and Charity. Dedicated to the continued success of the specialist health food store.
Peak Omega 3 Liquid 2150mg
Wiley's Finest UK Ltd
Tel: 0800 027 7362
E-mail:  [email protected]
www.wileysfinest.co.uk
Our great tasting Peak Omega-3 Liquid has natural lemon flavor and is guaranteed 90% Triglyceride form.  With 2150mg of EPA+DHA per teaspoon it provides a concentrated dose of Omega-3 fatty acids in every serving.
• Provides 2150mg of EPA+DHA per teaspoon
• 1300mg of EPA & 850mg of DHA
• Triglyceride form omega-3 liquid
• Natural lemon flavor
• Supports heart and joint health*