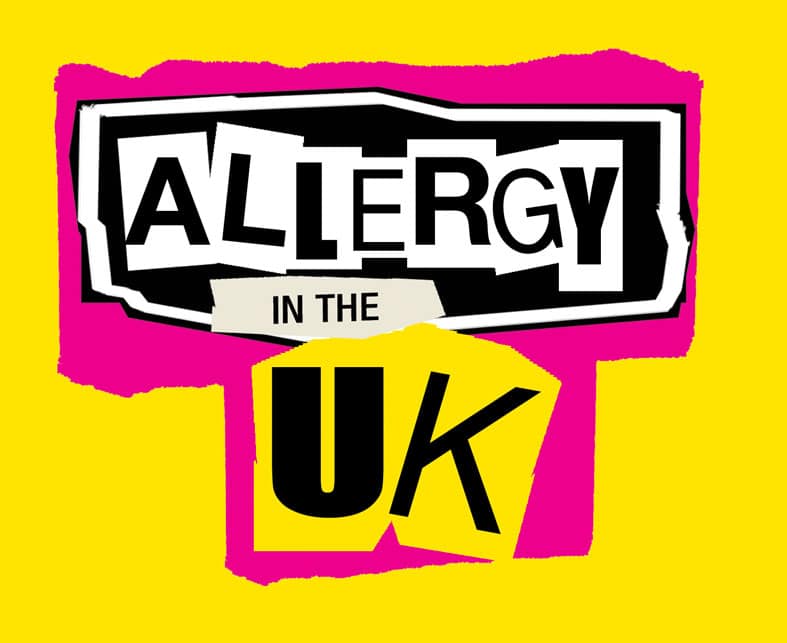 'New to nature' chemicals, industrial farming, over-processed food and excessive hygiene have all have been linked with the epidemic of allergy we're seeing in the UK today. Luckily, the natural products sector has lots to offer – as Jane Wolfe has been finding out
From a runny nose to irritating skin rashes, the symptoms of an allergy are easy to recognise. And health store staff can expect to see more of them, since allergies are currently on the rise. Mintel estimates that 21 million adults in the UK suffer from at least one allergy, with ten million suffering from more than one, and according to Allergy UK, around one in four people in the UK will be affected by allergy during their life. According to Allergy UK's executive chairman, Muriel Simmons: "There is an increase in food reactions as well as reactions to pollen, house dust mite and drug allergies. These can cause anaphylaxis, seasonal and perennial rhinitis, asthma and eczema."
An allergy is the body's overreaction to a normally harmless substance, whereas an intolerance is the immune system's response to specific proteins in food. Allergies differ from intolerances in a number of key ways: allergies can be triggered by just a minute particle of the allergen; allergy symptoms appear within a very short time of exposure and they can lead to fatality if not treated.
Michelle Berriedale-Johnson, publisher of foodsmatter.com, says: "This increase has to do with the massive increase of man-made chemicals in use in every aspect of daily life; the denaturing of our soil by monoculture agriculture and excessive use of chemical fertilisers/pesticides; the over-processing of food and excessive use of nutritionally-poor ingredients; excessive and inappropriate hygiene, preventing the immune system from learning toleration; the hugely raised levels of electromagnetic pollution and lifestyles which incorporate too little exercise and too much stress."
As many as half of all those affected by allergy are children, and food allergies affect six per cent of children under three. Jenny Gay, co-owner of Energetic Health & Natural Beauty, believes that a child's start in life has a massive effect on their potential for allergies. "Children who are born through IVF are more prone to allergies. This is because they spend their first days outside the body, and this is an important time for building the immune system and giving them a strong start in life. These things don't come from nowhere – they come from the soil we are born into."
Since most allergic people suffer from a range of allergies, a holistic overview is paramount. Gay recommends a long-term palliative solution. "People get allergies from having an underlying disposition to certain health traits, so if you treat the underlying problems then the allergy will dissipate. Allergies are so individualised, you can't just say that's what you need to use for this allergy – you need to tailor things toward the individual. I don't believe in one size fits all for anything, particularly with allergies."
Allergy testing
Muriel Simmons believes NHS allergy services are inadequate: "There is a dreadful shortage of allergy specialists and clinics. People are not able to obtain a proper diagnosis or be provided with the correct treatment due to the lack of training for GPs and dedicated clinics at primary care level." Because there are only a limited number of NHS allergy clinics, waiting lists tend to be long, so people have to research their symptoms to identify what they are allergic to.
With this in mind, Nutri Centre recently launched a food intolerance service developed with Allergy UK. The service offers customers a chance to talk about their symptoms and use a food diary to identify possible problem foods.
Karen Simister, Nutri Centre brand manager, explains: "Allergy UK trained our team in Nutri Centre Dudley to start with and we're going to see how it works before we roll it out. So far we've had a really positive response from customers. We know from our research that over 30 per cent of people are suffering from either a food intolerance or managing some sort of food issue within their diet – such as coeliac, dairy intolerance, or eczema-related issues – so we knew there was a need for the service."
The natural products industry is perfectly positioned to meet the rise in demand for allergy products as people are increasingly looking for natural solutions, but Viridian's Cheryl Thallon warns that supplement manufacturers need to be wary of using additives in their products, including commonly-used lubricants and colourants such as magnesium stearate and titanium dioxide, as there is a rising customer base who want to avoid these manufacturing aids. With this in mind, sales of Viridian's allergy supplements and topical balms increased by around 12 per cent in the past 12 months.
Since allergies are caused by an immune system response, this is often the first area targeted for strengthening. Ruth Noah from Noah's Food Store says: "If somebody presents you with an allergy, you need to ask questions about their lifestyle – their diet, what they are exposed to and what work they do. If they have the problem all year round, then it is likely to be the immune system." She suggests echinacea for strengthening the immune system to fight allergies. "We usually recommend echinacea for colds and flu, but we are now recommending it for allergies too, for when the immune system is struggling."
Nutritionist Tim Gaunt from Nature's Aid says that a lot of people are taking probiotics as a primary step towards boosting the immune system as far as allergies are concerned. Probiotics can lessen allergic responses by providing good bacteria in the gut to control the harmful bacteria and fungi which can damage the intestinal wall and allow potential allergens to be absorbed.
"Other things like essential fatty acids are useful as they also cut down on the inflammation. Also beta glucans, vitamin C, bilberry and elderberry are particularly useful for boosting the immune system," he adds.
Anaphylaxis
An anaphylactic reaction is a severe response to an allergen that can lead to swelling of the mouth and throat, severe wheezing, and death. The most common food causes include peanuts, nuts, fish, shellfish, milk and eggs. Between 1990-2004, hospital admissions for anaphylaxis rose by 700 per cent to 3.6 per 100,000 people.
In December, NICE published guidelines on the initial assessment and referral following treatment for anaphylactic episodes. Allergy UK's Simmons welcomes the guidelines, but doesn't think they go far enough: "They state that a child who has suffered an anaphylactic reaction must be seen by an allergy specialist. However, the lack of allergy specialists makes it questionable as to how practical these guidelines are actually going to be. We need more allergy specialist clinics including outreach clinics into GP's surgeries. We need more allergy nurses based in the community."
Berriedale-Johnson agrees: "The guidelines are fine, the problem lies with ensuring that the guidelines are followed given that there remains a severe dearth of allergists (especially those who understand and can treat allergy in a holistic sense) and a poor understanding of allergy in primary care."
The skinny on skin
Natural skincare products are becoming more popular due to the rise in skin sensitivities. "More and more women are finding their usual brands are causing intolerance and allergy," says James Sutton, founder of Butterflies Healthcare which produces NATorigin, the only cosmetics/skincare range approved by Allergy UK.
Sutton says that allergies represent only 10 per cent of ocular or skin reactions, and that the rest are due to intolerances. "This problem affects more than half of all women and is often linked to conditions of modern life stress, pollution, aggressive products, hard water, dieting, unhealthy eating habits, air-conditioning and smoking. These skin aggressors will continue to exist and even rise in our environment, and this will continually grow the market for extreme tolerance beauty."
Sutton sees the market developing into the advanced skin treatment area, for example with anti-ageing products. "Previously women with sensitive skin were unable to risk trying novel anti-ageing products. I predict that this is where the market will develop in future."
Paul Davis, sales and marketing director at Salcura, also sees the natural skincare market growing. "People are able to research non-natural products on the internet and find out exactly what they are using and as a result they are turning to products that don't contain harmful ingredients."
For skin allergies, Noah recommends aloe vera as the first point of call. "It stops the itching of eczema and is very healing and cooling. It also helps tissue repair. However, people also need to look at what they're doing internally, and here essential fatty acids are really important." Cheryl Thallon agrees: "Numerous clinical studies have shown good results in using essential fatty acids in the treatment of many chronic allergic diseases."
"More and more women are realising that their usual skincare brands are causing allergies"
Due to the growing demand for natural skincare products, Berriedale-Johnson has launched the FreeFrom Skin Care Awards. "There are an increasing number of people who suffer from allergies/intolerances, often to both food and to chemicals and processed ingredients, and a need for products which exclude those ingredients. We wanted to encourage, reward and celebrate those companies making such products." NATorigin is sponsoring the Body and Hair Care category at the awards, which will be announced in May.
With food allergies still on the increase, retailers can remain confident about their free-from offerings with demand rising for free-from foods, especially gluten-free. So is there room for gluten-free natural skincare on the shelves too? Alex Gazzola, journalist and author of Coeliac Disease: What You Need To Know, says there are plenty of anecdotal reports of adverse reactions, but it's generally thought there is no risk unless products get into the mouth or an open sore, making lipsticks and lip balms the biggest risk. Ingredients in skincare in which gluten proteins may lurk include wheat amino acids and hydrolyzed wheat protein. "Ultimately, where you draw the line remains a personal decision based on your sensitivity and experience," says Alex. Although further research is needed into this issue, the German Coeliac Society has already set standards for gluten-free cosmetics.
Clean up your act
According to Allergy UK, 12 million people are 'allergic' to their own home, with the chemicals in cleaning products affecting over 30 per cent of allergy sufferers, with 58 per cent citing dust, 55 per cent mould and 45 per cent pets as their trigger.
Sophie Kingscott, marketing executive at Ecoegg, has seen a significant rise in the popularity of chemical-free household products. "People have become so aware over recent years of the damage harsh chemicals can do to their skin and so they are opting for gentler products which are kinder to the skin. More people are finding that they are sensitive to chemicals found in everyday household products."
The UK has one of the highest rates of asthma, with 5.4 million people receiving medical treatment for the condition. Over half of people with asthma also have hay fever. Research is currently underway in Manchester and London to see if vitamin D supplements during pregnancy can help lower the risk of a child developing asthma.
Hay fever tops the nation's allergic conditions, with about a fifth of the population thought to be affected. Grass is the most common cause, affecting 95 per cent of sufferers. The prevalence of hay fever is increasing by around one per cent annually. In 2009, hay fever remedies made up the greatest share of the allergy remedies market, at an estimated 77 per cent of retail value sales.
Although the peak season for hay fever is normally from May to July, airborne allergens are present all year round and pollen seasons are starting earlier and lasting longer as a result of climate changes.
Max Wiseberg, founder and managing director of HayMax, believes there will be an increase in natural hay fever products in future because people don't want to take antihistamines.
He says: "There is always room for new products and new ways of dealing with hay fever. It's such an imprecise science. I think people will be bringing in more and more natural products."
Tim Gaunt recommends quercetin for hayfever as it possesses natural antihistamine properties. It is a non-drowsy solution too, because it doesn't block histamine altogether, it simply reduces the amount to a 'normal' level.
Natural potential
Mintel forecasts that the allergy remedies market will increase by six per cent, rising to an estimated £117 million by 2014, and Salcura's Davis believes the natural products sector is poised to take its share: "The market for allergy is huge. Even if that market as a whole starts declining, the natural slice is so small that I believe
it will grow and take a share from the non-natural side because there's so much to go after for natural products. There is a huge potential."
National Allergy week is taking place from 23-29 April 2012 and Indoor Allergy Week from 12-18 November. If you would like to get involved call 01322619898 or visit www.allergyuk.org.
Hot Stocks
Skin deep
For sensitive skin, NATorigin's skincare range contains organic arctic raspberry seed oil and cellular extract of red seaweed for anti-oxidant, anti-inflammatory and cell-stimulating properties. The company is launching some new eye contour creams this year and its Regenerating Lifting Serum is suitable for sensitive skin.
Skin Salvation from Purepotions is suitable for those prone to eczema and psoriasis and contains olive fruit oil, hemp seed oil, tinctures of nettle, chickweed and calendula.
Salcura's DermaSpray Intensive is a liquid spray so it doesn't need to be rubbed in – a real plus for sensitive skin.
Hair today
Natural hair care is also on the rise, with an increase in allergic reactions to hair dye and scalp sensitivities. Green People Intensive Repair Shampoo and Conditioner is designed for damaged, colour-treated hair, and Weleda Rosemary Hair Lotion is especially good for men with scalp problems – with nourishing rosemary and healing essential oils.
Fight the Fever
In time for the start of hay fever season, Sinose from Salcura is being launched through Tree of Life. The chemical-free product stands out as it can be used during pregnancy and breastfeeding.
HayMax relieves hay fever by trapping airborne allergens – pollen, house dust mites and animal dander – before they go in to the nose.
Natures Aid's Quercetin Formula includes vitamin B5 to provide adrenal support, liquorice to soothe irritated mucous membrane, pine bark extract to ease inflammation, and vitamin C which has a natural antihistamine action.
Home help
Ecoegg is launching two new versions of the Ecoegg in Spring Blossom and Soft Cotton fragrances along with Ecoegg Dryer Eggs which reduce drying time by up to 28 per cent, and the Ecoegg Eco Stain Remover. Other chemical-free household products include the E-Cloth System from Enviroproducts, and cloths and floor mops from No More Chemicals.
Boosting immunity
Products to support immune health include HealthAid's AllerGForte with quercetin, bromelain and pine bark, and Betaimune which contains pine bark, resveratrol, mixed carotenoids and mixed berries. Nature's Aid Ester-C and Immune Support + with Beta Glucans are also popular immune-boosters.
Allergy Listings
ImmunoGuard
BioCare® Ltd, Lakeside, 180 Lifford Lane, Kings Norton, Birmingham B30 3NU
Tel: 0121 433 3727
E-mail: [email protected]
www.biocare.co.uk
ImmunoGuard® digestive health support from BioCare® is an intestinal immune complex in powder form. It contains the probiotic Lactobaccilus salivarius, whey protein and other nutrients to nourish and encourage a healthy immune system within the intestine. At birth, immune factors and various nutrients such as GLA, zinc and potassium are supplied to the infant via human breast milk. These nutrients, together with friendly bacteria, are essential in helping the immature intestinal tract develop and maintain a healthy overall micro-ecological balance. ImmunoGuard® is a useful adjunct to any digestive health programme and is suitable to be taken while breastfeeding. RRP £24.15 for 150g.
NATorigin lipsticks
James Sutton, Butterflies Healthcare, 27 High Street, Middleton Cheney Banbury OX17 2PB
Tel: 0845 838 6704 Fax: 0845 838 6714
E-mail: [email protected]
www.butterflies-healthcare.co.uk
Launched last year, these 100% natural, certified organic lipsticks have been creating a real storm winning a Janey Lee Grace Platinum Award. They are formulated with orchid extract to give an extremely soft and smooth texture. Rich in organic waxes (carnauba wax, candelilla wax, beeswax), organic shea butter and organic oils (sweet almond, jojoba seed, sunflower seed, marula seed, castor seed) to both moisturise and protect the lips, keeping them soft and supple. Along with the rest of the NATorigin range they are the only cosmetics approved by Allergy UK making them the first choice for sensitive skin.

Barefoot SOS Face & Body Rescue Cream
First Natural Brands Ltd (Barefoot and Tisserand Aromatherapy Products)
Tel: 01273 325666 Fax: 01273 208444
E-mail: [email protected]
www.barefoot-botanicals.com
Our natural and award-winning solution has been developed by natural health experts and is recommended by dermatologists, doctors and natural health professionals. With its Advanced Natural Therapeutic Formula, SOS Face & Body Rescue Cream is a proven alternative to paraffin-based emollients for sufferers of dry, irritated and uncomfortable skin. This intensively rich and nourishing cream is suitable for all ages and for those who may be prone to eczema and psoriasis. Available in a variety of sizes: 25ml trial size for £5.95, 50ml for £10.50 and 100ml for £18.00.

Weleda Hayfever Kit
Weleda UK
Tel: 0115 944 8222 Fax: 0115 944 8210
E-mail: [email protected]
www.weleda.co.uk
Weleda have a range of natural remedies to help allergies and hayfever, and their holistic Hayfever Kit brings together two popular solutions, as a totally natural way to ease symptoms. Soothing Rhinodoron Nasal Spray (rrp £6.50 20ml) is designed to clear nasal passages, calming irritation along the way. The saline solution contains moisturising organic aloe vera. Weleda's homeopathic Mixed Pollen 30 tablets (rrp £6.95 125 tablets) contain a mixture of plant pollens most commonly known to trigger hayfever. A special offer of £10.45 for the duo pack saves customers £3 on the usual retail price, yielding a POR of 33%.
AllergForte
HealthAid Ltd, HealthAid House, Marlborough Hill, Harrow, Middlesex, HA1 1UD
Tel: 020 8426 3400 Fax: 020 8426 3434
E-mail: [email protected]
www.HealthAid.co.uk
Allergies are versatile. They can show up just about anywhere in your body and create an incredible variety of symptoms. This often leads to physical and emotional distress. Allergforte contains natural antioxidants antihistamines and anti-inflammatories that can help with the symptoms of allergies, its unique formulation containing natural essential ingredients such as Vitamin C, Quercetin and Bromelain, helps to combat the misery of common allergies and make the condition more bearable. Allergyforte is suitable for vegans and vegetarians. Allergforte, retails at £9.99 for 60 tablets.
Natures Aid
Tel: 01772 686231 Fax: 01772 686700
E-mail: [email protected]
www.naturesaid.co.uk
Quercetin Formula – Ease the misery of Hayfever
Whether the irritant allergen is pollen, dust mites, UV, heat or pet hair, the body releases histamine, which leads to the familiar itching, sneezing, wheezing and watery eyes. Quercetin Formula with Vitamin C and Pine Bark extract stabilize the mast cells, damping down the release of histamine. MSM, Vitamin B5 and liquorice thin mucous and improve lung function and have complimentary effects on the adrenals and liver. This provides an extra layer of support by calming the immune response, reducing the effect of daily stress and speeding up the elimination of histamine from the body. For a comprehensive approach to the misery of allergic symptoms. Natures Aid Quercetin Formula is available in 30 and 90 Vegetarian Capsules RSP £5.95 and £14.95 respectively.
Heath & Heather Lemon Balm & Liquorice
Heath & Heather, Pasture Road, Moreton, Wirral, Merseyside, CH46 8XF.
Tel: 07831 665 779 Fax: 0151 522 4020
E-mail: [email protected]
www.heathandheather.co.uk
At Heath & Heather we have been creating excellent infusions since 1920, selecting only the finest natural ingredients that are free from artificial colours and flavours. We work in association with the National Institute of Herbalists ensuring that our infusions deliver the very best to support a healthy lifestyle. Our new Lemon Balm & Liquorice is a soothing infusion which expertly combines Lemon Balm Leaves, Liquorice Root, Camomile and Rooibos providing a calming infusion that can be enjoyed at any time of the day or night. Try using as a compress to relieve skin inflammation. Use the lukewarm bags to apply to the affected area.
Ecz-tend Soothing Cream
Gentle Green Natural Remedies
Tel: 01803762910
E-mail:[email protected]
www.gentlegreen.co.uk
Ecz-tend Soothing cream provides effective Natural relief for sensitive, dry and allergy prone skin. A highly nourishing all-over moisturiser of uncompromising quality suitable for all ages.
Ecz-tend Soothing cream eases itching and inflammation with a chemical free combination of herbs and oils. Free from nut oils and alcohol.At Gentle Green we are committed to supporting the well being of people and planet and we love contributing to health, harmony and comfort with our effective and revolutionary skin care that doesn't cost the earth."One of the best natural remedies for the relief of eczema to come onto the market in the last 30 years."
Elderberry Syrup & Natural Vitamin C
Pukka Herbs Ltd
Tel: 0845 375 1744 Fax: 0117 964 0804
E-mail: [email protected]
www.pukkaherbs.com
Pukka's Elderberry Syrup is an incredible blend of organic elderberry, manuka honey, ginger and thyme to support the respiratory system. Free from synthetic ingredients, Elderberry Syrup gently clears mucus and catarrh from the respiratory tract and sinuses. With active manuka honey 14+, this naturally sweet syrup soothes sore and irritated mucous membranes to ease both dry and productive coughs. Partner with Natural Vitamin C to ward off any lingering winter chills. 100% naturally derived, Pukka's Natural Vitamin C delivers high levels of absorption and stays in the blood for up to 12 hours, far longer than processed vitamin C products.