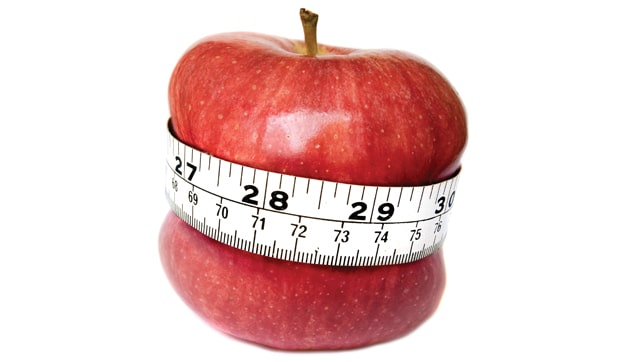 There's a wealth of healthy and natural products available for shoppers that want to fight the flab and detox safely
The UK is going through a fat phase. According to Government figures an estimated 60.8 per cent of adults and 31.1 per cent of children are overweight and 38 per cent of adults have experienced a raised waste circumference.
This isn't just affecting the way we look – as many as 30,000 people die prematurely every year from obesity related conditions. It can also cause everything from diabetes to high blood pressure. In fact, some experts believe that obesity is more dangerous than smoking.
Luckily, health stores have plenty of innovative natural ways to help out – which makes the detox and slimming category a potential year-round hit for independents.
"Both slimming and detox have a year-round interest for consumers, but there does appear to be two major spikes in otherwise steady sales," says Martin Betts from Health Plus.
"These are traditionally the New Year period just after the over indulgence of Christmas and New Year celebrations, when resolutions are made about either losing weight or detoxing to start the year afresh."
Betts adds that the category isn't just for health store regulars, but also appeals to what he calls 'blitz buyers' – consumers that take supplements for as long as they need to while achieving a weight loss goal, adding up to a healthy sales injection.
"It is one of the very few categories that does not compete with pharmaceutical drugs in consumer's mind," adds Ekaterina Igumentseva from Organic Burst.
"Customers are increasingly becoming aware that they can lose weight through optimising their diet and using natural remedies to aid slimming.
"It is important to provide encouragement and remind customers that they can reach their goals and offer well-rounded recommendations on changing diet and lifestyle."
"Holding in-store talks by nutritionists on aiding weight loss can be a great way to attract more customers and boost sales in this category."
Detox dilemmas
Detox has been the focus of plenty of controversy over the last couple of years with academics such as Edzard Ernst typifying detox products as "avoiding science." It's not a point of view shared by natural proponents like Jan De Vries.
"It's such a necessity," he says. "There's so much toxic material that can build up in people's systems. It can lead to problems with the liver and kidneys so it's sensible to do what I call an 'intelligent cleanse' using the right methods."
As well as drinking plenty of water there's a raft of health solutions that can aid this cleansing process. Igumentseva recommends wheatgrass powder as a good start since it's high in digestive fibre and helps cleanse the digestive tract.
One-a-day supplement solutions are also popular. Health Plus is behind Detox 2000 – an antioxidant and detox combination product designed to remove heavy metals from the system while supporting the immune system with minerals and amino acids.
Metabolism boosters
To beat obesity most experts agree that consumers have to eat less and move more. But there's also lots of ways nature can help this along. In recent times the focus in the supplement trade has been for metabolism boosters, incorporating elements like chilli or cayenne pepper, formulated to help the body shed weight faster.
"A relatively new but none the less popular addition to the Health Plus range has been Xtra-Slim," says Betts.
"This is an advanced thermogenic combination of the following nutrients: green tea, caffeine, guarana with amino acids, Acai Berry Extract and Black Pepper Extract for better bioavailability.
"These are all known to help provide a feeling of fullness, and therefore reduce hunger pangs, so avoiding snacking, together with having a thermogenic action on the body, and so maintaining a healthy metabolism!"
Slimming & Detox Listings
Aloe Pura Liquid Fibre
Optima, J Shed, Kings Road, Swansea, SA1 8PL
Tel: 01792 646475
Fax: 01792 646490
E-mail:  [email protected]
www.drorganic.co.uk
Aloe Vera helps boost the immune system by introducing antioxidants to the body, which help to detoxify the body and promote healthy, regular bowel movements  Aloe Vera has anti inflammatory properties which can help with painful, aching joints. Contain Fibresol2, the worlds first soluble dietary fibre made from 100% natural corn starch. Besides low calories, it has important functions for the maintenance of physical conditions  such as;
• Improving intestinal regularity
• Moderates blood glucose levels
• Promotes growth of friendly bacteria
• Helps keep villi in the small intestine free to absorb nutrients needed to nourish the body.
Contains Fructose – natural sweetener, slight laxative effect
Aloe Pura Digestive Aid Juice
Optima, J Shed, Kings Road, Swansea, SA1 8PL
Tel: 01792 646475
Fax: 01792 646490
E-mail: [email protected]
www.drorganic.co.uk
Digestive Aid utilises the unique characteristics of Aloe Vera, with a new botanical mix:
• Peppermint • Papaya • Chamomile • Fennel • Bromelain
Is calming and soothing for the digestive tract. Aloe Vera helps boost the immune system  by introducing antioxidants to the body. Aloe Vera has anti inflammatory properties which can help with painful, aching joints and help detoxify the body and promotes health, regular bowel movements.
Health Plus Slimming & Detox range
Health Plus, Simon Bandy
Tel: 01323 872277
Fax: 01323 872278
E-mail: [email protected]
www.healthplus.co.uk
Health Plus have wide selection of products in these categories, including Konjac Fibre which has been a best-seller for us for many years now, Phase 2® 500mg and the brand new Xtra-Slim for slimming and Detox 2000, the conveniently comprehensive Detox Pack and the latest addition Liver Kind for detox. All are available from stock in single units, with no minimum order and excellent customer service. Health Plus have been serving over 200 quality products to the retailer and practitioner market for over 20 years now. If you haven't tried us yet, now's the ideal time!
Bodylean®
HealthAid Ltd, HealthAid House, Marlborough Hill, Harrow, Middlesex, HA1 1UD
Tel: 020 8426 3400
Fax: 020 8426 3434
E-mail: [email protected]
www.HealthAid.co.uk
Bodylean® CLA BODY BEAUTIFUL. Bodylean® CLA Plus can help reduce body fat and in turn increase muscle tone. Conjugated Linoleic Acid is added, to manipulate the way the body stores fat and helps utilise it as energy, regulating and lowering body fat percentages, and increasing muscle tone.  Other ingredients include L-Carnitine, L-Ornithine and CoQ10 for enhanced metabolism, together with Chromium and Gymnaema Sylvestre to aid sugar cravings and blood sugar regulation. Maximum benefit is achieved if taken in conjunction with a healthy balanced diet and regular exercise.  Bodylean CLA plus, duel pack retails at £16.99 for 60 capsules & tablets. Contact HealthAid Ltd on 020 8426 3400 for purchase and stockist information or visit www.healthaid.co.uk
Kilo Trim
Steve Skitt, Unit 20 Brough business Centre, Skillings Lane, Brough HU15 1EN
Tel: 01482 300695
E-mail: [email protected]
www.newnordic.co.uk
NEW from New Nordic, Kilo TrimTM has Clinically Proven Ingredients to help achieve healthy weight reduction and healthy blood sugar levels. Recommended for people, who wish to reduce their body weight and maintain healthy blood glucose levels, it combines Glucomannan, which is a natural dietary fibre, which contributes to the reduction of body weight in conjunction with a energy restricted diet and exercise. Plus Chromium helps maintain healthy blood glucose levels. Kilo Trim is developed and manufactured in Scandinavia and is the biggest breakthrough for decades in dietary supplements for weight loss. The tablet takes the top of your cravings. It works as a natural appetite suppressant, you think less about food and you feel energetic from what you eat.
Amazing Grass Amazing Meal
Kinetic Natural Products, 258 Belsize Road, London, NW6 4BT
Tel: 08450 725 825
Fax: 08450 725 826
E-mail: [email protected]
www.amazinggrassuk.com
Amazing Grass Amazing Meal is a blend of organic Green Superfood with plant-based protein, fruits and vegetables, that delivers a 100% whole food nutrition mix. Each serving has – 10 grams of premium-blend whole food protein containing all the essential amino acids; antioxidant and phytonutrient rich superfoods including Chlorophyll rich Organic Wheat Grass, Barley Grass, Alfalfa and Kale to deliver optimum nutrition and all the nutrients your body requires; 6 grams of fibre to keep you fuller for longer, and digestive enzymes and probiotics, to aid digestion. This perfect meal replacement product also has detoxifying properties and will naturally cleanse the digestive system. Available in Original, Chocolate Infusion and Pomegranate Mango Infusion.
Bach Emotional Eating Kit
Nelsons
Tel: 0208 7804200
E-mail: [email protected]
www.bachremedies.co.uk
Bach Emotional Eating Kit, the first product available in the UK to help with emotional eating,  are working with celebrity Clare Nasir, ITV weathergirl and busy Mum, who lost 3 stone after the birth of her baby in 2010 and has found support from the kit to help her maintain a healthy weight. Bach Emotional Eating Kit is a set of three 10ml flower essences to give a helping hand with diet and healthy living regimes. You can create your own individual combination and adapt it to suit your changing moods as you embark on your healthier living regime. The essences are alcohol free and suitable for the whole family.
Nelsons trade enquiry number: 0800 289 515
Weight Balance and Clean Greens
Pukka Herbs
Tel: 0845 375 1744
Fax: 01179 640 804
E-mail: [email protected]
www.pukkaherbs.com
Pukka's organic Weight Balance and Clean Greens are Slimming & Detox essentials.  Weight Balance supports the body's natural function of an active metabolism and digestive system. Containing fruits, grass juices, freshwater plants, seaweeds and spices, Weight Balance helps to maintain a healthy weight when taken as part of a balanced diet. Available in 90 capsules. Clean Greens is a unique blend of 12 chlorophyll-rich green foods including organic spirulina, chlorella, kale sprouts and wheat grass juice. This nutritionally concentrated formula purifies and strengthens the body, preventing the build up of toxins. Available in 90 capsules, 120g powder and handy sachets.
Patrick Holford CarboSlow™
BioCare® Ltd, 180 Lifford Lane, Kings Norton, Birmingham B30 3NU
Tel:  0121 433 3727
E-mail: [email protected]
www.biocare.co.uk
CarboSlow™ is a weight management formulation designed to slow the body's calorie absorption from carbohydrate-heavy foods such as bread, pasta and rice. The key active ingredient of CarboSlow™ is glucomannan (derived from Konjac Root) a high molecular weight polysaccharide which, when taken with water, forms a viscous gel that helps to give a feeling of satiety. CarboSlow™ can be used in combination with a weight loss programme and to support a healthy level of cholesterol, maintain a healthy digestion and support blood sugar balance. Capsules – RRP £18.55 for 180 (9 per day). Powder – RRP £16.95 for 200g (approximately 7.5g per day).
Flor-Essence Herbal Detox Tea
Savant Distribution Ltd
Tel: 08450 606070
E-mail: [email protected]
www.savant-health.com
Flor-Essence is a traditional formula of eight herbs that work to cleanse and rid the body of toxins accumulated from the excessive stresses of our modern lives. The herbs were used for centuries by the Ojibwa Indians of North America and provide an invaluable source of antioxidants and phytonutrients. As simple as a cup of tea a day, this great tasting herbal tea helps to strengthen and support the whole body. Just add hot water for a delicious and convenient way to cleanse and re-energise daily! Available from Savant Distribution Ltd. on 08450606070
100% Organic Equinox Elixir 50ml
Viridian Nutrition Ltd, 31 Alvis Way, Royal Oak, Daventry, Northants NN11 8PG
Tel: 01327 878050
Fax: 01327 878335
E-mail: [email protected]
www.viridian-nutrition.com
A quarterly cleanse around the equinox and solstice can help with the elimination of toxins and tonify the kidneys, liver, lymphatic system and bowel. When these areas of the body are not functioning at their optimum, poor skin, hair, nails, bad breath and lack of energy can result. It is considered in certain spiritual circles that fasting or cleansing during the equinox and solstice is more effective than at other times in the planetary calendar. Viridian Nutrition's Organic Equinox Elixir features dandelion, cleavers, burdock, nettle and artichoke to support a seasonal cleanse. Produced in the UK. Soil Association certified organic.
Thermogenic Complex
Solgar Vitamin & Herb
Tel: 01442 890355
E-mail: [email protected]
www.solgar.co.uk 
Time to shape things up. Solgar Thermogenic Complex contains several key ingredients for regulating metabolism and supporting optimal body composition.  We all know that there's no such thing as a magic bullet for weight loss, however there are many naturally occurring substances that have been shown to support healthy body composition and weight. Known as thermogenic agents, certain compounds have been studied for their ability to regulate metabolism, reduce body fat and, when combined with a healthy diet and exercise regime, aid in the battle of the bulge.  Thermogenic Complex is suitable for those on a vegan diet.
Organic Burst Acai
Simply Organic Europe Ltd. 3rd Floor,  207 Regent Street
Tel No: 0203 5669 889
E-mail: [email protected]
www.organicburst.com
Organic Burst Acai is a 100% pure freeze-dried acai berry supplement from a multi-award winning UK brand. Studies showed that anthocyanins in acai together with its high contents of fibre may help boost weight loss and improve metabolism. Another study showed that when combined with exercise regime healthy human volunteers taking acai had significantly better weight loss results against those that exercised and did not take acai. Organic Burst Acai is different from most products on the market as it's pure and freeze-dried – ensuring that its polyphenols, essential fatty acids and bioactive compounds are preserved. As it is a whole food source it is completely bioavailable and does not contain any fillers.
Udo's Choice Ultimate Oil Blend
Savant Distribution Ltd, Quarry House, Clayton Wood Close, Leeds LS16 6QE  
Tel: 08450 606070
E-mail: [email protected]
www.udoschoice.co.uk
Eat Fat to Lose Fat! If you're watching your weight or doing battle with cravings, Udo's Choice Ultimate Oil Blend could help. Recommended by weight loss nutritionists like Amanda Hamilton, the Essential Fatty Acids (EFAs) in Udo's Oil help the body burn fat and reduce cravings. This blend of nutritional seed oils provides the body with the ideal ratio of 2:1 Omega 3 and 6 EFAs. Simply add Udo's Oil to food after cooking. It can be used to make salad dressings, drizzled over steamed vegetables, mixed into porridge, fruit yoghurt or a smoothie. Available from Savant Distribution Ltd. on 08450606070