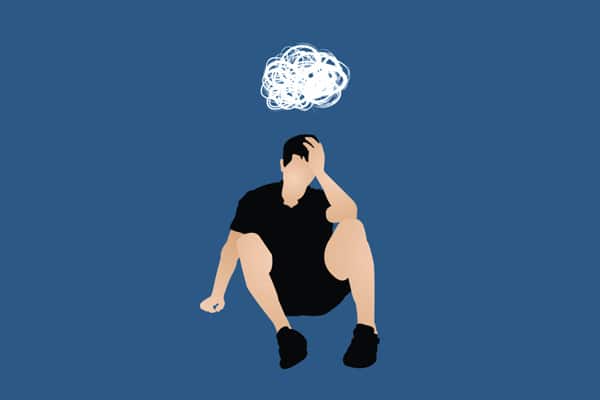 Sarah Callard takes the strain out of which products to choose for stress and anxiety
Debt, the threat of unemployment and an increasing number of demands on our time are all adding to our stress and anxiety levels. Demand for natural products to ease symptoms related to stress and anxiety are on the increase and manufacturers are responding with innovative new products and fresh formulations.
So what kinds of health problems are associated with feelings of stress and anxiety? Natural health expert Patrick Holford says: "Stress raises cholesterol and blood pressure, increasing cardiovascular risk, as well as contributing to metabolic syndrome, hence an increased risk for diabetes."
"It suppresses immunity, making you more prone to infections. By leading to lack of sleep this also makes you more tired. People under stress tend to eat more sweet foods and carbohydrates which leads to abdominal weight gain."
Alison Cullen, education manager at A Vogel adds: "The research coming out on the negative impacts of stress is very revealing in terms of how many symptoms that we commonly see in stores and clinics may be at least partially due to stress and/or low mood. For example, the negative effect of sleep loss on weight balance – if you don't snooze then you probably won't lose."
She adds: "Stress has recently been flagged up as the main cause of time off work in the UK. Alongside this, a phenomenon known as presenteeism has evolved, whereby sick workers drag themselves to work in fear of being sacked if they don't!"
Stressful times
There is plenty of evidence that we, as a nation, are experiencing greater stress than in the past and Lorna Driver-Davies, nutritionist at the Nutri Centre corroborates this evidence.
"We talk to many people each day who are suffering from stress or anxiety – stress is more common though," she explains.
"Stress and anxiety seem to be a very modern day problem. Stress is a kind of blanket term which affects people in different ways. For one person it may be that they suffer from frequent colds or coughs and for another it's not being able to switch off at night and finding it hard to fall asleep. People seem to be 'run down' just by the effects of stress," she adds.
Treating the problem
Clearly there are a number of reasons why stress isn't good for your health and natural products can play a significant role in improving feelings of stress and anxiety. However, they can't necessarily get rid of the problems that are causing the stress in the first place so it's important that people understand that they need to manage their stress levels rather than expect a magic cure.
A good all-round stress-busting package of supplements, as recommended by Driver-Davies, would include a generous dose of magnesium (because the adrenal glands use a lot of magnesium); a B complex which contains high levels of vitamin B5; vitamin C and a herbal adaptogen such as Siberian ginseng.
She also recommends EnergiRevive powder by Herbs Hands Healing which contains Siberian ginseng, lavender cinnamon and liquorice powder as a blend to add to smoothies to support the body during times of stress or tiredness.
Other helpful herbs including Rhodiola Rosea, an adaptogen supported by a number of research papers and reviews. The beneficial effects of administration of adaptogens are mainly associated with the hypothalamic-pituitary-adrenal (HPA) axis, a part of the stress-system that is believed to play a primary role in the reactions of the body to repeated stress and adaptation.  Interestingly, a single dose of rhodiola will take effect within 30 minutes and last between 4-6 hours giving pretty much immediate results.
If someone is feeling 'burnt out' the other adaptogens such as ginseng, Siberian ginseng and reishi may also be helpful.
Ayurvedic herbs such as ashwaganda, which is available from Pukka Herbs, can also have a beneficial effect on stress, particularly when combined with some form of meditation or exercise such as yoga which is known for its stress-busting benefits.
Valerian and passion flower are also well known for their ability to help with anxiety and sleep problems caused by stress. Avena sativa, the common oat, is thought to be extremely beneficial as a gentle herb for depression, tension and anxiety.
"The most potent soporific herb, good for relaxing and sleeping, but not for driving, is valerian," says Patrick Holford. "Most people don't take enough – you need 600mg for an effect – but there are nine positive trials on valerian," he adds.
B good to yourself
When it comes to supplements for stress, B vitamins are often the first port of call. They support the body during times of stress, in particular the adrenal glands and the nervous system.
People suffering with stress often feel overwhelmingly tired and a B complex supplement can provide a much needed lift. They also help to support the immune system. Vitamin B5 can have a relaxing and calming effect which can be extremely beneficial for those feeling anxious.
Algaes such as spirulina and chlorella are rich in B vitamins as well as minerals and enzymes for extra support.
Thierry Damour from Kinetic recommends a B Complex formula from Terra Nova which contains the full spectrum B complex as well as adaptogenic herbs and the 'Nervine' all-in-one herbal formula which includes herbs to nourish the nervous system such as skullcap, avena sativa and passionflower.
Magnesium is also well known for its benefits for stress sufferers. Says Debbie Paddington, nutritional therapist at Higher Nature: "Magnesium is known as a calming and relaxing mineral and may also help with relaxation and sleep."
A combination approach is often the most effective and Tim Gaunt at Nature's Aid explains that they have developed a product with over stressed people in mind.
"Vitamin B  complex, magnesium and digestive enzymes are some of the nutrients that we would recommend for those suffering from stress. The latest launch by Natures Aid is a product that we have named Ultimate Daily Support and it is designed for precisely these people due to the inclusion of a full B complex, magnesium, digestive enzymes, Siberian ginseng as well as chromium, COQ10 and lactium."
Amino acids
Amino acids such as l-arginine, glutamine and glutathione are involved in brain chemistry and are important to the health of brain cells. Certain amino acids such as tryptophan are also vital to mental health by helping to mediate mood and emotions. Tryptophan is converted by the body to serotonin – an important brain chemical that elevates mood, self-esteem, feelings of optimism and induces calm feelings and sleep.
A diet full of tryptophan-rich foods such as avocados, bananas, pecans and turkey has been found to enhance mood and mental stability. The absorption of tryptophan into the brain is thought to be enhanced by eating carbohydrate-containing foods which release their energy slowly.
Says Holford: "The neurotransmitter that switches off adrenalin is called GABA, which is made from the amino acids glutamine and taurine. Magnesium also has a relaxing effect on both mind and body. So too does l-theanine in tea, but not in coffee. Hops and passion flower are also calming and combinations of these are really good."
New product development
The obvious demand for natural stress busters has led to some very interesting new product development. Lorna Driver-Davies is particularly impressed by one such new product: "Neuralactin Plus by Bionutri contains hydrolysed casein – the form of casein that is produced when acted on by trypsin, and which is thought to induce the beneficial sleep-promoting effects in babies".
"Hydrolysed casein may also help relaxation and reduce anxiety in the daytime – it should not cause drowsiness. Neuralactin Plus also contains theanine – the substance in green tea thought to be responsible for its relaxing qualities – and some magnesium and B vitamins," she adds.

Gaunt flags up Natures Aid's new Ultimate Daily Support product which contains lactium, "a decapeptide (10 amino acid chain) from milk that has been shown to lessen the affects of stress by helping to control cortisol levels."
Feel-good food
There is a great deal of evidence to show that diet and lifestyle can have a profound effect on stress and anxiety. After all – many cultures have succesfully used food to treat common conditions. And people that are stressed do tend to seek out the 'wrong' types of food, as well as alcohol.
Aimee Benbow, technical services manager at Viridian, stresses the importance of "treating people as a whole, rather than the symptoms as this is at the heart of the natural health industry, therefore talking therapies, physical therapies such as massage and yoga, as well as some of the wide range of adaptogens including suma, yerba mate, daminana, rhodiola and the ginsengs offer the greatest help in this area".
Holford says: "the single biggest impact I've seen on people's stress levels are from following a strict low GL diet. By balancing blood sugar levels you don't get blood sugar dips and these trigger the release of stress hormones, designed to make you hunt for sugar. With that comes more anxiety and aggression. Eating little and often, combining protein with carbs, staying away from caffeine and sugar and taking supplements is a recipe for feeling more energised and less stressed".
Natural stress busters
Along with being careful about diet it also pays to advise customers to exercise more. Virtually any exercise, however gentle, has positive benefits for mind, body and soul. This is because when people are stressed the 'fight or flight' mechanism comes into play whereby the system is flooded by excess adrenaline. Exercise provides a safe outlet for all this extra energy – it also boosts endorphines, the feel-good chemicals mentioned earlier.
The last word on the subject of stress should really go to Alison Cullen, who says: "Overall, the message to retailers and practitioners is that the more they do to help their customers and clients deal effectively with the functioning of their nervous system, the better!"
Stress and Anxiety Product Listings
Body Balance
BioCare® Ltd, Lakeside, 180 Lifford Lane, Kings Norton, Birmingham B30 3NU
Tel: 0121 433 3727
E-mail: [email protected]
www.biocare.co.uk
New support for a healthy metabolims from BioCare®. Body Balance is a unique combination of high quality whey protein, L-carnitine, CLA & chromium in a convenient powder form that can be mixed into water or milk to make a tasty vanilla drink. A lack of protein intake can affect important body systems like metabolism, blood sugar balance, liver health and the immune system. Body Balance has been formulated for those with busy lifestyles as a daily support to the modern diet. It may also be beneficial during the recovery period after exercise and for those people looking to address body composition and shape.
Fitness Pharma
BNatupharma (UK) Limited, 10 Guild Street, Stratford upon Avon, Warwickshire, CV37 6RE,
Tel: 07951 414616
E-mail: [email protected]
www.natupharma.uk.com
Top Scandanavian vitamin brand, Fitness Pharma, is launching in the UK this month with a premium product mix. With clever packaging and an intense marketing campaign, the company hopes to take the UK by storm and quickly become a brand leader. There are currently two different ranges in the Fitness Pharma portfolio. The 'handy' range will please retailers and customers alike with its flat bottles taking up minimum shelf space in homes and stores! The 'complete' range has five skus which allow the optimum mix of capsules for the day in a single strip.
Ucalm® 300mg (Providing 1500-2100mg of St John's Wort)

Natures Aid
Tel: 01772 686231 Fax: 01772 688700
E-mail: [email protected]
www.naturesaid.co.uk
At this time of year it is easy to feel low as both the weather and the post holiday bills do their best to make our lives a misery. However help could be at hand for those suffering from slightly low mood and mild anxiety in the form of Natures Aid Ucalm®, a THR licensed product. The license for Ucalm® has been granted to relieve the symptoms of slightly low mood and mild anxiety based on traditional use and contains 300mg of St. John's Wort equivalent to 1500-2100mg of St.John's Wort herb. THR requirements include the same traceability and adherence to quality procedures as full licensed medicines, standards which are used across the entire Natures Aid range. 60 Tablets RSP £6.95
Rescue Remedy

Nelsons, Nelsons House, 83 Parkside, Wimbledon, SW19 5LP
Tel: 0800 289 515
E-mail: [email protected]
www.rescueremedy.co.uk
Feeling stressed out is a natural and unavoidable part of modern day living, so it needs to be managed on a daily basis. Rescue Remedy is a combination of five Bach™ Original Flower Remedies specially blended to comfort and provide relief in those everyday stressful situations we all face. The flower remedies are Star of Bethlehem, Clematis, Impatiens, Rock Rose and Cherry Plum and it can be used anytime, anywhere and is suitable for all the family. RRP Rescue Remedy spray is £9.20 and dropper is £6.90 for 10ml and £9.20 for 20ml
Tisserand De-Stress Roller Ball

FNL Brands Ltd [Tisserand and
Barefoot products]
Tel: 01273 325666 Fax: 01273 208444
E-mail:[email protected]
www.tisserand.com
The TISSERAND De-stress Remedy Roller ball offers an instant pick-me-up for daily stress and pressure – it's a real aromatherapy blend in a neat format you can use on the move. When life gets hectic and the mind is overcrowded, using this roller ball takes the pressure off and bring a sense of calm.
In a nourishing base of pure jojoba oil, enjoy the fragrances of pure essential oils including soothing exotic patchouli, uplifting zesty orange, soft floral rose. Apply to the forehead and temples, behind the back of the neck or onto the wrists and massage in gently – as often as you need it.
Higher Living- Evening

Only Natural Products. Kithurst Barns, Kithurst Farm Road, Storrington, West Sussex, RH20 4HT
Tel: 01903 740530 Fax: 01903 740530
E-mail: [email protected]
www.higherlivingherbs.com
Perfect preparation for a good night's sleep or simply relaxing after a stressful day, Higher Living's Evening is a comforting combination of soothing lemon balm, fennel, chamomile, lime tree, peppermint and lavender. This deliciously naturally caffeine free infusion is made with the finest quality organic ingredients for a better, brighter, bolder cup and altogether more uplifting experience. Our teas aren't dark, bitter or dusty, they're clean, pure and bright. all of our infusions are made with simply the best quality herbs to turn up the taste and give you the best flavour, colour and herbal benefit.
What's more, we are UK owned and packed in rural Gloucestershire, for additional freshness.
Stay strong in mind and body with Pukka

Pukka Herbs Ltd
Tel: 0845 375 1744 Fax: 0117 964 0804
E-mail: [email protected]
www.pukkaherbs.com
Stay strong in mind and body this winter with Pukka's organic Tulsi for the mind and Red Ginseng for energy. Tulsi is a revered plant that supports mental and emotional well-being. With a long history of use in treating fevers, head colds and sluggish digestion, Tulsi boosts our capacity to better cope with the stresses of modern life. Ginseng is an adaptogenic herb that is used as a tonic to increase the body's resistance to disease and stress. Pukka's Red Ginseng contains 5 to 6 year old Panax Ginseng roots for optimum potency. Each available in jars of 90 capsules.
Energy Modulators

Solgar Vitamin and Herb, Beggars Lane, Aldbury, Tring, Hertfordshire, HP23 5PT
Tel: 01442 890355 Fax: 01442 890366
E-mail: [email protected]
www.solgar.com/uk
Energy Modulators provides several key nutrients that play an important role in the manufacturing of ATP, which is a molecule found in every cell of the body that is used to store and release energy. High levels of Alpha-lipoic acid – an essential co-factor for energy production in the mitochondria (energy power houses in every cell), and Coenzyme Q-10 – may also improve aerobic capacity and endurance. With the additional botanical extracts to support the adrenal system during times of stress, this vegan-friendly multi-nutrient formula should be an essential part of any supplement regime. Solgar Energy Modulators NEW LOWER SRP £23.91 for 50 vegetable capsules.
Melissa Dream 20's

New Nordic Ltd, Unit 20 Brough Business Centre
Skillings Lane, Brough HU15 1EN
Tel: 01482 300695
E-mail: [email protected]
www.newnordic.co.uk
New Nordic's Melissa Dream tablets are recommended to people who want help to maintain healthy calm sleep and relaxation. Melissa Dream tablets are an innovative formula combining lemon balm, camomile, L-Theanine, vitamins and minerals in a formulation, which does not cause drowsiness, but nourish the body to relaxation and tranquility. This unique combination of lemon balm, which helps maintain a healthy calm sleep and relaxation, L-Theanine known to help reduce the time taken to fall asleep, plus B vitamins that helps maintain a normal function of the nervous system. Melissa Dream is the only one of it's kind.
Stress-Less with Bio-Kult probiotics

Probiotics International Ltd (Protexin)
Lopen Head, Somerset, TA13 5JH
T: 01460 243 230 • F: 01460 249 543
[email protected] • www.bio-kult.com
Stress can disturb the mixture of bacteria in our gut microflora by reducing the number of beneficial strains of lactobacilli and bifidobacteria, which in turn allows an increase of pathogens such as E. coli1
and the overgrowth of naturally present organisms such as Candida spp.
Probiotics are valuable in such circumstances, as they can replenish the depleted beneficial gut microflora and have an impact on keeping the gut nice and healthy. Mechanisms of action of probiotics include; stimulating the immune system so that it functions more effectively in its defence against pathogens and harmful substances, aiding in the digestion of food, production and absorption of nutrients, protecting the gut lining and reducing symptoms such as bloating, flatulence, constipation and diarrhoea2.
Stress can initiate or worsen disease, and this occurs through an interaction between the body's nervous system and immune system in the gut2. Scientists are currently trying to get a better understanding of this but based on the studies reviewed there is clearly a rationale for probiotic treatment in patients with stress related intestinal disorders1.
Bio-Kult is a unique, multi-strain probiotic with 14 strains of beneficial bacteria, expertly formulated to help maintain healthy digestive and immune systems. Bio-Kult can help with specific conditions such as: antibiotic associated diarrhoea, traveller's stomach, irritable bowel syndrome and inflammatory bowel disease. Also available – Bio-Kult Candéa, a probiotic supplement with grapefruit seed extract and garlic – taken daily it can help strengthen the body's natural defences against Candida.