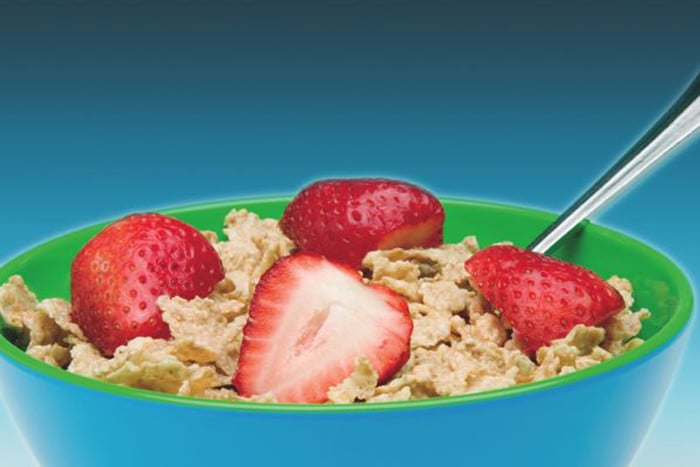 Helping consumers get a healthy start is simple thanks to natural producers bringing great products to the breakfast table.
Take a look across the breakfast aisles of any supermarket and there are two words that sum up 99 per cent of the goods available – sweet and cheap. Or at least, that's what Rude Health's managing director Nick Barnard told the audience at last year's Organic Farmers & Growers conference.
"Perhaps the cleverest example of how to take a product that meets the sweet spot is the recent rise in sales of convenience porridge," he said.
"I'm very happy about this if it brings more people in to eating hot oats in the morning. But what's the biggest seller of convenience porridge by flavour in the country? It's golden syrup – yes, golden syrup flavour! And that's 65-70 per cent of all sales." So can the natural channel compete with this cavalcade of sugary cereals? Nick's partner Camilla believes it's possible to provide natural products that deliver sweetness along with health. "Our granola is absolutely flying off the shelves at the moment," she says.
"You get the crunch and sweetness that consumers demand, as opposed to the softness of porridge or museli, but using good ingredients like nuts and seeds."
Bernard says that, despite the emphasis on sweetness in the mass market, there has been a movement towards healthier ingredients in breakfast cereals.
"Brands are making a shift away from cereals based on diet and shape towards products that are naturally good for you. That's great for us."
The cereal category shows signs of growth this year too. New to the table for 2012 is the Kate's Originals range consisting of a Classic Museli and Fruity Porridge in 500g and family-friendly 1kg pack sizes, available now from Marigold.
PR woman and cereal enthusiast Kate Freestone, the woman behind the brand, says: "What I've done with this range is listen to the retailers – and they've said there's a gap for a truly healthy, nutritious delicious museli and porridge."
Stepping away from the cereal bowl, meat alternatives are a good choice for people looking to make cooked breakfasts chime with consumers seeking to cut down their meat intake – or cut it out altogether.
"More consumers are going out to breakfast and seeing meat alternatives – and that's driving the popularity of rashers and sausages at home," says Lee Rockingham from The Redwood Wholefood Company.
He advises retailers to think about merchandising breakfast items together to drive sales.
"Merchandising all the breakfast items together focuses people's minds. Everyone wants convenience so they'll respond to easily being able to pick it up."
Of course, breakfast is traditionally the time that consumers choose to take supplements for the day ahead – and this isn't always simply out of habit.
"A lot of supplements are best taken in the morning – especially those that kick-start your metabolism," says Ekaterina Igumentseva from Organic Burst.
Breakfast staples such as smoothies and cereals make a good vehicle for powdered supplements.  Igumentseva points out that they can be considered an ingredient in themselves, with some people enjoying the "malty" taste of products like Maca.
"Maca aids endurance and energy – you can almost immediately feel the benefits, so it's really good in the morning," she adds.
Trend focus
Eli Sarre from Essential Trading reveals five current breakfast trends
1. Free-from food The overriding trend is towards gluten and dairy-free products. These are healthy alternatives to the wheat and sugar packed cereal/toast options. There's also the added health benefit of balancing blood sugar which sustains energy and balanced moods throughout the day.
2. Raw results We are still seeing a boost in sales of raw ingredients – base ingredients like oats and flakes and additional nutritious items like nuts and seeds. Possibly these are selling because this is the most economical way of eating a natural diet.
3. Sweet stuff Recent NPD has focused on sweet alternatives to sugar – raw manuka honey, xylitol molasses and agave nectar.
4. Soy specials In dairy free milk alternatives there's a new trend for Ecomil Aamond, hazelnut & quinoa 'drink', and Good Hemp hemp milk, as well as other well known soya, oat and rice alternatives.
Breakfast Listings
Essential Organic Porridge

Essential Trading, Unit 3 Lodge Causeway Trading Estate, Fishponds, Bristol, BS16 3JB
Tel: 0845 458 0201 Fax: 0117 9430 801
E-mail: [email protected]
www.essential-trading.coop
A bowl of porridge provides a nutritious start the day. In addition to 'ready to eat' porridge oats, Essential offer 4 deliciously fruity organic varieties. The range comprises: Chocberry; A sumptuous treat with cranberries, sultanas, cocoa & cashews. Cinnamon & Apple; A creamy porridge with sweet raisins, tangy apple and a hint of spice. Tropical; A sweet and zingy porridge loaded with sundried banana, Fairtrade mango and chopped pineapple. Date and Coconut; A deliciously smooth porridge with sticky dates and creamy coconut. Smile until lunchtime! Order online at www.essential-trading.coop. Essential distribute over 6000 product lines across the UK and internationally.
Redwood's Healthy Breakfast Range
The Redwood Wholefood Co. Ltd
Redwood House, Burkitt Road
Earlstrees Industrial Estate, Corby
Northants NN17 4DT
Tel: 01536 400557 Fax: 01536 408878
E-mail: [email protected]
www.redwoodfoods.co.uk
From succulent meat-free sausages in all manner of flavours and varieties to delicious veggie "bacon" and dairy-free/soya-free Wot No Dairy yoghurt-style desserts, award-winning ethical food firm Redwood produces a host of different products for vegetarians, vegans and meat-reducers looking for an animal-free alternative to the traditional English breakfast. All Redwood foods are made from 100% natural plant-based ingredients, kosher certified and free from meat, egg, dairy, lactose, cholesterol, hydrogenated fats, artificial colours/preservatives and GMOs.
Organic Burst®
Simply Organic Europe Ltd., 3rd Floor, 207 Regent Street, London, W1B 3HH
Tel: 02035 659126, 07825 837260
E-mail: [email protected]
www.organicburst.com
Add Organic Burst® superfoods to your breakfast for a burst of vitality. Their Maca is a potent mix of 4 varieties; sprinkle it on cereal for a caffeine-free energy boost. Organic Burst® Acai is 100% pure and freeze-dried, with no fillers or additives. It boosts your metabolism and provides an optimal antioxidant defense. Their Baobab powder is full of Vitamin C and prebiotics: it revitalizes, supports the immune system and digestion. Baobab sales also help impoverished African communities. Take Organic Burst® Spirulina and Wheatgrass for detoxifying and alkalizing effects. The products are raw, vegan and certified organic by the Soil Association.
Suma Muesli
Suma Wholefoods, Lowfields Business Park, Elland, West Yorkshire. HX5 9DB
Tel: 01422 313848 Fax: 01422 313869
E-mail:[email protected]
www.suma.coop
Suma Mueslis – feel good from the inside out!
Over-indulged over Christmas and New Year?
Considering improving your diet?
Often quoted as the most important meal of the day whichever 'Better Health' route you choose, Suma muesli makes an excellent breakfast choice as a great source of energy, fibre and vitamins.
Breakfast in particular is a 'Personal Choice' meal. There are TEN delicious Suma varieties to appeal to all tastes. There are Organic and Vegan options and all come in recyclable packaging. On a selection from the range, during January and February we have reduced the price by 20%.
Biona Organic Oaty Granola
Biona
Tel: 0208 547 2775 Fax: 0208 546 9942
E-mail: [email protected]
www.biona.co.uk
Biona Organic Pure Oaty Granola contains rice puffs for a crispy, light texture and is sweetened with rice syrup only – it does not contain any beet or cane sugar. This super tasty, wholegrain breakfast cereal joins three existing granolas: Honey Hazel, Wild Berry, and Choco Coco Crunchy – something to suit every taste. Oats are known for their slow energy release and dietary fibre which helps to stave off hunger. Enjoy Pure Oaty Granola at breakfast, as part of a dessert or healthy snack with yoghurt and fruit. Suitable for vegans.