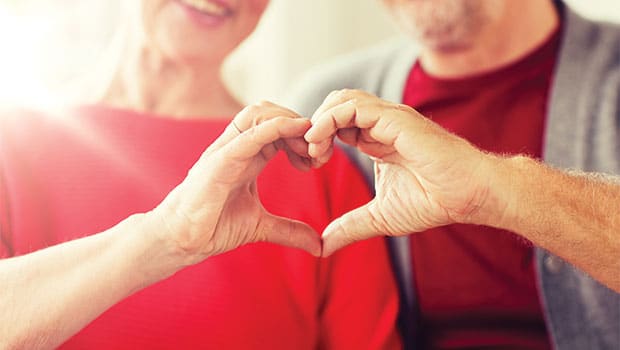 Dr Decker Weiss is a naturopathic cardiologist with an important message about inflammation. Here, Rosie Greenaway relays some of the key messages conveyed during his 2018 retailer roadshow, and discovers why ignoring the red flags could be catastrophic for cardiovascular health
Old age is inevitable; for many people it's not a thought they exactly relish. Among the myriad possibilities of what could go wrong – in body or mind – is the dreaded dementia. Ready for some sobering statistics about our so-called golden years? According to research conducted for the Alzheimer's Society by King's College London and the London School of Economics, there are 850,000 UK citizens living with dementia, with numbers expected to skyrocket to over a million by 2025, and a staggering two million by 2050. 
Not only is a patient diagnosed with dementia every three minutes, but in the UK there are over 40,000 people under 65 with the condition – proof that sufferers of this cruel disease are not always as old as one might imagine.
Admittedly, these figures paint a bleak picture – but, as anyone in this sector knows, the natural market is well placed to help our ageing population protect themselves against such miserable conditions.
Vital nutrition
Omega-3, it is increasingly believed, has an important role to play in 'maintaining and augmenting' brain health, says Dr Emma Derbyshire, advisor to sustainable fish oils brand Equazen. "There is a lot we can do to maintain our emotional and intellectual brain power. Exercise, clinically-proven omega-3 fatty acids and a diet which is high in specific B vitamins, fruit and vegetables, will all help to support brain development and function."
But in cases where elderly people struggle with appetite or experience intestinal problems which cause malabsorption of nutrients, does suboptimal nutrition contribute to age-related memory loss and dementia? Troy Linton, a nutritionist at the British Association for Nutrition and Lifestyle Medicine (BANT), says it's not that clear cut. 
"There is not a simple answer to this unfortunately," he says. "Generally, the underlining cause to many health conditions is inflammation. There has been lots of research recently to suggest that gastrointestinal tract microbiota are directly linked to the development of dementia through the triggering of low-grade inflammation. So yes, sub-optimal nutrient intake and compromised absorption of friendly bacteria could be a cause of memory loss as a result of the damage caused by chronic inflammation. Specifically, the bacteria Lactobacillus can produce acetylcholine in the body which is associated with the proper function of memory. Unfortunately without enough Lactobacillus – or if it's not balanced – impaired memory or dementia could be the result."
Linton's view that inflammation is the root cause of many ailments is shared by US-based naturopathic cardiologist Dr Decker Weiss, who in 2018 was brought to the UK by Viridian Nutrition for a roadshow about cardiovascular health aimed at retailers. Part of Viridian's ongoing education programme, the tour saw Weiss discuss essential nutrients and lifestyle practices for a healthy heart, systematic inflammation and homocysteine effects on health, and ways to combat the side- effects of common heart medications. 
Red flags
In his lecture, Weiss described health as 'a process, not a moment' and was critical of conventional medicine for not understanding that 'it's a process of moving people towards health'. Weiss says that when his patients begin to feel better, they often enquire which element of their treatment was responsible. "Maybe it was the plant-based diet, maybe it was the supplements, maybe it was the fact that you got out of a really bad relationship and changed your job – I don't care. It was all a process of trying to move you in a direction. One thing doesn't work; it takes a collection of activities and commitments."
Weiss believes that, on occasion, doctors say 'very silly things' – for example, that chest pain is a warning sign of heart disease. "No, chest pain means you are screwed! You are probably having a heart attack. That is not a warning sign." Inflammation, he says, is one such red flag – and it shouldn't be ignored.  
The old ticker
Recent British Heart Foundation data shows that deaths from heart and circulatory diseases are on the rise among the under-75s. It's the first time in 50 years that the figures have looked so grim, with the UK's former 'phenomenal progress' in heart attack prevention now having 'slowed to a standstill'.
The charity's chief executive Simon Gillespie told the BBC that the present reality is troubling. "We are seeing more people die each year from heart and circulatory diseases … before they reach their 75th, or even 65th, birthday. We are deeply concerned by this reversal. We need to work in partnership with Government, the NHS and medical research community to increase research investment and accelerate innovative approaches to diagnose and support the millions of people at risk of a heart attack or stroke."
Weiss explains how inflammation ties in with heart disease: "We look at it in two ways: loud inflammation and silent inflammation. Loud inflammation is courteous; it points to a problem and says: 'Treat me … my back hurts, I have gas and bloating, I have chronic diarrhoea'. This is what we call loud inflammation – the beginning of reversing and preventing heart disease. Inflammation starts on the outside and then it attacks your heart and brain." 
Silent killers
Detection of silent inflammation is trickier. "If we don't recognize loud inflammation properly, if we do not treat it properly, it becomes silent – and that's when it kills us. These are all recognized chronic inflammatory conditions: cancer; autoimmune and neurological disorders (including dementia); Alzheimer's; diabetes; and cardiovascular disease. The illusion is that we're not getting warnings, because cardiologists … are saying stupid things … and we are ignoring these warning signs." 
Weiss encouraged retailers to 'act as inflammation hunters' in their stores, becoming 'more qualified to treat loud inflammation than medical doctors'. "When a heart patient walks in … this is how you think: 'Where is there loud inflammation? How do you feel? How's life?' This is where your place is in medicine. Health food stores are becoming the new primary carer – and you're pretty good at it. A lot better than we were … we've done a crummy job, and that's why we're in this mess."
"Heart failure is on the rise. [It] takes you a piece at a time," says Weiss, reminding retailers to heed his warnings: that using a model which covers those red flags – for example, symptom-suppressing medication – will turn inflammation from loud to silent and 'move you towards death'. 
Weiss says his comments don't mean that individual physicians aren't 'trying to do better'; he acknowledges that plenty of doctors are incorporating natural solutions into their practices, but progressive medicine is a gradual journey. "The hardest thing to change is lifestyle; we are huge creatures of habit."
A powerful pair
Egzona Makolli, nutritionist at Kinetic, points to CBD oil as a solution to certain chronic inflammatory conditions and the behavioural off-shoots of them. "Although there are no long-term studies on the effects of CBD oil with regards to ageing and health deterioration, it is thought that CBD may help manage a few behavioural symptoms of dementia, such as agitation and aggression." 
Naturopathic cardiologist Dr Decker Weiss agrees that cannabinoids have their uses. "CBD is wonderful. I really hope that the EU does not ban it … because it's a mistake. CBD is very good for pain. It helps bring down general inflammation as well, but it is not the best thing for it – curcumin is still the 'home run'. The advantage of CBD is that it tends to work faster," he says, explaining that he often prescribes the two together, in cases of serious injury, to address pain and inflammation simultaneously. "Look at the science: curcumin has over 6,000 peer reviewed journal studies. No drug comes close. Everybody is interested in it."
Awareness of these two hero ingredients is filtering down to customers through widespread media coverage, but to increase public understanding of their combined benefits, more education may be required. In Glastonbury, Jo Wren – co-owner of Earthfare – says 'many people have heard of the reported benefits' of CBD. "We have had a few people enquiring about various products we stock – and whether they would help with their health. Many have read … about the claims and mostly want to know the right levels to take." Turmeric doesn't get the same attention from senior citizens. "Many adults have started to look at some of the products available, though not necessarily the older age groups. Many purchase fresh turmeric, and most are unaware of the levels and concentrations to take which might help support certain health claims." 
Of Earthfare's weekly customers, approximately 20% are over 65, and soon they'll benefit from insights gained through a customer panel the retailer is putting together. "We are looking to talk to our customers on an ongoing basis – all age groups! We want their input to help with our insights to their needs, and what we can do to serve them well."
CherryActive
Active Edge (Nutrition) Ltd
Tel:  08451 705705
E-mail:  [email protected]
www.active-edge.co.uk
CherryActive is a premium, natural, plant based supplement made from nutrient-rich Montmorency cherries. Scientifically-proven to have powerful, health-promoting qualities containing no preservatives or additives. Rich in antioxidants, which help protect the body from harmful compounds called free radicals. Research shows it improves sleep patterns and reduces joint inflammation and gout. Available in concentrate or low calorie capsule formats.
Original Formula 600
FSC
Tel: 0800 083 0356
E-mail:  [email protected]
www.fscsupplements.com
FSC Original Formula 600 contains a rich blend of essential vitamins, minerals, and herbs to help nourish and maintain health. Combines Zinc, Amino Acids and key herbs Saw Palmetto, Pygeum Bark and Pumpkin Seed. All FSC products made in the UK with the finest ingredients and based on widely recognised scientific evidence of their health qualities. This product contains no artificial flavour, preservatives, added sugar or salt and is suitable for vegans. Available in 60 and 120 capsule glass bottles. It is recommended to swallow one to two capsules daily with food.
Sea CBD™
Sea CBD Limited
Tel: 0203 858 9490
E-mail:  [email protected]
www.sea-cbd.com
Sea CBD™  Made from 100% certified organic hemp, Sea CBD™ nourishes and supports both body and mind to promote wellbeing and a balanced lifestyle.  We are passionate about helping others enhance their overall wellbeing and quality of life by providing an empowering food supplement made using the purest ingredients that we ourselves as well friends and family would happily take.   Our vegan-friendly oil therefore undergoes rigorous quality-control in a Swiss laboratory, guaranteeing premium quality and produced without any chemicals.  Sea CBD donates a percentage of profits to organisations committed to solving plastic pollution in our seas.  We are actively looking for independent retailers to stock our premium range of Sea CBD™
BetterYou Magnesium Bone Mineral Lotion
BetterYou Ltd
Tel: 01226 814 030
E-mail:  [email protected]
www.betteryou.com
Leading the way in natural health, BetterYou's Magnesium Bone Mineral Lotion is designed to maximise bone health with an optimal 1:1 ratio of magnesium chloride and calcium.   
A unique and convenient way to supplement two essential nutrients, the lotion utilises an innovative oil in water formulation, which leaves skin feeling moisturised – not greasy – while also possessing an occlusive effect which means that the absorption of magnesium through the skin is increased. 
The supplement, which contains scientifically substantiated levels of magnesium chloride and calcium, was shortlisted for the Best New Body Care Product at the Natural Beauty Retail Awards 2019, a prestigious accolade celebrated at the Natural and Organic Products Show Europe. 
The dermatologically tested formula is a scientifically proven, luxurious way to supplement these two vital nutrients and is also free from parabens, synthetic fragrance and colour. 
Designed for daily use and an all-over application, the BetterYou Zechstein Magnesium Chloride within the Bone Lotion commences absorption immediately when massaged into the skin; locking in moisture while providing fast, effective absorption. 
As peak bone density is reached during the mid-twenties and bone loss is known to increase after the age of 35, supplementing magnesium and calcium as early as possible is essential to help support healthy bones and prevent bone density loss.
For more information, please visit www.betteryou.com. 
Nature's Answer Liquid Magnesium Glycinate
Kinetic Natural Products Distributor
Tel: 08450 725 825
E-mail:  [email protected]
www.kinetic4health.co.uk
Nature's Answer Magnesium Malate & Glycinate combines these two 'gentle' forms of magnesium that are amino acid chelates, offering a more bioavailable form of magnesium in liquid supplement, absorbed faster than pills, capsules and softgels. Suspended in vegetarian glycerin for better intra-cellular absorption. Featuring a unique botanical blend, Quicksorb, for better assimilation from the intestinal tract plus liver metabolism. With a delicious natural tangerine flavour. Nature's Answer produce high-quality natural products for vital, healthy lifestyles since 1972. Their facility is cGMP Certified, organic and kosher certified. 
Neocell Collagen 2 Joint Complex
Kinetic Natural Products Distributor
Tel: 08450 725 825
E-mail:  [email protected]
www.kinetic4health.co.uk
NeoCell Collagen 2 Joint Complex provides Collagen Type II and essential nutrients to support and maintain healthy joint function. Type II Collagen is the key structural protein in cartilage tissue, making up 60% of it,  is crucial for healthy and fluid joint movement, and deteriorates as we age. NeoCell Collagen 2 is a complete joint supplement that contains glucosamine, chondroitin, and hyaluronic acid, which are key components for supporting and maintaining healthy joint function. Provides NeoCell Type II collagen – 4800mg/serving, for best results take 4-6 capsules daily, and take on an empty stomach for maximum absorption. 1 bottle is 2-3 months supply. 
SeniorProbio®
HealthAid Ltd
Tel: 020 8426 3400
E-mail: [email protected]
www.HealthAid.co.uk
Senior Probio™   Optimum Gut Health – With aging comes an increased susceptibility to infectious, decreased gastrointestinal function, and increased antibiotic use that can lead to diarrhoea and other intestinal ailments. HealthAid SeniorProbio, is a unique formulation especially for seniors; containing a superior blend of 30 billion viable bacterial strains; fortified with a prebiotic (FOS), to maintain a healthy intestinal flora which is usually offset with age. HealthAid® uses special acid & bile resistant strains, which prevent the stomach juices destroying the ingredients before they reach the intestines, ensuring their purity and potency   SeniorProbio™ retails at £24.99 for 30 Vegetarian Capsules.  Contact HealthAid® on 020 8426 3400 for purchase and stockist information or visit www.healthaid.co.uk
Garden of Life mykind Organics Plant Calcium
Kinetic Natural Products Distributor
Tel: 08450 725 825
E-mail:  [email protected]
www.kinetic4health.co.uk
Garden of Life mykind Organics Plant Calcium is a unique bone supporting formula made from organic plants, including 20 powdered fruits and vegetables. Discover the wonder of 80mcg (107% RI) of vitamin K2 MK-7 in its most bioavailable form obtained from fermented organic and non-GMO project verified natto beans. Research shows that vitamin K2 is important in a bone supporting formula because the biological role of vitamin K2 is to help move calcium into the adequate areas in your body, such as your bones and teeth. It has been shown to also help remove calcium from areas where it shouldn't be, such as in our arteries and soft tissues.
Kanabia CBD+ Oil
Kinetic Natural Products Distributor
Tel: 08450 725 825
E-mail:  [email protected]
www.kinetic4health.co.uk
Kanabia CBD+ Oil is made with premium Golden Harvest™ Full-Spectrum Hemp, which features CBD, CBDV, CBG and THCV for a complete range of cannabinoids with 0% THC. Presented in a liquid tincture with high quality MCT oil for a purer taste, and cognitive and digestive health benefits. Available in three different strengths (250mg, 500mg, 1000mg) and also available infused with Supercritical C02 Turmeric Extract and Rosemary for more anti-inflammatory benefits. Kanabia was founded to bring healthy living to everyone through natural foods and supplements combined with our unique full spectrum cannabinoid complex to restore the mind and body's natural balance.
Om Mushroom Superfood – Lion's Mane
Kinetic Natural Products Distributor
Tel: 08450 725 825
E-mail:  [email protected]
www.kinetic4health.co.uk
Research has found that lion's mane may protect against dementia, reduce mild symptoms of anxiety and depression and help repair nerve damage. Many studies report that Lion's Mane stimulates the synthesis of Nerve Growth Factor (NGF), a protein that promotes the growth and normal function of nerve cells. Grown in California, Om is a leading producer of pure, fresh, certified 100% organic and fermented mushroom powders that may support optimal health. Om combine the perfect balance of ancient wisdom with modern methodology to grow these miraculous mushrooms in their state-of-the-art clean room facility. 
Ginkgo Biloba 6000mg, Lemon Balm, Sage and Rosemary plus Vitamins and Minerals
Lamberts Healthcare Ltd
Tel: : 01892 554313
E-mail:  [email protected]
www.lambertshealthcare.co.uk
Refreshall® is a high potency product that, at two tablets daily, provides the full 6000mg of ginkgo that has been used in scientific studies, plus three other herbs, lemon balm, sage and rosemary all at relevant levels. We use the highest quality ginkgo extract available.  Ginkgo is the herb most associated with memory thanks to its gentle ability to improve the flow of blood, and therefore oxygen and nutrients, to the brain. Refreshall® also includes selected B vitamins and iodine known to contribute to normal neurological and psychological functions and normal mental performance.
Lepicol Plus+
Lepicol Plus+
Tel: 01460 243230
E-mail:  [email protected]
www.Lepicol.com
Digestive function and food choices appear to change with age with reduced stomach acid levels, subsequently comprising protein digestion and decreased digestive enzyme production. Lepicol Plus+ is a multi-source fibre containing gentle psyllium husk and inulin which together help ensure your daily recommended intake of fibre to ensure a normaly bowel transit. Lepicol Plus+ contains 5 strains of live bacteria that are naturally present in a healthy person's digestive system and also has the benefit of added digestive enzymes to help maintain your body's ability to effectively digest food. 
Joint Support with Vegan Glucosamine
Link Nutrition
Tel: 020 7881 0046
E-mail:  [email protected]
www.linknutrition.com
Containing 1000mg of Vegan glucosamine, plus turmeric to help fight inflammation and vitamin C for healthy collagen formation, Joint Support is there to lend a helping hand. Glucosamine is an amino sugar which acts as a building block for joint cartilage, but as we age its production slows and we make less of it. Many people are turning to a glucosamine supplement to support slowing production. 
BrainPower – Liposomal Curcumin+
Wholesale Health Ltd
Tel: 01606 889 905
E-mail:  [email protected]
www.wholesalehealthltd.co.uk
BrainPower™ from Good Health Naturally is a powerful anti-inflammatory formula that utilises advanced liposomal technology to deliver a concentrated combination of Curcumin and Resveratrol. Studies show that these powerful nutrients, when combined, work together in harmony to help relieve inflammation, provide natural protection for the brain and heart, lower blood pressure, improve insulin sensitivity, and more. Unlike most curcumin supplements on the market, BrainPower's advanced delivery system encapsulates the active ingredients allowing them to be safely delivered through the digestive system, ensuring maximum absorption for optimal benefits.
Contains no gluten, soy or GMO ingredients and is suitable for vegetarians & vegans.