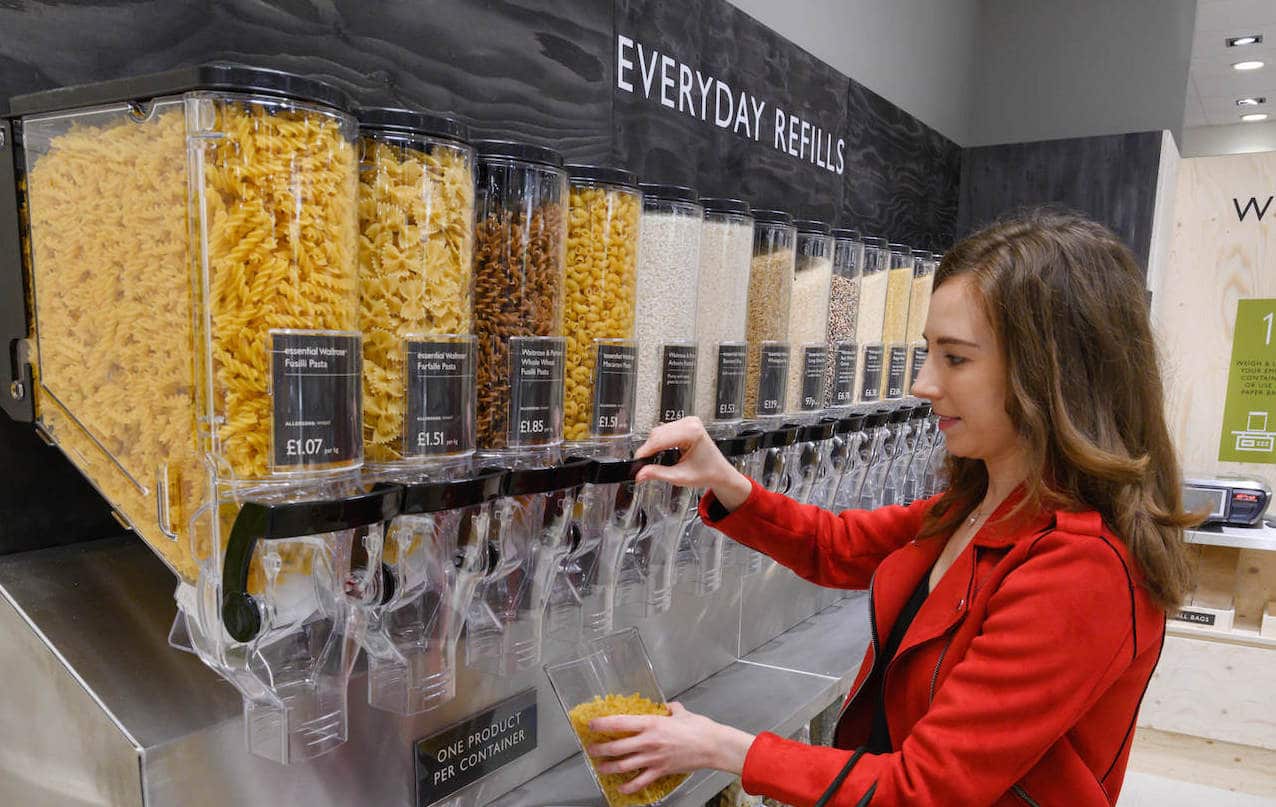 A location in Oxford has become the first store to trial Waitrose's new refill station, providing customers with a facility where they can shop for unpackaged everyday basics such as rice, pasta, cereals, lentils, seeds and coffee, using their own containers from home.
In addition to dry goods, customers who bring their own containers will also be able to refill some wines and beers, as well as Ecover washing up liquid and detergent.
The 11-week trial also sees the chain remove the cellophane wrap from flowers and indoor plants, replacing it with 100% recyclable craft paper and fibre-based pots. Double the usual amount of loose fruit and veg will also be available to shoppers, including frozen pick and mix fruit such as mango, cherries and strawberries.
Produce sold in Waitrose's 'unpacked' refill station will be up to 15% cheaper, with the frozen fruit coming in cheaper per 100g than its packaged equivalent.
This test has huge potential to shape how people might shop with us in the future
Tor Harris, head of corporate social responsibility for Waitrose, says the retailer's aim is to 'help the growing number of customers who want to shop in a more sustainable way'.
"This test has huge potential to shape how people might shop with us in the future so it will be fascinating to see which concepts our customers have an appetite for," she continues.
Plastics in the news
The Waitrose trial was launched hot on the heels of an announcement by the European Council that new rules will ban certain single-use plastic items.
On 22 May plans were unveiled by environment secretary Michael Gove for plastic stirrers, straws and cotton buds to be outlawed in England, following open consultations by government, with the ban set to come into force in April 2020.
Speaking at the HFMA's annual general meeting in London on 3 June, Dick Searle, chief executive of The Packaging Federation, talked at length to delegates about packaging – something he calls a 'fundamental part of the national infrastructure'.
"You couldn't actually distribute food and drink and health products … without packaging. And yet people seem to think we'd be a better world without it," said Searle.
The focus on packaging has become, frankly, ridiculous
"The focus on packaging has become, frankly, ridiculous. I don't know whether it's a guilt trip, because when consumers see it in the bin they feel guilty about everything they've bought, but if you read the Resource and Waste Strategy you would think that the biggest environmental problem in the country is packaging. I can assure you, if you look at the numbers, it is certainly not. In fact … the Gross Carbon Footprint of packaging is about 2% of manufactured products and the net is negative because packaging saves far, far more waste than it ever produces."
"One of the things I'm fond of saying to politicians is … 'Plastics in the ocean is not going to kill mankind, but global warming will, and your focus on plastics is going to have unintended consequences of some significance'," he continued.
Searle refers to packaging as 'part of what we do'. "Let's recognize it … So much of it in this day and age is part of the methodology for retailing. And of course it comes down to consumer choice. There are things called the Essential Requirements … which applies to all packaging materials and it basically says you should minimize the amount of packaging you use, consistent with consumer choice."
Of all the Government's recent consultations, Searle said he suspects the proposed plastics tax will have 'the biggest impact' in the health food sector, calling the tax 'an absolute minefield'. "We are arguing the timing should be delayed until 2025. We won't succeed. There are some ludicrous things that are going to happen now.
None of this will work without citizens engaging … Citizen responsibility, as far as I'm concerned, has to be at the heart of all of this
"Timing is critical – at the moment the plan is for the plastics tax to be implemented two years before the others, which frankly is nonsense. None of this is going to work unless we have consistency with local authorities across the UK – and that sure as heck isn't going to happen quickly. If we're going to be paying billions of pounds then we would expect the systems to work. It is absolutely essential that industry is involved in this. If this is all designed by Government then it will be a disaster, there are no two ways about that.
"None of this will work without citizens engaging in deposit schemes, in recycling and responding responsibly. The government wants to charge us … for the cost of cleaning up litter. Litter is a behavioural issue. This is a filthy country and the culture of chucking things on the ground … generally appears to be acceptable. Citizen responsibility, as far as I'm concerned, has to be at the heart of all of this."