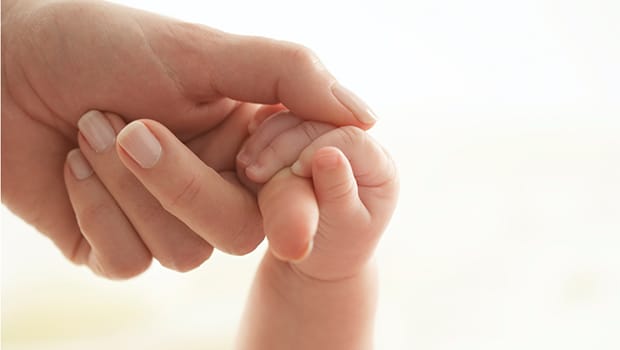 New mums and dads can be some of the best customers you'll ever have. And if you can help make their pressured lives a bit easier, you'll have them for life
Becoming a parent changes everything. From the very minute that little bundle of fun enters your world, life is never quite the same again. Being a new mum or dad seems to change the whole way we look at life – and it's often the time in our lives when we ask our first really searching questions about the food we eat and the products we use – both on ourselves and in our homes.
Early parenthood is a time when lots of good habits are formed, and that means that new mums and dads – and young families generally – are highly valued customers for specialist health food retailers. And if you can help make their pressured lives a little bit easier, you'll have them for life.
The arrival of a first baby is a time of excitement and happiness, but it's also often an emotional roller coaster. And for mums and dads
it's a time when they need all the help and support they can get. There are a bewildering amount of things going on in those first few days and weeks, for which no baby manual can really prepare you.
New parents are constantly bombarded with information – on everything from breastfeeding to sleeping patterns, and from which type of nappy to use to which are the safest skincare products. And it's not just the Bounty Bag people and the media hounding you, anxious NCT group members will be pinging out questions and suggestions 24/7 on WhatsApp.
Tired and wired
For tired and wired new parents, a good local health store, with sympathetic and knowledgeable staff, can be an island of calm. And for independent retailers, here is an opportunity to show what a health food store does best – offer the choice and range, product knowledge and all-round customer care that the supermarkets just can't touch them on.
Parents of young children are a pretty big demographic. Even if you can persuade just a small percentage of those people to come in store, you'll be on to something. However, you've still got to get them through the door – and you can't take anything for granted.
Anita Hatch from Natures Corner in Newbury says: "Just stocking some baby skincare products and kiddie bars isn't enough of a draw. You've got to have other things to get them in." So, what is it that brings new parents in to Natures Corner for the first time? "Allergy is the big driver – and it's food mostly that brings mothers into the store initially, rather than personal care products.
"Just stocking some baby skincare and kiddies bars isn't enough of a draw. You've got to have other things to get them in"
"I actually think there's quite a lot of education that needs to be done with bodycare – it will be typically only when a big allergic reaction has occurred that parents are jolted into finding out about natural alternatives.
"Often it's after parents have been to the doctor and tried the conventional route, and it's not worked, that they'll come to us. There is always a small group of people who will say 'we don't want to use any chemical stuff, or we want fluoride-free toothpaste' – but that's a different mindset, and a small percentage of your potential audience. Also, there's a good chance they will be your customers already!"
Mums talk!
Hatch is a big believer that if you get them early, you've got them for life. "Mum's talk – fact! They're your biggest advert." And is it mostly mums doing the buying? "Yes, ab-so-lutely, it's mums!"
Forging relations with local mums and parent groups can be a really valuable way to grow your customer bases, says Hatch. "I've been looking at local baby sling groups. It's a big thing now – the idea of mother and baby bonding through direct skin contact. There's a Newbury group that I'm talking to about doing a monthly 'in store' – offering mums advice on how to wear them. It would offer practical advice to local mums – and also let them know that we are here.
"I'm also talking to a local Montessori school and nursery, which does its own talks that touch on early years nutrition. There's not very much out there on how to feed the whole family. I'm talking to them about something that includes tips on how to get children to eat a broader, healthier diet by disguising vegetables and so on, in appealing, healthy recipes."
Ruth Noah, owner of Noah's Health Foods in Wallington, also has techniques for spreading the word about natural baby and children's products. "I do special blackboard displays at different times of the year. We've got one now for exam time – so, we're talking about things like omega-3s, Bio-Strath for concentration, flower remedies for helping with good sleep and so on. Then we'll do a 'back to school' version in the late summer where the emphasis will be on vitamins and remedies suitable for children, like Child Essence from Jan de Vries."
Merchandising to mums
Now we've established we're not being sexist when we talk about 'merchandising to mums', what's the most effective way to go about it? Hatch thinks it's about making life a bit easier for pressured parents. "People can be overwhelmed by huge choice. There's so much pressure on mums, and I don't want to add to it. Yes, we test out promising new products, but if they don't sell we'll take them out quite quickly. With this category it tends to be the well-known brands, the ones with sticking power, that we go for.
"We keep it simple. We have one dedicated section for children's products. We have the whole of the Green People range – we're very much about block merchandising. We have the Weleda Calendula range, sun care products, three different children's toothpastes – Green People again, Jason shampoos and the Earth Friendly Baby range.
"We also are big on children's probiotics – it's OptiBac for us there. And we do well with the vitamin D sprays from BetterYou, and Natures Aid's children's drops. We still do the Animal Parade products, but personally I'm not keen on supplements that are like sweets.
"We don't do the basic baby food ranges. They're in Waitrose, everywhere. And mothers are so restricted on time – they'll pick up their Ella's Kitchen or whatever when they're in the supermarket. It's also about shelf-space. It doesn't make sense in the end for us to be a specialist baby food shop – I'd rather be a specialist health and supplements retailer. Those are the things where you need advice."
Noah's has a slightly different approach. "We tend to scatter children's products through store, although we have dedicated shelves for baby bodycare and children's supplements," says Ruth Noah.
She adds: "In our baby bodycare section we have Earth Friendly Baby and Green People. We do children's toothpastes and an eco toothbrush and some nappy lotions. In our children's vitamin section we're big on Nature's Plus – Animal Parade Gold is probably our single biggest seller – and BioCare. Natures Aid's drops and its new vitamins for the over fives do well too. Then you've got things like teethers and teething granules."
Noah's also has a limited food offer – some cereals, follow-on milk and a few other specialities. But children's snacks do well. She says: "When it comes to snacks, fruit leathers and snacks are really popular – the Frutina range does well. The kids bars from Pulsin' are also taking off nicely. We keep some Comvita Manuka Lollipops on the counter – they're 60p each. Parents love them – they've got manuka, propolis and tea tree in them. What's not to like!"
Noah's also has some tailored support for mums-to-be. "We sell a lot of raspberry leaf tea and we do quite well with specialist things like stretch mark oil and pregnancy tea. Also, this is a good area for prebiotics – mums start them during pregnancy and then carry on through during breastfeeding."
Reality check!
It's tempting to think that the baby products category is one where most people might be a little less price sensitive. After all, they'll want do absolutely everything they can to give their little miracle the best start in life – they'll be ready to splash the cash, won't they? Hatch isn't so sure. "We're talking about things that people have to buy very regularly – whether it's nappies or clothes that are grown out of in a few weeks. So I think price is important. And, frankly, if you have a shampoo that costs £15 and one that's half the price, and your child doesn't react to the cheaper one, you're probably going to go for the cheaper one." Reality check, everyone!
Healthy pregnancy – supplementary benefits
Eating a healthy, varied diet is more important than ever during pregnancy. Women's health expert Dr Marilyn Glenville says she cannot "stress too much" the importance of good nutrition during pregnancy. She writes: "Your baby gets first call on all the nutrients it needs, so you need to make sure that you are feeding yourself well and taking in enough nutrients to keep yourself healthy. These nutrients will also help to give you energy, and to prepare you for the birth and looking after your baby when they are born."
Apart from eating well, there are certain supplements that should be taken during pregnancy. Glenville recommends taking a good quality multivitamin and mineral supplement to provide the "foundation" of a pregnancy supplement programme. She also stresses the importance of achieving optimum levels of folic acid ("a crucial vitamin to take supplementally") – which not only helps to prevent spina bifida, but has been shown help with good birth weight and improve Apgar scores – and vitamin D, which helps the mother to absorb calcium – vital when you are pregnant, since you are building another skeleton. Other vitamins that are proven to play an important role in the development of a healthy baby include magnesium, calcium, iron, zinc and omega-3 fatty acids.
Find out more about Dr Marilyn Glenville's pregnancy advice by logging on at  http://bit.ly/1qOnXvp or visiting www.marilynglenville.com
It's in the bag
You might think that a baby-changing bag would mainly contain, well, changing things – nappies, nappy sacks, wipes and tissues. But for a couple of years at least you'll be carrying your life around in that bag. It's not just the baby 'essentials' you never thought even existed, it will also be home to toys, snacks and drinks (baby's) and sunglasses, a magazine, phone, snacks and drinks (yours).
But let's stick with baby's needs for now – so, here's our pick of the natural and organic 'must-haves' your customers should be packing in their baby bags.
Wipe right
Earth Friendly Baby Aloe Vera Wet Wipes are made using soothing chamomile and calendula, formulated to leave baby's delicate skin feeling silky soft and squeaky clean. Perfect for everyday use, these baby wipes are reassuringly thick and 100% biodegradable.
Pip pip hooray
Described as the UK's only 'not from concentrate' organic juice and smoothie range for kids, the Pip 180ml carton offer comes in three fruity variants – Cloudy Apple, Pineapple & Mango and Strawberry & Blackcurrant. The multi-award-winning range is 100% organic and free of artificial additives and added sugar.
Baby pure
With no added fragrance and double the olive oil, Dr Bronner's Baby Unscented Pure-Castile Liquid Soap is gentle enough for baby's skin. Available in handy – and baby bag friendly – 59ml bottles.
Smile please
Nelsons' Teething Gel is formulated using homeopathic traditions for the relief of teething pain, sore and tender gums, flushed cheeks and dribbling. The handy gel format is sugar-free and easy to apply on-the-go.
Keep balm
Soothing Organic Babies Nappy Cream by Green People protects against dampness and nappy rash. It's naturally rich in omega-3 and 6 and soothing zinc oxide, is 100% natural and certified organic, and can be used on all areas of soreness (and not just for baby).
The bottom line 
Most babies suffer from nappy rash, eczema, asthma or sensitive skin problems in their first three years of life. Many of these problems can be easily solved by avoiding harsh chemicals. Beaming Baby Biodegradable Nappies are popular with health store customers because they contain 54% less chemicals than standard nappies and are extra gentle on babies' bottoms.
In the sack
D2w Degradable Nappy Sacks (available in rolls of 50) are made with totally biodegradable plastic. They're strong, easy to use and perfume-free. D2W nappy sacks are perfect for nappy changes but also handy for swim trips and picnics.
Natural Senses and Serene Senses
Earth Ventures Co. Ltd
E-mail:  [email protected]
www.natural-senses.com 
Natural Senses  & Serene Senses  are exquisite range of natural and organic personal care brand of products, registered in UK and manufactured in Thailand. It's unique collections of Skin, Hair and Baby care products are combined with the finest, certified, natural ingredients infused with proven remedies and benefits, evolves from decades of inherited experience and wisdom of the Thai herbal world. The company launched it's premium USDA certified Baby product – Pure Organic Baby Lotion which was judged as one of the best and became a finalist in the category of Best Mom & Baby Organic Product Award in NOPE, London 2016.
The Ultimate Kids probiotic
Renew Life UK
Tel: 0800 707 6671
E-mail:  [email protected]
www.renewlife.co.uk
Help children be healthy from head to toe with the highest potency chewable live bacteria available. Each delicious natural berry flavour tablet contains 10 billion live bacteria, and 9 child friendly live bacteria strains. It is the highest, most targeted children's live bacteria support available, with 4.5 billion Lactobacilli and 5.5 billion Bifidobacteria mirroring important friendly bacteria found in healthy children. Recommended after antibiotics, for digestive, skin issues, intolerances & formula fed children. Vegetarian Society approved. Free from sugar, dairy, soy & gluten. Age 2 and up.
Helios ABC for children
HELIOS HOMEOPATHY LTD
Tel: 01892 537254
E-mail: [email protected]
www.helios.co.uk
ABC forms part of a brand new range of combination remedies with indications from Helios Homeopathy. ABC contains three homeopathic remedies Aconite, Belladonna and Chamomilla traditionally used to relieve minor fevers and earache in children and teething in infants and toddlers. Attractively packaged for on shelf appeal the remedy comes in lactose free, sucrose pill form in our easy to use single dose dispenser. Remedies for infants may be dissolved and administered in a little sterile water. Other products in the range cover Hay Fever, Injuries, Sleep and Stress.
JASON Kids Only Toothpaste
Kinetic Natural Products Distributor
Tel: 08450 725 825
E-mail: [email protected]
www.kinetic4health.co.uk
JASÖN® Kids Only! Toothpastes delivers fun fruity freshness in an easy to squeeze tube, ideal for small hands. Available in two delicious flavours,  Strawberry and Orange, which keep kids coming back for more, encouraging health oral hygiene regimes. Bright packaging with fun illustrations gives these products stand out power on the shelves. Formulated with Calcium Carbonate to help keep teeth clean and healthy, along with Aloe Vera, Calendula, Silica and Pro-Vitamin B5. Free from fluoride, SLS, propylene glycol, saccharin, artificial colours or flavours.
Storksak Organics
Storksak
Tel: 020 7284 2252
E-mail: [email protected]
www.storksak.com
Storksak Organics by London based brand Storksak, is a collection of certified organic bath & body products made for baby's delicate skin. As a luxury changing bag brand, trusted by parents and renowned for our high quality products, we wanted to make something special for the little ones too. Proudly made in England, the collection is inspired by the tranquility of the English countryside and naturally fragranced with a soothing combination of English Pear, Chamomile & Honey. Our range is dermatologically approved and certified organic ensuring all our products are pure and safe to use. We do not use any parabens, SLS, mineral oils, petrochemicals or synthetic fragrances making them natural to use every day.
GOLDILOCKS
Tel: 0115 944 8200
E-mail: [email protected]
www.weleda.co.uk
It's not surprising this award-winning Calendula Shampoo & Body Wash has become Weleda's No.1. It contains the gentlest of eco-friendly plant-based cleansers – kind to skin and kind to the environment – plus soothing organic golden calendula, the finest organic almond oil and nourishing sesame oil. This great multi-tasker is ideal for cleansing, freshening or hairwashing, and has been dermatologically-tested on infant skin prone to eczema and dermatitis. The delicate fragrance is provided naturally by carefully-selected essential oils that won't overpower your little one. Free from mineral oils, synthetic ingredients or artificial additives of any kind, for authentically natural bathtime bliss.
Clearspring Organic fruit purees
Clearspring
Tel:  02087 491781
E-mail:  [email protected]
www.clearspring.co.uk
Clearspring Organic Fruit on the Go are now available in a Multi Pack! The full flavour of fresh organic fruit picked at the peak of ripeness and made without added concentrates, sweeteners, preservatives, or artificial colourings or flavourings. 100% Organic Fruit Purée for children and adults alike: o Naturally sweet, no added sugar or salt  o One pouch = one of your 5 a day!  o Lightweight and recyclable packaging
These convenient squeezy packs are ideal for keeping at home to use as a topping or dessert, or out and about for healthy snacks, picnics or school lunches.  They can also be frozen to make a delicious fruity sorbet.
Fit for School
ProVen Probiotics,
Tel: 01639 825107
E-mail:  [email protected]
www.provenprobiotics.co.uk
ProVen Probiotics'Fit for School stick packs have been developed as a powder specifically for children aged 12 months to 16 years. The powder can be added to cold food or drink and is provided in convenient individual sticks, each containing one day's serving. Backed by research, the combination of 12.5 billion of the unique research-backed Lab4 Acidophilus and Bifidus friendly bacteria with vitamins C and D and prebiotics, helps to maintain immune function and general wellbeing and more specifically has been shown to reduce absenteeism from school by 30%.