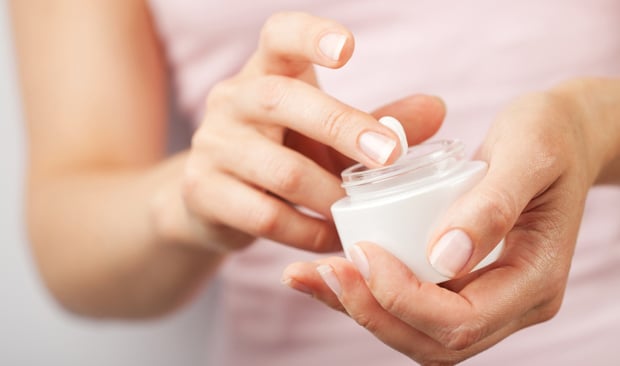 Consumers can avoid a cabinet of horrors by picking the best the natural and organic category has to offer, says Matt Chittock
Poisoned by everyday life!" screamed the Daily Mail's front page in a news story published earlier this year that had natural beauty advocates nodding their heads in agreement. The inspiration for the piece came from the latest report by the World Health Organisation, which slammed the use of dangerous chemicals such as phthalates in fast-moving consumer goods including synthetic cosmetics. The conclusion? The WHO said that a ban might be needed to protect future generations.
Skin matters
As this argument for cleaner, greener products gathers pace it's increasingly chiming with a generation of consumers looking carefully at the products they choose for their bathroom cabinets. "The reason for the growth we are seeing in sales of natural beauty products is simple," explains Jayn Sterland from Weleda. "As Richard Sexton, ceo of Soil Association Certification, says 'What we put on our skin is as important as what we eat'. As consumers, we now understand that what we put onto our skin invariably ends up being absorbed. Putting chemicals on your skin or scalp may actually be worse than eating them as when you eat them the enzymes in your saliva and stomach are able to break them down and help to flush them out. When you apply chemicals to your skin they are absorbed into your system and tend to accumulate over time."
Chemical additives
Sterland adds that on average we apply anything from 200 to 500 chemicals to our bodies every single day – predominantly through items like shampoos, conditioners, toothpastes and deodorants. "Natural skincare products are gaining in popularity because they give the skin a rest from this toxic overload, allowing it to recover, restore it's natural pH balance and allowing the skin to find a healthy balance," she says. As the trend begins to penetrate the mainstream it also means that the worlds of fashion and celebrity, which are so important to the cosmetics industry in general, are beginning to mesh through the natural message. For instance, Jemma Kidd is now brand ambassador for Udo's Oil while Weleda represented at this year's London Fashion Week with a Model Zone designed to look after the wellbeing of fashion's foot-soldiers. "There is more buzz about the impact chemicals can have on our health," says Rebecca Goodyear, natural beauty expert at Kinetic. "Natural beauty products are starting to appear in more mainstream editorial beauty features and there are more emerging green celebrity ambassadors who promote natural living such as Miranda Kerr, Gwyneth Paltrow, Natalie Portman and Gisele Bundchen." She says that Kinetic's key natural bathroom essentials include JASON'S body washes and hair care products. "They are a staple fixture in the bathrooms of families, couples and even students," she says. "We also must not forget Dr Bronner's Magic Liquid Soaps which have gained a cult following including Lady Gaga, Sandra Bullock, Eminem and Bobbi Brown. The celebrity fan club has certainly helped this brand to become more established but people also see value in this product because of its versatility – there are so many different uses!"
Affordable treats
Goodyear notes that affordability is very important for products that consumers need to use day-in and day-out. It's certainly part of the appeal of Faith in Nature – a brand that's currently leading Natural Products' informal poll of companies bigged-up by retailers in our How's Business? section. "The challenge for ethical manufacturers of natural products is to drive product innovation, which is crucial in maintaining loyal customers and attracting new users," explains Rivka Rose, founder of Faith in Nature. "The key is making sure you can combine this with delivering effective products at a price acceptable to eco conscious consumers. That is certainly the focus behind our new product development programme and was the principle on which Faith in Nature was founded and still delivers on." Rose says that hair, body and skin care tend to be the starting point for consumers trying the natural category for the first time. This means that if you get the 'everyday' range right, it can lead to additional spend on associated products.
Store basics
So how should you merchandise the section for maximum effect? "Just like any other store selling goods, retailers need to create a desirable environment. Find out the POS from your supplier and dress shelves, shelf edges and surroundings but don't make it look cluttered," says Goodyear.
Bathroom Cabinet Listings

 Barefoot SOS Face & Body Rescue Cream
Barefoot
Tel: 01273 325666
E-mail: [email protected]
www.barefoot-botanicals.com
Suitable for all ages, including babies, Barefoot SOS Face & Body Rescue Cream is a perfect remedy for the whole family. This multi-award winning cream for extremely dry, dehydrated, cracked or sensitive skin is also suitable for those who may be prone to eczema or psoriasis. Featuring a combination of rich natural oils of macadamia and evening primrose oils to nourish and protect, soothing botanical extracts of stellaria, burdock and aloe vera to ease itching and discomfort and calming essential oils of lavender, chamomile and geranium. A natural and gentle alternative for problem skin which is free from paraffin, parabens, SLS, harsh chemicals or synthetic fragrances.
Intelligent Nutrients Pureluxe Harmonic Shampoo and Conditioner
Tel: 01737 222563
E-mail: [email protected]
www.intelligentnutrients.co.uk
Intelligent Nutrients brings you Pureluxe shampoo and Conditioner. Both products offer extreme nourishment for colour treated, damaged and dry hair.. Packed full of Amazonian butters, non toxic food grade ingredients, the shampoo uses Plant based surfactants to give a rich, dense luxury foam. A gentle pH that protects the natural oils found on the hair and scalp, gives colour protection and strengthens the hair. The conditioner offers protein enriched conditioning agents, providing moisture to help restore and smooth the cuticle layer and protect the hair shaft. The products leave a refreshing lemongrass aroma, and incredible shiny, manageable hair. Delicious!
JÅSÖN Deodorants
Kinetic Natural Product Distributor
Tel: 08450 725 825
E-mail: [email protected]th.co.uk
www.kinetic4health.co.uk
JÅSÖN Stick and Roll-On Deodorants are clinically proven to provide all-day odour protection. Aluminium and Paraben-free formulas with naturally sourced odour neutralisers Zinc Ricinoleate, Corn Starch and Bicarbonate of Soda, combined with antibacterial Grapefruit Seed Extract and Vitamin E for softer, smoother underarms. JÅSÖN means "healer" in Greek, reflecting the results driven therapeutic blends JÅSÖN use in their formulas, all crafted by the JÅSÖN Code of Honour
• select safe, wholesome, natural ingredients
• rigorously test every formula to ensure safety and efficacy
• never test on animals
• constantly innovate and improve
Arnicare Arnica Cream Nelsons
Tel: 0800 289 515
Fax: 0208 789 0141
E-mail: [email protected]

Nelsons Arnicare Arnica Cream is the hero product in the Arnicare range of products. The key active ingredient is Arnica Montana, which is a natural first aid treatment for bumps and bruises caused by a knock or fall and can be applied topically. It has been traditionally used since the 16th century for its invaluable natural properties and today, it is used by millions worldwide. Nelsons Arnicare arnica Cream RRP is £4.85 for 30g or £6.60 for 50g. It is dermatologically tested and suitable for sensitive skin and for all the family. Please visit www.arnicare.co.uk for more information. Always read the label.
Oral Care Complex Veg Caps
Viridian Nutrition Ltd, 15 High March, Daventry, Northamptonshire NN11 4HB
Tel: 01327 878050
Fax: 01327 878335
E-mail: [email protected]
www.viridian-nutrition.com
Merchandise this supplement within your toothpaste section. Oral Care Complex Veg Caps is a unique formulation of Pycnogenol 50mg, Ester-C 500mg, Co-enzyme Q10 50mg in a base of Green Tea. Samples have been sent to leading naturopathic dentists to encourage recommendation. Technical data available on request. Oral Care Complex is part of the 180+ award-winning range of nutritional and beauty products. With experienced sales, marketing and technical expertise, Viridian is dedicated to the future development and security of the health food store.
Lavender Essential Oil Roller Ball
Tisserand Aromatherapy
Tel: 01273 325666
E-mail: [email protected]
www.tisserand.com
Tisserand Aromatherapy's Lavender Essential Oil Roller Ball combines organic lavender and chamomile in a skin conditioning base of jojoba, making it ideal to comfort and soothe red, blotchy or itchy skin. The Roller Ball is simple to use and features pre-blended essential oils which can be applied directly to assist with minor skin complaints. Alternatively, it can also be used on temples to relieve everyday tension. Tisserand also has a range of Aromatherapy Roller Balls, designed to help promote general wellbeing and relieve everyday stresses. Tisserand's products are free from SLES, parabens and synthetic fragrances. Roller Balls are priced at £5.50.
Natracare Individually Wrapped Liner
Bodywise (UK) Ltd (Natracare)
Tel: 0117 982 3492 Fax: 0117 982 3489
E-mail: [email protected]
www.natracare.com
Natracare Panty Liners are the natural choice for women seeking a healthier option for their everyday hygiene. Conveniently wrapped in their own paper pockets this new addition to the Panty Liner range can be discreetly carried in a handbag ensuring natural and environmentally sound protection is always on hand. Made from organic cotton and plant-derived materials Natracare Panty Liners are soft and breathable allowing delicate skin to breathe and stay dry. The Panty Liners are totally chlorine free and do not contain any plastics, perfumes, dyes or fragrance making them kind to skin and the environment.
Dr Bronner's Bronnerisation
Alex Barani, Kinetic Natural Product Distributor,
258 Belsize Road, London, NW6 4BT
Tel: 08450 725 825 Fax: 08450 725 826
E-mail: [email protected]
www.kinetic4health.co.uk
To fit in better with the original Dr Bronner Magic Liquid Soap branding, all Dr Bronner packaging has now been "bronner-ised" – Organic Pump Hand & Body Soaps, Lotions, Shaving Gels, Lip and Body Balms. Attractive fragrance combinations are available such as Lavender and Coconut, Patchouli and Lime, and Orange and Ginger. Celebrity fans of the brand include Lady Gaga, Gwyneth Paltrow, Natalie Portman, Sandra Bullock, Bobbi Brown and Eminem. The versatility of the product matched with the diversity of fans proves that Dr Bronner really is the universal soap, carrying on the message of Emmanuel Bronner himself, "All One".
JÅSÖN Oral Care
Alex Barani, Kinetic Natural Product Distributor,
258 Belsize Road, London, NW6 4BT
Tel: 08450 725 825 Fax: 08450 725 826
E-mail: [email protected]
www.kinetic4health.co.uk
JÅSÖN range of natural toothpastes, gels and mouthwashes are gentle and safe for the whole family to use every day. Hardworking they control tartar, keep breath fresh and smiles bright and beautiful. There's no nasties such as sodium lauryl/laureth sulphates, preservativesor propylene glycol, There are four formulas – Powersmile Whitening, Sea Fresh Strengthening, Healthy Mouth Tartar Control and NutriSmile Enamel Defence, and each is available in a gel with fluoride or a paste without fluoride.