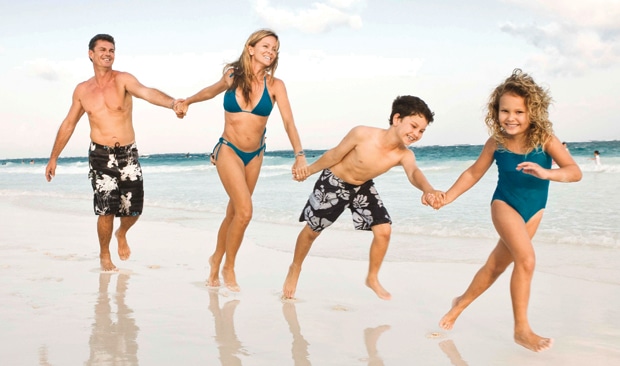 Spring is in the air and everyone's attention is turning to that perfect summer holiday. It's time to stock up on all those products that will help make it just that, says Jane Wolfe 
With the summer season fast approaching, it's time for retailers to ensure they're stocking everything customers need for a summer getaway. Whether jetting off to Mauritius or glamping it up in Dorset, holidaymakers need to be fully equipped to deal with the potential perils of travelling and avoid that "I need another holiday" feeling on return.
Bikini body
Prior to strutting their stuff on the beach, many holidaymakers want to get into shape to look their bikini-clad best, and for those who feel the need to detox and lose a few pounds there's lots of natural support. Herbal help comes from milk thistle, which is useful for weight loss and detox as it also supports liver function, as does dandelion which is diuretic too. Fennel acts as a diuretic and can relieve bloating and aid digestion. Nopel, part of the prickly pear family, can be used to help regulate the appetite and reduce the amount of fat in the body. Helpful herb Goldenseal is also beneficial for weight loss and detoxing, as are green foods including spirulina, wheatgrass and barley grass, as these are high in cleansing chlorophyll and are naturally detoxifying and rejuvenating. Green tea is useful for speeding up the metabolism. Products combining some of these traditional herbs include HRI Water Balance, which combines dandelion root with buchu, parsley piert and uva ursi and can help flatten the tummy by reducing water retention. The company recommends taking the product for a couple of weeks prior to going on holiday. Terranova's Green Purity is a synergistic blend for detoxing and includes dandelion leaf, watercress, kale, nettle leaf and wheatgrass juice.
Travel aids
Whether flying or travelling by train, car, coach, or boat, travel sickness, which is believed to affect approximately 20 million Britons, can be an unpleasant start to a holiday. Regarding remedies, the oldies are still the goodies. Ginger and peppermint remain popular and are available in many handy forms. Nelson's Travella homeopathic remedy is specifically formulated to relieve the nausea, sickness, dizziness and headaches associated with travel sickness. Acupressure can also alleviate the nausea of motion sickness. This can be done either by pressing a finger on the acupressure point P6 on the inner wrist, or by wearing a wristband such as Sea-Band. Another possible problem experienced when travelling is anxiety, and there are a number of remedies to reduce this stress. A Vogel Stress Relief Daytime contains valerian and hops which are naturally sedative and help ease anxiety, and Avena sativa tincture can help by calming the nervous system. Flower essences can also be very effective and are easy to have on-hand when needed. Australian Bush Flower Emergency Essence, Jan De Vries Emergency Essence and the ever popular Bach Flower Rescue Remedy are combinations that are especially useful for situations featuring anxiety and stress.
Staying safe in the sun
Getting painful sunburn just once every two years can triple the risk of melanoma, according to Cancer Research UK, which says that each week over 220 people in the UK are diagnosed with malignant melanoma. Due to publicity about vitamin D deficiency, more people are seeking out natural sun protection products rather than avoiding the sun altogether. "I have noticed a trend of people being much more aware of the bigger picture regarding toxins getting into the body through means other than food, so people are starting to think about things like sun creams and are really wising up to the benefits of natural and organic skincare," says Amanda Pitt, manager of the Better Food Company, Bristol. Sharon Little from lavera adds: "Products with natural ingredients such as zinc oxide and titanium oxide are kinder to skin than some conventional sun protection products, which may contain amounts of potentially harmful chemicals." And when applying sun cream, 'don't forget the nipple!' – this new campaign launched by lavera aims to raise awareness of the importance of protecting nipples from the sun. Ac-cording to a survey by the company, 19% of people under 54 regularly sunbathe topless and 46% of those don't protect their nipples with sun cream. Breasts and nipples can also get sunburnt through bikinis, so cream should be used all over. With melanoma being one of the most frequently diagnosed cancers in those aged 15-34, it is imperative that sun protection begins early. Natural sun protection aimed at kids includes lavera's Natural Baby & Children Sun Cream SPF 30, Baby & Children Neutral Sun Spray SPF 20, and Earth's Best Baby SPF30 Mineral Sunblock. And after all that sunbathing, travellers will be reaching for the aftersun to moisturise and cool the skin, prolong a tan and prevent peeling. Green People's organic Hydrating After Sun contains soothing aloe vera and is suitable for those prone to eczema and psoriasis, and lavera Sun Sensitive Organic After Sun Shimmer Lotion contains particles from natural min-erals to create a shimmer on the skin.
Sex on the beach
Okay, maybe not actually on the beach, but one of the activities high on many holidaymakers' agendas after sun and sea is…sex, so another handy holiday item is the humble condom. The French Letter Condom Company is the maker of the first condoms produced using latex sourced through FairDeal Trading. They come in three varieties – Stimulating Massage, Sheer Caress and Linger Lust – in optimistic 12-packs. Fair Squared also offers Fairtrade condoms with varieties including Max Perform, with an integrated potency ring, and Variety – a mix of Original, Ultra Thin and Aroma Passion, and Fusion has a range of condoms which are Vegan Society-registered, produced without milk-based casein. Lubricant is another little item your customers may want to slip into their luggage for those steamy holiday nights. Yes is a natural range of SA-certified water- and oil-based lubricants, including Yes Baby, a fertility-friendly lubricant system, a Yes Selection Pack, and handy 25ml wash-bag sizes. Yes recently launched its first flavoured lubricant with organic Vanilla extract. Susi Lennox, co-founder of the Yes Yes Company Ltd, explains that people are becoming more aware of natural products in this area: "We are aware of a growing demand for natural sexual health products. We believe that, in general, women are taking more control over their personal health and wellbeing. The importance of 'inner' health is finally reaching their consciousness, often this is because they have experienced side-effects as a result of using standard products."
Banish the bites
As with most things, prevention is better than cure when it comes to insect bites, and vitamin B1 is frequently recommended as a repellent when taken prior to going on holiday. Julie Goodwin from Natural Health, Hertford, says: "Last year I forgot my B1 and another retailer suggested taking Solgar Megasorb Vitamin B-Complex. I started taking it, because I get bitten so badly, and it worked really well for me so I've been recommending that for the past year." To ward off any nasty bugs, Caribbean Blue Insect Repellent Band contains citronella essential oil and is ideal for children as you simply pop it onto an ankle or wrist, and JÅSÖN Quit Bugging Me Spray is a natural and DEET-free spray to keep insects at bay. If a determined insect does have a nibble, calendula can ease pain and has an antiseptic action, as does tea tree, and lavender can soothe the bite and relieve itching. Meanwhile, Helios organic Urtica and Calendula Cream relieves bites and stings, and Apis homeopathic remedy is espe-cially useful for bee stings (hence its name) when there is a stinging or burning sensation. Supersalve Skin-Care Balm comprises a variety of essential oils including rosemary, lavender and tea tree as well as calendula flower extract, apricot kernel oil and honey. It covers an array of skin problems, including insect bites and sunburn. Julie Goodwin also recommends Tiger Balm: "I went to Thailand last year and the people I met there recommended Tiger Balm, which I'd never used before, and it works an absolute treat. It stops the itching straight away."
The morning after
Hitting the booze too hard on holiday is not unheard of and can mean the waste of a pre-cious day spent feeling lousy. As well as helping with a hangover, milk thistle can help in preparation for a night on the town. "We use the phrase pre-toxing," says Emma Tarring from The Marketing Matrix. "If you know you're going on a bit of a session and take it a day or two beforehand it shores up your liver and makes it work really effectively so it can clear toxins more quickly; this helps reduce the hangover symptoms. If you're having a period of over-eating it can also help with the bloated over-indulged feeling." "For hangovers I tend to recommend coconut water which I think is amazing," says Goodwin, who also recommends the homeopathic remedy Nux vomica. Coconut water is absorbed very efficiently and so rehydrates the body quickly. Another potential problem when holidaying abroad is the dreaded holiday tummy. Taking probiotics plenty of time before travelling can boost immunity and support a healthy digestive system to avoid any dodgy stomach-churning moments while away – or at least decrease recovery time. Experts recommend that probiotics are usually taken a week before travelling, throughout the trip and also for a few days upon return. Bio-Kult multispecies, multistrain probiotic has 14 strains of beneficial bacteria designed to help a diverse range of digestive disorders. It can be stored at room temperature – which is an important consideration when travelling – and comes in a box of 30 capsules. "I recommend Optibac Probiotics for travelling Abroad, which I sell absolutely loads of," says Goodwin. "Citrocidal also works very well if you're going to somewhere exotic like India or Egypt. You simply put a couple of drops in water or juice and it sorts out all sorts of troublesome digestive problems – I think of it as a natural Domestos – kills all known germs!" If you do happen to fall prey to a stomach bug then Nature's Answer's Oil of Oregano and Black Walnut & Wormwood can help eliminate parasites and other bacterium.
Holiday Health Listings
Bee Prepared immune support
UnBEElievable Health
Tel: 0207 993 2471 Fax: 0871 233 9791
E-mail: [email protected]
www.unbeelievablehealth.co.uk
Bee Prepared for colds, flu, hay fever & travel. Multi award winning BEE Prepared immune support combines high quality bee propolis, elderberry, olive leaf & beta glucans. MAX strength also has astaxanthin and reishi mushroom. • Vegetarian Society approved • Nothing artificial and safe for the whole family • Researched based formulas perfected by nutritionists • Concentrated formulas so fewer capsules required, great value. • The natural supplement wellness professionals recommend. See website for testimonials and press. Retailers, contact TOL, Health Store or CLF for spring offers. Twitter @unBEElievable Facebook: UnBEElievable Health
Vitabiotics Perfectil Protan
Vitabiotics
Tel: 020 8955 2600
www.perfectil.com
VITABIOTICS LAUNCH NEW PERFECTIL PROTAN New Vitabiotics Perfectil Protan provides all of the benefits of the original Perfectil formula, plus specially selected micronutrients to nourish from the inside. It contains vitamin B2, biotin and iodine which contribute to the maintenance of normal skin and provides 1000mcg of copper which contributes to normal skin pigmentation. It also includes selenium and zinc, which contribute to the maintenance of normal nail and hair health, and contains specialist nutrients such as lycopene, grape seed extract and carrot extract. Perfectil Protan is recommended at least one month before jetting off to your sunny destination, and continued for as long as required when back home. RRP £34.95
Health Plus Holiday Health products
Simon Bandy Health + Plus Ltd
Dolphin House, 27 Cradle Hill Ind Est. Seaford, East Sussex BN25 3JE
Tel: 01323 872277 Fax: 01323 872278
E-mail: [email protected]
www.healthplus.co.uk
Health Plus have a wide selection of products that may be useful for maintaining good holiday health, whether travelling abroad or in the UK. There's our Immunade Pack (part of our Daily Pack range), range of B Complex products, Tyro Tan, Ginger Root, probiotics, digestive enzymes and much more. All are available from stock in single units, with no minimum order and excellent customer service. Health Plus have been serving over 200 quality products to the retailer and practitioner market for over 20 years now. If you haven't tried us yet, now's the ideal time!
Award-winning natural & organic sun lotions
Green People
Tel: 01403 740350 Fax: 01403741810
E-mail: [email protected]
www.greenpeople.co.uk
Enjoy healthy summer skin with Green People's Award-winning natural & organic sun lotions for all the family. Our sunbeatable SPF's offer broad spectrum UVA/UVB protection, are water-repellent and non-pore blocking. Moisturising skin nutrients mean no peeling plus rich in antioxidant, anti-ageing and anti-inflammatory actives. Suitable for sensitive skin and allergies such as PLE and prickly heat. For 2013 we are partnering with The Marine Conservation Society, raising awareness of marine wildlife and the effects mainstream sun lotions have on aquatic life. 30p will be donated from Children's SPF25 and Adults Scent Free SPF25 Sun Lotions aiming to raise £10,000.
Immuprobio®
HealthAid Ltd,
HealthAid House, Marlborough Hill, Harrow, Middlesex, HA1 1UD
Tel: 020 8426 3400 Fax: 020 8426 3434
E-mail: [email protected]
www.HealthAid.co.uk
ImmuProbio™ Gut Support. The key to good digestive health and overall well-being is the maintenance of a healthy bacterial balance in the gut. Poor diet, stress, alcohol and antibiotics can wreak havoc in the gastrointestinal tract by destroying good bacteria and allowing undesirable bacteria to multiply. ImmuProbio distinctive formulation contains a superior blend of 50 billion viable bacterial strains, fortified with a prebiotic (FOS), which helps to replenish the body's good bacteria, promote a healthy intestinal flora and help to improve digestive and overall health. ImmuProbio retails at £26.99 or 30 Vegetarian capsules. Contact HealthAid Ltd on 020 8426 3400 for purchase and stockist information or visit www.healthaid.co.uk.
TerraNova's Probiotic Complex with Prebiotics
Alex Barani, Kinetic Natural Product Distributor, 258 Belsize Road, London, NW6 4BT
Tel: 08450 725 825 Fax: 08450 725 826
E-mail: [email protected]
www.kinetic4health.co.uk
A formula combining the benefits of probiotics and prebiotics ensuring that bodies have the best defence mechanism for fighting disease. Bursting with friendly bacteria to help replenish the intestinal flora and combat yeast infection. Along with 5 strains of probiotics, the formula also contains Burdock Root, one of the most valuable of all plants for prebiotic properties due to its high percentage of fructooligosaccharides (FOS); Beetroot Juice and Greens; a good source of the prebiotic and immune supportive oligosaccharide inulin; Stabilised Rice Bran (SRB), a source of soluble and insoluble forms of fibre, which supports probiotic bacteria and a healthy digestive tract.
oil of oregano
Alex Barani, Kinetic Natural Product Distributor, 258 Belsize Road, London, NW6 4BT
Tel: 08450 725 825 Fax: 08450 725 826
E-mail: [email protected]
www.kinetic4health.co.uk
Active compounds within the oil of oregano possess potent anti-fungal and anti-bacterial effect. In addition to popularity as an internal treatment for candidiasis and other infections, oregano oil can also be used externally as an antiseptic and fungal treatment. It is also a respiratory and digestive tonic, excellent for treating upset tummies on holiday and clearing up any stomach bugs. An age-old remedy, Oil of Oregano has been scientifically proven to be one of the strongest and most effective broad spectrum antibiotics known to man. It effectively kills bacteria of every variety using only tiny amounts.
The traveller's friend
Helios Homeopathy Ltd,
89-97 Camden Rd, Tunbridge Wells, Kent, TN1 2QR
Tel: 01892 537254 Fax: 01892 515116
E-mail: [email protected]
www.helios.co.uk
Helios creams in tubes are made using the finest quality botanical tinctures, essential oils and other natural plant based ingredients. Known as the traveller's friend Urtical cream contains organically grown Urtica Urens and Calendula plants and essential oils of Lavender and Roman Chamomile. Soothing relief for burning, itchy and irritated skin caused by minor sunburn, prickley heat and allergic reactions to insect bites and stings. Our creams do not contain lanolin, petroleum derivatives or artificial preservatives making them gentle enough for the most delicate skin. For details of our full range please contact Roz Crompton.
S.P.F Skin Pro-Factors Veg Caps
Viridian Nutrition Ltd, 15 High March, Daventry, Northamptonshire, NN11 4HB
Tel: 01327 878050 Fax: 01327 878335
E-mail: [email protected]
www.viridian-nutrition.com
Key product from Viridian Nutrition for the holiday season, S.P.F Skin Pro-Factors Veg Caps is a skin strengthening complex of Astaxanthin, GliSODin®, Beta-carotene and Grape Seed Extract. Recommend prior and during the summer months. Eye-catching point of sale materials available. Viridian's award-winning range of 180+ nutritional products is founded on two fundamental principles – to produce an exceptional range of supplements and to make significant contributions to the funds of environmental and children's charities. With experienced sales, marketing and technical expertise, Viridian is dedicated to the future development and security of the independent health food store.