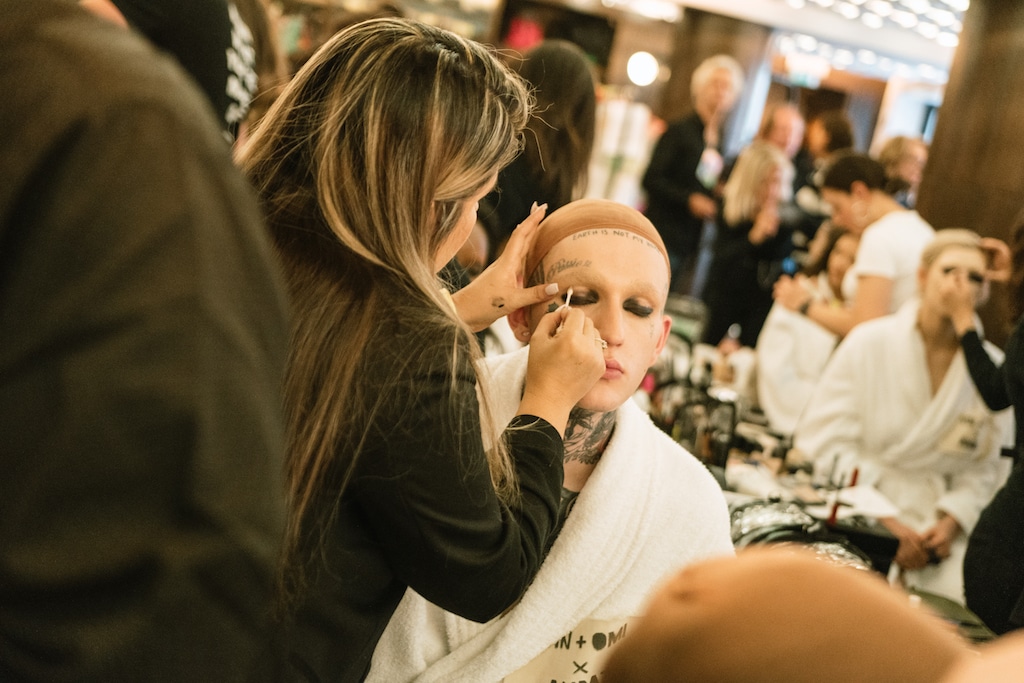 Fashion and beauty have always been intrinsically linked, and now, Jane Wolfe discovers, natural cosmetic brands and eco-conscious designers are teaming up to promote ethical values to a wider audience
The ethical failings of the fashion industry have come to the fore recently, with frequent reports highlighting the environmental cost of manufacturing clothes in the fast fashion landscape of today – from the toxic chemicals used in production, to the microfibres contributing to the mountain of plastic in our oceans, and the high levels of water and pesticides used to grow cotton. Lifestyle magazine Elle even dedicated its September issue – printed on 100% recycled paper – to sustainability in a bid to inform consumers and encourage a more environmentally-friendly fashion industry.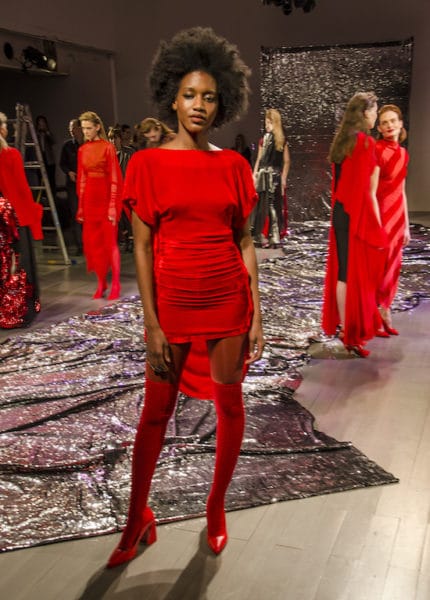 When Elle UK conducted research into the attitudes and awareness of sustainability in fashion among young women in the UK, it found that nine out of ten respondents wanted to know more about sustainability in the fashion industry; two-thirds (62%) were unaware that the industry is one of the world's biggest polluters; 62% were more likely to buy an item of clothing from a brand that values sustainability; 55% found it important to know where the clothes they buy come from and that they are ethically made; and 51% wanted to know what they could do to become more sustainable.
These results convey a hopeful message about how people are becoming increasingly mindful when it comes to purchasing clothing, but also echo concerns about the products they are putting on their faces and bodies. According to the Soil Association's Organic Beauty and Wellbeing Market Report 2018, the organic and natural beauty product sector saw its seventh consecutive year of growth in 2017, with UK certified sales up 24% to hit £75.9 million. The report highlights the prevalence of conscious consumerism, with shoppers seeking ways to make positive purchasing decisions.
We work with designers who are very particular not just about where the garment is made but also what it is made from. There are some wonderful suppliers of organic textiles now, so there is no excuse for the exclusive use of synthetic fibres or conventional non-organic cottons
The inherent connection between fashion and beauty is leading to the high profile exposure of the issues plaguing both industries as more natural and organic beauty and skincare brands are teaming up with environmentally aware designers who are taking an ethical stance.
In the zone
"Beauty and fashion go hand-in-hand," says Jayn Sterland, managing director of natural and organic brand Weleda, which sponsors The Model Zones at London Fashion Week (LFW) Men's and Women's, and has worked with a number of designers. "Many beauty editors come from fashion, and vice versa. It is very encouraging to see designers embracing authentic, natural beauty."
Sterland's own background in fashion helped her link the brand with that world when she joined Weleda in 2008. "At the time the brand had many celebrity fans, and having been a global fashion brand director I was used to leveraging influencers. We supported super-fan and model Erin O'Connor's London Fashion Week Model Sanctuary (now known as The Model Zone) as well as selected designer shows.
"Every partnership is different and that is what makes it so exciting," she explains. "As we work with our fans, usually they approach us with an idea of how they would like to work with us. This ranges from sampling products through to inspiring a print, as with Zoe Jordan, or a make-up look, as with Paula Knorr this last season. We get a new angle and this generates interest in Weleda."
"By collaborating with fashion houses we get to connect with the forward thinkers," she adds. "Every designer, stylist, model, make-up artist involved in the creation of a look is also a very talented, perceptive consumer – a natural trendsetter themselves. They know that using natural and organic cosmetics is not only very much 'on-trend' but that it also makes complete sense to use products that enhance your natural health and beauty. It is also sustainable."
Weleda's latest fashion hook-up was with Wesley Harriott at LFW in September, where make-up designer Famida Pathan and her team worked exclusively with Weleda skincare to prep a dozen models backstage.
Not just a fashion label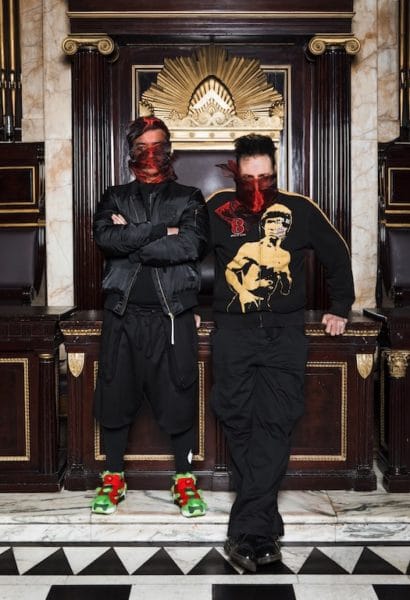 With exposés on the negative environmental impacts of the clothing industry rife, is the fashion world in general taking notice and reacting by finding sustainable solutions? "The large multi-million dollar fashion houses aren't as conscious as the smaller, independent houses, unsurprisingly," says Sterland. "We work with designers who are very particular not just about where the garment is made but also what it is made from. There are some wonderful suppliers of organic textiles now, so there is no excuse for the exclusive use of synthetic fibres or conventional non-organic cottons."
Ethical British fashion brand VIN + OMI uses natural cosmetic and bodycare brands to support the models at its shows, having Aveda and Barefaced Beauty backstage at its latest outing in September, with Dr Jackson as product sponsor. The designers Vin and Omi (first names only) opened LFW by arriving with their models on a Routemaster bus at St Pancras International's Grand Terrace, marking the reopening of the station's public fountain – designed to reduce the use of plastic bottles.
At VIN + OMI's inaugural runway show at LFW in February, the designers – who use rPET eco-textiles developed from materials including plastic collected from river and sea clean-up projects, as well as sustainable wool and eco latex – also teamed up with My.haircare, Macadamia Natural Oil and Nailberry.
At the moment about 60% of the products we use are natural/organic, but we are always striving for 100%. We are just doing what we feel is right. We want to do better. Our ethos of having a fully sustainable eco fashion label is paramount
"Our models are thrilled to be working with natural products," explain the pair, who use the tagline 'we are not just a fashion label … we are an ideology' for their brand. "They have to have products applied to their skin throughout the day and many are sensitive to ingredients, so our approach is well received by them." When asked how significant it is to use natural and/or organic products in its catwalk shows, the duo told NBN: "It's very important. It is not always possible to source the right brands, as many aren't set up for sponsorship or supporting shows, but as the brands grow it will give us a greater range to choose from. At the moment about 60% of the products we use are natural/organic, but we are always striving for 100%. We are just doing what we feel is right. We want to do better. Our ethos of having a fully sustainable eco fashion label is paramount, and collaborators need to understand this. Hopefully they get a lot out of working with us."
Vin and Omi, who have dressed major fashion icons including Lady Gaga and Debbie Harry, say the label offers various PR packages for brands and tailor makes them to ensure they get extensive new market exposure and social media coverage.
Shared values
"Vin and Omi contacted me to ask if I was interested in supporting them by supplying cosmetics for the make-up artists to use on their models," says Nadine Anderson, director of Barefaced Beauty, which has worked with the designers on two shows. "They felt that Barefaced Beauty's ethos was similar to theirs, and so would tie up nicely. It was really good to collaborate with such a wonderful ethical label because, having the same values, we appeal to the same clientele."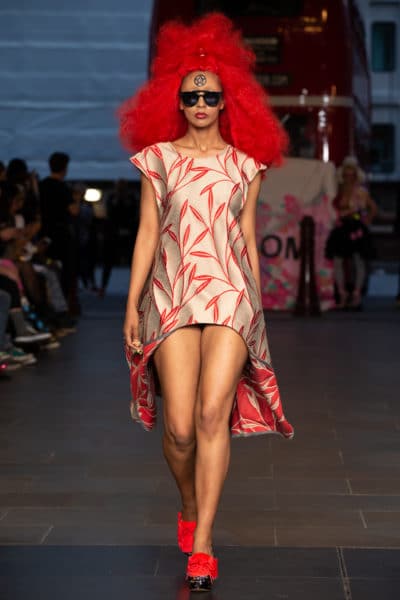 She adds: "I think if a person is interested in a particular fashion brand because of their ethos then they would most certainly be interested in a brand of cosmetics with the same ethos, so when looking at the clothes on the models, they also see the hair and make-up – they go hand in hand."
Rob Forgione, who co-founded My.Haircare with Denis Kovalyov, also stresses the importance of having a similar spirit when it comes to partnering with a label. "This is the first time we've done a fashion collaboration," he told NBN. "VIN + OMI is an amazing team of fashion designers and an amazing brand. We were drawn to each other because we have the same values. They have had big offers from multinational haircare brands but don't take them due to their ethics and the question of sustainability.
"We analyzed each other's target audience and believe our customers are very similar in orientation, wants and needs, so it's complementary for our brands to work together and appeal to that audience," he adds.
"Denis and I have a strong connection and feeling for the natural sector. Our brand is 100% vegan and PETA certified. The colour-enhancing shampoo and conditioner formulations we work with are also clean, so there are no parabens, phthalates or silicones. It makes sense that the people who look for sustainability are the people who like our products. It's a particular sector of the market – it's huge and it's getting bigger."
In September, My.haircare collaborated with VIN + OMI again at the launch of its professional MADE FOR ME range (which uses refillable and recyclable bottles) at Selfridges, for which the designers created a special scarf, and they will be working together at LFW in February.
Across the pond
Natural and organic make-up brand INIKA Organic was the official make-up brand for two shows at September's New York Fashion Week (NYFW): Tadashi Shoji and House of Nonie.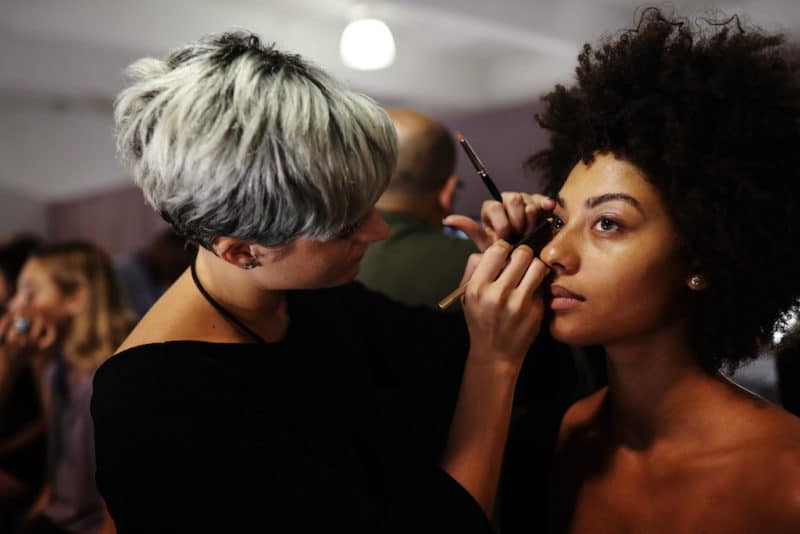 "It's very exciting to see a 100% natural, certified cruelty-free and vegan brand make it all the way to the runways at NYFW," says Viv Foulsum, INIKA Organic global communications manager. "It's a real testament to how make-up artists around the world feel about the performance and benefits of the INIKA Organic range. It also indicates that there's interest in adopting a more natural and cruelty-free approach."
Celia Trevisani, INIKA Organic global brand manager, adds: "After several offers, INIKA Organic has chosen to work with only two designers as they have both indicated a commitment to placing more emphasis on cruelty-free fashion. We believe in the value of steady progress towards this space that we are so passionate about and our shows will be free from fur and feathers.
"As a team, we're hoping to bring cruelty-free and vegan cosmetics to the forefront at Fashion Week. If we can help to spark conversations around the materials that both the fashion and beauty industry use, then that's definitely a win for a wider movement towards cruelty-free and vegan."
Main image: George Vicary