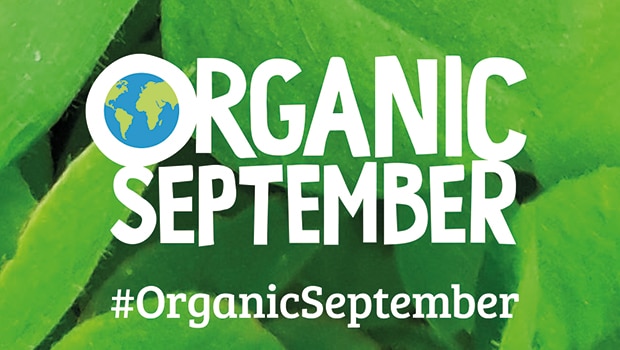 While the world continues to face the challenges of COVID-19, organic is enjoying some welcome growth. Emily McCoy hears from the Soil Association and Organic Trade Board about this year's unified Organic September campaign and why nature has the answer
In a year of so much change, who knows if the organic market will reach the predicted £2.5 billion forecast by the end of the year? But amongst the furore we're seeing some interesting category growth, a greater awareness of nature and doing the right thing, and solidarity in strong supply chains and honest businesses. People still want organic if it's available and is an easy swap to make, and that's just what this year's Organic September is all about. The campaign is spearheaded by the unified ambition of the Soil Association (SA) and the Organic Trade Board (OTB), which are coming together behind a clear message: 'nature has the answer'.
"There is no better time for a system that is based on a fundamental respect of nature to be noticed and valued. 'A small swap that can make a big difference' will become the platform on which we base the industry activity this year," says Harriet O'Regan, OTB marketing director, explaining how the campaign aims to encourage customers to make a simple swap to organic, and in doing so make the right choice for the planet – a message that has gained momentum as people are forced to review their shopping habits as we begin to emerge from a global pandemic.
"The importance of us caring for the world we live in is likely to come out of this phase with a new-found zeal, loaded with a new desire to look after humanity within the world," she adds.
So how is the industry adapting?
The annual campaign is always a key moment in the calendar for the organic industry, but this year's celebration is set to be all the more relevant as consumers connect with nature on a deeper level as a result of COVID-19. A survey by YouGov shows that 27% are noticing wildlife more and 51% have noticed cleaner air outside (research commissioned by Food Foundation, Food, Farming & Countryside Commission Kings College, Guys and St Thomas' Charity).
"As citizens we are appreciating the world we live in and the fragility of our existence in it more than ever before," says the SA. "All the research shows that people don't want to simply let things return to the way they were – but to continue making choices that will support people, animals and our environment."
There has been a shift to local and online shopping across the board, with sales in store cupboard staples and healthy snacking seeing peaks during the lockdown period. Kirstie Hawkins, brand controller at Wessanen, told NPN that brands like Whole Earth were flying off shelves, recently overtaking sales of jam. "There have been a lot more in-home consumption occasions … peanut butter is a natural source of protein, it's low sugar, it's also a store cupboard item," she explains. Breakfast items, snacking and tea are all growth categories and will be important for Wessanen and other companies in Organic September activity.
Cotton consideration
Organic textiles have continued to boom and, along with other non-food categories, including health and beauty, offer an exciting opportunity for retailers. Over half the clothes sold in the UK are cotton, and the SA reports rapid growth of organic cotton sales from Soil Association Certification licensees not only in fashion (+22%), but also homewares (+64%) children's clothes and babywear (+17%). Shopping for apparel in general has reduced, but with people spending more time at home there is a shift in focus towards comfort and quality – something organic textile brands have in abundance, with many wonderfully luxurious bedding choices and fantastic ranges of comfortable clothing.
Big and small switches
2020 has seen our daily lives completely upturned. People have been forced to change their shopping habits, considering things like location and safety much higher on their list of importance, as well as the availability of products. Independent shops are well placed to provide these things as well as personal service, as Suzanne Breeze from the Natural Foodstore co-op in Diss explains: "We've been open all the way through COVID-19 as key workers selling food and cleaning products, and we're more busy in a sense as people are looking for things they can't get elsewhere – like flour and yeast. Our regular customers who might usually buy one or two things are
buying more, because we're closer to home.
"Or they phone up; we take payments over the phone, which is something we've never done before, and it's meant we can help the people who can't get to us. An awful lot of them are people we've known for a long time, so we have a personal connection with them."
For a shop like the Natural Foodstore, interaction with customers is a key part of the service, and essential to ensuring people understand the ethos, and come back. Breeze says educating people about the difference they can make by switching to the organic option, especially if there's not a big price difference, is part of building their community of loyal customers.
On 5 September there will be a day dedicated to independent retailers, to give local shops the chance to link up nationwide to celebrate Organic September. Breeze is positive about the campaign: "Anything that raises awareness of the impact organic can have is fantastic."
A new normal
Many are embracing the new normal, with a mad rush for delivery slots in past months. Between the end of February and mid-April the UK sales of veg box schemes rose by at least 111% (source: The Food Foundation, the Banc CSA Network UK and Better Food Traders). The SA has responded with a suite of materials to support organic businesses, especially during the big push for organic in September. Online will be an even more central part of the campaign, with lots of tools and content to support organic businesses, and new assets available to show shoppers how they can make a switch to organic.
"I am enthused and excited about what we can still achieve as a sector this year, despite having to be more resourceful with budgets and a little more limited on our options. We have been working in the background, and the marketing committee remains dedicated to delivering materials, events and joint activity that members can get behind in 2020," says O'Regan.
Lauren Ball, business development and marketing officer, beauty & wellbeing, Soil Association, tells NPN about #OBWW20
"2020 has seen a holistic approach to health pushed to the forefront, with more of us searching to not just look, but feel healthy. Making eco-conscious choices in our lifestyles has now become a big part of this, as citizens are becoming more conscious of the planet and their impact on it, so are searching for honest, transparent brands. It's been a year of difficulties, but there is an overwhelming sense of renewal and restoration. The 'healthy for me, healthy for the planet' mentality is growing, and cultivating care and responsibility is important now, more so than ever.
Organic Beauty & Wellbeing Week is an exciting annual week-long campaign that takes place between 7-13 September. It's dedicated to showcasing the value of certified organic brands and supporting the public in making easy, sustainable choices across all aspects of their lives. 
Falling in the heart of Organic September, Organic Beauty & Wellbeing Week is an industry-wide campaign that this year will feature one harmonized message and campaign across the entire organic sector, highlighting that one small swap really can make a world of difference. By working together with nature we can help restore our world. 
In recent research, we found that 92% of shoppers choose certified organic because it makes them feel like they are making a 'positive choice', and with so much confusion and mistrust out in the world today we want to support citizens to make small swaps in their routine. It has never been more important to showcase brands which advocate transparency, integrity, provenance and quality.
Reflecting the increase in digitalization, this year's Organic Beauty & Wellbeing Week will focus on an extensive digital campaign – offering a variety of webinars, online content and events, retailer partnerships, panel discussions and educational tools – all around how organic beauty and wellbeing helps support our planet. There will be free digital and social assets available to all Soil Association Certification clients, retailers and online stockists, and plenty of ways to get involved over the week."
To find out more about Organic Beauty & Well-being Week, get in touch with the team by emailing [email protected]
Alara Organic Super Muesli Range
Alara
Tel: 020 7255 9725
E-mail:  [email protected]
www.alara.co.uk
In honour of Organic September, Alara have decided to launch not one, not two, but three new Super Muesli products. The Alara Organic Super Food Muesli, Super Fruits Muesli and Super Seeds Muesli have all been created with the health enthusiast in mind. What would you want from your perfect breakfast? We have carefully picked just the right balance of fruit for their comforting sweetness and an ample selection of powerful super foods for their nutritional benefits. Help your body, brain and skin to be healthy and radiant by providing the vital nutrition and lifestyle.
Eight Truffle Packs
Booja-Booja
Tel: 01508 558888
E-mail:  [email protected]
www.boojabooja.com
Booja-Booja Eight Truffle Packs feature eight multi award-winning, organic chocolate truffles in a beautiful box for just £4.99 RRP. Handmade in Norfolk from carefully selected, natural ingredients, Booja-Booja chocolate truffles are melt-in-the-mouth delicious. They're also vegan, dairy free and gluten free; perfect for the fast-growing number of free-from consumers. Priced to be attractive and accessible for everyday treating, the new eight truffle packs are beautifully designed, echoing the company's stylish and popular Award-Winning Selection. The new range features four of the bestselling Booja-Booja truffle flavours: Almond Salted Caramel, Around Midnight Espresso, Hazelnut Crunch and Fine de Champagne.
St Lawrence Gold Pure Canadian Honey
DJM Food Solutions  Tel: 0207 582 3086
E-mail: [email protected]
 www.stlawrencegold.co.uk
DJM Food Solutions are pleased to announce a unique range of pure Canadian honey. With sugar in long-term decline (*65 per cent of UK consumers limiting or avoiding sugar), honey is attracting interest as a sweetener of choice in the Health Food sector.
St. Lawrence Gold honey is Soil Association (organic product), Kosher & Halal certified. The range consists of five 330g varieties:
From hives in Carlisle, Ontario: 
• Canadian honey
• Buckwheat Blossom honey (new to mainstream retail) From hives in Winnipeg, Manitoba:
• Organic prairie wild flower
• Organic wild cover
• Organic honey
Also, launching in October 2020, a distinctive box set containing each variety in a 150g size makes an appealing gift around the holiday season and other special occasions. 
Director of Sales, Stephen Jackson, explains the story behind the award-winning products. "The inspiration came from a chance meeting with suppliers on a business trip to Winnipeg," said Jackson. "I found out the black bear cub rescued by a Canadian Lieutenant in 1914 was named Winnie after the city. Winnie became the inspiration for author A. A. Milne's iconic honey-loving Winnie-the-Pooh and so St. Lawrence Gold honey, with heritage in Winnipeg, was born."    
In a circa £140 million market dominated by New Zealand and British honey, DJM will be making a significant investment in marketing and social media to spread the word about the quality and purity of Canadian honey – the first Canadian honey in the UK market.
Chris Dickens, one of the founders of DJM and its Managing Director, says "DJM is proud of its relationship with Canadian produce and is committed to bringing high quality, award winning Canadian products to the UK.  The introduction of St Lawrence Gold Pure Canadian honey is the next step in our brand development." He went on to say, "St Lawrence Gold Maple Syrup is already the leading brand in the Independent Health Food sector and our aim is to achieve the same recognition with the introduction of Canadian honey."
Delivering on their commitment to corporate responsibility, DJM have ensured that all St. Lawrence Gold products are fully recyclable (including lids) and meet specifications of the internationally recognized On-Pack Recycling Label (OPRL).
St. Lawrence Gold honey is available now from Tree of Life, CLF, Infinity and The Health Store. Learn more about the award-winning St. Lawrence Gold products at
www.stlawrencegold.co.uk
Flaya organic cleansing hand sanitiser
Flaya GB
Tel: 07544 363345
E-mail:  [email protected]
www.flaya.co.uk
Look no further than Flaya's cleansing hand sanitiser for a certified sanitiser using 100% certified organic ingredients. This new alcohol-based hand sanitiser with lavender and palm-free vegetable glycerin comes in a handy 50ml bottle to spray at home, at work or whilst doing the weekly shop. With 80% alcohol, Flaya's recipe exceeds the minimum recommended alcohol percentage (60%) by the World Health Organisation (WHO). As with Flaya's perfume range, water isn't used to dilute the hand sanitiser recipe.
Certified organic, vegan and cruelty-free.
Effective and ethical, Flaya's ethos is to support local independent businesses. Available directly from Flaya or distributor Pravera Ltd.
Golden Greens Organic
World foods brand management ltd
Tel: 01782 366080
E-mail:  [email protected]
www.wfbm.co.uk
Vegan protein is set to be the growth area in 2020 with more people moving to the vegan diet, especially those involved with sport. The high quality organic proteins from Golden Greens provide a perfect choice offering the highest quality soil association certified Pumpkin, Rice, Hemp and Pea proteins at great value. Golden Greens offers one of the largest range of Organic nutrient powders and focusses its support on the Independent Health stores.
Natracare Certified Organic Cotton Tampons
Bodywise (UK) Ltd
Tel: 01454 613347
E-mail:  [email protected]
www.natracare.com
Natracare made the world's first 100% organic cotton tampon in 1989. Ever since then, Natracare has been championing the benefits of organic cotton for intimate health and for the planet. Natracare tampons are 100% organic cotton, certified to the Global Textile Standard. They're also free from plastic, chlorine, perfumes, dyes and other harsh chemicals. Choosing organic not only reduces your exposure to pesticides and protects your body, but it also provides workers with better working conditions. With easy-glide biodegradable cardboard applicators and recyclable packaging, Natracare tampons are ethical and sustainable, right down to the core.   
OrganiCup
OrganiCup
Tel: +45 2371 8040
E-mail:  [email protected]
www.organicup.com
OrganiCup is the healthier and greener period alternative. Healthier: Made from 100% soft medical-grade silicone of high quality so you do not have to worry about harmful chemicals. Easier: Gives you up to 12 hours of freedom. Day and night.  Greener: Reusable for years, not only hours, so you save the planet for a lot of waste. OrganiCup is packed in a small box made of recycled carton with instructions printed on the inside to save waste. The storage pouch is made of organic, unbleached cotton. OrganiCup comes is 3 sizes.
All OrganiCup products are registered with the Vegan Society and AllergyCertified.
Clearspring Organic Japanese Yaemon Tamari Soya Sauce
Clearspring
Tel: 0208 7491781
E-mail:  [email protected]
www.clearspring.co.uk
Clearspring's award-winning, gluten free Double-Strength Yaemon Tamari Soya Sauce celebrates the finest of Organic foods; whole organic soya beans, natural food production using traditional methods and exquisite craftsmanship. Its double-strength, smooth and balanced flavour is achieved by using twice as many beans for each bottle as ordinary soya sauces. It is aged in cedarwood kegs over two summers delivering a full bodied, complex and concentrated flavour – whilst not being overpowering. It's perfect as a dipping sauce, as an accompaniment to sushi and sashimi and can be used as a condiment to give a depth of flavour to salad dressings, marinades, sauces, stir fries and vegetable dishes.
Green People Skin Care
Green People
Tel: 01403 740350
E-mail:  [email protected]
www.greenpeople.co.uk
Switch up your skin care this Autumn and refine your routine with Green People. Exfoliation is key to combatting dull skin caused by seasonal changes. Try Green People's Fruit Scrub Exfoliator to recharge and refresh skin texture and brighten the complexion. If you've never tried a facial oil before, now is the perfect time to invest in these light yet intensely nourishing products. Try Anti-Ageing Facial Oil, it's full of powerful skin-rejuvenating Rosehip and Evening Primrose plant oils. Switch up your moisturiser too, skin will need more nourishment so feed it Vita Min Fix for an instant moisture infusion. 
Tree of Life Makes Organic Easy
Tree of Life
Tel:  01782 567100
E-mail:  [email protected]
www.treeoflife.co.uk
Our goal at Tree of Life is to make health easy which includes our planet and communities we work with around the world. That's why we offer 140 delicious, healthy foods that are certified Organic, assuring the highest standards of organic farming for the health of your customers and our planet. Many of our foods are sourced through fair-share partnerships and we're on a mission to find improved ways to package our products that are environmentally sustainable. From Store-Cupboard Essentials and Pastas, Coconut Oil to Chocolate our wide range of organic products has something for every taste and meal occasion.
Hydrate The Healthy Way With Tiana 100% Raw Coconut Water
TIANA Fairtrade Organics
Tel: 0208 427 1695
E-mail: [email protected]
www.tiana-organics.com
Enjoy the delicious, purest, unpasteurised with no sugar added TIANA 100% Raw Coconut Water!   Multi-award winning, extracted from fresh, young green coconuts, and bottled within hours of opening, TIANA Raw Coconut Water preserves the same delicious taste and nutrition as drinking the juice from fresh young green coconuts. A refreshing thirst-quencher, the perfect choice to rehydrate, revive and flush toxins from your body to improve overall health and wellbeing.  With a commitment to sustainability and the fight against plastic TIANA Raw Coconut Water is bottled in recyclable glass and no monkeys are used in picking our coconuts.  
Lavera offers 20% OFF Colour Cosmetics during Organic September
Pravera Ltd
Tel: 01557 870203
E-mail:  [email protected]
www.laverauk.co.uk
Radiate your natural beauty with lavera. Innovative, natural, and organic, lavera Colour Cosmetics make up range offers over 120 products with 75% of the range being certified vegan.  Lavera use innovative and unique active ingredient compositions with the best natural and organic plant extracts and oils to maintain good skin health. The stunning and trendy range of colours creates a fantastic make-up collection for enchanting eyes, seductive lips, and a flawless complexion.  Lavera is certified natural and organic by Natrue and the range is 20% OFF during Organic September when ordering through Pravera Ltd. 
Organ(y)c Moderate Flow Sanitary Pads
Pravera
Tel: 01557 870 203
E-mail:  [email protected]
www.organyc.uk
Organ(y)c Moderate Flow Sanitary Pads are the world's first clinically proven sanitary pad to reduce intimate skin irritations. Created with a non-woven certified organic cotton top sheet and highly absorbent cotton core, these pads are hypoallergenic and ensure maximum breathability to reduce intimate skin irritations including itching and burning. They are plastic free with protective wings and back sheet created from matter-bi a biopolymer derived from corn-starch and a secure adhesive strip to give you maximum security throughout the day. Containing no SAP's, rayon, polypropylene, added aromas or bleach. Biodegradable, compostable, and recyclable packaging. RRP £3.99 available from www.organyc.uk 
Organic Certified CBD Skincare Range
Pura Vida Organic
Tel: +385 (0) 91 604 5050
E-mail: [email protected]
www.puravida-organic.com
The first and only Cosmos Organic and Natural certified CBD brand with hemp extracts approved by certification bodies – which allow us to be legally sold in all stores and pharmacies across Europe. Our CBD skincare targets problematic skin, dry skin, ageing and damaged skin as well as pain and discomfort in muscles and joints.
CBD is the most revolutionary discovery in recent times and will change the face of skincare. This is due to its effect on the essential body-wide system that regulates balance – the endocannabinoid system. It's time to show the world what CBD skincare can do.
Rabenhorst Pure Fruit and Vegetable Juices
Healthy Food Brands
Tel: 01403 786460
E-mail:  [email protected]
www.rabenhorst-juice.com
Founded in 1805, Rabenhorst is a highly specialised producer of premium fruit and vegetable juices, with the headquarters in Unkel, along the River Rhine in Germany. For more than 50 years, the brand has been dedicated to holistic organic principles in creating its juices: from plant cultivation to harvesting, processing, storage and transport of its valued Organic ingredients. Quality and ecology have always been top priority. The Rabenhorst range in the UK includes Organic Beetroot Pure Juice, Cherry & Blueberry Nectar, Ginger Mix, as well as speciality juices such as Detox, Wheatgrass and Immune drinks.