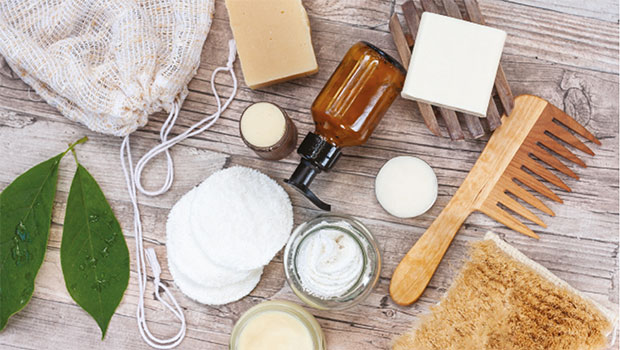 One thing's for sure when reflecting on this year's products: our industry never fails to deliver on innovation. With the word 'sustainability' on everyone's lips, our sector was pioneering its 'better for you and the planet' products long before the phrase hit the mainstream. As the world plays catch-up, here's a review of the trendsetting products that made their way onto shelves in 2019.
From CBD drinks to vegan sushi
With 49% more people taking part in Veganuary 2019, plant-based products have reached dizzying heights. 2018 was all about meat-free products emulating the texture of meat, but 2019 saw a rise in 'healthier' fake meats providing plant-powered nutrition: beetroot and spinach sausages; sunflower mince; and vegan sushi developed using the Asian vegetable konjac to create an alternative to salmon.
Vegan cheese is bigger than ever, with complex flavour profiles to produce products that taste (and melt) like the real deal. Enriched plant milks have evolved too, with new varieties including pistachio and macadamia.
CBD remained a mega trend in VMS, making its way into food and drink, and new delivery formats have also been applied to ACV, which we've seen incorporated into shots and gummies. 
Mushrooms continue to reign, used in teas and coffees to provide alternatives to caffeine. Healthy snacking is going strong; baked snacks have featured new ingredients such as seaweed, tapioca, plantain, peas and root veg. And functional smoothie-like soups – heated and consumed straight from the bottle – provide a simpler way to eat well on the go.
Sprays and sleep products
Among the trends we predicted to boom, CBD is joined by nootropics, with oral sprays emerging for both. Sleep products are helping to aid natural slumber, and curiosity about vitamin IV drips is increasing. The champions of VMS – manuka, probiotics, turmeric and magnesium – remain popular, and adaptogens maca and ashwagandha are still in demand to aid stress.
An extended range of vegan protein powders containing omega-3s became more prevalent, while migraine and urinary tract products have advanced with tech – including the introduction of an app combined with a dip-stick for home testing.
Beauty from within
This year saw the beauty from within trend making strides, with an influx of supplements for skin and hair. Multi-purpose continues to be big in green beauty, serving as another sustainable alternative. Facial oils, anti-pollution skincare and the term 'pro-ageing' hit headlines too. Vegan and cruelty-free are going strong, as more people become aware of ethics in their beauty regimes. But the biggest story of all has been how beauty brands are upping their packaging game, with an influx of plastic-free shampoo, conditioner and body cleansing bars.
Plastic-free reusables
Rising awareness about plastic consumption has influenced a plethora of plastic-free eco-living products; although concerns have been raised about how sustainable some alternatives actually are. From bamboo water bottles and organic cotton clothing, to beeswax wraps and coconut bristle washing-up brushes – these win-win products are made to last but also break down safely in the environment. Eco-living starter packs are predicted to fly off shelves this Christmas. Stores are offering gift bundles of reusable products – ideal for eco novices who want to make sustainable swaps.
Nature's Most Perfect Water: AQUA Carpatica Still Natural Mineral Water
AQUA Carpatica
Tel: 01895 549041
E-mail:  [email protected]
www.aquacarpatica.co.uk
Drawn from two pristine and pure aquifers, nestled deep in the heart of the Carpathian Mountains, AQUA Carpatica Natural Mineral Water is on a mission to help consumers maintain a healthy lifestyle through an award-winning range with outstanding qualities. A great choice for the health conscious, AQUA Carpatica combines an exceptionally balanced mineral content to show your body a whole lot of love:
• Virtually nitrate free
• Suitable for a low sodium diet
• Naturally occurring electrolytes
• Glass & BPA free 100% recyclable bottles
• Sustainably extracted
• Driven by a promise to care for
and protect the
natural springs and environment
#ItsWaterLove
Alara Golden Crisp Organic Gluten Free Granola
Alara Wholefoods Ltd.
Tel: 0207 3879303
E-mail:  [email protected]
www.alara.co.uk
Hand-baked crispy granola made with the finest Scottish oats, crispy rice, apricots, coconut chips and coconut blossom nectar. Our organic oats are grown in Scotland and traditionally kiln–dried for maximum flavour and stone-milled in a 200 year old water-powered mill, the last remaining one in Scotland. This gluten-free recipe is suitable for coeliacs and has no added refined sugar or salt. Alara was the first cereal company in the world to use compostable film to pack their breakfast cereals, making them 100% plastic free!
Cannabis Tea
Body and Mind Botanicals
Tel: 01234 988420
E-mail:  [email protected]
www.bodyandmindbotanicals.com
Body and Mind Botanicals was born out of the desire to produce high-quality CBD products and introduce people to all of its benefits, which may include relief from anxiety and low moods, as well as improving sleep. They are hands on with every stage of production from seed selection to producing tea for 400 stockists across the UK. As the only European company who harvest their unique strain of cannabis, the tea has a beautiful fresh flavour, packed full of CBD. It is currently available in loose leaf, individually bagged and peppermint flavour, grown on certified organic farms
Bonsan Organic Teriyaki Jackfruit
Bonsan
Tel: 0208 547 2775
E-mail:  [email protected]
www.bonsan.co.uk
Bonsan Teriyaki Jackfruit is a delicious meat-free alternative, perfect for use in Asian inspired stir fries, to top fresh salads, and fill steamed buns. Made with chunks of young jackfruit, in a sweet sticky marinade, it will add a rich depth of flavour to any dish. What's more is it's organic, vegan and high in fibre. This star product was even crowned winner in the Judge's Choice category at the Natural Products show!
The Leaf Life
Bravura Foods
Tel: 0203 086 8676
E-mail:  [email protected]
www.Theleaflife.co.uk
Welcome to The Leaf Life, A CBD infused lightly sparkling range of drinks. Available in slim line 250ml recyclable cans in Laidback Lemonade, Relaxing Raspberry and Mindful Mango with Passionfruit flavours. These natural drinks contain 15mg of full spectrum CBD and are free from artificial flavours, colours and refined sugars. We have sourced the most wholesome natural ingredients including the CBD to deliver a fantastic tasting lightly carbonated drink with a functional beneficial twist and all varieties are under 25 calories per can. The perfect remedy to a hectic Christmas!
The Best Vegan Ice Cream
Booja-Booja
Tel: 01508 558888
E-mail:  [email protected]
www.boojabooja.com
Booja-Booja Dairy Free Ice Cream has been voted Best Vegan Ice Cream for the third year running, at the Vegfest UK Awards.  Made in Norfolk, the popular range features six mouth-watering flavours; Hunky Punky Chocolate, Keep Smiling Vanilla M'Gorilla, Chocolate Salted Caramel, Raspberry Ripple, Caramel Pecan Praline and Hazelnut Chocolate Truffle – which also won Silver at the 2019 Free From Food Awards. Made with creamy cashew nuts Booja-Booja ice creams are 100% vegan, gluten free, soya free, made without refined sugar, kosher and organic. A delicious free-from essential, they're available in 500ml 'take home' and 110ml single serving pots.
Clearspring Organic Young Jackfruit Chunks in a jar
Clearspring
Tel: 0208 749 1781
E-mail:  [email protected]
www.clearspring.co.uk
Bake it, fry it, stew it – Clearspring Organic Jackfruit in a jar for Veganuary. Clearspring's Organic Young Jackfruit Chunks is continuing to surge in popularity. Grown in sunny Sri Lanka, this versatile plant is celebrated for its complex layers and unique texture, which make it ideal to soak up the flavours and ingredients in which it is cooked. Clearspring Organic Young Jackfruit Chunks come soaked in brine and ready to use. If that wasn't enough, it comes in a glass jar rather than the traditional tin, making a lighter impact on the environment. It's a must-stock ingredient for Veganuary, as the popularity of quality plant-based products continues to grow.
Essential Trading Organic Oils
Essential Trading Co-operative
Tel: 0117 958 3550
E-mail:  [email protected]
www.essential-trading.co.uk
At Essential Trading, we love bringing simple, healthy, high-quality, and affordable food to your table. Our oils, harvested in the south of Spain using ethical and sustainable technics, are an excellent example of this. Gently packaged in elegant dark glass bottles, Essential Organic Extra Virgin Olive Oil, Sunflower Oil and Sesame Oil have been recently re-labelled with an attractive and colourful new design that will delight our customers. On the production side, the whole range is extracted using a cold-pressing method, so they retain their sophisticated delicacy. No additives, GMO-free, just liquid gold available in your local independent store.
Nutiva Organic MCT Powder – NuMCT™
Kinetic Natural Products Distributor
Tel: 08450 725 825
E-mail:  [email protected]
www.kinetic4health.co.uk
The world's first organic MCT Powder –  NuMCT™ – made from Nutiva Organic MCT Oil from 100% organic virgin coconut oil. With added prebiotic acacia fibre (3g per serving) and a small amount of tapioca maltodextrin to ensure that the quality fats blend into any beverage.Delivers digestible fatty acids that quickly convert to ketones, giving the brain, muscles and other tissues fast and sustained energy. NuMCT™ is a creamy alternative to Nutiva Organic MCT Oil, and is more gentle on the digestive system. Keto- and paleo- friendly.
UK First Organic Ayurvedic SuperFood Powders & Nutritional Bars
Living Ayurveda Product Ltd
Tel: 07725 849829
E-mail: [email protected]
www.AnandaSuperFoods.co.uk
Vegan Vata, Pitta & Kapha SuperFood powders, retail at £22.99 per pouch for one months supply. Vata with almond & cinnamon – Relaxing & improves sleep Pitta with Fennel & Coconut – Digestive aid & good for skin conditions. Kapha with Apricot & Ginger – Immune booster. Available in many independent health food shops.
Tree of Life Raw Organic Chocolate
Tree of Life
Tel: 01782 567100
E-mail: [email protected]
www.treeoflife.co.uk
Tree of Life Raw Organic Chocolate is the naturally pure choice made from just 3 ingredients: Sustainably sourced raw cacao powder, cacao butter and coconut blossom sugar. The bars are hand-finished with pieces of tantalising fruits, nuts, seeds and spices for the ultimate chocolate experience.
Certified organic and using only vegan ingredients Tree of Life chocolate is reassuringly free from dairy, gluten and refined sugar, but most of all it tastes simply delicious. What's more the packaging is fully compostable and recyclable too.  Available in 8 tempting varieties including Pure 74%, Raspberry, Coconut and Chai Spice.
Tree of Life Organic Superfood Pastas
Tree of Life
Tel: 01782 567100
E-mail: [email protected]
www.treeoflife.co.uk
Combining natural wholefoods with superfood ingredients such as Beetroot, Turmeric and Hemp, Tree of Life pastas are a great way to boost the nutrition of everyday meals. Made in Italy from high quality, organic ingredients with no binders or fillers, the range of nine pastas are certified gluten free, suitable for vegans and cook up just like regular pasta. The range includes 3 high protein pastas made with 100% legumes which pack a protein punch, providing up to 26% protein per serving. Part of the Tree of Life range, making health easy every day.
Giovanni 2chic Frizz Be Gone Shea Butter & Sweet Almond Oil Hot Oil Hair Treatment
Kinetic Natural Products Distributor
Tel: 08450 725 825
E-mail: [email protected]
www.kinetic4health.co.uk
Giovanni 2chic Frizz Be Gone Shea Butter & Sweet Almond Oil Hot Oil Hair Treatment taps into the huge hair oil treatment trend. A sulphate-free treatment with no surfactants that dull, strip colour, or damage hair. 100% colour safe, paraben-free, and cruelty free. Made with a blend of USDA certified organic and exotic ingredients to deeply hydrate, condition and rejuvenate hair. The product comes in a carton of 12 pouches, which opens up to be an on-shelf caddy. The pouch is easy to heat up and comes with instructions for use in the microwave or on the stove.
Lavender & Tea Tree Shampoo Bar – 95g.
Friendly Soap Ltd
www.friendlysoap.co.uk
The castor oil in this nourishing shampoo bar produces a gorgeous creamy lather that conditions and cares for your hair more deeply. Lavender and tea tree essential oils help it refresh as well as it cleanses, all in a bar that lasts longer than you'd think. All Friendly packaging is recycled and recyclable. Awarded The Green Parent Natural Beauty Award 2019. The Green Parent Magazine are very passionate about recognising the good work of companies whose heart and soul is poured into creating wonderful ethical products.
Vita Min Fix
Green People
Tel: 01403 740350
E-mail:  [email protected]
www.greenpeople.co.uk
24-hour anti-ageing moisturiser to boost skin hydration and reduce wrinkles. Nourish your skin with Vita Min Fix, a 24-hour anti-ageing moisturiser to boost skin hydration and reduce wrinkles. Rich in nourishing vitamins, minerals and antioxidants from Seaweed and Avocado.  Baicalin is clinically proven to protect and extend cell life, effectively reducing skin ageing. Skin will be soothed, firmed and revitalised with this vitamin-packed moisture-retaining complex that is 89% certified organic.
JASON Pampering Himalayan Pink Salt 2-in-1 Foaming Bath Soak & Body Wash
Kinetic Natural Products Distributor
Tel: 08450 725 825
E-mail:  [email protected]
www.kinetic4health.co.uk
A new addition for 2019 to the best-selling botanical body wash collection from JASON: Pampering Himalayan Pink Salt 2-in-1 Foaming Bath Soak & Body Wash. A rich, creamy formula that lathers into frothy suds, designed to nourish skin and help calm the body and mind, thanks to the inclusion of lavender, bergamot and clary sage essential oils. JASON offer safe, clean and nourishing body washes for the entire family, with gentle botanical surfactants to cleanse skin, nourishing vitamin E and pro-vitamin B5, in earth-friendly biodegradable formulas. No parabens, harsh sulphates, petrolatum or phthalates. Vegan and cruelty-free.
Antipodes Blessing Anti-Pollution Serum
Kinetic Natural Products Distributor
Tel: 08450 725 825
E-mail: [email protected]
www.kinetic4health.co.uk
Pollution-proof your skin with Antipodes Blessing Anti-Pollution Serum. This super-light face oil features skin-brightening marshmallow bloom and liquorice root that target micro-pigmentation. Revolutionary antioxidants Vinanza® Grape and Asian ginger combine to help neutralise free radical damage, while kiwi seed oil high in Vitamin C, plus nutrient-rich avocado oil strengthens skin. White jasmine fragrance. Blessing is suited to most skin conditions, especially oil-prone. pH balanced at 6.5, scientifically shown to inhibit oxidative stress in-vitro by as much as 52%, certified vegan by The Vegetarian Society, no animal testing, recyclable glass, sustainably sourced cardboard box and 100% recyclable, printed with vegetable ink.
Avalon Organics Apple Cider Vinegar Shampoo
Kinetic Natural Products Distributor
Tel: 08450 725 825
E-mail: [email protected]
www.kinetic4health.co.uk
Avalon Organics Apple Cider Vinegar hair care features a medley of raw apple cider vinegar, nettle extract, and argan and babassu oils to clarify and restore hair to its natural pH balance, and condition hair and seal the hair cuticle, locking in shine and reducing fly-aways. The conditioner is clinically tested: 91% of users reported easy to detangle hair after use and reported hair looked smooth and free of flyaways. NSF/ANSI 305 certified organic, EWG verified, which means the products meet strict criteria for ingredients, transparency, and health, sulphate-free, GMO-free, paraben-free, no synthetic fragrances or colours, cruelty-free, vegan and biodegradable.

Kinetic Natural Products Distributor
Tel: 08450 725 825
E-mail:  [email protected]
www.kinetic4health.co.uk
We Love the Planet is a wonderfully soft and very effective range of Deocreams. Available in five different fragrances, packaged in either a snaplock tin (48g) or a wide-opening compostable cardboard tube (65g), both containers are recyclable and zero plastic. 100% of the ingredients are from natural origin – certified by Natural Cosmetics Standard (NCS) and EcoControl. Each deodorant is based on a combination of coconut oil, beeswax and cornstarch powder to offer a smooth application, baking soda to neutralise odours naturally, and essential oils. The product is nourishing to the skin, antibacterial and ensures that you feel fresh all day without clogging your pores- aluminium-free. The cream format and the product size means it not only travels well but can also be taken in hand luggage.
OrganiCup – The sustainable menstrual cup
OrganiCup
Tel: +45 23 71 80 40
E-mail:  [email protected]
www.organicup.com
OrganiCup is the healthier, easier and greener period alternative to disposable pads and tampons. Healthier: Made from 100% soft medical-grade silicone of high quality so you do not have to worry about harmful chemicals. Easier: Gives you up to 12 hours of freedom. Day and night. And you can swim and do sports without worrying about leaking. Greener: Reusable for years and therefore saves the planet for a lot waste. OrganiCup is packed in a small box made of recycled carton with instructions printed on the inside to save waste. The storage pouch is made of GOTS certified organic, unbleached cotton.  All OrganiCup products are Certified Vegan and AllergyCertified. Please read more at www.organicup.com
Bee Health Propolis Cream
Bee Health Propolis
Tel: 0800 731 6006
E-mail:  [email protected]
www.beehealthpropolis.com
Bee Health Propolis Cream is a convenient way to access to the antibacterial properties of this wonderful, natural ingredient to sooth skin irritations, dry skin, and blemishes. Propolis is a natural substance collected by honey bees from buds and trees containing tree resin, essential oils, waxes and bioflavonoids. It offers an array of benefits for many ailments and is one of nature's richest sources of bioflavonoids for immune support. Bee Health guarantees the bioflavonoids present are naturally occurring flavonoids, with no synthetic substances added. This unique natural substance is subject to tests for potency and quality. The cream is available in 30ml and 60 ml and to apply, simply massage the Bee Health Propolis Cream into your skin. Bee Health Propolis Cream (30ml / 60ml): Trade: £1.61 / £2.33, Retail: £3.87 / £5.58
Helios ABC
Helios Homeopathy Ltd
Tel: 01892 537254
E-mail: [email protected]
www.helios.co.uk
Helios ABC combines three homeopathic remedies with a long history of traditional use to bring gentle, safe and natural relief of symptoms associated with childhood fevers and earache and teething in toddlers and infants. Winner of Best Mother and Baby Care section in the Natural Pharmacy Business Product Awards 2019, Helios ABC forms part of a range of combination remedies covering Hay Fever, Injuries, Sleep and Stress. For more information on ABC and our award winning remedies please contact us.
Vegan Health Oral Spray
BetterYou Limited
Tel: 01226 814 030
E-mail:  [email protected]
www.betteryou.com
Supporting vegan health with a specially formulated combination of nutrients, BetterYou's Vegan Health Oral Spray delivers scientifically substantiated levels of vegan certified vitamin D3, vitamin B12, iron and iodine. A world first, the Vegan Health Oral Spray has a natural mixed berry flavour and is designed to be absorbed through the inner lining of the mouth. This brand-new spray is also the first BetterYou product contained in a bottle made from recycled material including 70% Ocean Waste Plastic and 30% Post-consumer Recycling (PCR). For more information, visit www.betteryou.com.
Nature's Answer Plant-Based Cal-Mag Liquid
Kinetic Natural Products Distributor
Tel No: 08450 725 825
E-mail: [email protected]
www.kinetic4health.co.uk
Harvested in the cool, clean and pristine waters off the coast of Iceland, Aquamin's® Red Algae and Sea Water Marine Magnesium & Multi-Mineral Complex supplies bio-active magnesium, calcium, and 72 other trace minerals. Supported by a growing body of scientific publications, Aquamin's® unique matrix of trace minerals give a powerful boost to magnesium's bioactivity. Plant-Based Magnesium Liquid offers 500mg of magnesium in a liquid supplement with a delicious vanilla cream flavour, perfect for those who struggle to swallow capsules or tablets. One bottle contains three months' supply. Marine-Based Magnesium Capsules offer 500mg per two capsule serving, and one containers holds 6 weeks supply. Vegan and gluten free.
NeoCell Super Collagen Powder
Kinetic Natural Products Distributor
Tel: 08450 725 825
E-mail:  [email protected]
www.kinetic4health.co.uk
NeoCell Super Collagen offers 6600mg of BioActive NeoCell Collagen Type 1 & 3. Using NeoCell's technologically advanced hydrolyzation process, large collagen molecules are enzymatically hydrolyzed into small peptides that are both bioavailable and bioactive in the body. The product is both non-GMO and gluten-free, and does not contain soy, wheat, lactose, starch, yeast or artificial flavourings. NeoCell is the world's leading collagen brand and also a pioneer in the field of nutritional science. They are committed to finding the most innovative and effective nutraceutical supplements and offer the most bioavailable and bio-active collagen peptides on the market. NeoCell's cGMP facility in Southern California houses state of the art manufacturing equipment.
BerryWell for Immune Support
Lifeplan Products Limited
Tel : 01455 556281
www.lifeplan.co.uk
Lifeplan have added a new high strength elderberry product to their range, in time for the winter season. This unique product provides 3000mg of flavonoid-rich black elderberry, in a brand new coloured vegetarian capsule made of purple carrots. It also contains 100% of the NRV of Vitamin C and Zinc to help you maintain a healthy immune system this winter. This one a day capsule contains no fillers and is registered with the Vegan Society.
Magnesium 100mg
Link Nutrition
Tel: 0207 881 0048
E-mail:  [email protected]
www.linknutrition.com
Link Nutrition's magnesium contains 100mg of Food Based magnesium in a one-a-day vegetarian capsule. Magnesium is an essential mineral required by the body to perform a variety of vital functions, including its involvement in normal protein synthesis, sleep regulation, exercise recovery and mental wellbeing.  Because it is Food BasedTM it is gentle on the stomach and readily absorbed. Food based nutrients are vitamins and minerals just like those found in nature; complete with naturally occurring cofactors. This makes them safe, effective and readily absorbed by the body.
Pro-DEFEND®
Natures Aid Ltd
Tel: 01772 686231
E-mail:  [email protected]
www.naturesaid.co.uk
Pro-DEFEND® is a daily good bacteria supplement combining specific strains of bacteria with supportive nutrients, to support a healthy immune system. Each capsule provides 10 billion good bacteria, from 3 extensively researched strains. With Zinc and Vitamin D to support the normal function of the immune system, and Vitamin B12 to help reduce tiredness and fatigue. Part of the award-winning microbiome range from Natures Aid. 30 Capsules, RRP £9.95
Bio-Kult Migréa
Bio-Kult Migréa
Tel:  01460 243230
E-mail:  [email protected]
www.bio-kult.com
We've hit the nail on the head! Don't leave your customers in the dark with head discomfort! Give them a head start with Bio-Kult Migréa, an advanced multi-action live bacteria formulation that targets both the digestive tract and the head and has been formulated with magnesium and vitamin B6, both of which contribute to normal functioning of the nervous system, and reduction of tiredness and fatigue. Vitamin B6 contributes towards the normal function of the immune system and has been shown to help protect against inflammation. Vitamin B6 also contributes to the regulation of hormone activity.
Bee calm & Bee rested
Unbeelievable Health
E-mail:  [email protected]
www.unbeelievablehealth.com
NEWEST members of the Unbeelievable Health hive, Bee calm (anxiety and stress support) & Bee rested (sleep support) are formulated by nutritionists to help provide natural relief for frazzled nerves and poor sleep. These unique and exciting research based supplements were created by nutritionists and combine highest quality botanical and plant based ingredients with proven benefits to help ease tension, agitation and anxiety and to improve sleep (helping you nod off, get up less in the night & sleep longer). They are concentrated so fewer pills are required. Capsules may be opened into juices & more if desired.
Ancient Magnesium
Wholesale Health Ltd
Tel: 01606 889905
E-mail: [email protected]
www.wholesalehealthltd.co.uk
The bestselling Ancient Magnesium Ultra range from Good Health Naturally delivers a powerful combination of genuine Zechstein magnesium chloride and OptiMSM® (the world's purest MSM for enhanced absorption), providing a convenient yet gentle way to naturally boost cellular magnesium levels.
Magnesium is an essential mineral that plays a crucial role in supporting over 300 different enzyme systems that regulate diverse biochemical reactions in the body, including protein synthesis, normal muscle and nerve function, normal psychological function, energy production, and more. Unfortunately, due to the widespread depletion of this critical mineral from our food supply (which the body needs in large, absorbable quantities each day to function), many people aren't getting enough magnesium from their diet alone. Research indicates that when the body is magnesium deficient it can result in deteriorating cellular metabolic function, resulting in serious health problems. Some of these health problems include anxiety and depression, migraine headaches, cardiovascular disease, and fibromyalgia, amongst other issues.
Magnesium also has an important relationship with calcium and vitamin D. Keeping magnesium levels up is critical for calcium absorption. Even low magnesium levels in the "normal" range may cause calcium to accumulate in soft tissue and lead to chondrocalcinosis, or crystalised calcium in joint cartilage.
Supporting your diet with a magnesium supplement is highly recommended. However, although drugstore magnesium powders and tablets are readily available, our digestive system struggles to absorb them. The best and most effective magnesium delivery is through the skin as a topical supplement, which significantly increases its uptake and health-protective abilities.
Ancient Magnesium is available in a variety of topical applications including bath flakes, body butter, oils, creams, and lotions, including the award-winning Ancient Magnesium Cream with CBD Oil + OptiMSM®, and Ancient Magnesium Cool Relief Lotion with added shea butter, sweet almond oil, therapeutic menthol, and other organic ingredients.
Ask about our sample sachets and range of FREE marketing material to attract and inform your customers.
Organic Icelandic Angelica Leaf Extract
Viridian Nutrition
Tel: 01327 878050
E-mail:  [email protected]
www.viridian-nutrition.com
Sourced from an island off the Icelandic coast, this formulation from ethical vitamin company Viridian Nutrition is a natural remedy to urinary incontinence. Organic Angelica has been researched for its benefits in bladder health. Angelica archangelica targets symptoms of urinary incontinence, nocturia, and overactive bladders. Viridian's Organic Icelandic Angelica Leaf Extract is blended alongside organic pumpkin seed extract, which contributes to the maintenance of good bladder function and urinary flow. Vegan, contains 100% active ingredients and palm oil free. Certified organic by the Soil Association. Available in 30 capsules. Viridian is founded on the principles of Purity, Environment and Charity.
CureC™ Liposomal Vitamin C with Quercetin
Wholesale Health Ltd
Tel: 01606 889 905
E-mail:  [email protected]
www.wholesalehealthltd.co.uk
CureC™ Liposomal Vitamin C with Quercetin is a high-performance nutritional supplement that utilises an advanced liposomal delivery system to maximise nutrient absorption. Each serving delivers a powerful combination of high-quality liposomal vitamin c, quercetin, and (non-hydrogenated) Phosphatidylcholine to naturally promote cardio health, normal function of the immune system, and normal collagen formation for healthy, radiant-looking skin. When held in the mouth liposomal vitamin c with quercetin is up to 9x better absorbed than capsules, tablets, and powders. Can be enjoyed by all ages at varying doses. No mixing required – delicious taken straight from the spoon! Gluten-Free. Non-GMO. Non-Soy. Suitable for vegetarians and vegans.
SYNAPTAID
World Foods Brand Management Ltd
Tel: 01782 366080
E-mail:  [email protected]
www.wfbm.co.uk
SYNAPTAID is a first-of-its kind supplement for supporting brain function and combating processes known to cause 'cognitive impairment'.  The 'brains' behind SYNAPTAID is Dr John Briffa, a practising medical doctor, journalist and author with 30 years' experience in natural medicine.SYNAPTAID contains a blend of 8 botanicals and nutrients, each of which has a role to play in supporting and assisting memory, concentration and mood. Just one of SYNAPTAID's active ingredients is Lion's Mane. This medicinal mushroom has several supporting actions in the brain, including boosting 'nerve growth factors' that can stimulate regeneration of brain cells. Lion's Mane has been found to significantly improve brain function in individuals suffering from 'cognitive impairment' in just a few weeks.
Waft Air Fresheners and Laundry Perfumes
NatBrands Ltd
Tel: 01892 616871
E-mail:  [email protected]
www.natbrands.co.uk
Fragrance your home and laundry with Waft Air Fresheners and Concentrated Laundry Perfumes. Waft Air Fresheners are aromatic essential oil blends, available in Lemongrass, Lavender, Peppermint, Geranium, Orange and Rose in a 100ml bottle (RRP £5.90). Reduce plastic use with Waft Concentrated Laundry Perfumes in Tropical Flowers, Spring Freshness, Lavender, Sweet Orange and Vanilla in a compact 50ml (100 wash) bottle (RRP £7.90). Just 10-20 drops will boost your laundry fragrance or mix with vinegar to create a perfumed laundry softener. Vibrantly coloured labels and recyclable brown bottles create a stylish look. Biodegradable, plant-based, vegan, palm oil and GMO Free. The only dilemma is… which fragrances to choose!
Evolution Salt
World Foods Brand Management
Tel: 01782 366080
World Food Brand Management are delighted to be introducing the leading Himalayan salt brand Evolution Salt to the UK and Ireland. Himalayan salt products have exploded in the past few years and extended into many new product areas. Evolution are the leading Himalayan salt product company providing a wide range of responsibly sourced products using this amazing natural resource.The range includes a wide selection of Salt lamps along with a unique Himalayan eco-multi mineral supplement. Future lines will include cosmetics and a range of cooking condiments. The range is available from leading wholesalers. Contact World Foods Brand management on 01782 366080 for details. Available from The Health store
Safe to Flush Moist Tissues
Bodywise UK Ltd
Tel: 01454 613347
E-mail:  [email protected]
www.natracare.com
The first truly flushable wipes tackling plastic pollution at the source! Natracare's Safe to Flush Moist Tissues were developed as an alternative to the plastic-filled wipes falsely marketed as flushable that block our sewers and pollute our oceans. The first of their kind, Natracare's Moist Tissues are made from 100% paper and were the first wipes to pass Water UK's new and much stricter Fine to Flush standard. Now flushable really means flushable! Infused with an organic formula of anti-bacterial witch hazel and soothing aloe vera, Natracare's Moist Tissues are perfect for cleansing and refreshing delicate skin.