With Organic September around the corner, Jane Wolfe gets some early bird insights into the focus of this year's campaign and gives a flavour of what retailers and consumers can look forward to during the month-long event
If nature could talk … it would ask us to choose organic'. That's the message of the 2022 Organic September cross-sector campaign, a collaboration between the Soil Association (SA) and the Organic Trade Board (OTB).
The OTB members actively supporting this year's campaign include Doves Farm, Kallo, Natracare, Arla, Clearspring and Crazy Jacks.
"This year's Organic September campaign will continue to focus on nature, building on the success of last year's campaign which used the strapline: 'Nature has the answer … and the answer is organic'," explains Soil Association Certification senior marketing manager Niamh Noone. "This year we're leading with the message that 'if nature could talk … it would ask us to choose organic' … and we hope it will reinforce consumer's own motivation to choose organic to help the planet and help restore nature.
Nature has the answer …
and the answer is organic
"Our creative approach this year will hero nature's very own 'keyworkers', the all-important wildlife that is essential to a thriving organic farm, those hardworking bees, ladybirds and earthworms that act as nature's builders, pest controllers and pollinators. Using striking nature photography … the campaign will increase the emotive element by combining the real images with 'drawn in' placards giving the featured wildlife a 'voice', combining a strong message about nature in crisis with an engaging call to action. They want us to listen to them and reach for organic this September to help protect their dwindling ecosystems and safeguard nature and the planet." 
"Cristina Dimetto, General Manager of the Organic Trade Board (OTB), adds: "The organic market keeps growing, but this year we want to encourage people to swap to organic not only in September – we want to make it a lifestyle choice. We're on a mission to drive home the message that 'nature would choose organic' to convey that organic farming methods are the most beneficial to soil, wildlife and nature, crucially paving the way for a sustainable future."
Social sweep
The primary focus of the campaign will be on 'eco-seekers' – those who make their purchasing decisions 'based on their values and the desire to stand up for what they believe in'. This is the biggest customer growth demographic and mainly consists of 17 to 29-year-olds who are highly active on social media and informed by learning online and sharing content and ideas with their peers via networking apps. 
With this in mind, the 2022 campaign will be social-first with a paid social campaign which aims to bring the messages of nature and wildlife to the audience in an accessible, digestible way via social media platforms using creative visual imagery. This will include video content and engaging posts to encourage audiences and give a voice to nature – illustrating the benefits of organic for ladybirds, wild bees, earthworms and featuring the sounds of nature.
The organizations are also scoping ways in which to bring the campaign idea to life with an impactful PR element and an experiential pop-up shop (last year saw the innovative Organic September Tree Shop) to allow people to taste and shop organic while discovering the good that organic delivers for nature, wildlife and the world. 
Retailer focus
Once again, the event's eye-catching materials will be available for free to support independent retailers, farm shops and box schemes in making the most of Organic September. "As ever we will be supporting our independent retailers across the UK with Organic September this year," says Noone. "We recognize them as such important advocates for the organic industry and real champions who can really get the message across is such a powerful way with one-to-one interactions with our consumers."
This year's updated free packs include GOTs-certified organic cotton tote bags, along with a toolkit of campaign POS and ideas including postcards, posters, 'staff pick' cards and 'organic offer' cards so retailers can showcase any in-store special offers they have during the month to drive more purchases. Retailers can order their free Organic September point-of-sale pack on the Soil Association website where shops can also sign up to be featured on the map of independent retailers on the Go Organic UK website. Digital toolkits will also be sent out.
Despite new challenges facing retailers and consumers we are confident that the increased demand for organic is here to stay
Within the month itself, Organic September Saturday on 3 September is designed to place a focus on independent retailers and champion them through the event's social activity. Retailers using #OrganicSeptember and @GoOrganicUK in their social media posts will have this content shared on≠the day. 
Last year saw a surge of interest and focus on organic for some multiples, particularly Sainsbury's, Waitrose and M&S, and the organizations expect more supermarkets to participate this year. "We've had strong interest from multiple retailers who recognize that more shoppers are seeking 'shortcuts' to sustainable choices and are seeking out the organic symbol on-pack," says Noone. 
"Despite new challenges facing retailers and consumers we are confident that the increased demand for organic is here to stay and it will continue to outperform the non-organic sector – so this September will prove to be another strong year for organic across the independents, multiples and online." 
What's on at Whole Foods
Whole Foods Market says it will be showcasing its range of organic products during Organic September to remind customers of the breadth of its range and highlight its organic bestsellers. It will use the event to call out local and British suppliers and bring to life the storytelling behind the suppliers and their products – from organic tomatoes and squash, to organic pork and beef, breakfast items, lunch items, dinner items, meat, seafood, breads, skincare and supplements. The store will also be running a 5 Day Supplement Sale along with an organic and biodynamic wine sale.
Suzanne Webb, Produce, Meat and Seafood, comments: "At Whole Foods Market, we stock only the highest quality organic products … That means more than 230 artificial preservatives, flavours, colours, sweeteners and other ingredients commonly found in food are prohibited on our shelves. We also make sure our meat and seafood meet high animal welfare standards and is sustainably farmed. That's non-negotiable. Organic September is a chance to talk about the benefits of making these standards more widespread in food, drink and beauty, as well as how organic farming brings uniformly positive results to the environment and public health. We have a host of fantastic team members on the shop floor in each of our locations who are experts in helping … [customers] find the best organic swaps."
Mr Organic goes back to basics
Mr Organic will be focusing on the environmental benefits of organic during Organic September to help customers understand exactly why organic is more sustainable. It has created a limited edition 'Super Chopped Tomatoes' tin as a fun way to increase awareness of the benefits of organic, while also providing customers with the information and resources they need to make more sustainable choices.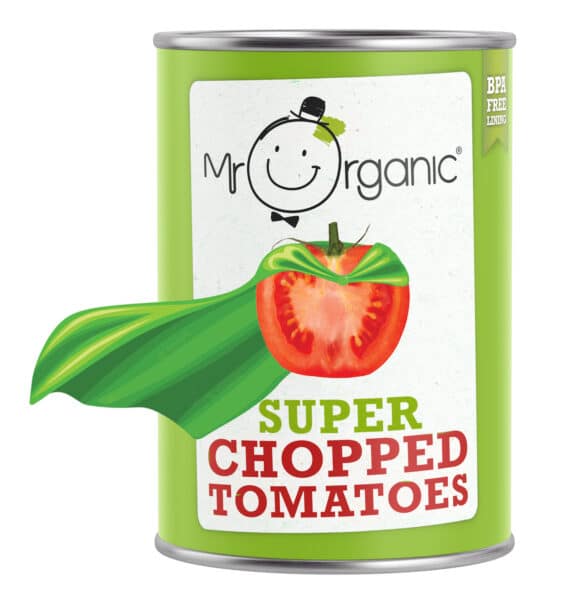 "Tomatoes are where it all started for us," says the brand. "Mr Organic was born on an Italian tomato farm following three generations of producers, and our chopped tomatoes tin was the very first product we ever made. For most of us, a tin of chopped tomatoes is an absolute kitchen cupboard staple. We believe the best way we can advocate for the environment is by encouraging our customers to make small changes that easily fit in with their lifestyle, and a tin of tomatoes seems like a good place to start."
From every tin of Mr Organic Super Chopped Tomatoes sold, 10p will help fund the research and education programmes of UK organic growing charity, Garden Organic, one of the brand's long-term charity partners. For over 60 years the charity has been sharing practical advice accessible to all growers – from a small urban balcony or pot on a windowsill, to a large allotment or rural garden, it helps gardeners adopt organic growing methods to support biodiversity.
Fresh organic offers
Magnesium goes wild
Viridian Nutrition recently introduced Organic Magnesium to its line-up, the first certified organic magnesium food supplement in the UK. It is an innovative plant-sourced form of the essential micronutrient derived from a type of wild seaweed known as sea lettuce (Ulva lactuca), the leaf-like structures of which are naturally abundant in vitamins and minerals. Each capsule contains 150mg of magnesium.
A choice of Tahinis
Clearspring's new range of Tahini in Whole, White and 'unique' Black Sesame is all single-ingredient, made using 100% organic sesame seeds. The seeds are roasted and then ground into a versatile smooth paste which can be used to create hummus, salad dressings, dips, sauces, spreads and desserts. The pastes are made by a third-generation family producer in Europe, which has been expertly making tahini since 1949.
Puffing with pride
The producers of the UK's only Organic Puff Pastry – made using traditional methods such as hand-folding and resting – Dorset Pastry also offers Organic Shortcrust and Organic Sweet Shortcrust in retail and food service formats. With no additives or preservatives, the shortcrust pastry will bake off with a deep golden colour and a crumbly biscuit-like texture so is perfect for quiches and tarts. It can be reworked multiple times.  
Multipurpose solution
Part of the newly launched benecosBIO range of natural hair and skincare, Gin 2in1 Body and Hair Shower Gel sees organic gin take centre stage along with regional organic apple juice and plant-based compounds to care for hair and body. Like the rest of the collection, it has been created using COSMOS Organic-certified ingredients that are dermatologically tested and vegan friendly.
Roll up, roll up
London-based Planet Organic has expanded its sustainable food offering with a collection of organic sushi – the first such offer in the UK, it says. With ten organic fish options and four vegan dishes, options include Black Rice Avocado Roll, Beetroot Rice & Tofu Roll, Natsu Sushi, Smoked Tofu & Turmeric Kraut Roll, Teriyaki Salmon Tempura Rice, Salmon Sashimi and Salmon & Chive Onigiri.
Clearspring
Tel: 020 8749 1781
E-mail:  [email protected]
www.clearspring.co.uk 
Organic fine foods brand Clearspring has added three new Organic Fruit Purées to its popular and convenient purée range: Apple Banana Strawberry, Apple Mango Coconut and Pear Apple Peach.
The new trio builds on the success of Clearspring's existing Organic Fruit Purée offering, which comes in a selection of delicious single-fruit and two-fruit blend varieties. Excitingly, the three new additions are a carefully curated combination of THREE refreshing organic fruits in each pot. 
The range is made using minimal heat, to ensure that the fruit retains its natural goodness. They are made with any added sugar, artificial ingredients or concentrates.
Spice it up!
WFBM Healthcare Ltd
Tel: 01782 528611
E-mail:  [email protected]
www.wfbm.co.uk
It's one of the most popular spices and sales of ginger have risen sharply as consumers hear more about its health benefits. 
The Ginger Party range of organic pantry essentials are the leading range in the US and UK and offer a versatile selection to cover a multitude of ideas to spice up foods and drinks. 
Make sure you're offering the brand which supports the independent health trade.
Rabenhorst Pure Fruit and Vegetable Juices

 
Healthy Food Brands
Tel: 01403 786460
E-mail:  [email protected]
www.rabenhorst-juice.com
Founded in 1805, Rabenhorst is a highly specialised producer of premium fruit and vegetable juices, with the headquarters in Unkel, along the River Rhine in Germany. For more than 50 years, the brand has been dedicated to holistic organic principles in creating its juices: from plant cultivation to harvesting, processing, storage and transport of its valued Organic ingredients. Quality and ecology have always been top priority. The Rabenhorst range in the UK includes Organic Beetroot Pure Juice, Cherry & Blueberry Nectar, Ginger Mix, as well as speciality juices such as Detox, Wheatgrass and Immune drinks.
Alteya Organics Reef Safe Sun Care
Living Planet Distribution
Tel: 020 3176 9982
E-mail:  [email protected]
www.livingplanetdistribution.com
Enjoy the sun on your skin safely this summer without the chemical sunscreen cocktail. Alteya Organics has developed a deeply nourishing, safe and effective organic sunscreen range that's reef friendly using nano-free uncoated zinc oxide to give superior broad-spectrum protection against UVA and UVB rays. Even better, the Whole Body, Rose Age Defence and Kids & Baby Sunscreens are formulated with sheer skin-coloured tints to prevent annoying chalky streaks. Packed with skin-saving ingredients including Rosa Damascena Flower Extract in the face sunscreen and Calendula Flower Extract in the kids' sunscreen, the creams are long lasting and provide immediate protection as soon as they're applied.
Planet Paleo Organic Bone Broth Supplements
Living Planet Distribution
Tel: 020 3176 9982
E-mail:  [email protected]
www.livingplanetdistribution.com
Updating an ancient superfood, Planet Paleo introduces its organically certified, grass-fed Bone Broth Collagen Protein powder: the first of its kind in the UK. Featuring additional foods and herbs such as turmeric, garlic, oregano and thyme, all varieties are crafted from ethically and sustainably sourced free-range cattle in Scandinavia farmed to KRAV standards, which are the highest in the world. This versatile, high-protein bone broth is an excellent all-round source of nutrition that is easy to use in hot drinks, soups and stews and there are two naturally sweet Sports Protein varieties too, designed to support muscle building and recovery.
Living Nutrition Organic Fermented Supplements
Living Planet Distribution
Tel: 020 3176 9982
E-mail: [email protected]
www.livingplanetdistribution.com
Since 2014, Living Nutrition has been on a mission to deliver effective, bioactive nutrition in a capsule. The secret of its organic fermented herbal blends is a special kefir-kombucha fusion crafted in its bespoke laboratory, unique to the UK market. Unlike single-strain probiotics, fermentation works with the whole plant to transform it into a highly bioavailable living food, maintaining its original synergy. Working with the body's natural digestive processes, it delivers enzymes, biotics, and micronutrients to restore balance to the microbiome. Recently, Living Nutrition has tailored its plant blends further, launching Cognitive, Mushroom, and Immune ranges to meet the needs of today's busy consumer.
Dillon Organic Keto Bread Original Flax
Dillon Organic
Tel: 07932 648095
E-mail: [email protected]
www.dillonorganic.co.uk
Delicious Organic, Gluten free Keto Bread made with a blend of flax, sunflower seeds, and caraway seeds for flavour. It comes as an unsliced half loaf and that gives you the freedom to choose which thickness you'd like to make your slice. Great toasted or double toasted and made into an open sandwich. Also:
• High Fibre • Vegan • High Omega 3 • Diabetic friendly • Low sugar
We never use additives, thickeners or emulsifiers and stay away from added gluten and eggs. Available through Tree of Life, CLF and The Health Store.
Yogi Tea® Soul Balm; Yogi Tea® Tulsi Relax
Yogi Tea distributed by Euro Food Brands
Tel: 01604 821200
E: [email protected]
www.yogitea.com/en
Celebrate organic September with our new, unique and delicious ayurvedic tea blends that strengthen Yogi Tea roots and expertise.
Yogi Tea® Soul Balm is the tea for everyone looking for warmth and comfort. If your day hasn't gone quite as planned, Yogi Tea® Soul Balm invites your soul to unwind. The captivating scent of cocoa shells warms the heart. Combined with sweet rooibos and fruity orange notes, this tea is sure to put a smile on your face. A mood-enhancing ayurvedic tea blend, Yogi Tea® Soul Balm serves as a retreat in stressful times. Supporting personal wellbeing with a soothing and comforting tea moment, it's like serving a warm, cozy hug in a cup of tea!
Yogi Tea® Tulsi Relax is the tea for everyone seeking serenity in everyday life. This special tea composition combines precious tulsi, known as 'holy basil' or the 'queen of herbs' in Ayurveda, with fruity orange notes and liquorice. The result is a delicious tea blend that brightens the mood and relaxes the body. The hero ingredient, Tulsi, with its powerful antioxidants makes this tea truly unique and contributes to mental wellbeing.
Those who live mindfully discover something great in small things. We believe that living in balance can do a lot of good for everyone – and that there is an incredible amount of inspiration for it in a cup of tea! With our teas, the yogic wisdom on each tea tag and a yoga exercise on each pack, we want to provide inspiration to you each day and contribute to a more peaceful and healthy world full of mindfulness and happiness.
Serve your Spirit with Yogi Tea, 100% organic, 100% taste!