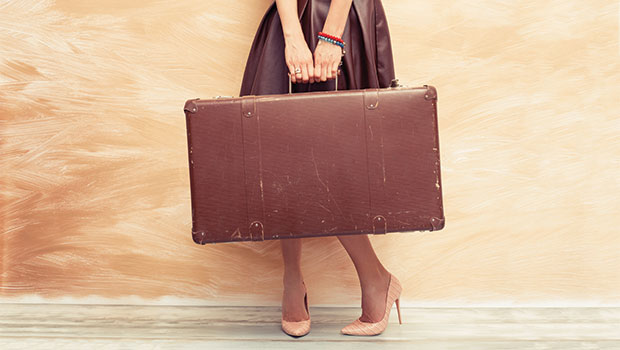 With growing emphasis being placed on reducing our use of the dreaded 'p' word (you know the one), Jane Wolfe discovers how natural health retailers can help their customers to pack a more eco-friendly suitcase.
Whether flying to Barbados or driving to Bude, holidaymakers are increasingly looking for natural solutions when away from home, so summer provides a massive selling opportunity for health stores, which can offer customers everything they could require for a sojourn in the sun or a staycation.
From stomach upsets to sunburn, jet lag to insect bites, travel sickness to anxiety, there are ample natural and organic products addressing every potential holiday health hazard. But in this current climate of hyper waste awareness, consumers are starting to seek out plastic-free options (even though many natural and organic brands use recycled and recyclable plastics), meaning that retailers must be equipped to offer sustainable travel solutions for customers to continue their plastic-free endeavours when on their hols.
Eco packing
"Once people get into this kind of lifestyle they don't want to fall out of it just because they are travelling, particularly if they are backpacking or going for a long time," says Stacey Fordham, co-founder of Bristol plastic-free shop Zero Green. "They don't want to take plastic or risk having to buy plastic-based products when they're abroad."
To help its customers pack responsibly, Zero Green offers a number of plastic-free holiday helpers: "For example, we sell toothpaste in glass jars and Denttabs Toothpaste Tablets; shampoo bars from companies including Wild Grove and Wild Sage & Co; and refills of conditioners and body lotions – things that people can put into little containers so they can just take what they need rather than lugging huge toiletry bags around. We also stock eco-packaged deodorants from Totterdown Apothecary, Happy Holistics and Your Nature Natural Deodorant. And we get a lot of people coming in for reusable sanitary products like Mooncups too, because when you're travelling these can be hard to find." 
A savvy suitcase
When looking to pack lightly, multifunctional products are one of the easiest ways to cut down on both baggage kilos and waste.
Colloidal silver is one such solution, with antibacterial, antiviral and anti-inflammatory properties, it can help heal wounds and cuts, treat infections and skin conditions, and makes a great antimicrobial spray to eradicate germs on planes and trains. Packed in a 20ml bottle, Nature's Greatest Secret Colloidal Silver Travel Spray is designed to be ideal for popping in hand luggage.
A multipurpose skin saviour, The Gentle Organic Skin Balm from Nathalie Bond combines calendula, apricot kernel oil, jojoba seed oil and beeswax to nourish and moisturize, remove dirt and make-up and soothe sore skin, eczema and psoriasis. The 100% natural balm is packaged in glass and can be used on lips too. 
Pure Nuff Stuff's multi-tasking Hair & Body Bars are also suitable for shaving and so are particularly popular with men, says the brand. Available in Lemongrass, Peppermint and Ylang Ylang & Lime, the bars won't strip the scalp's natural oils. Friendly Soap's multipurpose Travel Bar is antiseptic, antifungal and insect repellent. Moisturizing and gentle, it is suitable for hair, body, shaving and laundry.
Another solid all-rounder is Nature's Answer Oil of Oregano. Rich in vitamins and minerals and containing thymol and carvacrol, which discourage the growth of microorganisms, oregano is also an antioxidant. Isabelle Nunn, nutritionist at distributor Kinetic, explains: "Nature's Answer Oil of Oregano is a great travel health companion as it has the exceptional ability to help destroy disease-causing microorganisms such as parasites, viruses, fungus and bacteria. Useful in diarrhoea, intestinal gas, digestive problems as well as athlete's foot, colds and flues, gingivitis of the gums and sore throats. It can also be used as an immediate aid for insect bites and minor cuts and scrapes as well as dandruff and skin disorders." 
Essential kit
Essential oils are a great space-saving travel option too, and have an abundance of uses. Tisserand essential oil expert Jo Kellett's pick for a first aid travel kit are: lavender, Roman chamomile, peppermint and lemon.
"For sunburn you can use lavender or Roman chamomile to soothe redness and reduce pain," she says. "Lavender is a natural analgesic, and applied gently to the skin can be very soothing. Chamomile is a natural anti-inflammatory and can also soothe.
"The essential oils must be diluted before applying to the skin. Take a good dollop of aloe vera (a wonderful sunburn soother) and add one drop of Roman chamomile or lavender, mix in your hand and apply to the sore area," advises Kellett, adding that these two oils can also be used for heat rash or prickly heat by mixing a drop of each with a tablespoon of base oil and stirring into a tepid bath.
For travel sickness Kellett says that lemon and peppermint can refresh, revive and quell motion sickness. "Add two drops of each to a cotton wool pad and place in the car 20 minutes before leaving. If flying, place the pad in a small zip-lock bag and inhale when you feel queasy."
Fake it, don't bake it!
Fake tans have come a long way since the days of the evil-smelling concoctions that left users with streaky Oompa Loompa legs, and a growing number of effective natural brands can now offer a sun-kissed look without soaking up harmful rays. 
Eco By Sonia's Self Tanning Face Tan Water is a gradual liquid tanning toner, created for face, neck and décolletage. Made with certified organic and natural ingredients, including aloe vera, orange peel and rose geranium, the water is vegan and cruelty-free and comes in a 100ml glass bottle.
Tan Organic Self Tan Oil also comes in a glass bottle and is made from wholly natural ingredients. Suitable for all skin tones, the quick-drying formula also moisturizes for up to seven days. 
However, if your customers want a boost of vitamin D via the sun, then natural protection comes in all forms including sprays, foams and lotions, although finding plastic-free variants isn't that easy yet. However, something that fits the bill perfectly is Shade All-Natural Sunscreen by Not the Norm Ltd, which comes in a travel-friendly 15ml or 100ml tin. The SPF25 all-natural sunscreen combines four natural ingredients – coconut oil, beeswax, shea butter and zinc oxide – to moisturize and offer broad spectrum protection.
With summer heading towards us and thoughts turning towards holidays, now is the time to stock up for the season and search for more eco-friendly space-saving alternatives for your customers. The Blue Planet effect is transforming the way we shop, and with more and more following a plastic-free lifestyle, retailers must ensure their customers can adhere to this when on their hols.
Fiona's short haul shortlist
Frequent travelling has enabled Fiona Klonarides, founder of The Beauty Shortlist, to pare her hand luggage essentials down to a minimum. Here she reveals her favourite eco multipurpose must-haves.
• Neal's Yard Remedies Wild Rose Balm: the mini 15ml version of this brilliant do-everything balm does holiday duty as my cleanser, make-up remover, night balm, cuticle nourisher and cheekbone glosser, and it's great as a post-sun treatment too.
• Weleda Skin Food Light: this is brand new and I'm totally addicted already. A much lighter, fresher version of the original, it comes in a 25% recycled plastic tube and multi-tasks effortlessly as a non-greasy hand cream, facial moisturizer, lip balm and useful on-the-go touch-up for any dry patches.
• Bio Virgin Coconut Oil: I usually decant a little coconut goodness into a pot small enough for hand luggage. You can blend it with peppermint oil for oil pulling and it's a useful hotel room SOS detangler and glosser for wild, salty, sea breeze-tangled hair that needs taming before cocktail hour.
• Spirulina and chorella: Chlorella really seems to 'up' my stamina and I like packing a small jar of spirulina too. Ultra-concentrated and high in protein, it helps alkalize pH levels, boost immunity and it's a nutritious (but messy!) face mask … just add water!
• Tisserand Peppermint Essential Oil: this is *the* essential oil I am never without! It's instantly refreshing as a mouthwash (simply add a drop or two into a glass of slightly warm water and rinse, but don't swallow), or mixed with coconut oil and bicarbonate of soda for a DIY toothpaste. It is a lifesaver on planes to clear the air, and a few drops on a tissue, inhaled, is the best on-the-go mind clearer or decongestant. It's a nice mood and concentration booster too if you're on a long journey and are starting to flag. Flies also hate peppermint, as do other insects, including any ants planning to invade your holiday apartment.
Aromatherapy on-the-go
Absolute Aromas
Tel: 01420 540400
E-mail:  [email protected]
www.absolute-aromas.com
Pioneering aromatherapy for 25 years, Absolute Aromas has a range of easy to use Aroma-rolls, designed to provide 100% natural relief from life's every day eventualities. These Aroma-Rolls are pocket-sized rollerballs, designed for use on pressure points such as the wrist and temples. Each of the four blends contain essential oils diluted in nourishing Jojoba Oil, and are specially designed to help combat complaints such as stress or simply enhance wellbeing whilst on the go. 'Lavender' works wonders for soothing insect bites, 'Goodnight' helps to enhance quality sleep, 'Relaxation' soothes the senses, and 'Headaid' is ideal for tense minds. 
FSC Lutein
FSC
Tel: 0800 083 0356
E-mail:  [email protected]
www.fscsupplements.com
Lutein has strong antioxidant properties. It is the primary carotenoid found in the macula (the central area of the retina) of the eye, and it is thought to act as a filter protecting the macula from potentially damaging forms of light. Lutein complex in this product is from marigold petals. Suitable for Vegans and available in a 60 capsule glass bottle, it is recommended to swallow one capsule daily with food. 
Stress Free Travel from Helios
Helios Homeopathy Ltd
Tel: 01892 537254
E-mail:  [email protected]
www.helios.co.uk
Travelling can be stressful and many of us experience anxiety and fear around flying and suffer from sleep disturbances when travelling through different time zones.  Our award winning Stress Relief and Sleep homeopathic combination remedies have a long history of traditional use for symptoms associated with mild stress, anxiety and sleep disturbances and are safe, gentle and without side effects.  The remedies come in lactose free, sucrose pill form in our single dose dispenser.  For more information on these and other remedies covering hay fever, injuries and childhood teething, fevers and earache please contact us.
Bio-Kult
Bio-Kult
Tel: 01460 243230
E-mail:  [email protected]
www.bio-kult.com
Let's talk travel – Warmer weather and longer evenings entices us to think about a holiday in the sun away from stresses of work and home routine. Before setting off, it could be beneficial to prepare your gut to reduce the chance of tummy troubles whilst away. Bio-Kult should be taken for 1-2 weeks prior to travel, whilst away and for at least a week upon return to help the body maintain a natural immunity. Bio-Kult Advanced multi-strain formulation contains 14 live bacterial cultures that complement existing gut flora naturally present in a healthy person's digestive system.
Green People Sun Lotions
Green People
Tel: 01403 740350
E-mail:  [email protected]
www.greenpeople.co.uk
Already one of only a few sun lotions worldwide that are truly reef safe and non-toxic to marine life, Green People's award-winning sun range is re-launching with new easy-wear formulas and in eco-friendly and carbon-negative Sugar Cane packaging for summer 2019.  The packaging features raw material from sugar cane planted on land deemed inferior for food production, far from areas of rainforest in Brazil. The full-size SPF15 and SPF30 and Organic Children SPF30 Sun Lotions are the first to feature this new packaging, with Green People looking to introduce it across the 140-product strong range by 2024.
UltraProbio™
HealthAid Ltd
Tel: 020 8426 3400
E-mail: [email protected]
www.HealthAid.co.uk
UltraProbio™  Optimum Gut Support – The key to good digestive health and overall well-being is the maintenance of a healthy bacterial balance in the gut. Poor diet, stress, alcohol and antibiotics can wreak havoc in the gastrointestinal tract. HealthAid® UltraProbio™ is formulated to contain a unique 100 Billion superior culture blend of 14 viable strains; fortified with a prebiotic (FOS) to support the development of beneficial bacteria in the intestines. HealthAid® uses special acid and bile resistant strains, which prevent the stomach juices destroying the ingredients before they reach the intestines, ensuring their purity and potency. UltraProbio™ retails at £41.99 for 30 capsules. Contact HealthAid Ltd on 020 8426 3400 for purchase and stockist information or visit www.healthaid.co.uk.
JASON 98% Aloe Vera Gel
Kinetic Natural Products Distributor
Tel: 08450 725 825
E-mail:  [email protected]
www.kinetic4health.co.uk
JASON Aloe Vera Gels are formulated with 98% certified organic aloe vera, allantoin and vitamin B5 to nourish and replenish moisture. A concentrated, non-oil product with a multitude of uses ideal for travel, including after-sun, post-shave treatment, moisturiser, treatment mask for dry skin and acne, brow gel, makeup remover, shaving gel, and hair: mask, leave-in conditioner, or styling gel. No: Parabens, SLS or Phthalates. Vegan-friendly, BUAV certified cruelty-free and all crafted to the JASON code of honour – select safe, wholesome, natural ingredients; rigorously test every formula to ensure safety and efficacy; never test on animals; constantly innovate and improve. 
Nature's Answer Oil of Oregano
Kinetic Natural Products Distributor
Tel: 08450 725 825
E-mail:  [email protected]
www.kinetic4health.co.uk
Nature's Answer oil of Oregano is made with wildcrafted Mediterranean oregano, and offers a super concentrated equivalent of 13mg, and 7mg carvacrol, per serving. Suspended in extra virgin olive oil, the formula is both alcohol and gluten free. Using carefully-controlled extraction techniques, Nature's Answer captures the holistic balance of each herb and the value is passed on in the products, ensuring that the product in your hand is authentic, safe, effective and holistically balanced. Natures Answer extracts are produced using their Bio-Chelated proprietary extraction process, yielding a Holistically Balanced Advanced Botanical Fingerprint extract in the same synergistic ratios as in the plant.
Lamberts® Probioguard®
Lamberts Healthcare Ltd,
Tel: : 01892 554313
E-mail:  [email protected]
www.lambertshealthcare.co.uk
For those travelling, or following a course of antibiotics – Probioguard® contains four carefully selected strains of friendly bacteria, Lactobacillus acidophilus, Bifidobacterium, Streptococcus thermophilus and Lactobacillus delbrueckii ssp bulgaricus, which have been widely used in clinical studies. These species of bacteria are specially selected for use when travelling, as local cuisine can expose the gut to new challenges where different bacteria strains may be present and this can unsettle digestion. Probioguard® is suitable for:
• People considering travelling abroad
• People who have used a course of antibiotics
• People with regular bloating problems or on-going digestive disturbances.
Our special pot contains an innovative inbuilt desiccant to 'lock in' any moisture.
Lunette Menstrual Cup
Lunette Menstrual Cup
Tel: +358 50 3554 064
E-mail:  [email protected]
www.lunette.com
Lunette is revolutionising the future of period care with their small but mighty menstrual cup. 
One of the original menstrual cup creators, Lunette is a Finnish, women-led company on a mission to change attitudes about periods. Lunette Menstrual Cups are vegan, bpa-free, and come in a variety of colors. Ethical, sustainable and easy to use, Lunette Menstrual Cups will provide you with up to 12 hours of worry-free use. 
By choosing Lunette, you're choosing to support period-positivity and impact women's rights movements all over the world. 
Saccharomyces boulardii
OptiBac Probiotics
Tel: 01264 339770
E-mail:  [email protected]
www.optibacprobiotics.co.uk
Saccharomyces boulardii from OptiBac Probiotics is an absolute must for every traveller.  
Clinically trialled in those with travellers diarrhoea, each capsule contains 5 billion unique live cultures.  No traveller should be without it. Extensively researched and internationally acclaimed, S. boulardii was first introduced to the UK by OptiBac Probiotics, the UK's probiotic specialists.  Unlike many other live cultures S. boulardii shows strong resistance to heat and humidity and is guaranteed to reach the gut alive.  It's vegan, gluten-free and requires no refrigeration.  
OrganiCup – The award-winning menstrual cup
OrganiCup, Ryesgade 23, 2., 2200 Copenhagen N, Denmark
Tel: +45 23718040
E-mail: [email protected]
www.organicup.com
OrganiCup is the popular menstrual cup founded in Denmark in 2012. OrganiCup is the easier, healthier and greener alternative to pads and tampons. We're on a journey to change the way periods affect our lives, our bodies and our environment. No leaks, no worries: OrganiCup holds up to 3 big tampons worth and can be worn for up to 12 hours, day and night. No dryness, no infections: OrganiCup is made of 100% soft, medical-grade silicone that doesn't mess with your body. Save money, spare our planet: OrganiCup lasts years, not hours. FDA-approved, certified Vegan and AllergyCertified.