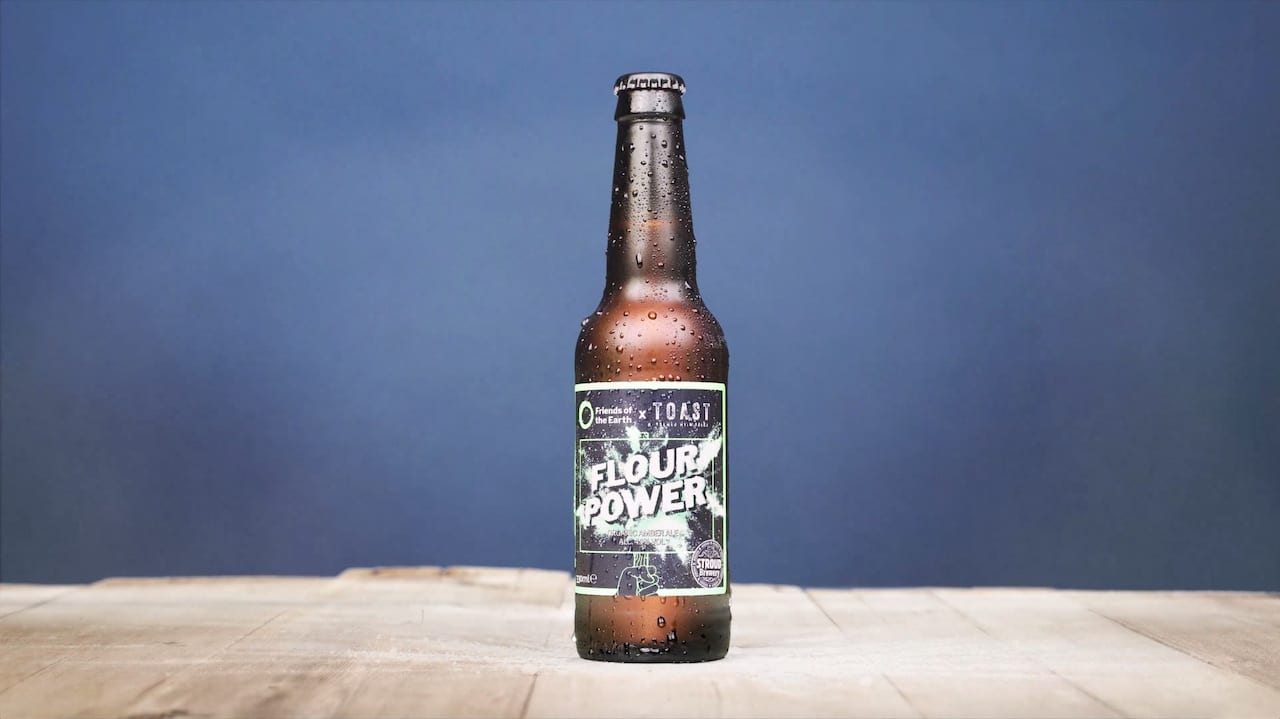 Friends of the Earth, Stroud Brewery and Toast Ale have launched Flour Power – an organic amber ale collaboration produced using sustainable solutions.
Described as well balanced with a fruity finish, Flour Power is a heavily hopped amber ale which combines Citra and Azacca hops to give an intense citrusy aroma. The beer is produced using unsold organic bread from Hobbs House Bakery in an organic brewery which aims to support the environment and reduce carbon footprint.
Friends of the Earth's climate campaign will receive 5% of the proceeds from sales of the beer.
"Stroud Brewery is dedicated to producing great organic beers with production helping to support local farmers and the ecosystems they manage," explains Chloe Brooks, production manager at Stroud Brewery. "The organic standards we adhere to support our ambition to be a business that cares for people and planet."
"Flour Power was a great project providing us with the opportunity to collaborate with like-minded businesses to produce a product that not only tastes good but does good. We were very excited to work with Toast … and to support such an important issue for Friends of the Earth. Hobbs House Bakery very kindly saved its unsold organic loaves for us so that they could have a second life in this beer."
Chris Head, Toast Ale collaborations manager adds: "At Toast Ale, we're reviving one of the oldest traditions in the world by using surplus bread as a grain for beer. In the UK, 44% of bread is never eaten. We're on a mission to change that by working in partnership with breweries and bakeries all over the world to create great-tasting beers that are better for the planet.
"We're incredibly proud to partner with Friends of the Earth to raise awareness of climate change and to support the great work they do. Food production, one-third of which we waste, is one of the biggest contributors to climate change, so it is a powerful ally to our mission. Collaborating with fellow B Corp Stroud Brewery to create Flour Power has been a fun and delicious adventure, resulting in a wonderful organic golden ale that will empower drinkers to do their bit."
Mike Birkin, campaigner at Friends of the Earth, comments: "At Friends of the Earth we're always keeping an eye out for those businesses showing a better way of doing things, so collaborating with Stroud Brewery and Toast Ale is hugely exciting. With Flour Power we're aiming for a craft ale that proves that the things we enjoy can be produced in more considerate, sustainable ways.
"The climate change situation can seem dire, but the solutions are out there and some are on display right here with Toast Ale and Stroud Brewery. We hope to see more businesses, including further breweries, respond to the climate emergency. So let's raise a cheer to Flour Power for showing us a way forward."