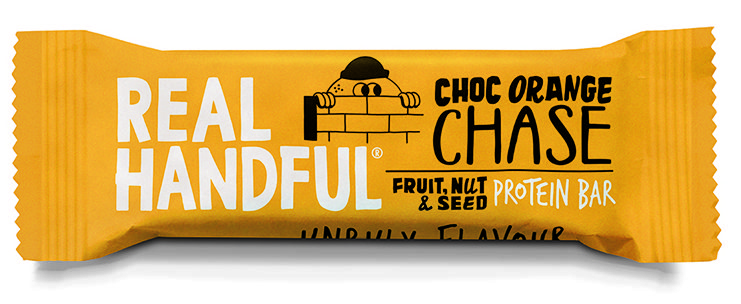 Natural snack brand Real Handful has added a two-strong line-up of protein bars to its range, in the form of: Choc Orange Chase and Sea Salt Caramellow.
The plant-based, vegan-friendly and gluten-free bars join the brand's existing range of six trail mixes and have the same principles of 'unruly flavour and natural nutrition' at their core. They also feature bold new packs, designed to bring the playful brand personality to life and offer maximum on-shelf impact.
Choc Orange Chase features zesty orange oil and has a rich cacao finish. It's packed with plant protein goodness from cashews, peanuts, sunflower seeds and chia seeds.
Sea Salt Caramellow is made with smooth caramel and a sprinkle of sea salt, and is completely free from refined sugar.
Commenting on the new products, Real Handful founder Joe Taylor says: "The launch of our protein bars was a natural next step for Real Handful as we continue in our mission to make everyday healthier snacking simple, fun and most importantly delicious. We've worked hard over the past 12 months to ensure these bars satisfy consumer demand for nuts and plant protein, whilst also being vegan-friendly and gluten-free."