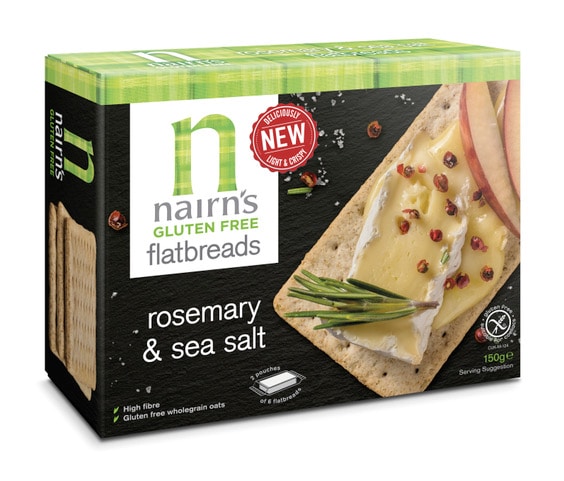 With the launch of its new Gluten Free Flatbreads, Nairn's has entered the lunchtime eating category for the first time.
Light, crispy and made from gluten-free, wholegrain oats, Nairn's Gluten Free Flatbreads have only 55 calories each and are available in Original or Rosemary & Sea Salt varieties. The flatbreads are packed in handy pouches to keep them fresh.
"We're thrilled to enter into a new category and offer our gluten-free customers a tasty and healthy alternative to the current options," says Paddy Cronin, sales director at Nairn's Oatcakes. "Much bigger than a cracker, but even more light and crispy, Nairn's Gluten Free Flatbreads are the perfect lunchtime option for consumers who want something a little more substantial.
"As lifestylers, choosing to follow a gluten-free diet, continue to boost the category, our Gluten Free range continues to grow from strength to strength – we're adding to it all the time now that we have the capacity at our new state-of-the art gluten-free bakery which opened last November.  Our new Gluten Free Flatbreads are a welcome savoury lunchtime eating option to our extensive Gluten Free range and demonstrate our ongoing commitment to both our customers and driving innovation within the category."