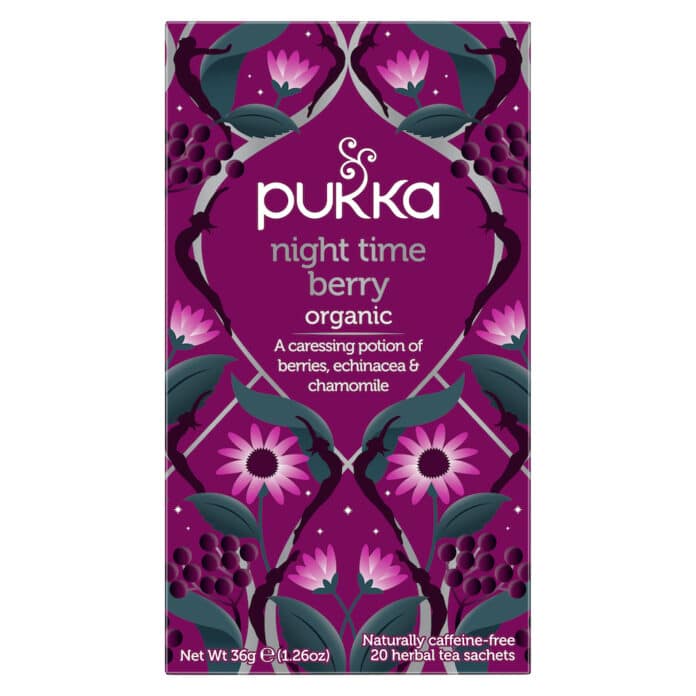 Pukka Herbs' latest addition is Organic Night Time Berry tea, described as 'the ultimate restorative and restful blend with immune-supporting ingredients'.
Made with 100% organic and ethically sourced fruits and herbs and blended by Pukka's Sebastian Pole, the Organic Night Time Berry tea offers a fruity immune boost of blackcurrant, echinacea and elderberry, combined with the 'night-time' herbs lavender, chamomile and valerian to promote peaceful sleep.
"A good night's sleep can be the difference between a good day and a bad day for most of us," says, medical herbalist and Pukka's herbal director Euan MacLennan. "But over the last 50 years the average number of sleeping hours individuals get have reduced from eight to seven.
"As our understanding of health evolves, it is becoming clear that there is a strong link between sleep and the strength of our immune function. So now, more than ever, it's important to get a good eight-hour rest per night to fight off any potential illnesses. Lack of sleep can also affect how fast you recover if you do get sick. Sleep also helps to reduce stress, support mental wellbeing and improve heart health."
All Pukka Herbs' products are certified organic, Fair for Life and FairWild.