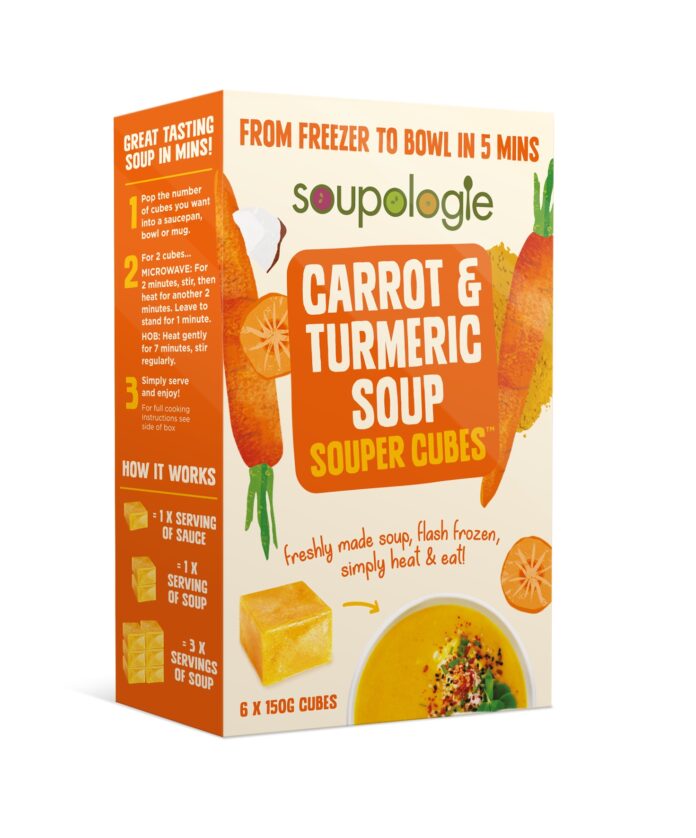 Aiming to offer taste and convenience while minimizing food waste, Soupologie has launched its 'first-to-market' two-strong collection of frozen Souper Cubes.
The innovative Souper Cubes offers consumers three full servings of fresh soup in six 150g frozen cubes available in two of the brand's best-selling flavours – Carrot & Turmeric and Pea & Leek – and come in plastic-free and fully compostable packaging.
The 'eco soups' are flash frozen from fresh to retain their nutritional integrity and can be cooked from frozen in the microwave or on the hob in just five minutes. They are pre-portioned so consumers can heat up only what they need and store the remainder for up to a year, ensuring zero food waste.
"At Soupologie we're always looking to innovate the world of healthy nutritious food and we're extremely proud of our frozen Souper Cubes range, which does just that," comments Anastasia Argent, the brand's head of NPD. "Freezing allows us to offer our consumers a convenient way of storing our soups in a long life format, one that has absolutely no compromise on taste, nutrition and freshness, whilst also helping the consumer to reduce food waste and therefore also maximise affordability.
"Food waste has been a real focus for us at Soupologie, with frozen offering a fantastic solution here, and we've also worked hard to ensure the packaging of our Souper Cubes range is plastic-free and fully compostable, so the range is a real 'eco-first' for the UK soup category."