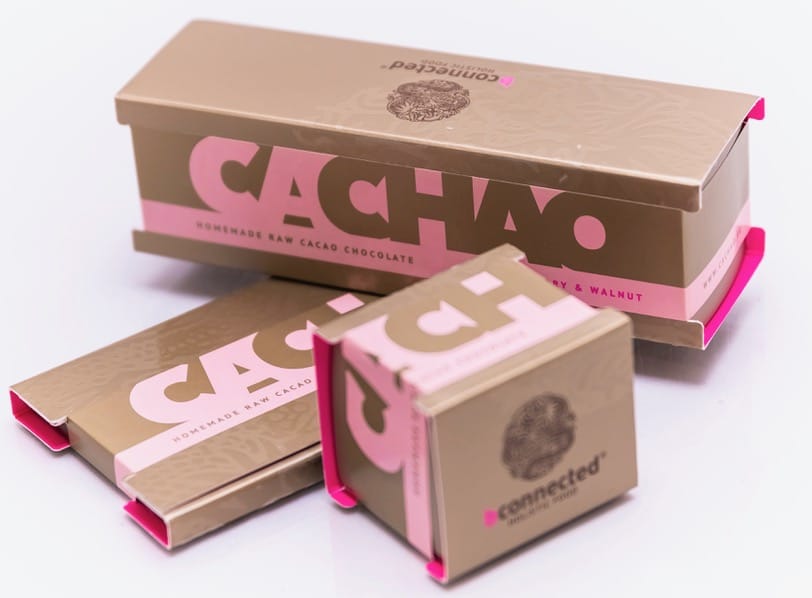 Cachao, a Spanish chocolate brand producing handmade, organic and plant-based bean-to-bar products on the Balearic Island of Mallorca, is now available to UK consumers.
The launch offer is comprised of 23 SKUs, made up of three signature lines: chocolate bars, chocolate squares and chocolate covered beans. The bars and squares are available in seven varieties:
100% Cacao – raw cacao and nothing else, giving a smooth and silky texture and complex earthy and smoky flavour
Pure – made with 71% pure chocolate enhanced by notes of red berries, vanilla, coffee and caramel
Apricot & Lavender – a refreshing blend of floral lavender and juicy apricot
Sea Salt – made with 71% chocolate and hand-harvested sea salt
Rosemary & Walnut – an aromatic combination of earthy rosemary and creamy walnut with a 71% chocolate base
Coffee – an energizing and aromatic blend of freshly roasted coffee beans and 71% chocolate
Orange – produced with 71% pure chocolate blended with dried and finely ground fresh oranges to provide a mellow citrus flavour.
Cachao also offers Chocolate Covered Cacao Beans and Chocolate Covered Espresso Beans.
Tino Wolter, Cachao spokesperson and head chocolatier, says of the launch: "We are really excited to launch Cachao in the UK for the first time and hope to replicate the success that we have enjoyed in Spain. The UK is a nation of discerning chocolate lovers and our strategy is to tap into growing demand for high quality, handmade and organic bean-to-bar plant-based chocolate. I spent two years perfecting the Cachao recipes and we expect the innovative editions will be really well received in Britain."
Cachao is produced using ingredients from both local suppliers in the Balearic Islands and mainland Spain, and high quality, sustainably sourced cacao from Indonesia and South America.