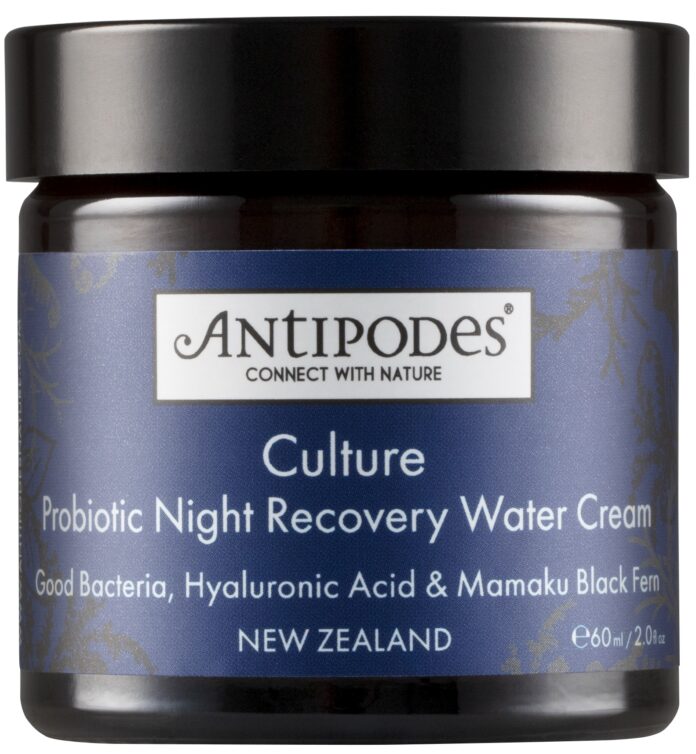 The latest innovation from Antipodes is Culture Probiotic Night Recovery Water Cream, a certified vegan moisturizer combining probiotics, hyaluronic acid and native New Zealand extracts in a formulation designed to foster fresher, healthier looking skin.
Antipodes Culture Probiotic Night Recovery Water Cream utilizes Kalibiome AGE Probiotic, an innovative, non-live bacteria (postbiotic) that helps seal the skin's epidermal layers, enhancing the skin barrier, reducing water loss and helping protect against pollution. This is blended with nutrient-rich natural ingredients including plant-based, moisture-boosting hyaluronic acid, mamaku black fern, meadowfoam and harakeke flax gel.
"It's more important than ever to cultivate healthy, resilient skin … I'm a passionate advocate for a healthy microbiome – and it starts with what you're putting on your skin," says Antipodes founder and CEO, Elizabeth Barbalich. "Culture Probiotic Night Recovery Water Cream provides a vehicle for delivering good bacteria to skin, helping to balance your delicate microbiome while you sleep. The outcome is a calmer, healthier canvas to support your daily regime."
In clinical trials Kalibiome AGE Probiotic's was found to reduce the effects of photo-ageing in the skin, reduce wrinkle depth and redness while enhancing elasticity, increasing hydration by stimulating the production of hyaluronic acid in skin cells and boosting Type I collagen to support firmer skin with fewer fine lines.
"Collagen is the main protein found in the skin that, along with elastin, is integral to skin elasticity and the prevention of wrinkles," Barbalich adds. "Scientific tests for Kalibiome AGE Probiotic were carried out on fibroblast skin cells, which are the cells involved in the production of collagen and elastin. Kalibiome was shown to boost the fibroblast repairing process after these cells were damaged in-vitro."
Gentle and suitable for all skin types, Culture Probiotic Night Recovery Water Cream is free from synthetic and toxic ingredients and is certified vegan by the Vegetarian Society.