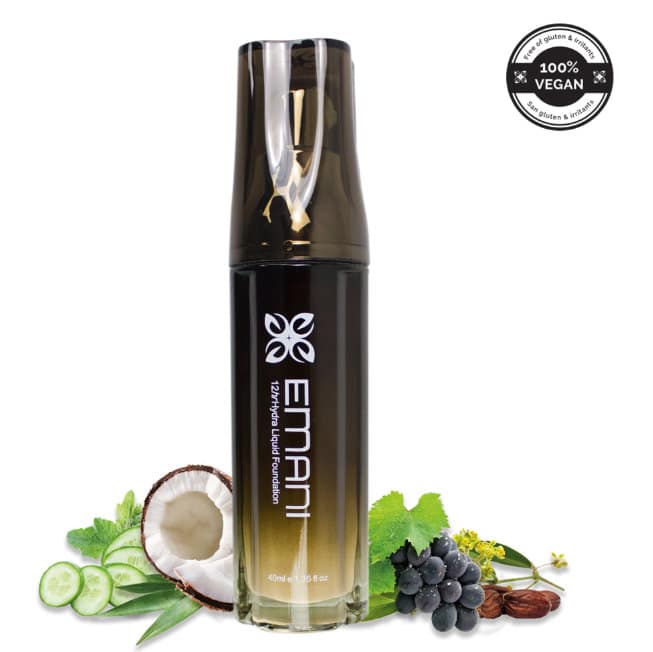 Founded by professional make-up artist Michelle Doan, US natural and organic brand Emani Vegan Cosmetics has launched in the UK.
The products, which are specifically formulated for sensitive and problem skin, include: a Face Illuminator; Face Due Bronzer; 12 Hour Hydrawear Foundation; Brow Pomade; Mosaic Blush; Perfect10 Primer Serum; HD Corrective Concealer; Flawless Matte Foundation; Hydrating Lipstick; Lip Shine; as well as a range of make-up brushes.
The Perfect10 Primer Serum is described as the ultimate hydrating, skin balancing silicon-free primer. Designed to create a radiant complexion and prolong the vitality of make-up, it combines ten organic extracts, including avocado oil, aloe vera extract, sage leaf extract and sunflower seed oil.
Emani's HD Corrective Concealer is a multi-purpose formula, which aims to hide imperfections, blur the appearance of lines, wrinkles and signs of skin fatigue. It instantly covers dark circles, broken capillaries and blemishes, says the brand. The concealer incorporates vitamin C, along with grapeseed extract, avocado oil and Camellia sinensis leaf extract.
All the products are certified by PETA and are free from talc, parabens and gluten. They come in recycled and biodegradable packaging.
"We are delighted to be launching in the UK as there is no other brand like it that is both natural and of professional quality. The UK is hungry for innovative vegan products and more and more women are looking to make the switch to natural products that are cleaner and better for their skin health," explains Doan.
Meghna Patel, MD for UK distributor Mahi Naturals, adds: "When it comes to make-up, women need to be 100% happy with the looks they can achieve and won't use a brand just because it is natural. The products must deliver. We are thrilled to be representing Emani Vegan Cosmetics in the UK as there are no other professional quality vegan cosmetics available. The range is highly innovative as it combines make-up and nutrients to support skin health, and is also beautifully presented so will make a statement in-store."