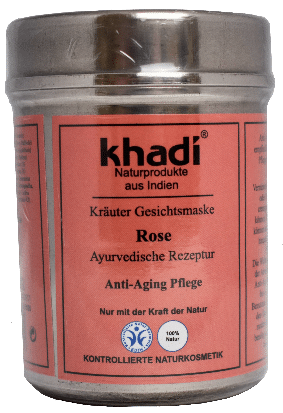 Khadi has created a line of natural face masks combining natural ingredients with Ayurvedic principles and formulated to aid specific skin concerns.
The powders, which can be blended with water, milk or rose water to make a paste, are available in five varieties:
Khadi Herbal Ayurvedic Face Mask – Rose is an anti-aging mask designed for dry, sensitive and mature skin. It contains a blend of rose, alumina and calamine to deeply cleanse the skin, while boosting cell regeneration and improving moisture levels.
The Orange mask is for combination skin and is formulated to clarify and deeply cleanse the skin, regulate sebum production and strengthen the skin tissue. The mask also stimulates blood circulation and the lymphatic system for soft, supple skin.
Khadi Herbal Ayurvedic Face Mask – Neem has been created for normal to oily skin. Neem is known for its antiseptic, clarifying and calming properties that help restore a healthy glow to the skin, while reducing impurities and refining the pores.
The Sandalwood variant is suitable for all skin types and helps to soothe and firm the skin, reduce pigmentation and restore hydration levels. This mask is particularly suited to sensitive skin, helping relieve irritation and prevent inflammation. Its hydrating and firming properties help reduce small imperfections and smooth wrinkles.
Khadi Herbal Ayurvedic Face Mask – Vetiver is for oily and problem skin. Vetiver has antibacterial and anti-inflammatory properties and helps regulate sebum production, while also refining the pores.
The Khadi masks are vegan, certified natural and free from SLS, peroxide, ammonia, preservatives, synthetic and artificial colours or dyes. They are distributed in the UK through Pravera Ltd.