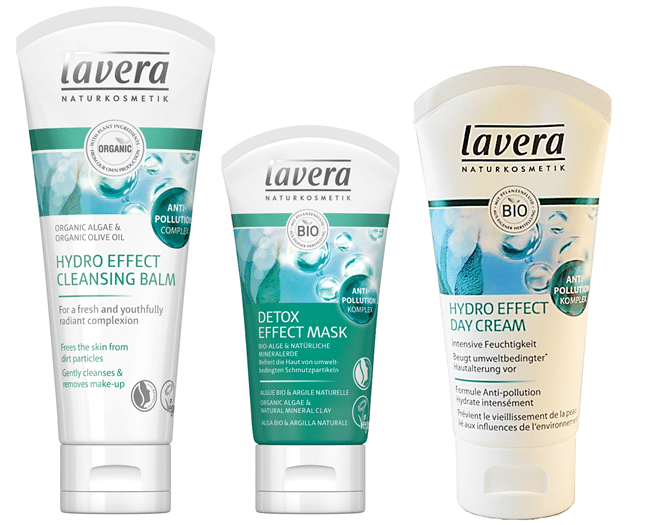 Natural and organic beauty brand Lavera's new Hydro Effect range is designed to replenish and lock in moisture, as well as help fight the disruptive effect that pollution can have on the skin.
The NATRUE-certified natural and organic range consists of: Hydro Effect Day Cream, Hydro Effect Cleansing Balm, Detox Effect Mask and Hydro Effect Serum.
The Hydro Effect vegan-certified products contain moisture-boosting hyaluronic acid combined with lavera's unique Anti-Pollution Complex, which is formulated to help shield the skin and counteract the signs of skin ageing caused by environmental factors.
The Anti-Pollution Complex contains: anti-inflammatory organic algae to strengthen the skin's natural immune system, supply skin cells with energy and protect against dehydration; Marrubium vulgare extract to reduce the intake of fine dust into the skin cells and protect the skin against damage; and natural antioxidants (tocopheryl acetates, tocopherol and ascorbyl palmitates) to neutralize free radicals, keep moisture locked in and smooth skin.
"With more people living in urban environments and research suggesting that pollution can accelerate the skin-ageing process by 10%, our skin can benefit from additional protection," says Graeme Hume, MD of Pravera, the UK distributor of Lavera. "Air pollutants that can harm our complexion include micro particles such as fine dust, gasses such as ozone, chemical residues such as fertilisers, dioxin and PAHs, as well as UV radiation. The launch of the new Hydro Effect range is in line with the rise in popularity of anti-pollution skincare, but as you can expect from Lavera, it contains only the purest, most natural and organic ingredients."