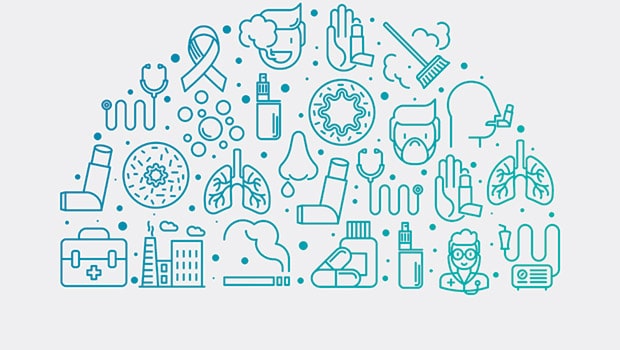 Allergy season is almost upon us, but hay fever isn't the only seasonal concern on consumers' minds. Rosie Greenaway explores asthma – another common allergic complaint – and speaks with Andrew Thomas of BetterYou about the 'lightbulb moment' that revolutionized his respiratory problems
Allergy is a hugely personal word: to some it signals runny noses, itchy eyes and avoiding cats or meadows in spring. To others, it's a life of EpiPens, ingredient scrutiny and a fear
of accidental nut consumption. But for many Brits, allergy denotes chronic respiratory and skin issues. Since the NHS often treats the latter two ailments with little more than a steroid-based solution and a wave goodbye, there's a clear need for natural alternatives which offer long-term symptom management.
According to Asthma UK, 'asthma prevalence is thought to have plateaued since the late 1990s', however 5.4 million Brits remain under treatment for asthma and the most recent data shows that in 2014 asthma-related deaths totalled 1,216. The charity suggests that the NHS spends 'around £1 billion a year treating and caring for people with asthma', and Andrew Thomas, founder of BetterYou, is here to explain why the sun and the sea could reduce that expenditure.
Attacking asthma 
From personal experience, Thomas believes that inhalers have 'become a bit of a crutch'. "I wouldn't go anywhere without mine," he remembers. Now he's keen to share how he relieved his symptoms naturally and why he'll stay faithful to the vitamins and minerals which have helped him.
When he started BetterYou some ten years ago, Thomas did so because of the 'unbelievable relief' he had discovered from taking magnesium – initially alone and subsequently in partnership with vitamin D. This VMS application may not automatically spring to mind for most people; indeed, he says it's one of the industry's 'best kept secrets'. "Magnesium unfortunately doesn't get the press; it doesn't seem to have a PR agent, but I'm working hard on that!"
"I have been off my steroid-based inhalers for ten years now," says Thomas. "I have between ten to 20 sprays of original magnesium a day. Every time I have a bath I tip the magnesium flakes in, but I also use the lotion as well – I habitually put it on my upper arms, shoulders and chest, where I carry my stress. Once it goes into the skin, it goes into the interstitial fluid and dissipates around the body. Application directly onto areas of concern appears to have a positive impact.
It's about regular usage; getting it into your bathroom routine is the thing to do. With vitamin D, I have 3,000iu a day. It's an amazing revelation, a light bulb moment. It's transformed my life."
A winning combination
"With magnesium you're talking about sea; with vitamin D you're talking about sun. It's something that we've known about for a while. The Victorians were really good at this. They said if you need to recuperate, go to the seaside; get some sun and get some sea air. They didn't quite know the scientific reasons, they just knew it worked. A lot of children's wards in Victorian hospitals would have balconies, so they had access to the sun. We've got some catching up to do," he says.
The science behind his theory involves the absorption of calcium. "Calcium is a hardener; if you have undissolved calcium – and we have a tremendous amount of calcium in a western diet – then that is basically circling around the body as a stiffening mechanism for soft tissue within your respiratory system. An increase in magnesium and vitamin D allows your body to break down that calcium and make it soluble, then it can be transported into the bone. That's a pretty black and white understanding of the role I believe magnesium and vitamin D play in the respiratory system.
"The published reports and trials for vitamin D don't look like they're slowing down and this is a good thing. The more we understand about things we can act on, the better."
Neonatal prevention
As ever, prevention is better than cure. "I think that's how we've got to look at this. If you could reduce the potential risk of asthma by 7-10% by taking vitamin D, you'd just do it. It's not a cure-all, but it's enhancing your chances of survival." Thomas is referring to a body of research recently released by King's College London (KCL), which indicated that increased vitamin D supplementation during the second and third trimesters of pregnancy has been observed to benefit a baby's immune system, reducing its chances of asthma in infancy and childhood. The research was born from previous studies which showed links between vitamin D deficiencies in mothers and the development of respiratory disease
in their offspring.
"If you're looking at the body's resistance to allergies it will start in the womb. What KCL found was that vitamin D isn't this magic bullet, but it allows the body to become more resilient. It's a particularly good test because we know of vitamin D's role in lung development in utero but also during childhood development. The maturation and subsequent production of lungs is absolutely vital during pregnancy, as is the role of vitamin D in that."
Thomas believes the study was 'very measured' in its conclusion. "I think  this trial was really good.  It was simple; it just looked at the body's ability to resist a particular allergy – which happened to be asthma – and they could see that elevated vitamin D enhances the body's resistance. The undeniable fact is that childhood asthma … and allergies are increasing. Historically, our levels of vitamin D have been declining over the past 100 years. It doesn't take a rocket scientist to put two and two together," he says.
Thomas explains that 'it is not just safe, it's really essential' for women to increase their vitamin D intake during pregnancy and breastfeeding, and BetterYou is facilitating this. "One of our sprays has been formulated specifically for pregnancy and breastfeeding."
Skin solutions 
Magnesium, Thomas explains, can also benefit eczema, but it can be an unpleasant experience, he warns. "You're talking about applying what is effectively a salt solution onto broken skin. We used to have people who would apply the spray onto their areas of eczema, stand there as long as they could bear and then shower off, which is why we started looking at other ways of doing it. It can be very uncomfortable, but the healing process is accelerated dramatically."
If an eczema sufferer can push through the discomfort of transdermal application to inflamed skin, that endurance will afford them the freedom to use as much magnesium on the skin as they feel is necessary.
Thomas explains: "It's a relaxant and therefore it tends to have a laxative effect. So there's an upper limit that people can take orally, whereas if you apply it through the skin there's no upper limit and the absorption is guaranteed. It's also a wonderful muscle relaxant."
This is advice worth remembering for retailers who want to help guide customers with dermatitis towards the sea of mineral relief available to them.
Allergy Products
Bee Health Propolis
Bee Health Propolis
Tel: 0800 731 6006
E-mail:  [email protected]
www.beehealthpropolis.com
Propolis is a natural substance collected by honey bees from buds and trees containing tree resin, essential oils, vitamins, minerals and phytonutrients. Propolis offers an array of benefits for many ailments and allergies and is one of nature's richest sources of bioflavonoids for immune support. Bee Health guarantees the bioflavonoids present are naturally occurring flavonoids, with no synthetic substances added. This unique natural product is made in the UK and subject to tests for potency and quality. Bee Health Propolis 90 tablets are suitable for vegetarians and cost: Trade: £5.40, Retail: £12.96.
HayMax™
HayMax™ Limited
Tel: 01525 406600
E-mail:  [email protected]
www.haymax.biz
Hay Fever? Dust or Pet Allergies?  Winner of over 40 awards, HayMax™ is proven to trap pollen and 78-80% said "It Worked" in independent surveys.  The 3 for 2 tin (undercut the multiples) and Frankincense are exclusive to Independents.  HayMax™ is liked by Doctors, Midwives and Nurses. It's certified 100% organic, drug-free and suitable for pregnant or breast feeding women and kids, as well as machine operators and drivers (who shouldn't take sedating anti-histamines). The 2018 HayMax™ marketing campaign is set to be bigger and better than ever before on TV,
Allergforte®
HealthAid Ltd
Tel: 020 8426 3400
E-mail: [email protected]
www.HealthAid.co.uk
Boost your body's immune system.  Allergies are versatile. They can show up just about anywhere in your body and create an incredible variety of symptoms. This often leads to physical and emotional distress. Allergforte contains natural antioxidants antihistamines and anti-inflammatories that can help with the symptoms of allergies, its unique formulation containing natural essential ingredients such as Vitamin C, Quercetin and Bromelain, helps to combat the misery of common allergies and make the condition more bearable.  Allergforte is suitable for vegans and vegetarians. Allergforte, retails at £10.49 for 60 tablets. Contact HealthAid Ltd on 020 8426 3400 for purchase and stockist information or visit www.healthaid.co.uk
Nature's Answer Nettle Alcohol Free Herbal Extract
Kinetic Natural Products Distributor
Tel: 08450 725 825
E-mail:  [email protected]
www.kinetic4health.co.uk
Nature's Answer Nettle Leaf (Urtica dioica) Alcohol Free Fluid Extract offers a super-concentrated extract of 2000mg per serving, suspended in vegetable glycerin and purified water, the product is gluten and alcohol free and vegan. Nature's Answer alcohol-free extracts are produced using alcohol, water and natural extractants. All alcohol and extractants are then removed through a cold bio-chelated proprietary extraction process, yielding a Holistically Balanced standardised extract. Holistically Balanced guarantees that the constituents of the extract are in the same synergistic ratios as in the plant.
Lamberts® Quercetin 500mg
Lamberts Healthcare Ltd
Tel: : 01892 554 313
E-mail:  [email protected]
www.lambertshealthcare.co.uk
Natural plant sourced high potency flavonoid. Lamberts® Quercetin is extracted from a natural plant source and each tablet provides a full 500mg of pure quercetin. Quercetin is found in many fruits and vegetables, with apples and onions contributing most to the typical UK diet. Each 500mg tablet provides significantly more quercetin than 1 kilo of apples. Quercetin is probably the most researched bioflavonoid as it is recognised as being more active in the body than most others, including influencing the production and release of histamine. Our high strength, one-a-day Quercetin 500mg tablets are specially coated for ease of swallowing.
Pukka Organic Aloe Vera Juice
Pukka Herbs
Tel:  0117 964 0944
E-mail:  [email protected]
www.pukkaherbs.com
Pukka Aloe Vera is of the freshest possible quality and filled to the brim with polysaccharides, which heal and regenerate damaged mucosal linings throughout the body. It's cooling and moistening properties are particularly beneficial for the inflammation of digestive, skin and reproductive tissues and can help alleviate low libido, dry eyes and menopausal symptoms as well as support other conditions such as eczema, IBS, psoriasis and heartburn.
Bee Prepared immune formula
Unbeelievable Health
Tel: 02079 932 471
E-mail:  [email protected]
www.unbeelievablehealth.com
Natural hay fever helper – Studies show a well functioning immune system helps keep hay fever symptoms in check. Multi award winning Bee Prepared immune formulas contains ingredients with proven immune boosting benefits, which are not usually found in a regular diet or multivitamin including highest quality bee propolis, olive leaf, elderberry, beta glucans, acerola cherry & more. These nutrients have natural antibiotic, antiviral & antibiotic properties as well as natural anti histamine actions. Check out the consumer reviews to see what the buzz is about! Bee Prepared is formulated by nutritionists and they are Vegetarian Society approved, 'Free From' & suitable for most ages.
Quercetin B5 Plus Complex
Viridian Nutrition
Tel: 01327  878 050
E-mail:  [email protected]
www.viridian-nutrition.com
Viridian Nutrition's Quercetin B5 Plus Complex offers a blend of quercetin and vitamin B5 with nettle extract, chamomile flower, pine bark extract, bromelain (from pineapple) and acerola fruit, plus vitamin C. Vitamin B5 (pantothenic acid) contributes to normal mental performance and a reduction in tiredness and fatigue. Vitamin B5 also contributes to the normal synthesis and metabolism of steroid hormones, vitamin D and some neurotransmitters. Available in 60 capsules. Part of the 200+ range from the ethical vitamin company, Viridian Nutrition, founded on the principles of Purity, the Environment and Charity. Dedicated to the continued success of the specialist health food store.
Organic Black Seed Oil
Viridian Nutrition
Tel: 01327  878050
E-mail:  [email protected]
www.viridian-nutrition.com
For over 2,000 years the black seed (Nigella sativa), a plant from the Ranunculaceae (buttercup) family, has been traditionally used by various cultures throughout the world as a food and in health and general wellbeing. Nigella sativa is an exotic addition to Viridian's extensive essential fatty acid range. Organic Black Seed Oil from Viridian Nutrition is of the highest quality, made exclusively from organic Egyptian black seed. Available in 200ml. Part of the 200+ range from the ethical vitamin company, Viridian Nutrition, founded on the principles of Purity, the Environment and Charity. Dedicated to the continued success of the specialist health food store.
Amisa Organic Gluten Free Breakfast Range
Windmill Organics
Tel: 0208 547 2775
E-mail: [email protected]
Discover the full range of delicious Amisa gluten free breakfast cereals for a wholesome start to the day. From wholegrain porridge oats to agave drizzled puffs and fruity muesli there's something for everyone to enjoy. Amisa fibre-rich gluten free oats make deliciously creamy porridge, available in original, apple and cinnamon or four grain variety for a blend of oats, millet, amaranth and buckwheat. Top yoghurt with Amisa Fruity Oat Muesli for a twist of tangy cranberries or try the Amisa Chia Bircher Muesli, a delicious blend of wholegrain oats, chia seeds, crunchy roasted hazelnuts, almonds, sultanas and fruity apple pieces.
BetterYou Transdermal Magnesium
BetterYou
Tel: 01226 814 030
E-mail:  [email protected]
www.betteryou.com
Scientifically proven to work five times faster than tablets*, BetterYou's transdermal magnesium range of sprays, gel, bath flakes, body butter and lotion offer a fast and effective method to restore the body's balance of this hero mineral, as well as supporting cell energy levels. Offering easy application and superior absorption, applying magnesium through the skin bypasses the digestive system and doesn't rely on food or water to take. Transdermal Magnesium – it's the ultimate way to replenish magnesium levels.     *Study available on request