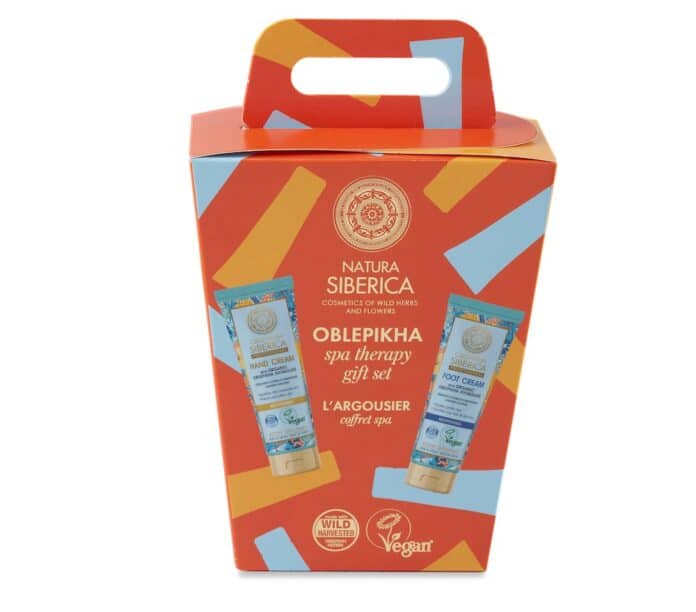 Three new certified organic and vegan skincare gift sets have been introduced by Natura Siberica in time for the festive season.
The Natura Siberica SIBERIAN Glow Face Care Set is suitable for all skin types and based on organic kuril tea hydrolate, full of natural vitamin C and hyaluronic acid to give skin a natural radiance and glow. The set includes an Instant Glow Face Mask to banish signs of tiredness while improving skin's appearance, and BB Correcting Cream – a lightweight correcting cream formulated to moisturize and hide imperfections to leave skin looking fresh and glowing.
The OBLEPIKHA Spa Therapy Gift Set enables users to treat hands and feet to a spa therapy at home, utilizing rich Altai oblepikha oil, a Siberian berry used for centuries in hair and beauty treatments due to its beta-carotene, omega 3-6-7-9, fatty acid and vitamin C content. Included in the set is a soft Hand Cream, formulated or dry skin, renewing its natural suppleness and elasticity. Altai sea buckthorn cream butter and amaranth oil provide nourishment and moisturization and cranberry seed oil contains essential vitamins to heal and protect skin from harmful environmental influences. The Foot Cream is an intense, creamy moisturizer for everyday use to provide gentle care and keep feet smooth all day long.
Finally, the Taiga Power Men's Gift Set is designed to protect skin, strengthen hair, invigorate the body and relieve stress with a combination of organic extracts and vitamin C. The multi-purpose Wolf Code Outdoor Protection Cream protects face and hands from cold, wind, dryness and other environmental impacts with organic extract of Rhodiola Rosea and Siberian ginseng for day-long moisturization. The Fury of the Tiger Energy Shampoo for Body and Hair combines organic Rhodiola Rosea, wild Siberian ginseng, Ussuri inula to control sebaceous activity, tiger grass to tone and firm skin and vitamin C to energize, invigorate and protect.