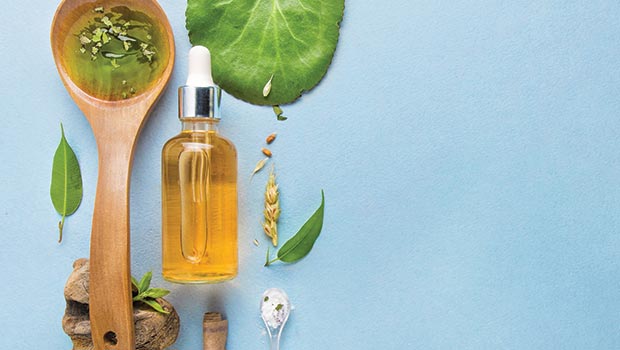 As more people are understanding the intrinsic link between what you eat and how you feel, the 'beauty from within' craze is now applying this to how you look. Named as a top beauty and wellness trend for 2019, this beauty-enhancing category has been taking the industry by storm. Sharna Waid speaks to experts and brands about which health innovations to consider stocking for customers yearning for natural radiance from the inside out
For those seeking healthier looking complexions and stronger nails and hair, investing solely in collagen creams, hair masks and anti-ageing oils is now a thing of the past. With many customers now considering what they eat as opposed to what they apply, the beauty-oriented supplements category is bursting with new products (and new ways to ingest them), promising lasting results in a more holistic, natural way. 
Originating in Japan and popular in India – with 28% of VMS users in India taking supplements to improve appearance (Mintel) – the saturated market is seeing an influx of beauty-enhancing supplements, from elixirs and concentrated 'shots' to chews, powders, and blended drinks, and these innovations are quickly making their way to UK consumers' everyday beauty regimes.
Adaptogenic elixirs 
Polish brand ZOJO creates unique inner beauty elixirs full of superfoods, medicinal herbs and powerful adaptogens which combat the negative effects of stressful modern lifestyles and harmful farming practices, while supporting beauty, vitality and longevity with a range of powder formulas. 
"Modern women want to live healthy lives, and there is a big trend in beauty nowadays to go back to the roots. Green is the new black, and inner beauty is the new philosophy. There is no better way to look after yourself than to support your beauty from within – where it all begins – so I am sure we will see many more 'inner beauty' categories being introduced around the world," says ZOJO Elixirs founder Marta Ravensdale. 
The ZOJO range includes focused products such as The Beauty Pageant Formula, The Bikini Body Formula, The Young Formula, The Sexy Formula, The Supergreens Formula and The Collagen Formula – purposefully targeting certain beauty areas depending on the adaptogens involved. 
Ravensdale continues: "By improving your gut health and delivering valuable nutrients, vitamins, minerals or powerful antioxidants, we can greatly improve the glow, elasticity and firmness of our skin. They can also improve our digestive system, speed up metabolism and boost our fat-burning capabilities to achieve our dream body shape, or even positively affect our ability to cope with stress, or improve our cognitive functions and performance." 
Complexion-enhancing collagen
As well as adaptogens, collagen is known to help protect the complexion from the damaging effects of the climate, age and pollution – and it's quickly becoming the hero product of the trend.  
"Over time, collagen production slows down dramatically and we begin to notice that we are lacking in it. Collagen is a natural component of the skin, our hair and nails. An astonishing 30% of our protein mass is made up of collagen. It is also responsible for building our connective tissue, giving us elasticity and suppleness. In comparison with collagen-containing cosmetics, collagen which is taken orally is digested and then used by the cells as a building block. This method gives it the best chance of improving the condition and appearance of the skin, hair and nails," adds Ravensdale, whose Collagen Formula is fast becoming a best seller in the range, which shows, in her opinion, 'how important glowing and youthful looking skin is for women'.
Another brand dipping its toes into the beauty from within category is one of New Zealand's biggest health and beauty brands, Manuka Doctor, which recently launched its new Manuka Plus range featuring Collagen Queen capsules for anti-ageing skincare. Containing 300MGO manuka honey, responsibly sourced marine collagen, hyaluronic acid, royal jelly, vitamin C and selenium, Collagen Queen is bolstered by two other supplements which help support skincare and beauty: Blemish Bee Free and Bees for Your Bonnet, each housed in recycled cardboard tubes. 
Pushing the trend forward, French brand Florêve has introduced its 'drinkable cosmetics' called Beauty [IN], which come in small glass vials. Made using distinctive ingredients like burdock, which helps eliminate toxins to rebalance the skin and restore a clean complexion, and Ascophyllum seaweed to protect against external aggressors, the formulas provide a unique way to ingest supplements, adding ease to beauty regimes while driving the category to new heights in the beauty world. 
The 360º approach 
Strip back the fancy brand messaging, punchy packaging and intricate ways to ingest these beauty formulations and you are left with simple and effective VMS products which many wholesalers and health stores already have on their shelves. 
According to Mintel, 'scientists and nutritionists have long been in agreement that the gut is the engine of overall human wellness', and with the importance of holistic and wellness-orientated living on the rise, the trend is not only spreading to various powders and chews, but is being considered in diets and general lifestyle choices too. 
Certified wellness coach and co-founder of ftoxins, Ariane Chui agrees that healthy skin, nails and hair come with a well-rounded healthy lifestyle and diet, which can be complemented by certain organic and clean-label supplements, depending on your individual needs and your body's responses. 
"It makes sense that the beauty from within trend has taken off as more and more people adopt a holistic way of living. Going to the gym used to be all about having a fit and healthy body, but now there is more emphasis on how important exercise is for our mental health. We are learning to take a 360º approach to every aspect of our health and wellbeing," says Chui. 
She continues: "We are constantly saying that you can't out-face-mask an unhealthy lifestyle! If you want clear, glowing skin, it's important to eat well, drink enough filtered water, get good quality sleep and exercise. Having said that, there is not one perfect way of living that works for everybody. Bio-individuality is too often ignored; every person has very specific needs for their own health, so it is important to find what works for you. The many potential contributing factors to acne is a perfect example of this. A person may find their skin clears up completely simply by cutting dairy out of their diet, but another person may do the same with no results because dairy is not the root cause of their skin problems."
Star Khechara, creator of The Face lift Diet and founder of Academy of Beauty Nutrition, says: "When it comes to anti-ageing and building beautiful skin, there are no neutral foods; every bite is either rejuvenating and repairing or it is ageing and causing destruction. It sounds dramatic but there are multiple ageing pathways that affect the skin: oxidation, inflammation and glycation – and all three are either diminished or increased by the food choices a person makes."
Khechara advises that fruits, vegetables, gluten-free grains, nuts, seeds, herbs and superfoods (including cacao) all contain nutrients and phytochemicals that block and buffer the ageing pathways, and all have nutrients for building healthy new skin cells. While processed foods, meat, dairy and high-fat foods have the opposite effect on the skin, and therefore should be avoided. 
"Every cell in the body is built, repaired and maintained by the materials supplied in the diet, and the skin is no different," she adds. 
As well as a healthy balanced diet, Chui recommends taurine and omega-3 as a supplement to consider taking for skin health. 
"You might recognize taurine from unhealthy energy drinks, but don't let that put you off – this amino acid is believed to inhibit glycation, one of the main causes of cellular ageing. I also used to take a vegan omega-3 because most of us get way too much omega-6 in our bodies via vegetable oils, and anti-ageing experts recommend consuming at least the same amount of omega-3 as omega-6, if not more. I've since cut vegetable oils out of my diet so will only take omega-3 when I think I've consumed some vegetable oils while eating out," she says.
Collagen Complex
BioCare Ltd
Tel: 0121 433 3727
E-mail:  [email protected]
www.biocare.co.uk
Collagen Complex provides the structural and protective nutrients to nourish and support us from the inside out – from bone and joints to ligaments and through to our skin.
• High potency nutrient complex for skin and joint support.
• With marine collagen, antioxidants and nucleotides.
• Rapidly absorbed, superior form of type 1 collagen.
• Vitamin C supports the structure of skin, bones and joints.
• Convenient capsules
Comprehensive support from the inside out.
Find out more by visiting: biocare.co.uk/collagen_complex
Neocell Super Collagen +C
Kinetic Natural Products Distributor
Tel: 08450 725 825
E-mail: [email protected]
www.kinetic4health.co.uk
NeoCell Super Collagen+C offers 6600mg of BioActive NeoCell Collagen Type 1 & 3 along with 20mg of vitamin C- as Calcium Ascorbate per serving. The product is both non-GMO and gluten-free, and does not contain soy, wheat, lactose, starch, yeast or artificial flavourings. NeoCell is the world's leading collagen brand and also a pioneer in the field of nutritional science. They are committed to finding the most innovative and effective nutraceutical supplements and offer the most bioavailable and bio-active collagen peptides on the market. NeoCell's cGMP facility in Southern California houses state of the art manufacturing equipment.
Onuku Premium New Zealand Manuka Honey
Lescaro Health Limited
Tel: 07866 771627
E-mail:  [email protected]
www.lescaro.co.uk
Give your autumn sales a natural boost with Onuku Premium New Zealand Manuka honey.  Available in UMF strengths 5+ to 25+ and sizes from 250g to 1kg, Onuku Manuka honey provides you and your customers with the assurance that you are buying a premium certified brand of New Zealand honey.  Be assured that this Manuka honey is harvested, tested, certified and packed in New Zealand.  Now available with enhanced profit margins across the range. Available direct from Lescaro Health Limited, the Thyme Store and wholesalers.
Beauty Complex
Link Nutrition
Tel: 0207 881 0048
E-mail:  [email protected]
www.linknutrition.com
We are what we eat, or more accurately we are what our bodies can absorb and digest. That's why Link Nutrition's readily absorbed Food Based supplements are beneficial for those looking to support their skin, hair and nails as they transition into Winter. Their Beauty complex contains the essential nutrients that are needed for the maintenance and repair of rapidly dividing cells, whilst aiding the defence against environmental ageing factors and oxidative damage. A synergistic blend of vitamins, minerals and mushrooms.  Link Nutrition supplements are free from artificial fillers, binders and excipients.
Hair Volume
New Nordic Ltd
Tel: 0800 389 1255
E-mail:  [email protected]
wwww.newnordic.co.uk
Designed to help with thinning or diffused hair. The unique bioactive nutrient hair growth factor combination contained in each tablet nourishes and activates the life processes of hair follicle cells. The tablet works from the inside out. Containing micronutrients and herbal extracts including apple extract rich in procyanidin B2. The content of biotin and zinc contribute to the maintenance of normal hair and copper contributes to normal hair pigmentation, fighting grey hairs. New Nordic now announces their new global ambassador Teri Hatcher! Teri has been taking Hair Volume™ and says "My hair feels stronger, thicker and fuller". Available in a 30 tablet pack £24.95 or a 90 tablet pack £59.95.
Collagen Hyaluronic Acid Complex
The Nature's Bounty Co.
Tel: 01442 890 355
E-mail:   [email protected]
www.solgar.co.uk 
Solgar® understands that good nutrition is the foundation of beautiful skin. That's why we created our Collagen Hyaluronic Acid Complex to nourish your skin from within. This unique complex includes a patented ingredient BioCell Collagen ll®, a highly absorbable form of collagen, with hyaluronic acid, clinically shown to reduce fine lines and wrinkles, increase skin hydration, and increase collagen content in the dermis to support skin structure and elasticity. 
Includes vitamin C to promote the body's own collagen formation and provide important antioxidant protection from damaging free radicals associated with premature aging.
Skin, Nails and Hair Formula
The Nature's Bounty Co.
Tel: 01442 890 355
E-mail:  [email protected]
www.solgar.co.uk 
An award winning premium, unique complex designed to support beautiful and radiant skin.  This comprehensive vegan formula contains essential beauty nutrients: zinc to support skin, nails and hair, copper to support hair pigmentation and vitamin C to support the body's ability to build collagen, a major component of skin that supports its structure and elasticity. Your natural partner to daily beauty regime, with antioxidant support to protect against free radicals. Start your day with vegan Solgar® Skin, Nails and Hair formula for beauty from within.  
Golden Greens Collagen complex
World Foods Brand Management Ltd
Tel: 01782 366080
E-mail:  [email protected]
www.wfbm.co.uk
Golden Greens Collagen complex provides 100% active ingredients with no added to flavourings, colour or artificial sweeteners. Providing a whopping daily dose of 5g of clinically studied Naticol sustainable marine collagen along with 100mg of Hyaluronic acid and organic vitamin C.  It's the cleanest beauty supplement available and provides excellent value for money ensuring long term loyalty from customers. Available is 10 and 30 day pouches. Available from your Wholesaler