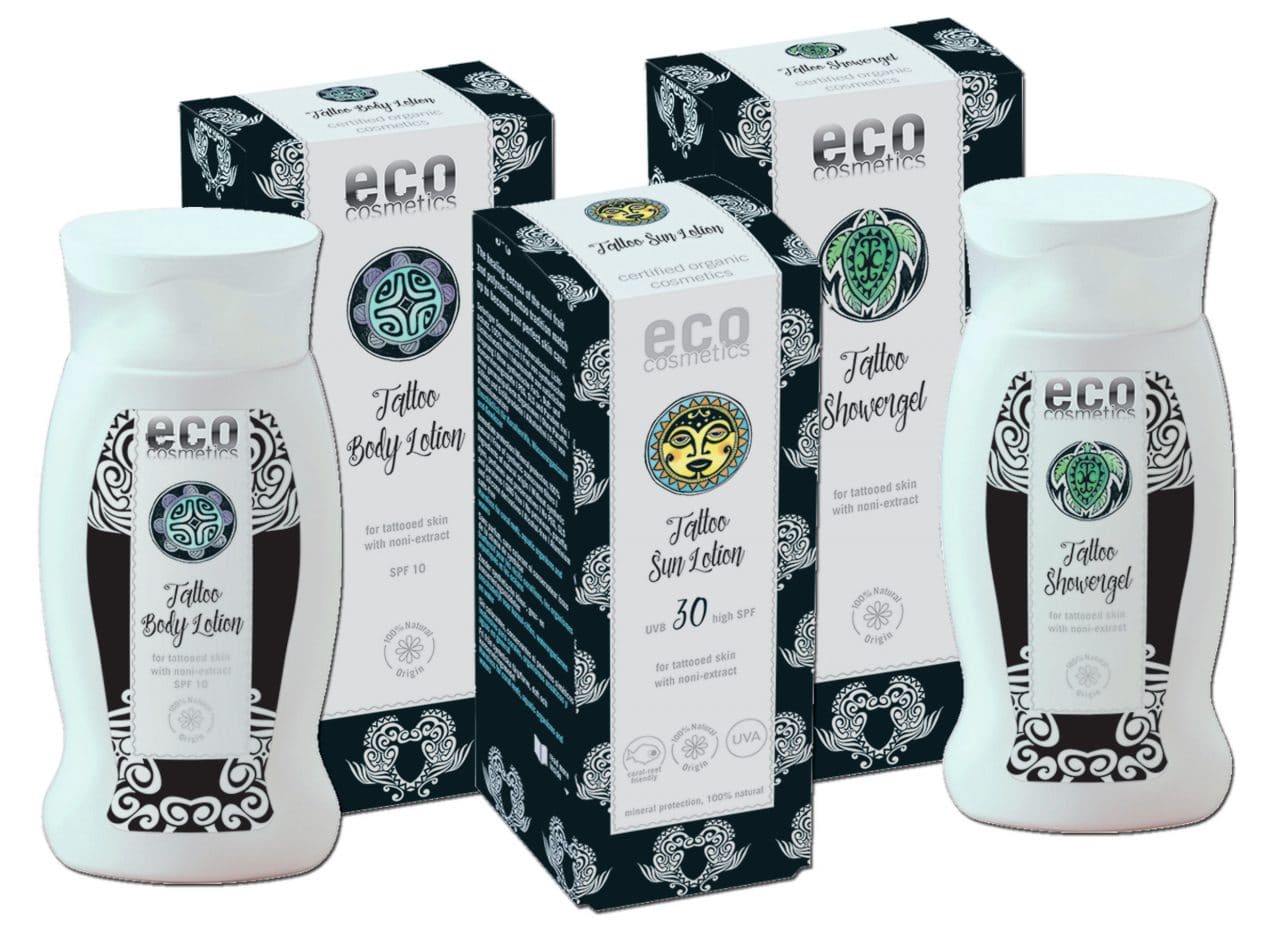 A new Tattoo skincare range has been introduced to the UK by German brand Eco Cosmetics.
The ECOCERT-certified natural and organic products are specifically formulated to help keep tattoos looking their best all year long, providing intensive colour protection and promoting cell regeneration and healing.
The natural ingredients used include noni extract, which has been used in Polynesia for medicinal purposes for centuries, in particular to help the healing process of traditional tattoos. It is rich in essential fatty acids and has anti-bacterial properties. Pomegranate is also incorporated to provide a sweet scent and deliver anti-inflammatory and antioxidant benefits, helping keep the ageing process at bay.
The Eco Cosmetics Tattoo range comprises: Shower Gel to gently cleanse the skin without causing irritation or influencing tattoo colour, and fight bacteria; Body Lotion, a quick absorbing lotion for all skin types with natural SPF10 to protect against daily UV damage which can have a bleaching effect on tattoos; and Sun Protection SPF30, which contains pure, mineral filters, titanium oxide, zinc oxide, corundum and magnesium to reflect the sun's rays and protect the skin from sun damage.
"Within the natural and organic market today, it is the niche brands and products that have a lot of potential," says Graeme Hume, MD of Pravera Ltd, distributor of the range in the UK. "This range is not only completely natural, but it also has a very clear benefit to a defined target audience of those wearing tattoos. It is different, innovative and functional. Three things that I believe have become important to stand out in an increasingly crowded natural and organic marketplace."
The range is cruelty-free and vegan.