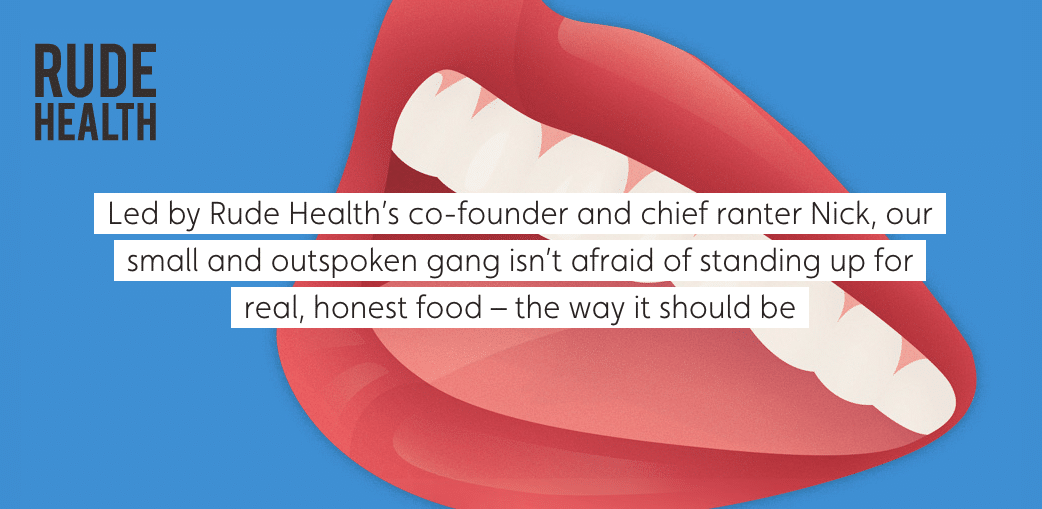 Rude Health has found itself at the centre of a rude row following a controversial blog posted by co-founder and brand director Camilla Barnard, concerning 'cutting out food types'.
The blog, posted on 26 September, was published under the company's trademark 'rant' on its own website, and received more than 160 direct comments in the days and weeks that followed, predominantly from the vegan community which branded the post 'commercial suicide' and a 'PR blunder'.
The broader sentiment of the piece drew issue with the way in which social media campaigns such as 'clean eating' have led to a culture of fear and anxiety around food. However, some of the comments Barnard made about vegan diets have been branded as 'condescending', 'vicious' and 'mocking' of the company's customer base, with many consumers stating they would be boycotting all Rude Health products.
In a statement responding to the backlash, Barnard says: "For those who know us only for our dairy-free drinks, which happen to be vegan as well as dairy-free, it may seem strange that Rude Health does not promote itself as a vegan company. This said, we are not against vegetarianism, veganism or any other food or lifestyle choice. What we are concerned about is anxiety around food and anxiety around eating or not eating certain foods or food groups."
"Our range is about quality and choice and our focus is on flavour, responsible sourcing and the enjoyment of food, so much so, that we tend to rant about it from time to time, be that on social media, on our website, or in a field in North Wales," she continues. "We worry about people feeling confused or guilty about the food they eat. We rave about eating as a social activity and about reconnecting with food, through education. We rave about choice."
"At Rude Health we believe food is more than a way to simply nourish us; it should be a pleasurable, social and thoughtful part of our lives. We eat to live and live to eat and embrace all foods as long as they are sustainably produced and as unrefined as possible. What we really want is for everyone to be in rude health. How each and every one of us achieves this goal is truly personal and very individual," Barnard concludes.
To date, only one health food shop has contacted the brand to discontinue purchases.
The full blog post can be read here.