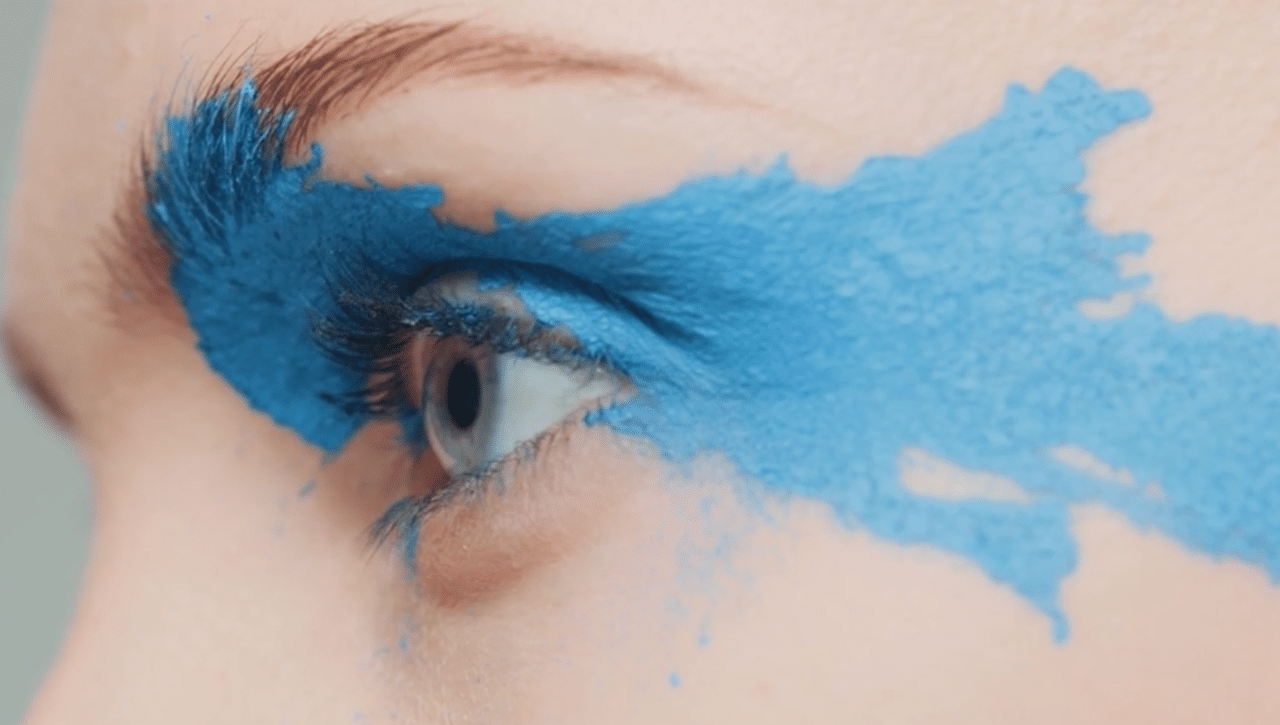 Rosie Greenaway reports on the trends outlined at Cosmoprof Worldwide – Italy's annual cosmetics event where conscious beauty was the buzzword for 2019 and vegan certification was king.
At close of play on 17 March, Cosmoprof Worldwide had seen a record 265,000 cosmetics industry representatives enter its turnstiles in Bologna, each in search of the latest trends and innovation in the world of professional beauty. While Cosmoprof is not restricted to green beauty alone, the movement's increasing domination was unmistakable throughout several of the venue's large halls, with Italy's own Vegan OK certification mark displayed on innumerable stands.
"It's the era of conscious beauty," announced a press release from show organizer Cosmetica Italia. Calling this 'the time of informed beauty', its president Renato Ancorotti impressed upon brands and journalists the importance of prioritizing transparency and delivering reliable information. "It is essential for companies to be able to communicate their values to consumers, in addition to the characteristics of their products and the choices they make with regard to key issues such as sustainability.
"Social media and the internet provide us with easily accessible information, giving us the impression that we have all the elements we need to judge and choose. However, it is crucial that we check the reliability of these sources. The collaboration between industry and institutions is a key tool in combating fake news and beating a path for the popularization of scientific facts."
With sustainability embedded as a common theme throughout the majority of panel discussions, one session in particular gave detailed insight into the trends 'making the biggest impact' on the green beauty scene. The Cosmotrends Report: Bologna 2019 presented by Lan Vu, founder of trend intelligence agency Beautystreams, bridged global and local insights, consolidated information on more than 100 product innovations submitted by beauty exhibitors and analysed them against a backdrop existing and evolving trends.
Part one: eight key product trends identified
Anti-anxiety
The most common physical complaint in modern society. In relation to beauty, this equates to 'looking at beauty in a holistic way', addressing people's general feeling of wellness.
Micro-targeting
A trend which satisfies the needs of the individual and 'helps explain the rise of indie brands'.
Activism
The message that the future 'lays in your hands' is used to market a whole lifestyle and philosophy, making people 'feel there's authenticity' behind indie brands.
Empathic Luxe
A 'win–win trend' which 'marries philanthropic causes with a desire for luxury' supporting the idea that philanthropy and luxury can be embraced simultaneously.
Effect-switching
A 'magical transformation' achieved by layering high-functioning products which alter the user's appearance and provide a strong visual impact, popularized through YouTube and Instagram 'before and after' videos.
Masculism
"Gender is no longer binary; gender is a spectrum. There's a new language and a freedom to express yourself in different ways. It's really about suiting your moods, switching up your look … there are no more rules," Beautystreams declares.
Creative AI
How human beings and technology can co-exist, with all the 'imperfections' of humans incorporated into their robot counterparts.
Happy Eco
Eco can now be bright and 'happy', moving away from its original 'brown paper' visual identity.
Part two: five aspects 'distilled' and analysed
The Cinderella Effect
Feeding into the idea of 'Insta-glam', this trend centres around fast-acting, fun, playful beauty products – dubbed The Cinderella Effect – which deliver 'instant gratification', inspire self-expression and offer 'sensorial experiences'. The ingredients or the technology used in the products become the 'fairy godmother', offering immediately visible results for dramatic transformation, but according to Beautystreams 'at the stroke of midnight, the results vanish'.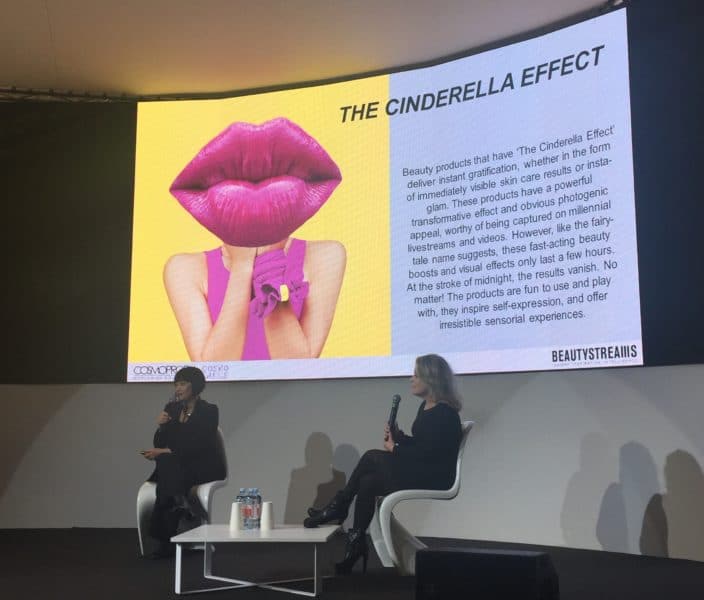 Millennial women – and, increasingly, men – are the consumers seeking such transformative effects and 'obvious photogenic appeal' from their products. It's a trend aimed at a generation of 'zappers': the people who want quick results, who bore easily, who want makeovers to be live-streamed, who want everything to be photogenic in a style worthy of sharing on social media. These consumers want to share every stage of their usage and 'show the products in action – how they're working visibly'.
Hyperactive Naturals
This trend plays into the detective skills of today's increasingly discerning consumers who analyze labels and reject toxic ingredients. It reflects a consumer migration towards clean, natural ingredients and highly concentrated, high-performing formulations, for example waterless products which remain 'ultra-fresh' thanks to their dryness. "They hit a number of trend markers: sustainable, clean, portable and long-lasting." This particular trend speaks to the rising number of allergy sufferers and is compliant with apps which scan labels to scrutinize ingredients for allergens.
Intimate Care
Amidst a surge of women-led start-ups born of the millennial fem-tech generation, increased awareness about feminine hygiene is shifting the focus of self-care towards intimate body parts – and raising its importance in a society which often shies away from the conversation. The Intimate Care trend is about 'feeling good about every part of your body'.
"It's not taboo anymore," states Beautystreams, highlighting that many emerging products in this formerly untapped market are 'luxurious in feel'. Aesthetics play a crucial role in normalizing the products; elegant packaging design encourages users to display intimate care products on bathroom shelves, where once they may have hidden them. Products may include anything from oils which keep intimate areas healthy and eliminate dryness, odour and itching, to unisex hair removal creams specifically designed for the genital region.
Skin Defence Warriors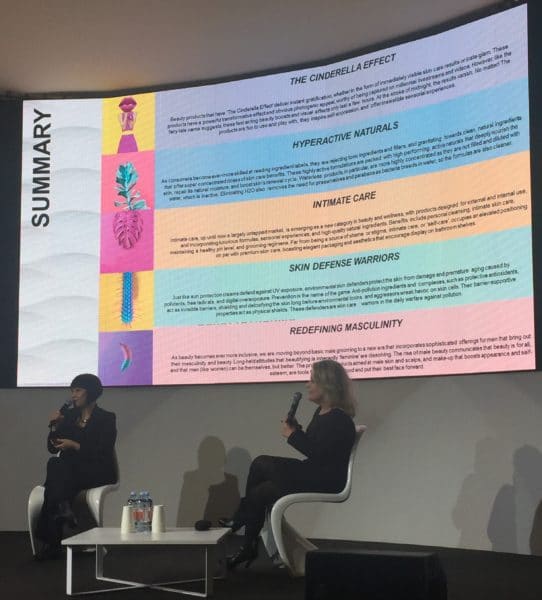 Already 'a mainstay in Asia' where air pollution levels are typically higher, this trend focuses on pollution-proofing; Beautystreams highlights that over 90% of the world's population lives in locations where air pollution is above World Health Organization guidelines. Skin Defence Warriors encapsulates a host of products which protect against blue light and toxins generated by screens, tablets and gadgets. As skincare specialists continue to question how much repeated exposure to such devices will accelerate ageing and damage of the skin, more and more formulations are coming to market containing barrier-supportive properties which act as a physical shield against free radicals and environmental aggressors.
Redefining Masculinity
In a trend that isn't new, what's different? There's a bigger offering of more sophisticated, more specialized products which move away from conventional male grooming and help men 'feel good and put their best face forward'. We are in the age of inclusivity, and that's the big buzz word – inclusivity within beauty not just of race, but of men 'being able to express themselves in a variety of ways'. Long-held attitudes around the femininity of beauty are dissolving; beauty no longer has a gender. Redefining Masculininty is about empowering men to feel and look their best. Social platforms are seeing increasing numbers of male beauty influencers, while modern family dynamics are seeing roles shift among millennial parents. This trend points towards a rise in the proportion of men who wear make-up to heighten their confidence, and supports a 'deep-seated shift in attitudes about what it means to be a man'. While Beautystreams describes the present as a 'time of transition' and 'flux', this trend is set to eventually creep into the mainstream.