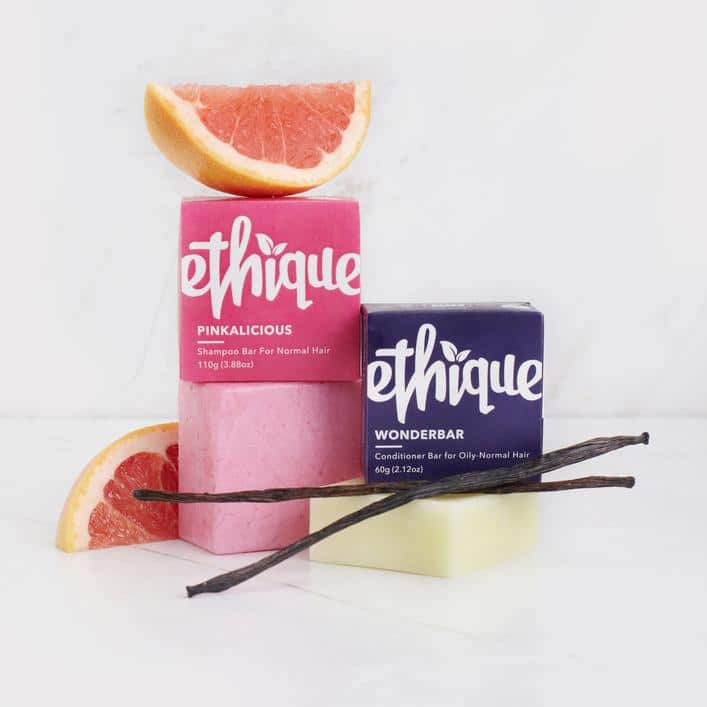 New to the UK is New Zealand skin and hair care brand Ethique, offering a line of zero waste handmade solid beauty bars made with 100% sustainably sourced and fairly traded ingredients.
Launched today, the product range comprises concentrated face, hair and body products in 100% compostable and recyclable packaging.
The hair care range incorporates soap-free and pH balanced shampoos, conditioners and masks for all hair types, with the brand claiming that one of its shampoo bars is the equivalent of three bottles of liquid shampoo. Varieties include Pinkalicious Shampoo Bar for Normal Hair, which smells of pink grapefruit and vanilla and is made with fair trade coconut oil and cocoa butter and the Wonderbar Conditioner Conditioner for Oily to Normal Hair, which doubles as a shaving bar and an in-shower moisturizer.
Ethique's range of body bars are shaped to fit in the hand and are designed to cleanse, scrub, moisturize and deodorize. The varieties available are Coconut & Lime, Sweet Orange & Vanilla, Jasmine & Ylang Ylang, Love Baby Bar and Peppermint and Tea Tree.
The Facial Bars include the multitasking Super Star, which can be used as a face cleanser, moisturizer and make-up remover, for all skin types, as well as Bliss Bar and In Your Face.
The brand was founded by British born biochemist Brianne West, who says: "Up to 75% of [conventional] shampoo and 90% of conditioner can be water, which is just crazy – you have water in your shower! Obviously, water is an important part of the product, but I was interested in what happened if you simply combined the ingredients without it. Myself and the Ethique team are passionate about the values the brand stands for and the change we are creating in the world. Together, we have been able to create a business that has a positive, tangible effect on the environment and that will always be our priority."
Ethique (French for 'ethical') products are cruelty-free and vegan and contain no palm oil, sodium lauryl/laureth sulphate, parabens, pthalates, ingredients that form nitrosamines or dioxins, formaldehyde, formaldehyde donors or petroleum by-products. The brand's lab is powered with 100% renewable energy and certified climate-neutral.
Ethique donates 20% of its profits each year to charities.