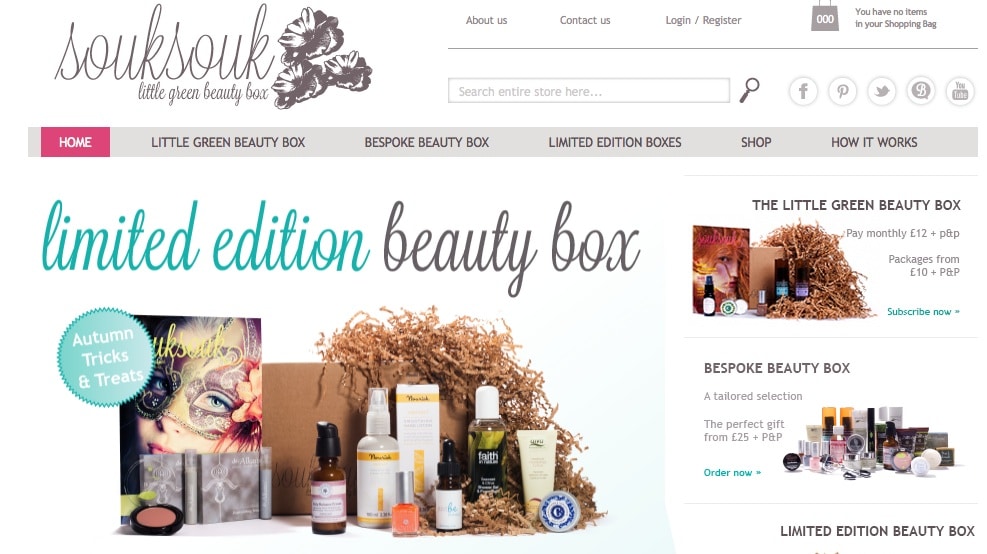 Beauty boxes are still big news in the industry. It's a simple idea: people pay to receive a monthly package which brands pay to fill with samples and so reach new consumers.
It's all win/win as long as the box brands keep the quality up and the subscribers feel that they're getting something different to the run-of-the-mill high street beauty offer.
For the box brands, death by social media is a constant worry. Subscribers are often young and vocal on Twitter, Facebook and the blogosphere. Varied and exciting packages win online plaudits, while boxes perceived as dull or poor value get a public thumbs down.
So where does natural beauty fit into this mix? Well, up until now there's been the odd natural brand on Birchbox, but it's taken a while for a fully ethical offer to come on-stream.
That's where Souk Souk comes in. The brainchild of ex-PR person Victoria Wright, it's a beauty subscription scheme that aims to tick all the right ethical boxes. "I really liked the idea of a beauty box since I loved sample pots to play with – but I couldn't square up the fact that some of the products had been tested on animals and the level of synthetic ingredients was high," Wright explains.
Importantly for a sector made up of small, ethically-committed companies, Wright is determined to play fair with the industry by contributing towards the cost of samples. It's an approach that's won over new names as well as established brands like Green People and Essential Care.
"Customers seem to love the products that are handmade and come from a place where companies aim to create something beautiful and natural," she says. "Pure Thoughts was a popular one, we featured a foot balm from them. It smelled divine and worked miracles, so people loved it."
Wright explains: "Because we pay towards the samples we have a greater say in what products we put in. We don't use sachets, because the perceived value of sachets is quite low. The price is higher than other boxes on the market – and we definitely don't want to devalue the organic sector."
To counter any moaners on social media, Wright has been careful to engage bloggers through a regular section in the exclusive magazine that comes in the box. It's a great way to celebrate the people driving the market – and proof that with some careful positioning, natural and organic can thrive in a category currently dominated by synthetics.
Natural converts
The Telegraph seems to be subverting its image as the retired right-winger's paper of choice by reaching out to the natural beauty sector. Following Jessica Jones' brilliant feature on organic beauty and breast cancer in the Sunday supplement Stella last year, comes Imelda Burke from Content's new regular natural beauty blog.
Also currently firming up a deal is a prominent natural beauty PR who tells me she's on the verge of landing a beauty business insider-style column.