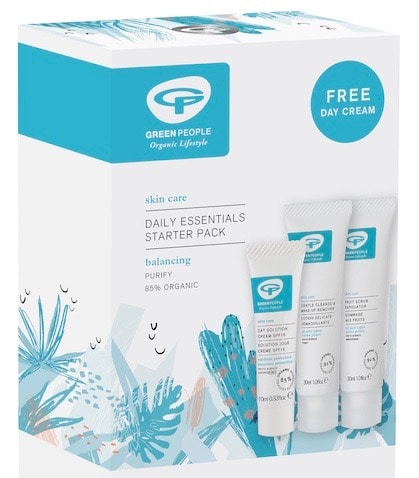 Green People has introduced three starter packs of its organic skincare products in the form of Sensitive Skin, Daily Essentials and Nightly Rituals.
The Sensitive Skin Starter Pack provides gentle products made without essential oils to help achieve a clear, calm complexion. The key ingredients include evening primrose, avocado, squalane from olive, green tea and jojoba. The pack contains: Neutral Scent Free Cleanser & Make-up Remover (30ml); Neutral Scent Free Light Day Moisturiser (30ml); and Neutral Scent Free Anti-Ageing 24 Hour Cream (10ml).
The Daily Essentials Starter Pack comprises a Gentle Cleanse & Make-up Remover (30ml), a Fruit Scrub Exfoliator (30ml), and a Day Solution SPF15 Moisturiser (10ml), featuring ingredients including aloe vera, jojoba, calendula, marshmallow and green tea.
Finally, the Nightly Rituals Starter Pack aims to regenerate, revitalize and renew skin while sleeping through ingredients such as evening primrose, avocado, seaweed and rosehip. The pack contains: Rejuvenating Eye Cream 10ml; Vita Min Fix 24-Hour Cream 30ml; and Fruitful Nights Night Cream 30ml.