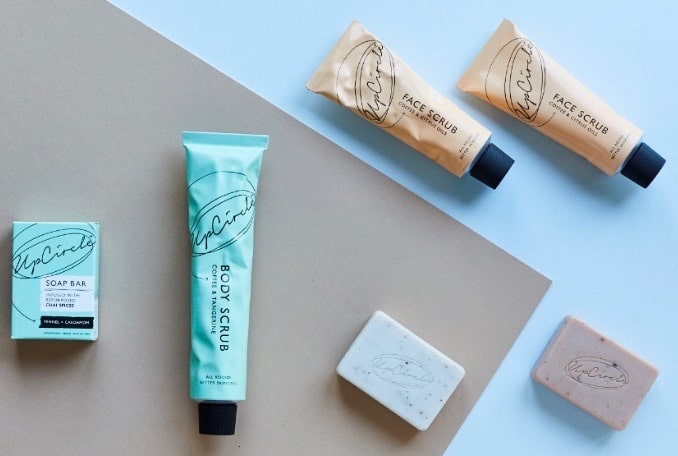 Following the brand's appearance on the BBC show Dragons' Den, sustainable skincare start-up Optiat has relaunched as UpCircle.
The move comes after Optiat's founders, siblings William and Anna Brightman, were offered funding of £50,000 for 30% of the business by Tej Lalvani and Touker Suleyman on the condition that the branding and packaging of the products were improved as they were seen as inconsistent and confusing.
The couple had already identified this problem and a rebranding project was underway with creative brand design agency Studio More and writing agency Reed Words, which worked with Optiat to create a new brand to convey 'a richer, more consistent story, building a visual and verbal platform that can flex and grow with the business'.
The new name for the brand, which repurposes waste coffee grounds as ingredients in its products, was chosen to represent the idea of positively re-using old things and suggest an elevated, uplifting purpose, and the key tagline 'All round better skincare' was also introduced.
"It's incredibly hard to stand out in a sector as crowded as skincare," explains William Brightman. "You must have a compelling and consistent brand and it's vital to really nail the tone – visually and verbally. That requires brilliant creativity and close collaboration between the teams responsible for copy and visual design. Studio More and Reed Words helped us to find exactly the right look, feel and tone for our brand, giving us a solid platform on which to build future success."