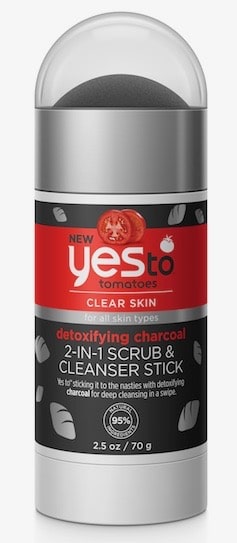 New from the Yes to brand come two skincare sticks: Tomatoes Detoxifying Charcoal 2-in-1 Scrub & Cleanser Stick and Coconuts Ultra Hydrating Oil Stick.
Yes to Tomatoes Detoxifying Charcoal 2-in-1 Scrub & Cleanser Stick is a multipurpose exfoliator and cleanser formulated with charcoal powder and tomato extract. Designed to remove impurities and leave the skin visibly clearer and healthier, it is ideal for on-the-go use.

Yes to Coconuts Ultra Hydrating Oil Stick is for targeted hydration on the face and body to keep the skin smooth and nourished. Easy to apply, it features a non-greasy formula that melts into the skin within seconds.
Commenting on the new products, Yes to's general manager of Europe, Victoria Young, says: "We have seen fantastic success with our Yes to Charcoal and Yes to Coconut ranges and saw an opportunity to continue to innovate here. There were a couple of insights that led to the development of these products. The first is what we call 'Millennial designed skin care'. We know that our consumer lives a fast-paced lifestyle, she is always 'on the go' and looking for products that provide instant results. The second was that she wants products that can be truly called 'multi-taskers'. They need to perform at least two functions, are easily transportable, fit into her lifestyle and are mess-free.
"So, we created the Yes to Coconuts Ultra Hydrating Oil Stick and Yes to Tomatoes Detoxifying Charcoal 2-in-1 Scrub & Cleanser Stick to fulfil all these needs and deliver instant results, easily and on-the-go."