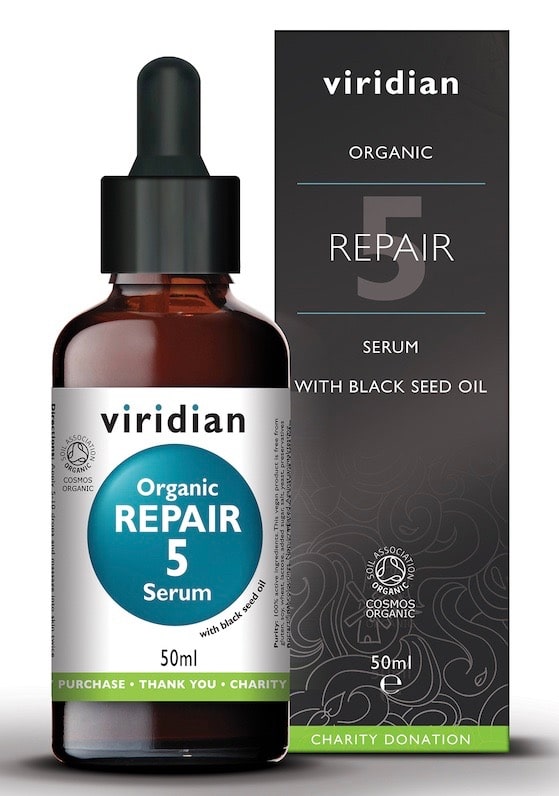 In its latest product innovation, Viridian Nutrition has blended Egyptian black seed with traditional British herbs to create a therapeutic topical serum.
Organic Repair 5 Serum – which took the title of Best New Organic Beauty Product in the Natural Beauty Awards at Natural & Organic Products Europe – is a five-in-one blend and the only topical black seed oil currently on the market.
An expansion to Viridian's existing Organic Black Seed product range the all-over skin serum is formulated from an active combination of Egyptian black seed (Nigella sativa) oil with supportive flaxseed, chamomile and lavender in a base of organic safflower oil. It is designed to support five primary areas of health: acne, carpel tunnel, eczema, joints and vitiligo.
Formulated with no synthetic fragrances or colourings, the oil is Soil Association COSMOS certified and is available in a 50ml dropper bottle.
"Viridian's Organic Repair 5 Serum reflects our ongoing commitment to purity and clarity and we believe it is the first topical black seed oil on the market," comments Viridian's technical director, Aimee Benbow. "More importantly, it carries the Soil Association's COSMOS certification, meeting the highest standards for natural and organic cosmetics. We can guarantee our Organic Repair 5 Serum is 100% natural and has no nasties whatsoever."