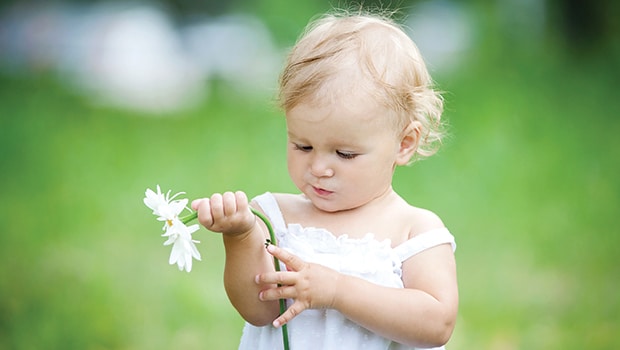 From pregnancy massage oils to baby toys made from sustainable materials, today's parents are turning their backs on synthetics in favour of a more natural approach, reports Claire Lavelle
As little as ten or 15 years ago, new parents were eschewing plastic because they were worried about the chemicals it might contain and how they might be dangerous to their children's health. Today, we're wising up to the devastating environmental havoc it wreaks. 
"We're all increasingly aware of the impact of our consumer choices on the planet," says Torben Hoffeldt, communications director of Danish brand Hevea, which makes baby and infant products from natural rubber of the same name. 'When we created the brand ten years ago, we had a small but passionate audience. In the past three years that has grown considerably and the number of consumers willing to pay more for sustainable brands and natural products is growing fast. As we like to say at Hevea: plastic is passé; natural is now."
Accordingly, there has also been a shift towards a more natural transition into parenthood; a gentler approach that no longer requires new mothers to take on a 'superwoman' mentality which sees them back in their skinny jeans or at their desk mere moments after giving birth. Jan Bastard, an aromatherapist and midwife who founded natural skincare company Motherly Love, winces at the very thought. "When I see women who really want to take care of themselves during pregnancy I applaud them," she says. "Self-care is not a luxury, it's essential for a good recovery and state of mind post-birth. One of the things women are most scared about is damage to the perineum, and needing stitches after their baby is born. Our Down Below Perineum Massage Oil can help prepare the skin in that area for the rigours of labour (trials involving nearly 2,500 women showed that massaging the perineum before birth helped to avoid tears and stitches) and it means the partners can get involved too. Comedian Jon Richardson, of 8 Out Of 10 Cats fame, bought some for his wife when she was pregnant and ending up relating their experiences as part of his stand-up show – he was very funny.
"I use good quality carrier oil for all my products because women are very aware of what they're putting both in and on their bodies during pregnancy, and want to be reassured that there are no harmful ingredients. Baobab oil is beautifully absorbed into the skin, and combined with oils such as jojoba, makes a natural formula that's really effective."
Just as a straightforward labour helps reduce the risk of postnatal depression, so too does support for the new mother. To that end, Suraiya Hanafi, founder of pregnancy and new mum skincare range Tropika, created her brand with the Malaysian values she'd grown up with in mind – particularly, she says, because cases of postnatal depression among Malay women are much lower than in the UK. "Pregnancy and birth is much more of a community affair," she explains. "After giving birth, a woman's mother and mother-in-law will come to look after her, giving her massages and herbal baths, as well as looking after the new baby. It's known as confinement, and we're using those principals in our soon-to-launch new mum wellness kits, although we prefer to call it '40 Days A Queen'," she adds. 
"Our oils are infused with 'jamu' ingredients, such as ginger, eucalyptus and capsicum, which help improve circulation and aid healing, as well as boosting emotional wellbeing. All these practices help the new mother back to her pre-pregnancy state and to regain her confidence and self-esteem. We wanted to share some of those rituals with UK mothers, who often experience things very differently."
Natural support for new mums and their babies
Roz Crompton from Helios Homeopathy agrees that women need support postpartum but believes they worry about asking for help in case they are seen as not coping. 
"Feelings of mild depression and anxiety are very normal after giving birth but they're big labels that women are scared of," she says. "Homeopathy is wonderful for treating low mood, fearfulness and anxiety naturally – for example, we might recommend aconite to help women cope with fear of labour or to recover from the shock of the birth experience. Homeopathy can also be used to help fretful babies – pulsatilla calms infants who are sensitive and clingy, while belladonna helps with inflammatory conditions such as earache."
Happily, the natural health stores on our high streets are full of products that support a generation of parents who wish to do things more naturally. Take wooden toothbrushes, for instance, which Adrian Spink, owner of Grantham Health Store, says are part of the trend towards plastic-free goods. "From Earth to Earth makes toothbrushes from bamboo … a renewable material that's also biodegradable," he says. "Loose soaps are popular too, because they're free from unnecessary packaging, and the natural washing powders such as Ecover are always strong performers."
AQUA Carpatica Kids Still Natural Mineral Water
AQUA Carpatica
Tel: 07597 667 484
E-mail:  [email protected]
www.aquacarpatica.co.uk
AQUA CARPATICA KIDS- Low Sodium Award Winning Water for Kids Each day is a big adventure for little ones; from powering through playtimes to creating the perfect secret den, there's a lot to pack in! With AQUA Carpatica Kids you know that wherever the day takes them they'll be hydrated and energised throughout.  Virtually nitrate free AQUA Carpatica Kids has already got the thumbs up from grown ups and children. In 250ml bottles, BPA-free and 100 % spill proof, with eight playful designs, it is an absolute lunchbox essential. 
AQUA Carpatica range is available in more than 1000 independent stores in the UK, including Harrods, Whole Foods Market, As Nature Intended, Revital, Simply Fresh etc.
Baby Kingdom Talc Free Baby Powder
Baby Kingdom
Tel: 01489 781979
E-mail:  [email protected]rocami.co.uk
www.babykingdomcollection.co.uk
Luxury baby toiletries brand Baby Kingdom has introduced an innovative, Talc Free Baby Powder with an airless pump spray. Designed to form a protective layer, leaving skin soft and healthy, the state-of-the-art airless pump releases just enough product to cover the desired area. Baby Kingdom Talc Free Baby Powder contains key active ingredients to nourish baby's skin and includes vitamin E to fight off bacteria and nettle to accelerate healing and prevent infection. The product uses 100% natural cornstarch, is dermatologically tested, hypoallergenic and free from sulphates, parabens and other harsh irritants.
Bio-Kult Infantis
Bio-Kult Infantis
Tel: 01460 243230
E-mail:  [email protected]
www.bio-kult.com
Bio-Kult Infantis is an advanced multi-strain live bacteria formulation for babies, toddlers and young children.  Each easy to use sachet suitable for use from Birth and Beyond contains 7 strains of live bacteria, alongside Preplex and DHA and EPA which are high in omega 3 fatty acids. Bio-Kult Infantis also contains vitamin D3 to contribute to the normal function of the immune system, handy for helping fight those pesky common colds commonly picked up in play groups.  The formulation does not contain artificial colours, flavours or preservatives and does not need to be refrigerated.
Butterwhips: for the family
Butterwhips Ltd
Tel: 01480 470981
E-mail:  [email protected]
www.butterwhips.com
Specially formulated for babies from 1 month plus, butterwhips baby butters were created with the same light and fluffy texture as their adult range and maintain the butterwhips all-natural and sustainable ethos, avoiding the use of synthetic compounds, animal derivatives such as beeswax, palm oil products and non-renewable mineral ingredients across the cruelty free certified range.
Perfect for baby massage and bonding, the bright and sweet Scrummy Yummy has an uplifting aroma for a stress-free happy baby while Dreamy Weamy's naturally soothing scent is perfect for use after a bed-time bath.
Take care of the whole family's skin, naturally. #SpreadTheLove
From Earth to Earth (F.E.T.E) Bamboo Toothbrushes
From Earth to Earth
Tel: 01342 457170
E-mail:  [email protected]
www.fromearthtoearth.uk
We care about the environment and finding solutions to help protect nature. So, we've created a line of eco-friendly, biodegradable personal care products. Our toothbrushes are made of mao bamboo which is panda friendly. Bamboo is the world's fastest naturally renewing resource and has inherent anti-microbial, anti-fungal and anti-bacterial properties. Bamboo toothbrushes are an ideal replacement for your plastic toothbrush and help combat the issue of waste in the environment. All our products are vegan. We want to help limit our waste on a global scale, so join us on our plastic-free journey. Contact us to add our range of products to your store.
Green People's Organic Babies Baby Wash & Shampoo – Scent Free
Green People
Tel: 01403 740350
E-mail:  [email protected]
www.greenpeople.co.uk
Babies have delicate skin, and at Green People we believe that only the gentlest organic and natural ingredients should be used in products designed for them. An ultra-mild, non-irritating wash and shampoo for baby, this gentle certified organic formula is naturally scent free and made without essential oils, perfume or synthetic fragrances. It's perfect for little ones who suffer with sensitive skin or those prone to eczema or skin allergies. Extra concentrated so a little goes a long way, meaning one 150ml bottle could last three times as long as other High Street brands. 
HEVEA 2:1 baby glass bottle with star ball cover & Puppy Star activity toy
HEVEA, A.P. Moellers alle 17, 2791 Dragoer, Copenhagen, Denmark
Tel: +45 5049 180
E-mail:  [email protected]
www.Heveaplanet.com
HEVEA was born from an urge to do better. To show that we can make a positive difference to the benefit of ourselves and the future generations. At the core of our business, we have the Hevea Brasiliensis tree and the natural rubber and rubberwood it provides. It's eco-friendly, non-toxic and sustainable – just what the planet needs.
HEVEA is more than meets the eye. We are innovators in natural rubber, in design, in ways to work together, in processes and in distribution. We are the future. Plastic is passé. Natural is now!
Natural Parent MyKind – Prenatal
Kinetic Enterprises Limited
Tel: 0207 644 2294
E-mail:  [email protected]
www.kinetic4health.co.uk
Mykind Organics Prenatal Multi is made from real whole food, including powdered organic fruits, veggies and herbs such as lemons, ginger, holy basil, to provide what you need in a natural form.  The formula is designed to help your body prepare for pregnancy, nourish and protect you and your baby during pregnancy, while providing the boost you need while breastfeeding. Each formulation provides 800mcg of folate to support healthy fetal development, the recommended amount to prevent neural tube defects. It delivers 18mg of iron to help fight iron-deficiency anemia. It contains a certified organic stomach-soothing blend of ingredients.
Hope's Relief Cream for eczema and psoriasis
Mahi Naturals
Tel: 0208 886 4001
E-mail: [email protected]
www.hopes-relief.com
No.1 in Australia, Hope's Relief multi award winning natural skincare helps soothe and heal itchy, dry skin prone to eczema, psoriasis and dermatitis. 
Developed over 35 years of research by naturopaths, Hope's Relief is an effective, natural alternative to steroid creams and other medicated treatments and suitable for long term use on skin prone to eczema and psoriasis. Formulated with Active NPA10+ Manuka Honey, Licorice and Aloe Vera, the cream is clinically proven to hydrate skin for up to 24 hours after just a single use. Suitable for newborns upwards
Natracare Nursing Pads
Natracare
Tel:  01454 613 347
E-mail:  [email protected]
www.natracare.com
Natracare's breathable Nursing Pads are kind to delicate skin which can become sensitive during breastfeeding. The slim, perfectly shaped round discs, fit securely and discreetly in a nursing bra, quickly and effectively absorbing excess milk between feeds. The cushiony-soft, absorbent natural materials keep breasts dry, preventing leakages and helping to avoid sore, cracked nipples. Each individual pad is made using totally chlorine free, natural and sustainably sourced, biodegradable materials. They are free from plastic, synthetic ingredients and fragrances so leave a softer footprint on the earth than the synthetic equivalents.
Patch strips
Luba Distribution LTD
Tel: 0330 133 0431
E-mail:  [email protected]
www.patchstrips.eu
Multiple award-winning PATCH Bamboo Strip Bandages is getting major attention from the European market for its amazing hypoallergenic, zero waste packaging and compostable solution that aims to fix a major market problem! When father-of-two and PATCH founder, James Dutton discovered his son had an adverse reaction to an adhesive bandage, he quickly realized his son was not alone. 1 in 4 people cannot wear normal plasters due to reactions and skin sensitivities. PATCH is an advanced new range of natural adhesive plasters designed to support wound recovery with natural bamboo fibre and mineral based Pressure Sensitive Adhesive
Enna Cycle menstrual cup
World Foods Brand Management
Tel: 01782 366080
E-mail: [email protected]
www.wfbm.co.uk
Menstrual cups are becoming one of the fasting growing feminine health care products in the war on plastic. The New Enna Cycle menstrual cup is It is the ONLY cup to come with an applicator and comfort string to ease extraction; it also provides more capacity and it is available in three different sizes. Providing better value the Enna cycle provides 2 cups for the price often paid for 1 and also comes complete with a travel case in which to store and sterilise it, making it perfect for on-the-go.