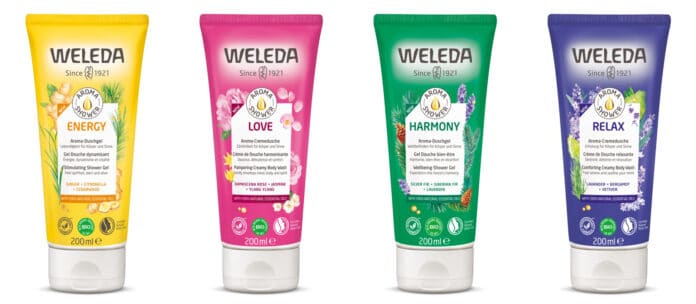 Weleda's four new Aroma Showers – Love, Relax, Harmony and Energy – have been scientifically proven by independent clinical EEG tests to positively impact emotional wellbeing.
Inspired by Weleda's Wild Rose Creamy Body Wash, the Love Aroma Shower provides diverse floral notes with nuances of jasmine and ylang ylang to impart a fresh scent, while Relax has a core lavender aroma balanced with bright top notes of bergamot and base notes of warm woody vetiver to create a comforting moment of tranquillity in the shower.
The Harmony fragrance combines essential oils of silver fir, Siberian fir and lavandin for an invigorating 'forest bathing' experience, and Energy blends essential oils of ginger, citronella and cedarwood in a lively, zingy scent to start the day feeling energized and uplifted.
The Aroma Shower collection comes in vibrant packaging with stronger messaging about the essential oil fragrances and their aromatherapeutic benefits, and the brand has announced that its existing shower range will also sport bolder livery in a move to streamline Weleda's packaging production.
"We will combine packaging production for three language clusters, to make production more streamlined for all 11 shower products, thereby reducing the carbon footprint," explains Laura Crossland, category manager, natural and organic cosmetics. "This streamlining of our production should mean shorter lead times and more agility, leading to fewer occasions when a product is temporarily out of stock as we will not be waiting for English-only packaging to be produced."
The new-look packaging features a bolder, more prominent logo for stronger impact on shelf, and there's clearer messaging on pack including highlighting of the organic ingredients. Each product will relaunch with a new name that communicates the key product benefits rather than highlighting the lead plant ingredient. For example Sea Buckthorn Creamy Body Wash will become Vitality Creamy Body Wash.