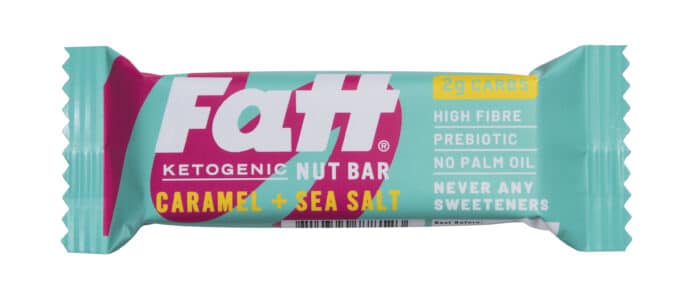 As part of its strategy to become market leader in the keto category, snack brand Fatt has undergone a 'bold' rebrand and is expanding its avenues of distribution.
The rebrand encompasses Fatt's packaging, website, social media identity and brand personality, presenting a 'dynamic and modern redesign' which aims to deliver a stronger on-shelf presence and encapsulate the benefits of a keto lifestyle. The distribution expansion has kicked off with Fatt's Ketogenic Almond & Vanilla Cookie and Ketogenic Nut Bar range launching into Whole Foods Market and Planet Organic.
"Fatt is on a mission to make keto clean, clear and convenient so that as many individuals as possible can experience the benefits of a keto lifestyle," explains founder Hannah Sutter. "Our bold new rebrand and growing distribution will enable us to meet this objective and reach our goal of becoming the market leader in the keto category, which is exploding in size.
"The Fatt rebrand is bold and disruptive and has been designed to have a stronger on-shelf presence and to debunk the multitude of confusing diet myths, while clearly communicating the products' functional and nutritional benefits. These developments will engage more consumers than ever before, whether they are committed ketoists, keto-curious or just following a low-carb diet to harness the associated health and wellbeing benefits."
With a mission to 'keep keto clean, healthy, accessible and convenient', Fatt creates all-natural, low-carb and low-sugar, sweetener-free bars and cookies created to feed brain and body. The products are high in good fats and inulin and are free from palm oil, gluten and GMO ingredients, with most being suitable for vegans.