When Natural & Organic Products Europe returns to ExCeL on 3-4 April it will partner with ReSea Project to tackle 'the biggest global issue we are facing': plastic.
Natural & Organic Projects Europe x ReSea Project is a collaboration which will see the equivalent of 100 plastic straws removed from oceans and rivers for every visitor that attends the trade show.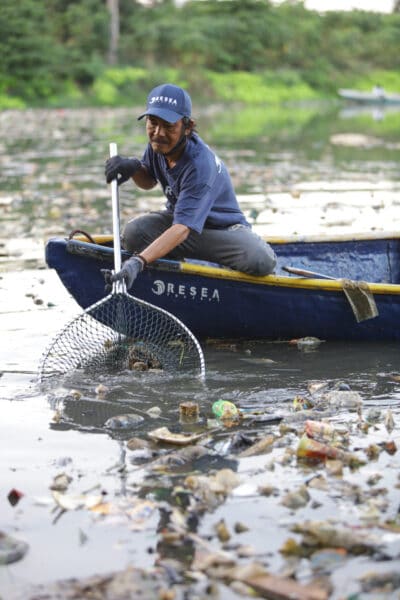 ReSea Project – known for its community-driven ecosystem clean-up operations – engages with local people living near rivers and coastal areas which are affected by low-incomes and poor waste management. The company ensures 'fair compensation' to all locals carrying out clean-up missions and educates them about 'turning the tide on the ocean plastic crisis'.
"We believe that businesses together have the power to make real change. Partnering up … gives us the opportunity to raise awareness and connect with responsible brands across Europe and share our mutual mission for a sustainable and healthy planet," comments Christine Tangdal, head of sales and partnerships, ReSea Project.
"The partnership is, in our opinion, aligned perfectly. [The show] connects visitors with innovative, eco-friendly and sustainable products which will make a real difference to businesses. Not only do we get to meet exhibitors and participants and show how brands can leverage their sustainable commitments by supporting our clean-up efforts, but we're also committed to make a direct positive impact on the ocean by removing the equivalent of 100 plastic straws from oceans and rivers for every single visitor attending."
The partnership is, in our opinion, aligned perfectly
"Although tackling the amounts of plastic littering the ocean, stopping the inflow, and improving people's lives is at the core of what we do, supporting the circular economy is another focal point of our clean-up solution," adds the company. "We work together with local waste banks who manage the distribution of the plastic waste recovered for further waste handling and recycling purposes.
"To advance the environmental and social impact of our clean-up mission, transparency and traceability is crucial to have the support of businesses. ReSea Project is the second only organization in the world certified to the world leading quality assurance provider DNV and its Chain of Custody Standard for plastic recovered from oceans and rivers. Our high level of transparency enables businesses to trust that their support and commitment is in fact making oceans and rivers cleaner from plastic waste."