Kate Miller looks at the main aggravators of joint pain and uncovers how well-intentioned New Year's resolutions can often lead to injuries come spring for a nation on the move
If the phrase 'go for the burn' conjures up images of leg warmers, headbands and Jane Fonda, then I'm guessing you're old enough to remember the days when exercise was all about pushing your body until it really hurt – no matter how unfit you were.
Several decades, a lot of injuries and some sage medical advice later you would think we'd have learned our lesson, but it seems that osteopathic clinics are still littered with Zumba casualties who have missed the beat and hit the floor.
The problem, according to nutritional therapist Shona Wilkinson is especially prevalent around this time of year when people finally decide to put into action the New Year's resolutions they drunkenly made a couple of months ago. "The trouble with this is that they tend to do too much too fast and too extensively, rather than a gradual build-up. This can cause joint and muscle injuries. These can usually be relieved by rest and then a more sensible approach to exercise."
Power down
Osteopath and nutritionist Marcus Webb says that exercise-related injury is fairly common, especially when people are pushed on by well-meaning gym instructors. Injuries often happen as the goal posts are moved once a person achieves a certain target level of training. Over-training injuries such as shoulder/cuff tendonitis, elbow tendonitis (tennis/golfers elbow) and lower back strains feature highly. "People with rather obsessive personalities have the tendency to take exercise one stage too far and push or exercise a body area simply too much. Cumulative strain/repetitive strain is hard to manage if the person is not willing to 'power down' a bit. There is a fairly common thread of thinking that working through the pain of an injury somehow speeds recovery … this is not what I have found to be the case!" Webb says.
With an ageing population keen on staying fit for longer, can we expect a parallel rise in injury rates – particularly if a previously sedentary life has been led? Not necessarily, according to researchers from the University of Western Ontario. A year-long study looking at incidence of exercise-related injuries in previously sedentary older adults found that rates of injury were similar or lower when compared with previous studies on younger and middle-aged adults. The report concluded that older people taking up exercise were no more prone to injury than younger.
According to Paul Chamberlain – head of nutrition for Solgar, which makes Solgar 7 and Full Spectrum Curcumin – while estimates state that between a third and a half of the population is affected by chronic joint health issues, the incidence increasing with age, the prevalence amongst 18 to 39-year-olds may be as high as 30%, indicating that joint health issues certainly aren't confined to older generations. 
A Royal Society of Medicine report published in 2018 revealed that almost 50% of sport injury-related trips to A&E were for children and adolescents, with 14-year-old boys and 12-year-old girls most at risk. Researchers from Newcastle University and Oxford University NHS Trust investigated 11,676 A&E visits for sports injuries and found that ten to 14-year-olds were most likely to be injured, followed closely by the 15 to 19 age group. Football, rugby, trampolining, horse riding and netball were the predominant causes. 
However, the good news is that the younger generation is not only likely to be more active but also more aware of how to prevent and take care of injury, something Bathing Beauty founder Georgina Jones says she has seen in her osteopathic practice: "Ageing population is only half the story; the flip side is the increase in proactivity of our younger population. Professionally, we have seen a rise in younger patients looking to manage their health and wellbeing. I think they're much more aware of the need to take care of themselves." Jones adds that the company's Jones the Bones products strike a particular chord with local triathlon runners.
Facts and figures
According to Mintel, it's not just the young who are looking after themselves. Sales of over-50s supplements continue to grow, and in the over-55s, fish oil is the most common supplement, with usage at 47%. While the report points to the link between EPA, DHA and heart health helping to drive usage, the vitamin D content of fish oil and the link with bone health is also a driver.
Function-led growth appears in bone care, showing a rise of 14% year-on-year. "The continued media attention on vitamin D and the recommendation from health bodies for all UK residents to take these supplements will be help-ing," says Mintel. Also 'likely to be supporting usage' of these products is the fact that bone health is the area in which consumers have the 'greatest trust' in terms of efficacy and improvement. 
Calcium sales have also gone up over the last year, rising 9%; with the notable increase in calcium supplementation among 25 to 34-year-olds possibly driven by the rise in vegan diets. 
However, joint care VMS continues to fall, which Mintel puts down to cannibalization by the wider use of over 50s supplements. Glucosamine usage remains higher among the over-65s, at 21% of VMS users. In Mintel's Vitamins and Supplements – UK, September 2017 Report joint pain was cited by 67% of supplement-takers over 65 as the reason for taking VMS. 
Vitamin D consumption has risen 7%, overtaking vitamin C as the most popular single vitamin supplement in all age groups. 
According to Chamberlain, while glucosamine is very recognizable to shoppers of a certain age, newer consumers coming into this category may be looking for innovation, either in format or ingredient types. "Certainly in the last number of years we've seen huge growth in products containing turmeric/curcumin, and I expect this trend for more innovative solutions for joint health to continue."
Food as a healer
Nobody knows better that joint health isn't necessarily an elderly person's illness than lidamarie van de Byl-Knoefel, writer of A Kitchen Fairytale – a set of recipes through which, alongside daily yoga and light exercise, she reversed the pain and symptoms associated with inflammatory arthritis.
She was struck, out of the blue, by inflammatory arthritis which left her knee so swollen that she couldn't walk down stairs. Eventually diagnosed with ANA positive oligoarthritis, she was told she would be on medication for the rest of her life. "I started taking the drug in August 2015; within two weeks I had a strong allergic reaction … and was taken off it."
She initially cut out dairy, gluten and sugar and started doing yoga. The changes worked wonders but she wanted to take it further; after more research she decided on a plant-based diet, centred around the principles of the Paddison Program. Never wanting to feel like she was missing out on good food, she began developing recipes that kept the inflammation down yet tasted delicious. "I wanted to tell others that there is an alternative way of healing to the toxic drugs that are so quickly prescribed. That's how A Kitchen Fairytale came about!" 
The recipes are oil-free which is essential, says van de Byl-Knoefel: "It's crucial in order to reverse the symptoms of inflammatory arthritis. In short, dietary fat causes inflammation in the gut, which contributes to a worsening of joint inflammation."
Never mind injury – it's not moving that will kill you!
While misguided manoeuvres may land you in short-term bother, you're more likely to do long-term damage through too little exercise than too much.
"The most common factor contributing to this is sitting for too long. This can cause slow blood flow to the joints, while injury and powering through painful spells can aggravate swollen joints," says Keeley Berry, nutritional expert at BetterYou.  
Shona Wilkinson agrees: "Not doing any exercise at all is a much worse problem. It is important to try to keep joints in good working order with regular exercise and a healthy diet. Exercise keeps the supporting muscles and ligaments strong and relieves pain. Although it may be initially painful, gentle exercise will help in the long run as it improves blood circulation to the joints and increases the strength of the muscles around them which helps to keep them in the correct position. Gentle exercise every day and a diet with a low refined sugar intake is the best way to get into shape and avoid joint problems. Stretching is also important because it increases flexibility and reduces stiffness."
CherryActive
Active Edge (Nutrition) Ltd
Tel:  08451 705705
E-mail:  [email protected]
www.active-edge.co.uk
CherryActive concentrate is a premium, natural, concentrated juice, made from nutrient-rich Montmorency cherries. Scientifically-proven to have powerful, health-promoting qualities containing no preservatives or additives.
Rich in antioxidants, which help protect the body from harmful compounds called free radicals. It has been shown to speed recovery after exercise and is already taken by hundreds of elite athletes, as well as regular gym goers.
Research shows it also improves sleep patterns, reduces joint inflammation and lowers uric acid levels. Our capsule format is very low calorie/carb and convenient.  Contains 100% Montmorency powder with no additives.
AQUA Carpatica Sparkling Natural Mineral WATER
AQUA Carpatica
Tel: 07597 667 484
E-mail:  [email protected]
www.aquacarpatica.co.uk
How do you get your recommended daily amount of calcium and magnesium? We have a natural, all in one solution for you: AQUA Carpatica Natural Sparkling Mineral Water. 1L provides 26% of the NHS's recommended daily amount of magnesium for adults per litre and almost 40% of the daily amount of Calcium.
And it's all natural: over 200 metres under the earth, a blanket of metamorphic rock protects the water as it mixes with carbon dioxide (CO2) through a 40-year natural mineralisation and carbonisation process, giving our water its unique effervescence and exceptionally pure mineral content.
AQUA Carpatica range is available in more than 1000 independent stores in the UK, including Harrods, Whole Foods Market, As Nature Intended, Revital, Simply Fresh etc.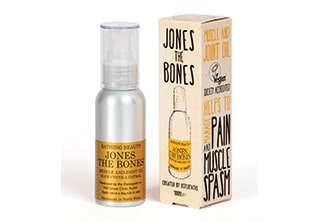 Jones The Bones Muscle and Joint Oil
Bathing Beauty
Tel: 01824 790 641
E-mail:  [email protected]
www.bathing-beauty.co.uk
Jones The Bones Muscle and Joint oil created by Osteopath George Jones, Founder of Bathing Beauty. Thoughtfully and successfully formulated to help manage the symptoms associated with muscle and joint pain. 100% natural, registered with The Vegan Society, and of course Cruelty Free. Jones the Bones Muscle and Joint oil and Bath Salts, the number 1 best sellers with every stockist. This product is available at 350ml Therapist sized bottle, and is widely used by Osteopaths, chiropractors, and massage therapists.  Also, 100ml Retail sized bottles ideal for Health Food Stores. JTB19 =5% Discount and Free shipping with your first order
Alive! Calcium Soft Jells
Schwabe Pharma UK
Tel: 01628 401980
E-mail:  [email protected]
www.feelaliveuk.com
Alive! Calcium Soft Jells are specially formulated for both adults and children over 3 years. They contain Calcium, Vitamin D and Phosphorus to support normal bones and teeth as well as a unique dried blend of 26 whole fruits and vegetables. Made with only natural fruit flavours, these deliciously fruity melt-in-the-mouth Soft Jells are a pleasure to take every day. Free from gluten, soya, dairy, yeast, artificial colours, flavours and preservatives, they are made with pectin so they don't stick to your teeth. Also suitable for vegetarians. Discover the full Alive! range at www.feelaliveuk.com 
FSC Super Cal/Mag
FSC
Tel: 0800 083 0356
E-mail:  [email protected]
www.fscsupplements.com
Calcium is needed to develop and maintain healthy bones and teeth, and is an important factor in reducing the rate of age-related bone loss. It is also essential for cellular growth, blood clotting, nerve impulse transmission and muscular function. Calcium can compete with magnesium for absorption, so supplemental magnesium is added. Magnesium is association with Calcium, is important for bone structure and strength, and for keeping calcium soluble. It is also needed for muscle relaxation and for growth.
Suitable for Vegetarians and recommended to take one tablet daily with with food. Available in 30 and 90 tablet glass bottles. 
BetterYou Magnesium Bone Lotion
BetterYou
Tel: 01226 814030
E-mail:  [email protected]
www.betteryou.com
Supporting bone health with the combination of magnesium and calcium, BetterYou's Magnesium Bone Lotion is expertly formulated at an optimal 1:1 ratio and blended with a hydrating lotion. The lotion utilises an oil in water formulation giving the product a moisturising yet non-greasy feeling. It also has an occlusive effect which increases the absorption of magnesium through the skin. Calcium, Magnesium, Vitamin D and Vitamin K2 are vital to bone health, so for optimum bone building and support it is recommended that Magnesium Bone Lotion is used in conjunction with vitamins D and K2. For more information or to place an order, contact [email protected] 
Glucosamine MSM Complex
BioCare Ltd
Tel: 0121 433 3727
E-mail:  [email protected]
www.biocare.co.uk
A high strength complex of glucosamine, MSM and chondroitin to support joint and skeletal health.
A daily intake of two tablets provides 1000mg of actual glucosamine and 200mg of chondroitin, which are key components of the body's connective tissue such as cartilage, tendons and bones along with 1000mg of MSM.
Osteozin Optimal Bone Formula
Osteozin
HealthAid Ltd
Tel No: 020 8426 3400
E-mail: [email protected]
www.HealthAid.co.uk
Osteozin provides Calcium, Magnesium, Zinc and Boron to support optimum bone health with the added benefits of Vitamins D3 and K2, essential for the maintenance of healthy blood calcium levels and its efficient utilization by the body.  Osteozin is specially formulated using a synergistic blend of active ingredients to ensure maximum assimilation and efficacy. Calcium plays an important role in the development and maintenance of strong healthy bones and teeth. Magnesium is necessary for the metabolism of calcium which contributes to supporting normal muscular function.  
Osteozin retails at £14.49 for 90 tablets. Contact HealthAid Ltd on 0208 426 3400 for purchase and stockist information or visit www.healthaid.co.uk
Helios Injury
HELIOS HOMEOPATHY LTD
Tel: 01892 537254
E-mail: [email protected]
www.helios.co.uk
Helios Injury contains three homeopathic remedies Arnica, Rhus tox and Ruta grav. This combination has a long history of traditional use to relieve pain whether from trauma, associated with minor injuries, bruises, strains and sprains, or pain from arthritic/rheumatic conditions. Injury forms part of an award winning range of combination remedies from Helios covering Childhood teething, fevers and earache, Hay Fever, Sleep and Stress Relief. The remedies come in lactose free, sucrose pill form in our easy to use single dose dispenser.
Glucosamine Support
HOLFORDirect
Tel: : 0370 3341575
E-mail:  [email protected]
www.holfordirect.com 
Patrick Holford Glucosamine Support combines Glucosamine, Methylsulphonylmethane (MSM), Hops, Curcumin and Quercetin to help maintain healthy joints.  Curcumin is particularly important and helps to reduce inflammation by inhibiting cyclooxygenase-2 (COX-2), prostaglandins (PGE2) and leukotrienes in many cell types. Curcumin also helps to reduce sore damaged joints. MSM is rich in organic sulphur, an important 'building block' for healthy bones and joints.  Glucosamine contributes to cartilage formation and joint lubrication.  Quercetin and Hops both have anti-inflammatory qualities that can help eliminate pain.  [email protected]  www.holfordirect.com
Natures Answer Glucosamine & Chondroitin Liquid
Kinetic Enterprises Limited
Tel: 0207 644 2294
E-mail:  [email protected]
www.kinetic4health.co.uk
Natures Answer Glucosamine & Chondroitin Liquid is a dietary supplement to support joint health.
This unique liquid formula combines glucosamine, one of the most popular joint health support nutrients available. This formula combines Glucosamine with other substances important for the resiliency and maintenance of healthy cartilage, such as Chondroitin, MSM and other joint friendly nutrients. Quik-sorb is an exclusive blend of herbs known to enhance delivery of nutrients to the body.
NeoCell
Kinetic Enterprises Limited
Tel: 0207 644 2294
www.kinetic4health.co.uk
NeoCell – Joint Complex Type 2 provides essential nutrients for complete joint support. As we age, the body's ability to make the structural protein (type 2 collagen) slows down. This is the protein needed to maintain and rebuild cartilage tissue. NeoCell's Collagen is a naturally complete joint supplement that contains glucosamine, chondroitin and hyaluronic acid which are key components of supporting and maintaining healthy joint function: • Supports joint comfort and mobility • May help with joint swelling • Synovial fluid for joint cushioning
Lamberts® Osteoguard® ADVANCE – Calcium & Magnesium Plus Vitamins D3 & K2
Lamberts Healthcare Ltd
Tel: 01892 554313
E-mail:  [email protected]
www.lambertshealthcare.co.uk
Our new bone health formula provides a full 250mg of magnesium and 500mg of calcium per two tablets.  The  magnesium is in the form of a unique blend of three different magnesium compounds – citrate, hydroxide and carbonate, plus the calcium as both carbonate and citrate.   Vitamin K2 (Menaquinone, MK-7, form) is included at 90µg per daily dose and is naturally derived from chickpea protein, and is free of cis-isomers.  
We have also added a full 10µg of vitamin D3 since there is now emerging evidence from studies regarding the synergistic effects of vitamin K2 and vitamin D3 in bone health.
Osteo Support from NHP
The Natural Health Practice
Tel: 01892 507598
E-mail:  [email protected]
www.naturalhealthpractice.com
Osteo Support from the Natural Health Practice is a special combination to help maintain good bone health. Specific nutrients are important for maintaining good bone health, Osteo Support contains calcium, magnesium, zinc, boron and vitamin D3. Calcium is needed for the maintenance of normal bones and teeth. Magnesium contributes to the maintenance of normal bones and teeth. Zinc contributes to the maintenance of normal bones, vitamin D contributes to normal absorption of calcium and boron, a trace mineral, is included which is important for bone health. Digestive enzymes are also included to help improve digestion and absorption of nutrient. Now Vegetarian and Vegan registered, Kosher and Halal approved. For more information call 01892 507598 or [email protected] 
Pukka Organic Turmeric Active Herbal Supplement
Pukka Herbs
Tel: 0117 964 0944
E-mail:  [email protected]
www.pukkaherbs.com
Pukka's Turmeric Active Herbal Supplement brings relief for acute and chronic joint and muscle inflammation and pain.  This unique blend of 100% organic active botanicals provides long-term protection and strength to the cartilage, muscles and bones, without the sometimes damaging effects of NSAIDs.  Formulated with ginger and boswellia, Turmeric Active encourages the healthy flow of blood to the joints, ensuring active nutrients easily reach the intended destination for pain relief.
Pukka Organic Turmeric Active Tea
Pukka Herbs
Tel: 0117 964 0944
E-mail:  [email protected]
www.pukkaherbs.com
Life is for moving and this new spicy and invigorating blend with hints of orange is especially suited for active bodies and sports enthusiasts as well as the less mobile. Treat joints and tired muscles to a blend of pain relieving, anti-inflammatory turmeric, ginger & galangal combined with nettle & celery seed to cool and reduce fluid retention.  This partner tea to our Turmeric Active supplement provides a warming and soothing way to support joints and muscles.