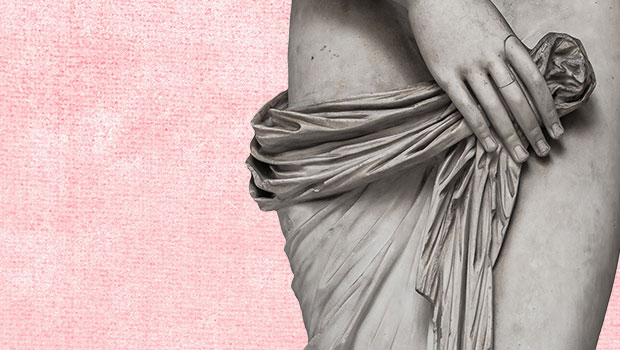 With Valentine's Day on the horizon, it's a momentous time of love and lust. With a broadening range of sexual wellbeing products on the market, Sharna Waid looks into which natural remedies retailers should be exploring to support and empower their female customers' confidence in the bedroom
Sexual wellbeing encompasses many areas, and although the most common concerns are fertility and sexually transmitted diseases, there's a diverse range of issues which women face that can hit hard their sexual health. 
Even though pelvic strength, periods, menopause and urinary tract infections endemic among women are conventionally linked to libido and sexual arousal, they can also have an overall impact on depression, which in turn can cause a lack of confidence. Consequently, women are seeking supplements to help balance hormones and strengthen their general wellbeing, and are increasingly turning to ancient natural remedies as well as new and innovative gadgets like the Kegel Smart, which can offer solutions for lacklustre libidos.   
Aphrodisiac adaptogens 
Maca boasts a long history of treating lack of libido, especially in men. For women, studies have found evidence that maca, if taken regularly, can reduce sexual dysfunction without negatively impacting sex hormones and is thought to be especially beneficial for menopausal women. 
Shona Wilkinson, a qualified nutritionist with vast experience in the retail and supplements industry, says muira puama is often also recommended as an aphrodisiac. "It has the added benefit of helping with menstrual irregularities so could be a good one to opt for if low libido is noticed alongside menstrual problems. 500mg muira puama extract three times a day seems to be the preferred dosage, with tincture appearing to be more effective than capsules."
Another adaptogen which Salma Dawood, technical advisor at Viridian Nutrition, recommends is Rhodiola rosea. "Cultivated in the arctic regions of Siberia, Rhodiola rosea is another adaptogen that has been used for centuries to promote sexual health. Rhodiola may also reduce stress levels by lowering cortisol, which may indirectly increase libido and stamina," she says.
'Nooky' pills 
"The market for supplements to help with libido and sexual health is now out in the open and up for grabs since the launch of Poundland's Nooky pills," says Wilkinson.
Now with more women turning to natural remedies for libido, it's the supplements that provide the 'all-in-one' treatment, with clear messaging on the label of their functions, which are becoming the popular choice to stock in many health stores.
Dr Marilyn Glenville, author and expert in nutritional health for women, says: "I've always felt there was a need for a libido supple-ment for women. Traditionally men seemed to be taken care of in that department and women had been forgotten. But in my clinics, lack of sex drive is a problem that women talk about a lot, not only at the obvious time around the menopause but also for women of any age, and especially for those trying to conceive because they need to have sex regularly enough to get pregnant." 
NHP Libido – Glenville's own libido support for women  – contains botanicals including damiana, maca, ginger and Siberian ginseng to help aid sexual health. 
She also advises nutrients like zinc which are essential for hormone balance and sex drive, 'hence the old wives' tale of using oysters (which contain high amounts of zinc) as an aphrodisiac'.
"L-arginine can be used for normal blood circulation in those areas which are important to a healthy sex life; and vitamin B3 helps to reduce tiredness and fatigue," she explains.  
Using ancient roots can also be beneficial, but acknowledging the underlying cause of low libido is also vital, as women who are in good health are nearly twice as likely to report an interest in sex than those who are in poorer health.  
Issues such as stress, alcohol, relationship problems, tiredness, depression and certain medications like antidepressants can also be problematic, as well as, ironically, the contraceptive pill, according to Glenville. 
Consequently, we're now seeing libido supplements which combine powerful adaptogens with immune-supporting nutrients to not only directly support sexual urges, but also make women feel generally happier and healthier, especially around their cycles. Pharma Nord's Lady Prelox supplement has been designed to aid women by enhancing 'pleasure, desire and comfort', not only in the bedroom, but in overall wellbeing. 
Rasmus Henriksen, UK general manager at Pharma Nord UK, explains: "In addition to the product's success in three different clinical trials covering women in three different stages of life, we've also had anecdotal reports on the difference which Lady Prelox has made to our customers' lives. 
"By helping women to have more fulfilling love lives, the product has also helped to make them feel better about themselves and has provided them with more confidence in their everyday lives," he adds.
Pelvic muscles and kegel health 
Confidence in the bedroom has been linked to pelvic health too. Research shows that having strong pelvic floor muscles helps a woman to reach orgasm more easily and that women who perform pelvic floor exercises have a more enjoyable response to sex, by improv-ing the blood circulation to the vagina.
'Strong pelvic muscles are crucial to a woman's quality of life, yet one in three women will suffer from some form of incontinence during their lifetime, and many are too embarrassed to address or acknowledge the symptoms of weakened muscles,' according to Neen, which has developed products including the Educator Pelvic Floor Exercise Indicator and Aquaflex Weighted Vaginal Cones to help women master their kegel exercises and strengthen their pelvic floor muscles naturally. 
Feminine care brand Intimina has unveiled the results of its most recent clinical trials, in which its KegelSmart product (a 'personal trainer' for the vagina) was proven to deliver measurable results in just 12 weeks. 
Kathryn Catney Byberg, global head of brand partnerships for Intimina, says: "The stronger our kegels are, the stronger our orgasms can be; if they are weak, not only do we risk weaker orgasms, for many women there is a real fear of incontinence – during sex or in general. Kegels can be strengthened just like any other muscle. This is why Intimina created KegelSmart, a personal training device made out of body-safe silicone, clinically proven to help strengthen kegels in less than five minutes a day."
"However, Intimina's findings suggest that the biggest hurdle in tackling incontinence is not a weak pelvic floor, it is silence and taboo," adds Byberg, who says the brand encourages women to 'speak up, seek help and stop suffering needlessly'.  
This message was central to Intimina's recent panel discussion held at London's AllBright women's networking club. On advancing the conversation around sexuality, libido, body confidence, health, periods, menopause and other issues which affect women during the different stages of their lives, panelist and body confidence influencer Nell Grecian commented: "I think we are talking about it, but it's only a certain group of people – mostly women, fewer men." 
With that said, it's encouraging to see small shifts are already being made in the natural health industry to help challenge these intimate topics by providing ways to promote sexual wellbeing through supplements and safe devices. And because sexual wellbeing also relates to mental health, confidence and overall happiness, its more vital than ever to normalize it to the masses, in particular in the masculine domain.  
The natural health industry should be the driving force for this by ensuring that open and honest conversations around sexual health – in clinics, stores and online – are not only being had around Valentine's Day, but all year round.
FSC Horny Goat Weed Herbal Complex
FSC
Tel: 0800 083 0356
E-mail:  [email protected]
www.fscsupplements.com
Horny Goat Weed has been used as a powerful, natural aphrodisiac for hundreds of years. The unusual use for this plant was discovered by a farmer in china who noticed an increase in sexual behaviour in some of his goats and realised that these goats were eating the weed 'Epimedium'.
Swallow one capsule daily. For best results, swallow an additional four capsules with a drink an hour before required, preferably on an empty stomach. Suitable for vegans.
Libido Support for Women for those intimate moments
The Natural Health Practice Ltd
Tel: 01892 507598
E-mail:  [email protected]
www.naturalhealthpractice.com
In a market saturated with male performance aids, female sexual support is often overlooked. Until now! The Natural Health Practice, Libido Support for Women is the only product in the UK specially designed for women and formulated by the UK's leading nutrition and women's health expert Dr. Marilyn Glenville PhD. An exceptional botanical combination, Libido Support for Women may help with increasing energy levels, protecting against stress and improving sexual performance. Unlike other brands, Libido Support for Women is free from any contaminants, such as preservatives, anti-caking agents and fillers. Vegetarian and Vegan Society registered, Kosher approved and Halal approved.   For further information, please call 01892 507598 or email [email protected]
Lady Prelox
Pharma Nord (UK) Ltd
Tel: 01670 534900
E-mail:  [email protected]
www.pharmanord.co.uk
Lady Prelox is the first natural and science-based female sexual pleasure formula on the market. This patented preparation supplement contains key natural ingredients that work together to enhance pleasure, desire, and comfort.
Lady Prelox is the result of years of research and its effectiveness has been shown in three clinical trials involving over 200 women across a range of different ages. The female libido supplement is a natural product made to GMP standards, ensuring safety and quality.
Lady Prelox featured in a recent two-page national newspaper feature headlined "Pink Viagra Rescued My Relationship".
Bio-Kult Pro-Cyan
Tel: 01460  243230
E-mail: [email protected]
www.bio-kult.com
Let's talk about sex….
Urinary tract infections (UTIs) are infections of any part of the urinary tract commonly known as 'cystitis'. In more than 80% of cases they are caused by the overgrowth of the bacteria Escherichia coli (E.coli)* originating from the digestive system or vagina*.  UTIs are more frequent in women with an estimated half of all women in the UK having at least one UTI in their life-time, with 25% having recurrent episodes*.  Sexual relations are very often incriminated as one of the causes of recurrence. Episodes of cystitis associated with sexual relations account for 4% of all UTIs and 60% of cases of recurrent cystitis*.  
The consumption of cranberry has long been recommended for the prevention and treatment of UTIs.  It is understood that cranberries contain specific antioxidant compounds called proanthocyanidins (PACS) (specifically A type)* which prevent E.coli from adhering to the cells lining the urinary tract, thereby lessening the chance of infection*.  A study in 2007* showed that taking Cranmax® cranberry extract within six hours following sexual intercourse significantly reduced the insistence of sexual intercourse related episodes of cystitis.  Live bacteria have also been shown to be beneficial to restore the gut and vaginal microflora* and particularly for their antimicrobial activity against E.coli*.  
Bio-Kult Pro-Cyan is a triple action formulation scientifically developed with cranberry extract (Cranmax® with 36mg PACs), two specifically selected probiotic strains and vitamin A that work with your body to help maintain normal levels of bacteria in the gut in order to help maintain a healthy urinary tract.
Contact your wholesaler for more information or visit www.bio-kult.com