Purpose-led tech start-up Bagboard has launched in London, offering an innovative reusable 'smart bag' connected to a marketplace app to help make buying everyday sustainable products more affordable.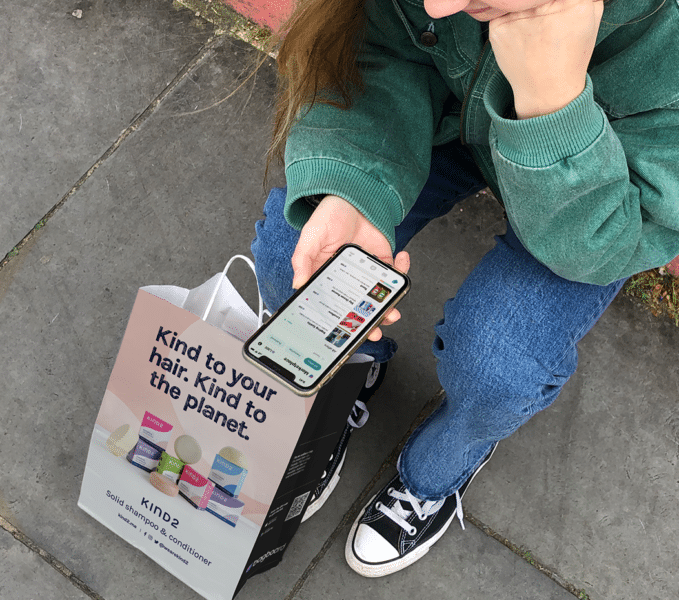 Consumers can request a free water-resistant paper smart bag from the Bagboard app or soon from one of a network of 2,000 independent retailers across the city, and on receipt scan the QR code to link bag to app. They can then use the bag around London, scanning it in the app at the start and end of each use and earn conscious coins to spend on the eco-friendly brands featured in the in app marketplace.
On start-up, the app featured 32 brands – including Georganics, allplants, TALA, Birdsong, Kind2, TOTM, Votch and UpCircle – 50% of which the brand says are female-founded and 25% led by people of colour.
With every use and reuse, Bagboard also removes ocean plastic on the consumer's behalf via a tie-up with the NGO Plastic Bank.
"We all want to make a positive change towards the future of our planet, but in today's climate it can often feel like the individual changes we make as consumers are futile in the face of a problem so large-scale," says company co-founder Ashleigh Bishop. "We're here to remind people that your small changes add up to something bigger. We're all already carrying reusable bags; so why not carry one that gives back to you and to the planet?"
We're here to remind people that your small changes add up to something bigger
Bagboard explains that the cost of bag production, conscious coins and environmental plastic waste removal is covered through advertising from sustainable brands. It adds that consumers are being personally rewarded for their role in promoting and interacting with advertising.
"By having people earn for carrying smart bags featuring advertising from sustainable brands, and by rewarding the brands that are doing good for people and the planet by encouraging people to spend their money back with them, it's creating lasting change," says Bishop. "We refer to it as a circular model powered by people."
Having launched at the end of July, the total plastic bags offset to date is over 300,000.