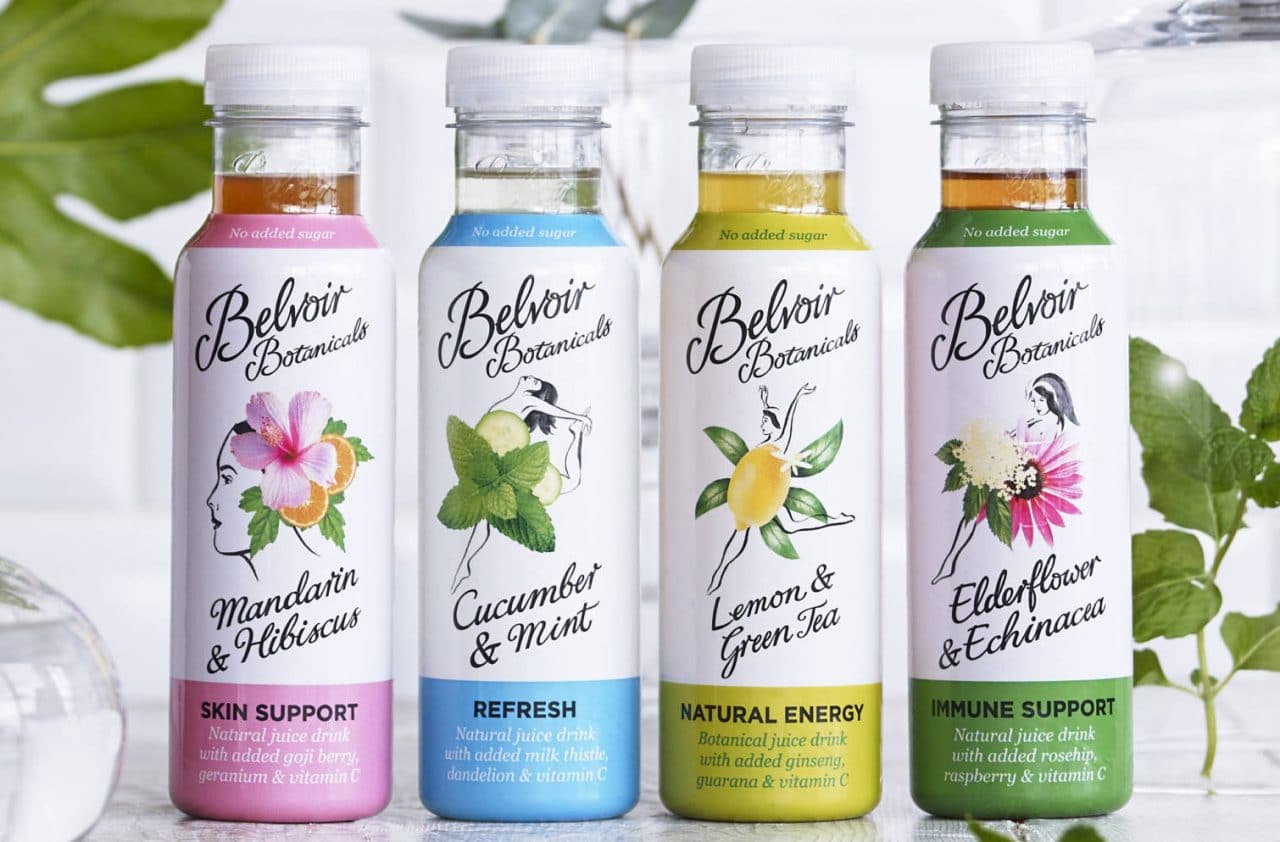 Belvoir Fruit Farms has expanded its range to include a functional drinks offer, Belvoir Botanicals, drawing inspiration from natural botanical plants.
The range was developed after extensive research and help from award-winning dietician and nutritionist Dr Carrie Ruxton, to fill a gap in the market for a refreshing more feminine range of natural and delicious functional drinks.
Each of the four-strong range comes in a 330ml resealable bottle and offers a specific benefit derived from flowers, roots, herbs or fruits, blended with still water, with no added sugar, artificial colourings, preservatives, additives or sweeteners.
Refresh combines cucumber juice with lemon, cooling mint, milk thistle, dandelion and vitamin C, to provide instant refreshment, particularly after a little over indulgence; Immune Support is a described as a delicate floral blend of elderflower, rosehip, raspberry and echinacea with added vitamin C for an immune system boost; Natural Energy offers a blend of lemon, mandarin, green tea, jasmine along with ginseng, guarana and vitamin C to enhance energy levels; and Skin Support blends mandarin, hibiscus and geranium with goji berry, vitamin C to support skin health.
Pev Manners, MD of Belvoir Fruit Farms, comments on the launch: "I'm tremendously excited about Belvoir Botanicals; I have wanted to use our expertise and knowledge to develop a range from plants with proven health enhancing properties for years. I really feel that Botanicals fill a gap in the market for busy women needing a more feminine range of gently functional drinks. The natural ingredients and simple methods have definite synergy with our existing Belvoir range and yet whereas our Cordials and Pressés are designed to be drunk as more of a treat, the Botanicals each have a specific function with on-going benefits."
"Working on the development of Belvoir Botanicals has been an amazing experience as we have been able to merge nutrition science with modern beverage development and authorised health claims to create a truly unique product," adds Ruxton. "Humans have harnessed the natural benefits of plant botanicals for thousands of years, using elderflower, echinacea, green tea or mint to improve wellbeing and support normal health. Now these benefits will be more widely available in a delicious drinks range with flavours to suit everyone."
The launch is being supported by a marketing campaign including sampling at ten Race for Life events, social media competitions, online competitions with health magazines and a series of radio interviews featuring TV gardener and ethnobotanist James Wong.